1005 Balmoral Road (ex-8 Louis, 4 Frederick, 1005 Fisguard)
Built 1891
Heritage-Covenant
For: Hannah & William Powell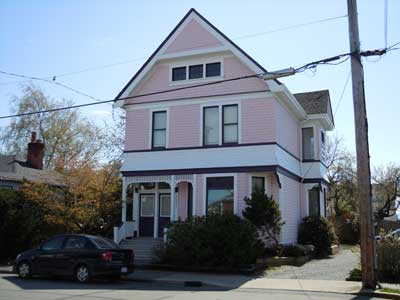 ARCHITECTURE:
The eclectic style of this 2½-storey house provides an interesting foil to the brick house opposite. It, too, has projecting window bays and many decorative elements –here, all achieved in wood. An octagonal bay with bracketed, cutaway corners marks the ground floor. The second floor is defined with fish-scale shingles and a flared band. The front gable overhangs the lower storeys and three small, multi-pane windows. This top level is completed with whale-bone bargeboards and staggered shingles. The original open porch has evolved to a closed porch (in the 1970s – see photos) to a recessed porch with a secondary door when a suite was added in 1980. On the west side, cutaway corners with scroll-sawn brackets support a two-storey bay with panels and dentils and a pedimented gable. A rear extension flows steeply from the main roofline.
ORIGINAL OCCUPANTS:
Original owners William and Hannah Elizabeth (Fletcher) Powell lived here until 1906, but Hannah paid taxes on the property until at least 1916. A blacksmith, William was born on the Isle of Jersey c.1833, and later lived in Ontario. He came to BC with Hannah in 1885. Hannah continued to live here for about 10 years after William's death in 1896. She died in 1922 at 78.

OTHER OCCUPANTS:
John (1859-1945) and Elizabeth (O'Neill, 1862-1934) McLorie lived here briefly in 1908, before moving to 934 Empress Av, where they lived for the rest of their lives. John was a rice miller. The Beckwith family lived here from 1910-15. William (1853-1926) was born in Kings County, NS, and came to BC with his wife Ellen Louise in the early 1880s. William was a civil servant. Ellen moved to Riverside, CA, in 1932, and died in 1938 in Seattle. By 1917 Thomas (1876-1935) and Ada Mary (Richardson, 1875-1956) Bourne were the residents. Born in Kings Lynn, Norfolk, England, the Bournes came to Victoria c.1910. A longshoreman, he served in the Boer War with the 16th Queen's Lancers, and with the 103rd Battalion, CEF, during WWI. Ada was president of the Ladies Auxiliary of the Britannia Branch of the Canadian Legion. She moved to Langford before her death in 1956.
John Higgins, an ex-soldier, lived here from 1921 until his death in 1923. During the early and mid 1920s, residents were listed as "Japanese." George Murrell, a tailor with Fyvie Bros, lived here in 1927. By 1928, William Henry (1886-1928) and Margaret Jane (Morgan, 1885-1940) James were the residents. They came to Victoria from Tredegar, South Wales c.1910. William was a stationary engineer. Margaret left this house soon after her husband's apparent suicide in 1928.
Widow Ann Elizabeth (Carron, 1879-1969) Leavitt lived here during the 1930s. Born in Victoria, she married Quebec-native Henry Warren Leavitt (1873-1930) in Nanaimo in 1903. Henry was employed with the Giant Powder Co on James Island. Emil or Ernest and Lila Borgens owned this property for much of the 1940s and '50s. Emil served overseas during WWII, and was later a salesman with Coast Hardware. Lila was a seamstress. Mrs. Letty Sylvester, operator of Reimers Beauty Salon, and later the Hollywood Beauty Salon, resided here in the mid-1940s. By 1951, Dorcy and Elizabeth Danes were the residents.