Heritage Register
Burnside
3140 Balfour Avenue (ex-Emma St.)
Built: 1914
Heritage-Designated 2013
For: Charles & Kate Cousins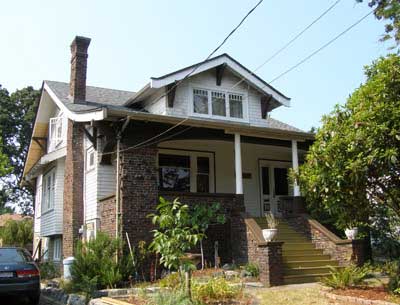 ARCHITECTURE:
This Craftsman Bungalow was built for $2,700 in 1914 at the end of Victoria's housing boom which collapsed with the onset of World War I. The roof is side-gabled with an unusual slight curve flowing over the front verandah. The centrally-located dormer above the verandah has three windows; the rear has a similar but smaller dormer and a box bay. The dormers have gabled roofs with three supporting chunky knee brackets below bargeboards with clipped ends. The side gables are similarly designed. On the left side is a cantilevered, shed-roofed box bay below two windows in the gable. To the right of the bay is an external, corbelled, exterior wall chimney with piano windows on either side. The right side has two windows in the gable and a wide hall window to the right of the front door.
The verandah roof is supported by two heavy arches on each end; a front arch with stepped ends spans the entire width of the verandah. All arches are supported at the corners on two heavy brick piers. The verandah balustrade, and the slightly-splayed front step balustrades and newel posts, are of solid brick. All the brickwork on the house uses clinker bricks, which are a feature of many Craftsman Arts & Crafts houses. Although the steps are centrally-located, the front door and its sidelights are off-set to the right. The piano and hall windows and the sidelights are all of distinctive leaded art glass. The exterior cladding is shingle on the dormers and basement level, with bevelled siding on the main floor. The round columns are not original and detract from the elegant verandah.
ORIGINAL OCCUPANTS:
1914-19: Charles Cousins (b. Victoria, BC, 1886-1919) and Kate Eleanor (née Simpson, b. London, ENG, 1886-1918). Kate came to Victoria in 1904 and was employed as a candy maker with Dominion Candy Co, 806 Yates St when she married Charles in June 1914. About 1909-10, Charles, a cabinetmaker, and his older brother Leonard formed the Cousins Brothers Sash & Door Manufacturers on Garbally Rd. Charles was actively involved in the North Ward Athletic Assoc. In 1918 Charles and Kate spent the summer in the Yukon. They arranged to return to Victoria in October on the SS Princess Sophia. At the last minute Charles was detained and he missed the boat. The boat ran aground in Lynn Canal near Juneau, Alaska, and all 343 persons on board lost their lives in the worst maritime disaster in British Columbia and Alaska history. Charles spent eight days searching for his wife but her body was never recovered. He died two months later at his home on Balfour Av at the age of 33, a victim of pneumonia and the Spanish Influenza epidemic that swept through the City. The Cousins's household furniture and effects were sold by the executors at auction in the house on July 3, 1919, and the house was offered for sale. However, it stood vacant for several years after Charles's death.
OTHER OCCUPANTS:
1923-35: William Brown Bruce (b. Dumbarton, SCT, 1891-1940) and Mabel Grace (née Waring, b. Victoria, 1896- 1964). Mabel's parents had immigrated from Scotland in 1889 and married here in 1890. Her father William Waring was a stationary engineer; by 1911 the family was living on a farm near Red Deer, AB. Mabel returned to Victoria and she and William were married by Rev. Campbell at Breadalbane (1177 Fort St, Rockland) in 1913. William Bruce's family came to Canada in 1895. He was a plumber and partner at the Dominion Plumbing & Heating Co, 733 Fort St. The Bruces lived in Victoria until their deaths.
1936-38: Charles A. and Catherine M. Jones, owners of the Economy Steam Laundry at 607 John St.
1941-45: George Harrison Millard (b. Courtenay, BC, 1900-1988) and Isabel Catherine (née MacMillan, b. Nanaimo, BC, 1904-1980) met in Bevan, BC, the townsite for Cumberland's No.8 coal mine; they married in 1925 in Nanaimo. George worked as a log scaler before becoming a Pacific Lumber Inspection Bureau inspector; he retired as an inspector of dam sites.
1946-66: Marie (b. Callan, IRL, 1879-1964), William Henry (b. IRL, 1880-1966) and Susan Margaret (b. Callan, IRL, 1883-1956) Mercier were siblings. William came to Canada in 1904 and was followed by his sisters in 1912. William worked in the shipyards. Marie and Susan worked for 31 years as storekeepers at the Marie Mercier Confectionery, 2807 Cedar Hill Rd, before retiring in 1945.