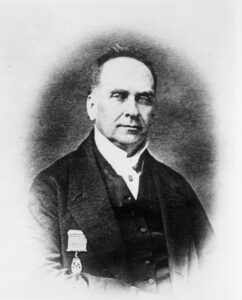 Sir John A. Macdonald is often vilified for creating the Indigenous residential schools that devastated so many First Nations communities. 
But a recent online presentation by an amateur Ontario historian Dave Town, to the Orillia  Museum of Art and History tells a story of earlier residential schools and the battle the First Nations fought regarding them and the reservations upon which they had been placed.  Perhaps the real creator was Robert Baldwin, Premier of Canada West, 1848 – 1851, shown above.
It would appear that most of the chiefs of the day wanted the schools but not the high price their peoples would have to pay. 
These early schools failed for many reasons, chiefly for failing to meet the needs of the First Nations and, as usual, a parsimonious government. The story about Chief Yellowhead, the

reservation

lands and the first residential schools can be heard at LINK