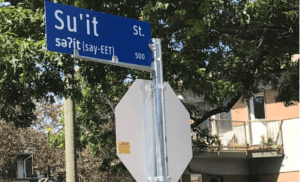 Times Colonist July 22, 2022
Victoria's Trutch Street was renamed Su'it Street for the Lekwungen word for "truth" in a ceremony with the Esquimalt and Songhees First Nations and community members on Sunday.
The new street signs include the name in both English and Lekwungen (səʔit), along with a pronunciation guide ("say-EET"). The two-block street runs between Richardson Street and Fairfield Road.
The unveiling of the new sign included a witness ceremony and a blessing involving prayer, ringing of bells and singing as witnesses holding candles travelled around the street sign several times.
Elmer George, an elder in the Songhees First Nation and one of the last remaining speakers of Lekwungen, said he worked with linguist Andrew Cienski to find an appropriate name, and while the names of territories and trees were considered, something more meaningful and related to reconciliation was need — "the only thing we could come up with was səʔit — the truth."
Mayor Lisa Helps called the renaming a significant act of decolonization and another step toward reconciliation.
The street had been named after Joseph Trutch, a 19th-century politician known for his racist views and poor treatment of First Nations. He came to B.C. in the 1850s and served as chief commissioner of lands and works. He was the first lieutenant-governor of B.C. and played a key role in the province joining Confederation.
While managing aboriginal land policy, Trutch refused to acknowledge treaties and title shortly after they were signed, and he cut back reserves to make way for white settlers. He reduced already small reserves by 90 per cent, said Helps. "Even in his own day, there were people that thought that was a really awful thing to do."
Five years ago, a student-led campaign and petition led the University of Victoria to strip Trutch's name from one of its campus residences. Students then called for Trutch Street to be renamed, a move supported in discussions with community members, according to the city.
In February, Victoria councillors unanimously approved a motion changing the name to Su'it Street. The bylaw to officially change the name was adopted June 23.
UVic student Jade Baird, who credited fellow students Ashley Yaredic, Rachel Dufort and Sicily Fox in the effort, said: "I hope this represents a shift in values for Victoria."
Songhees Chief Ron Sam said memorializing historical figures who were known racists allows their words and impact to live on.
Esquimalt Chief Rob Thomas called the renaming "just another stop on the road to reconciliation," saying: "It's nice being able to recognize the wrong of the past and work together to try and fix it."
The name change affects 116 addresses and 12 business licences.
Jack Allen, who has lived on the street for three years, attended the ceremony and said he supported the name change.
Allen said he isn't anticipating much difficulty in changing his address officially, although he might need to contact a notary public about property documentation.
"We're just hoping we remember all the address changes we need to make before somebody taps us on the shoulder and says you forgot about us," Allen said. "They say that we've got six months."
He said he has approached the Fairfield Gonzales Community Association about the idea of creating a plaque to explain the name change.
City staff are in the process of sorting out the address change for residents, and an email will be sent to them, said Colleen Mycroft, manager of executive operations for the city. Addresses are expected to contain the English spelling of Su'it, as many Indigenous characters are not yet available via government systems.
Helps said it was "heartening and moving" to see many residents at the ceremony. For those neighbours still unsure about the change, "hopefully they were able to hear and see today the meaningfulness of this work to the Songhees and Esquimalt First Nation."
While such naming ceremonies are symbolically important, Helps said First Nations have made it clear they want to continue with the "real work" that will improve the quality of life in their communities, including affordable housing, language revitalization, food for their children and daycare.
— With a file from Jeff Bell