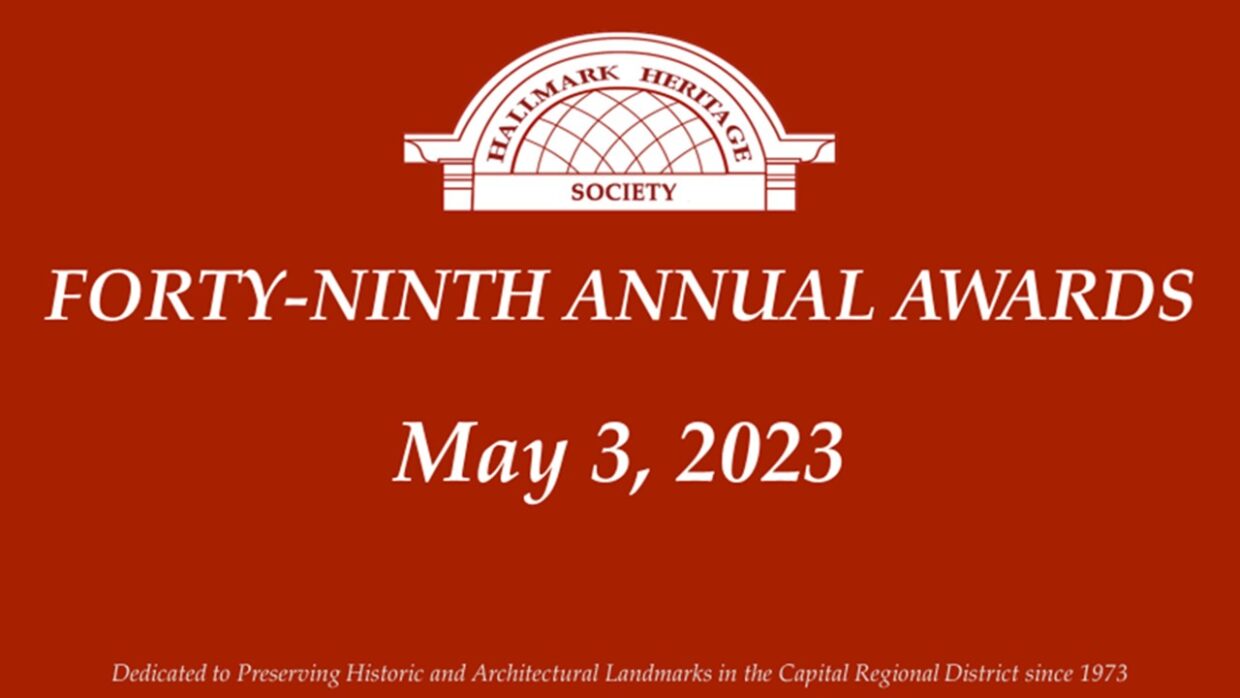 The 49th Annual Hallmark Awards were presented on May 3, 2023 at the Wentworth Villa with a full house in attendance.  
The evening started with recognition of municipal properties protected by heritage designation from June 2019 to May of 2023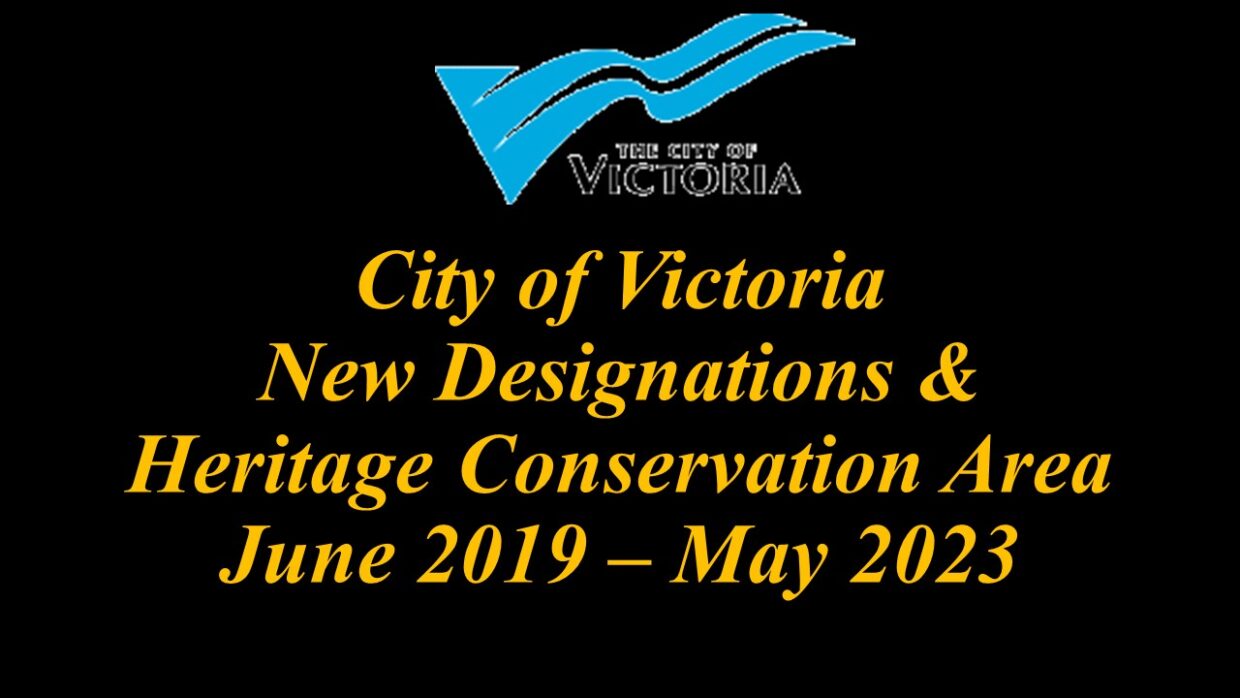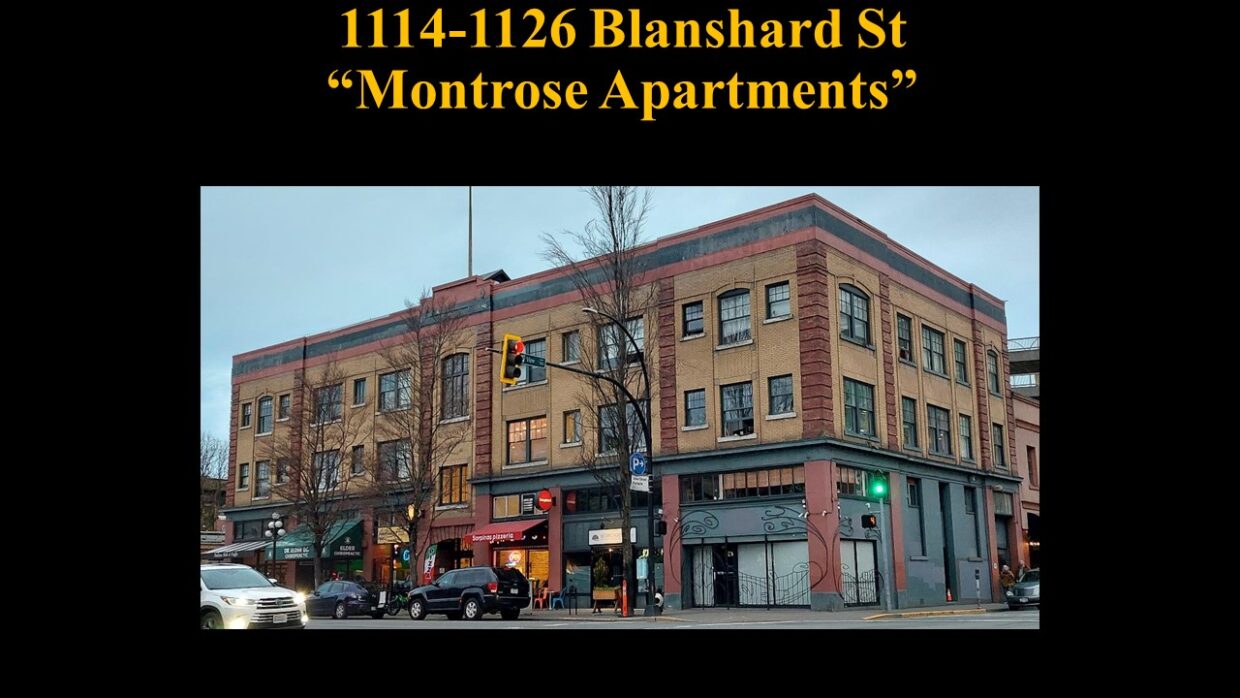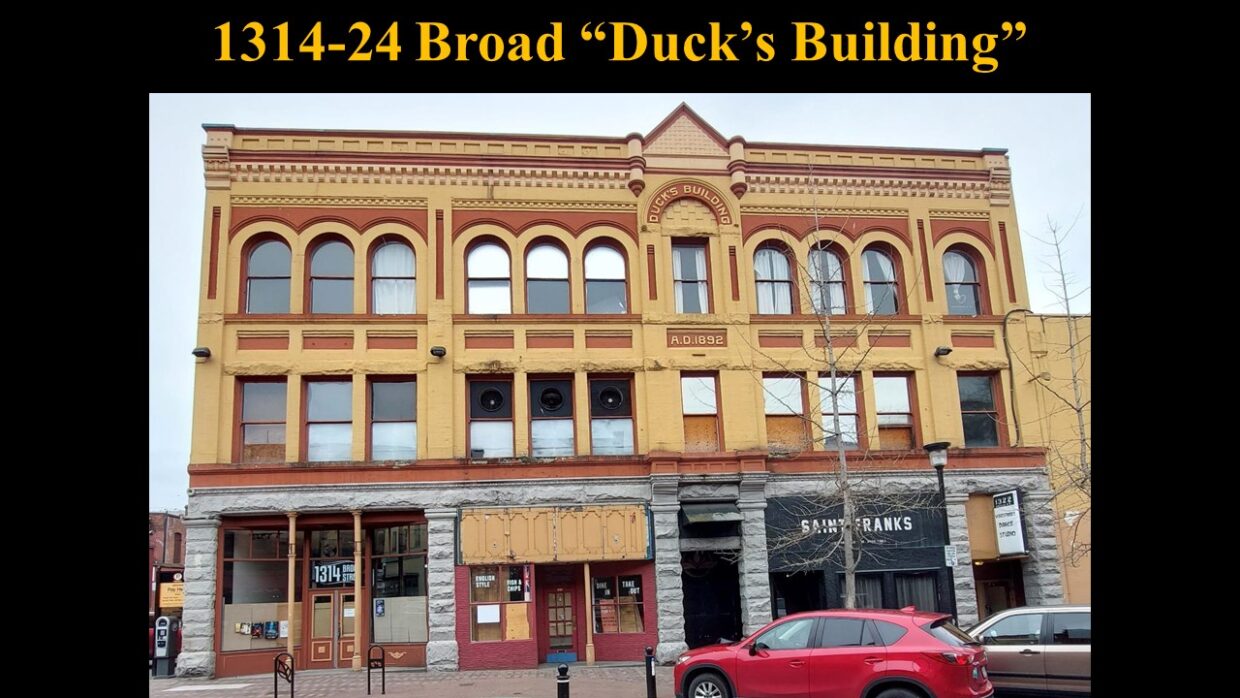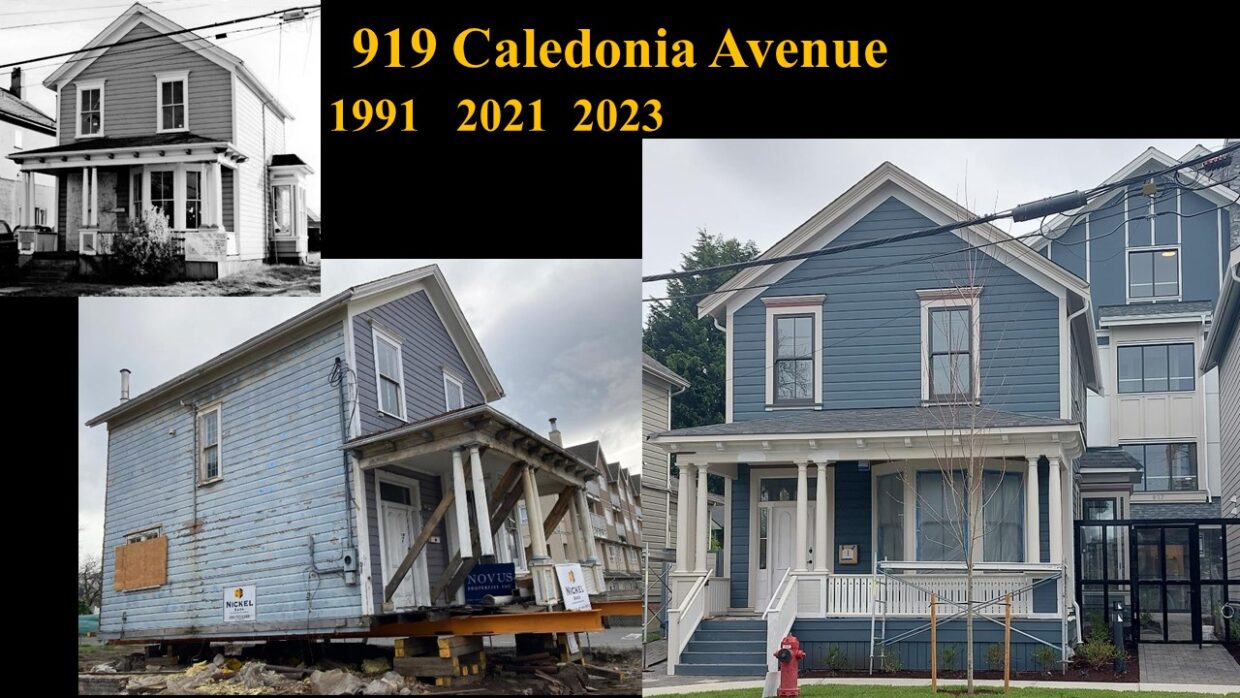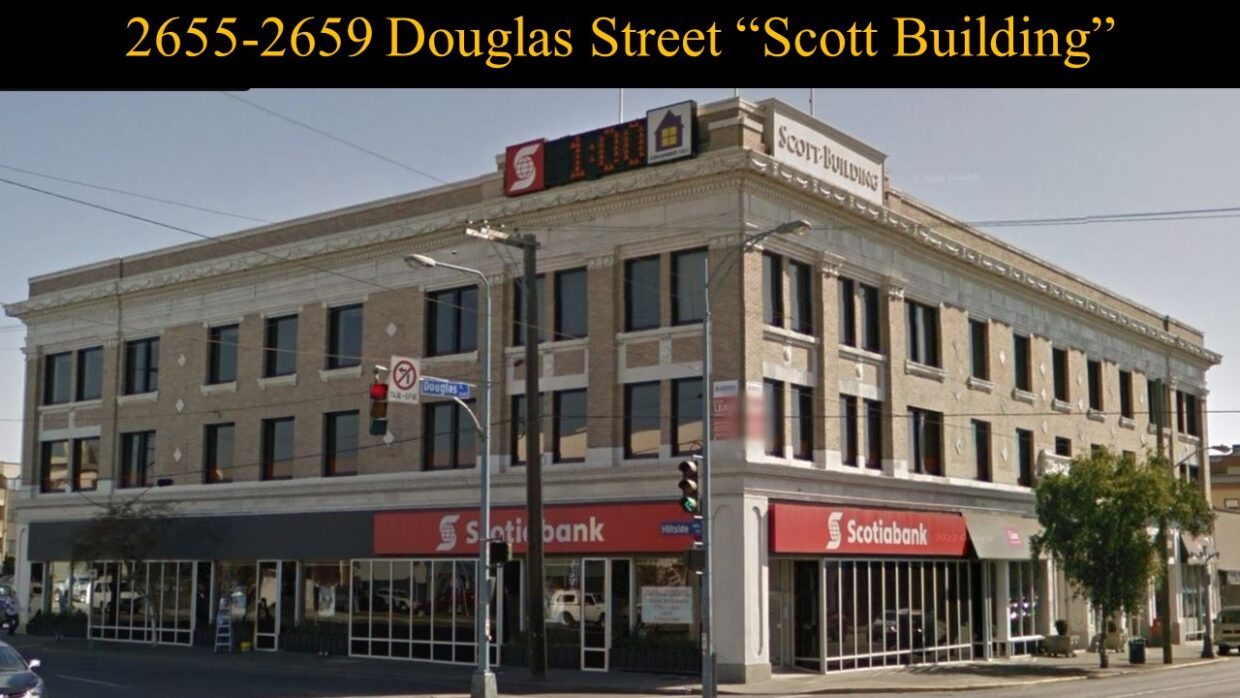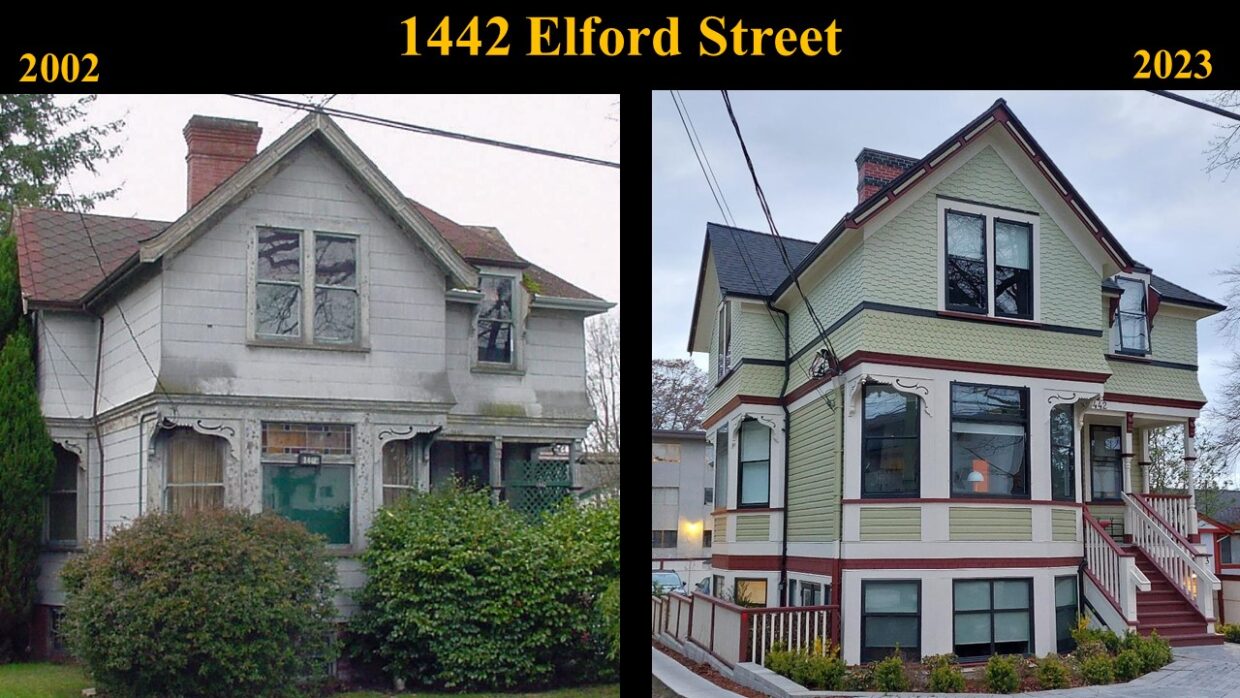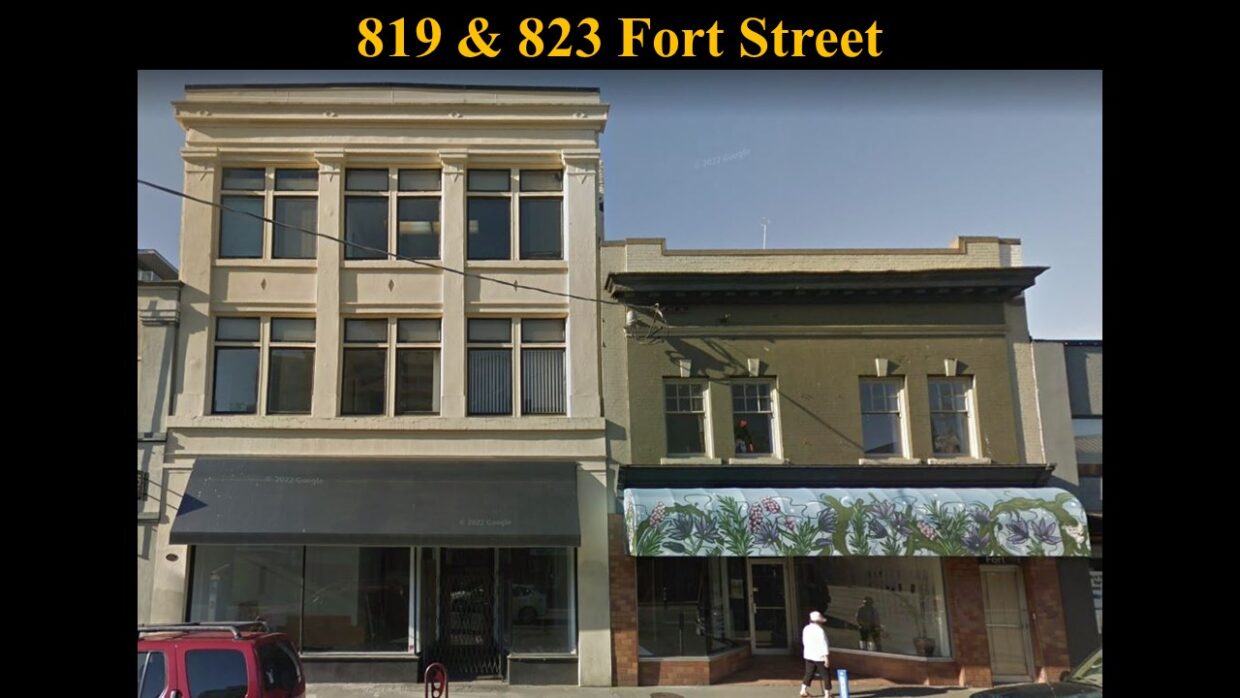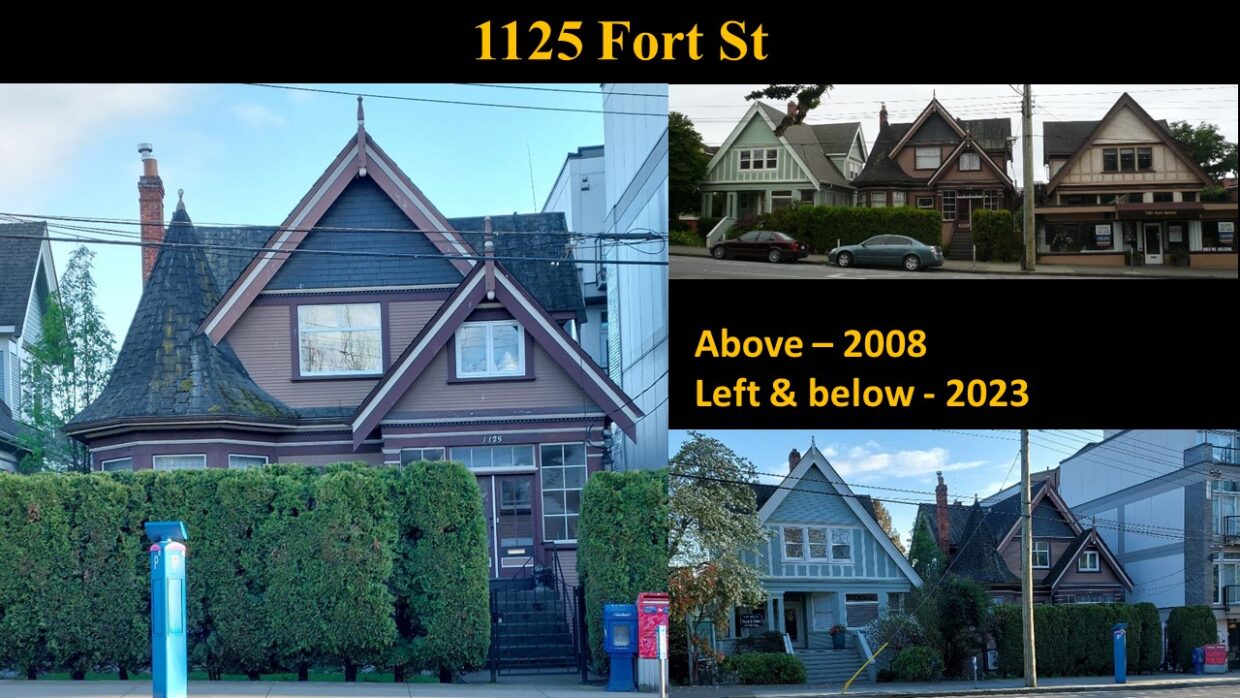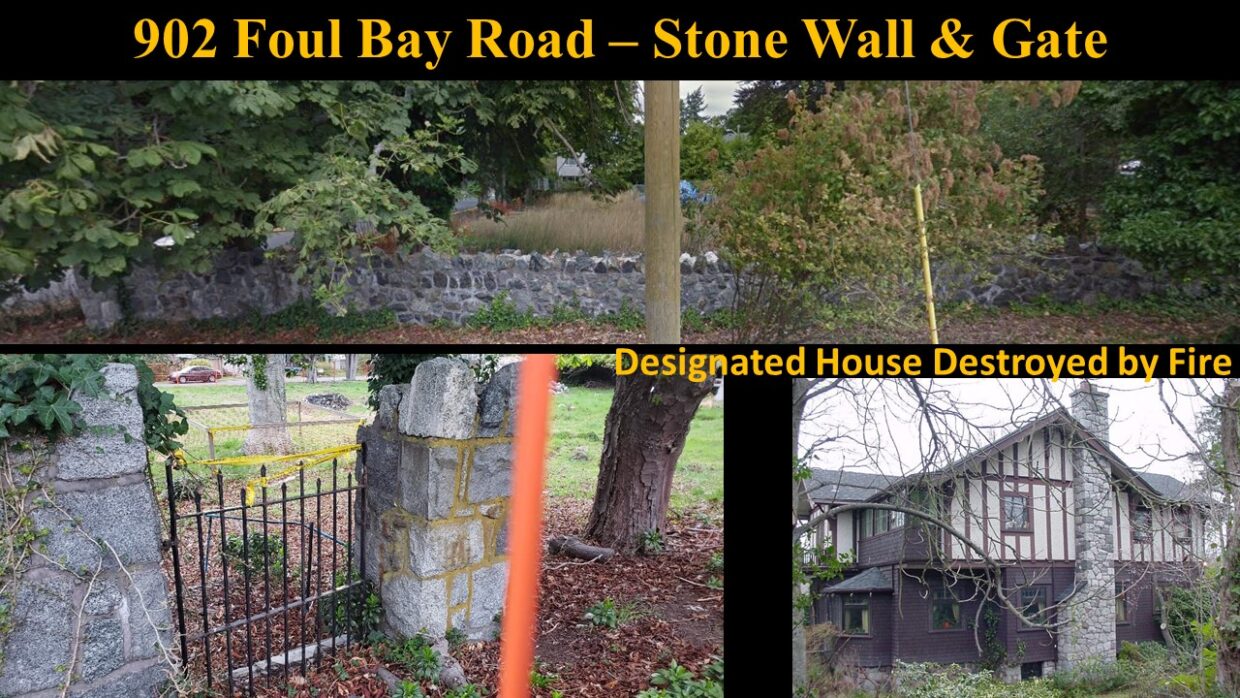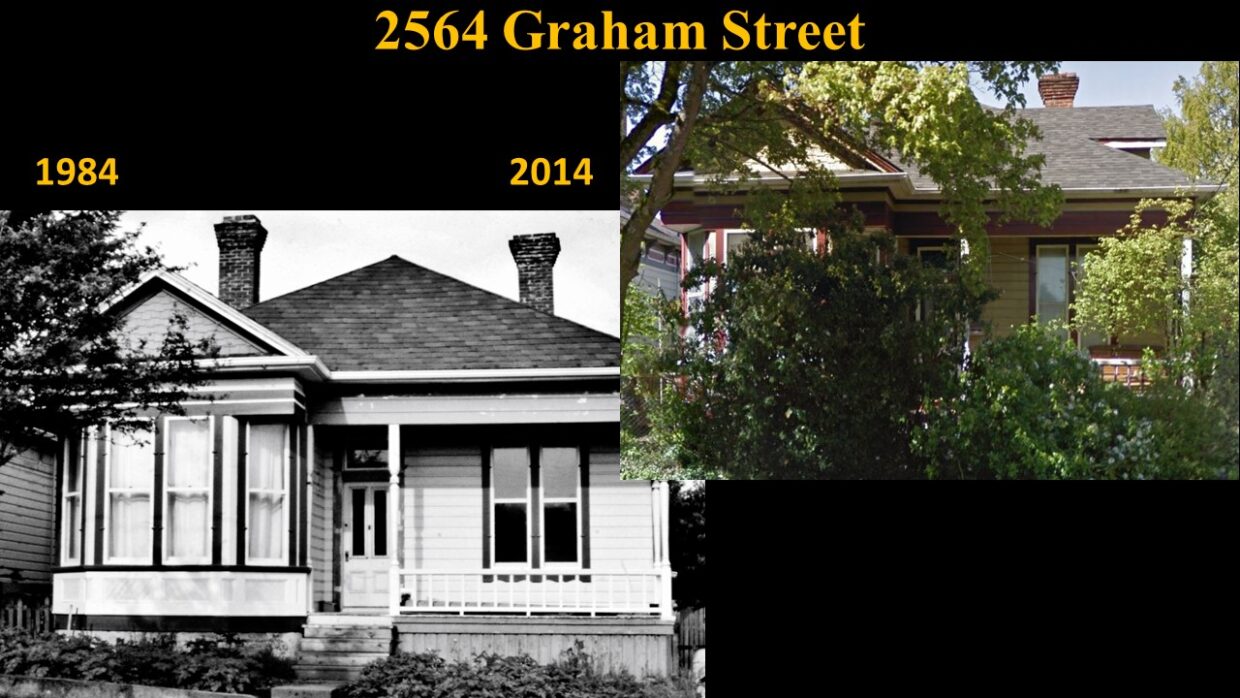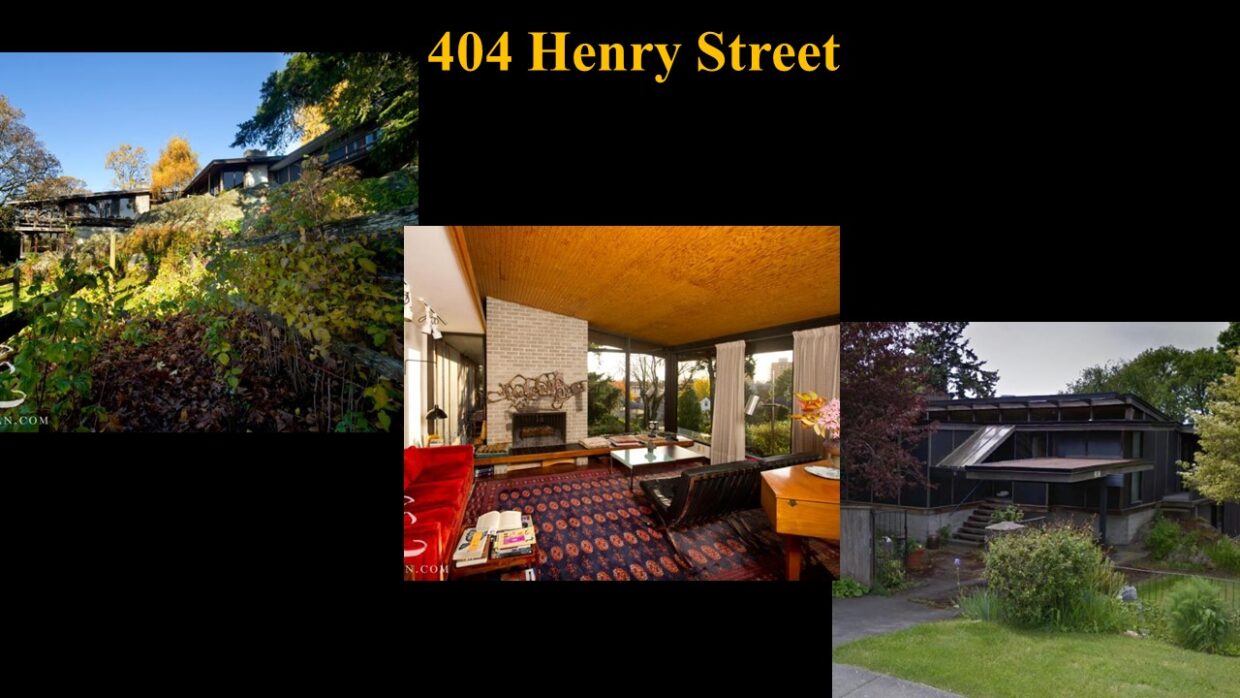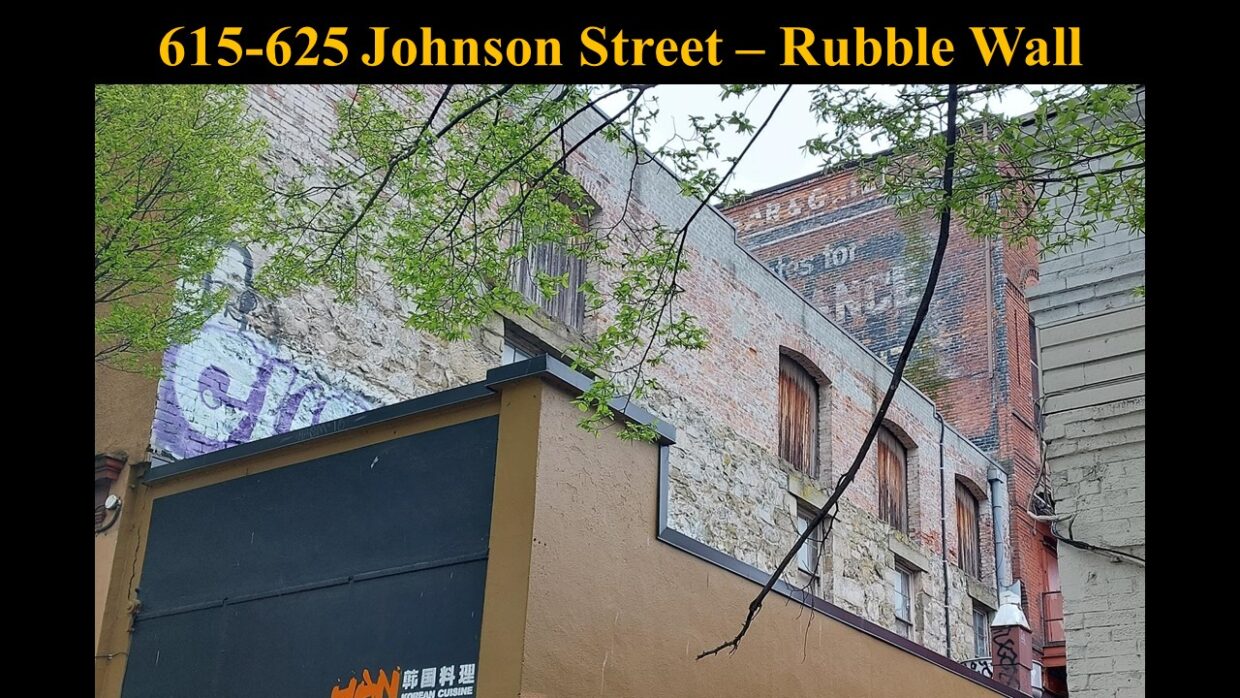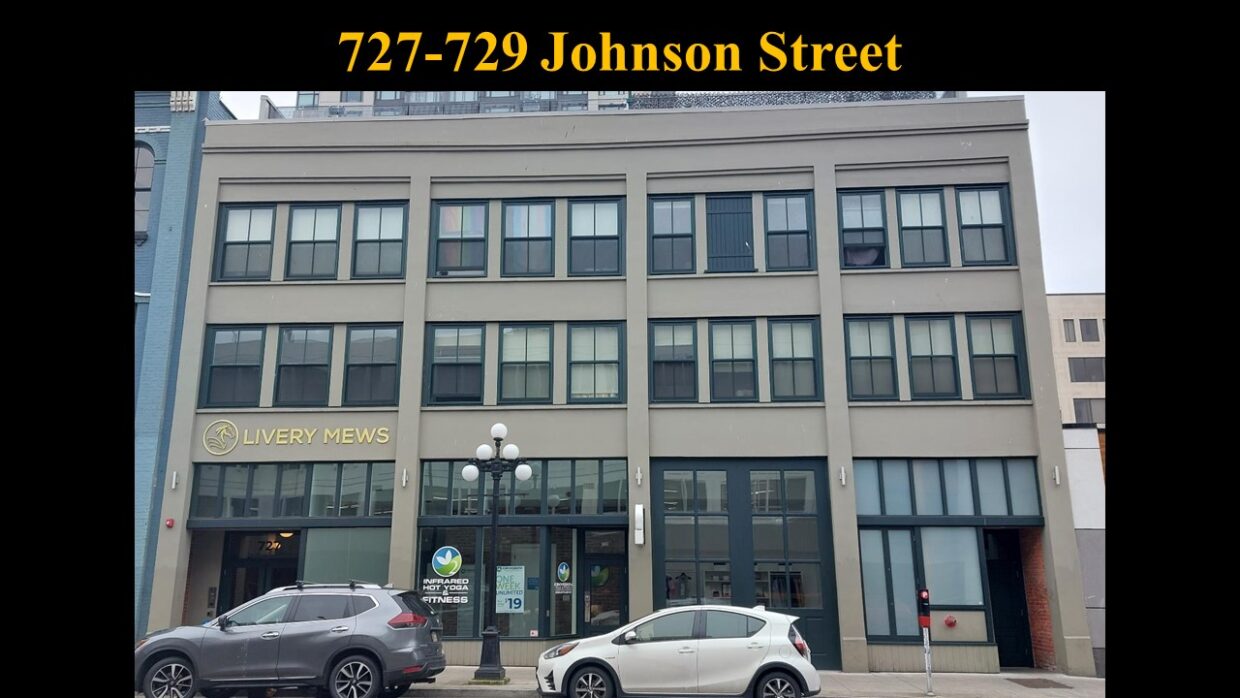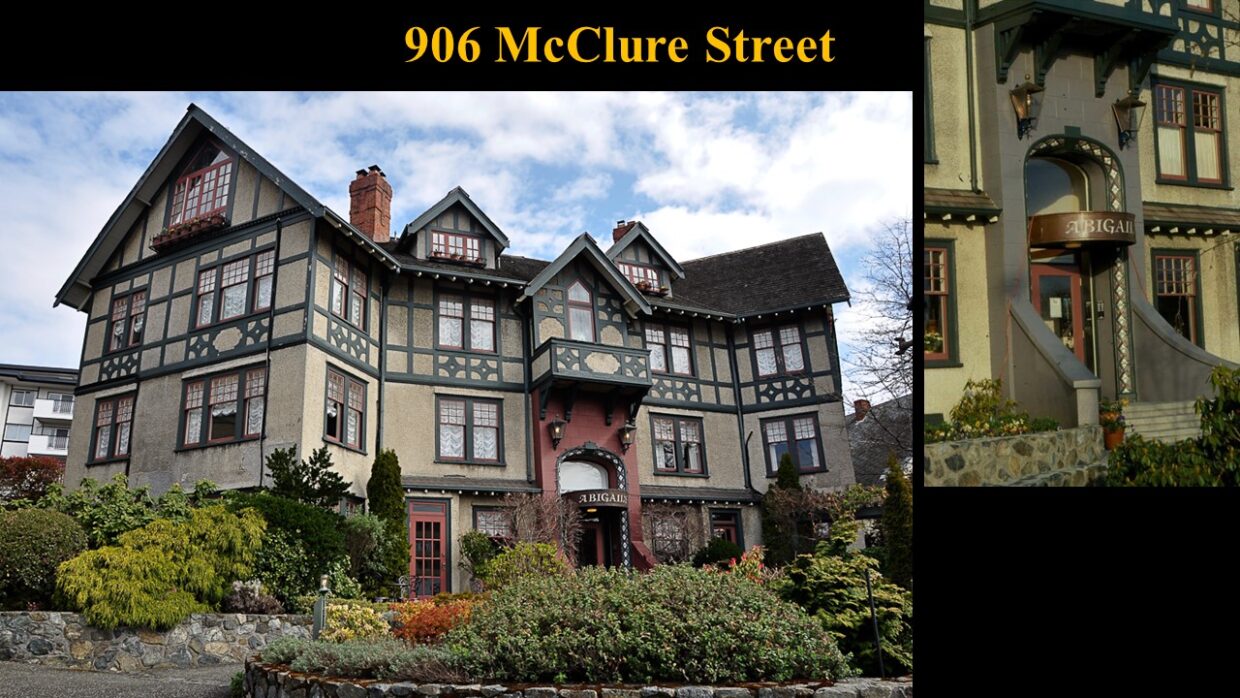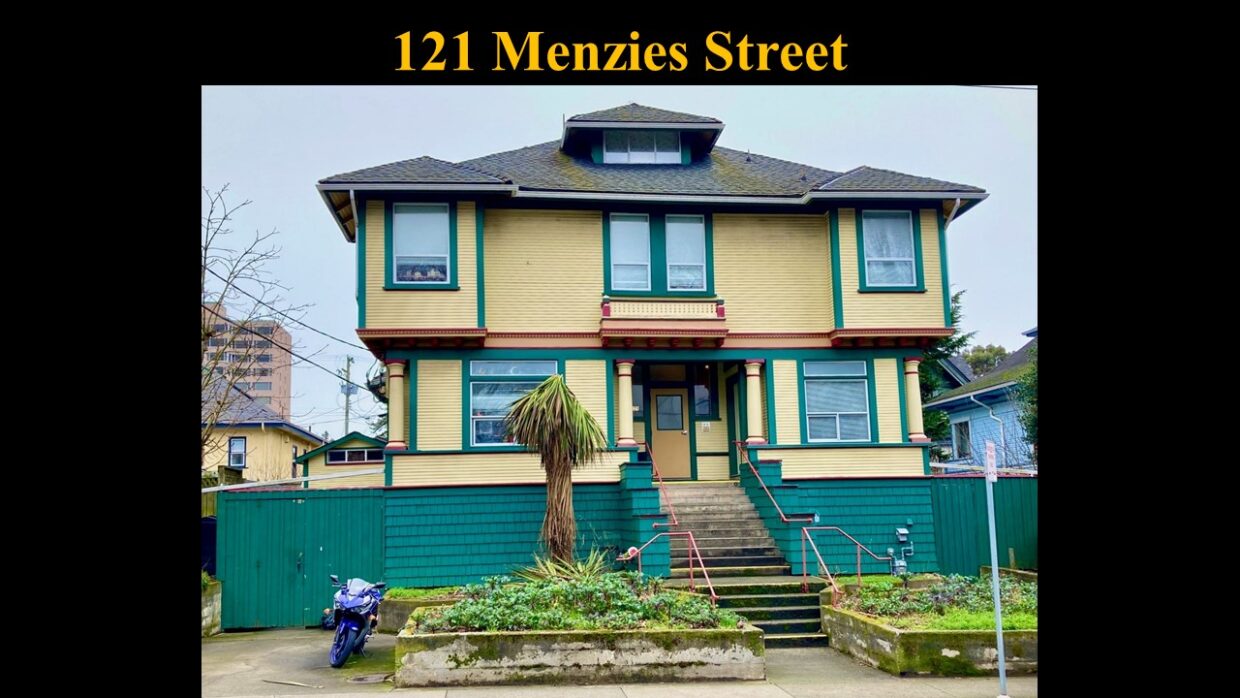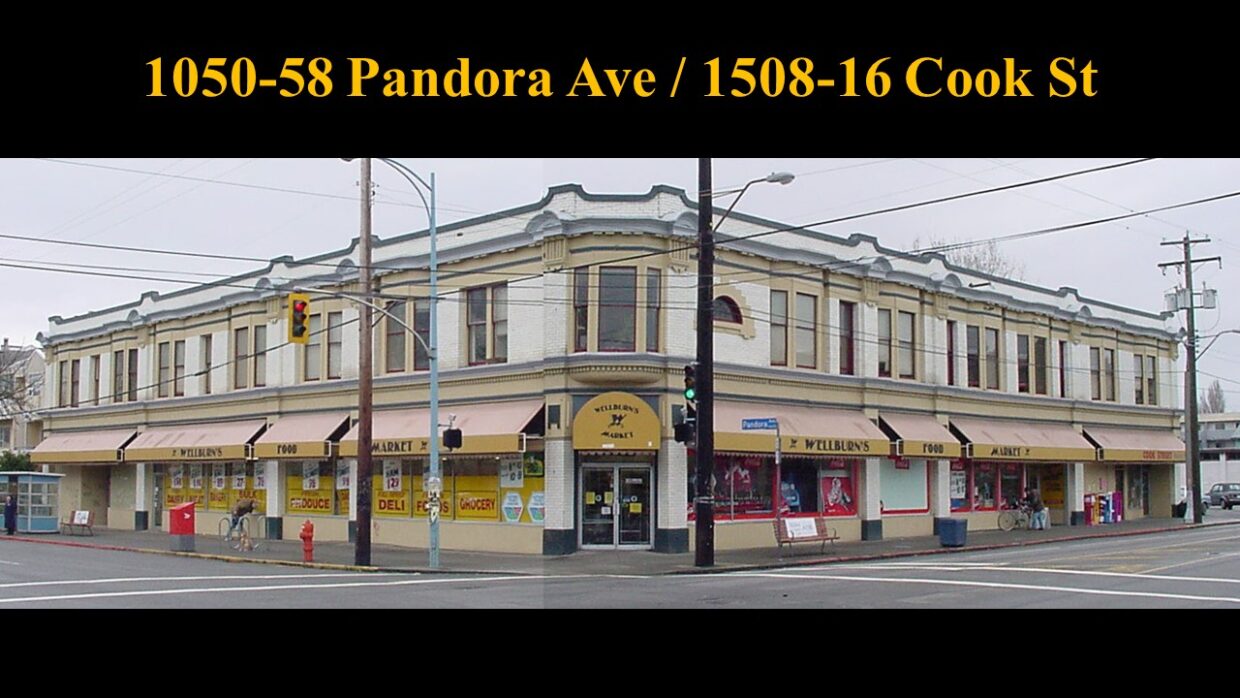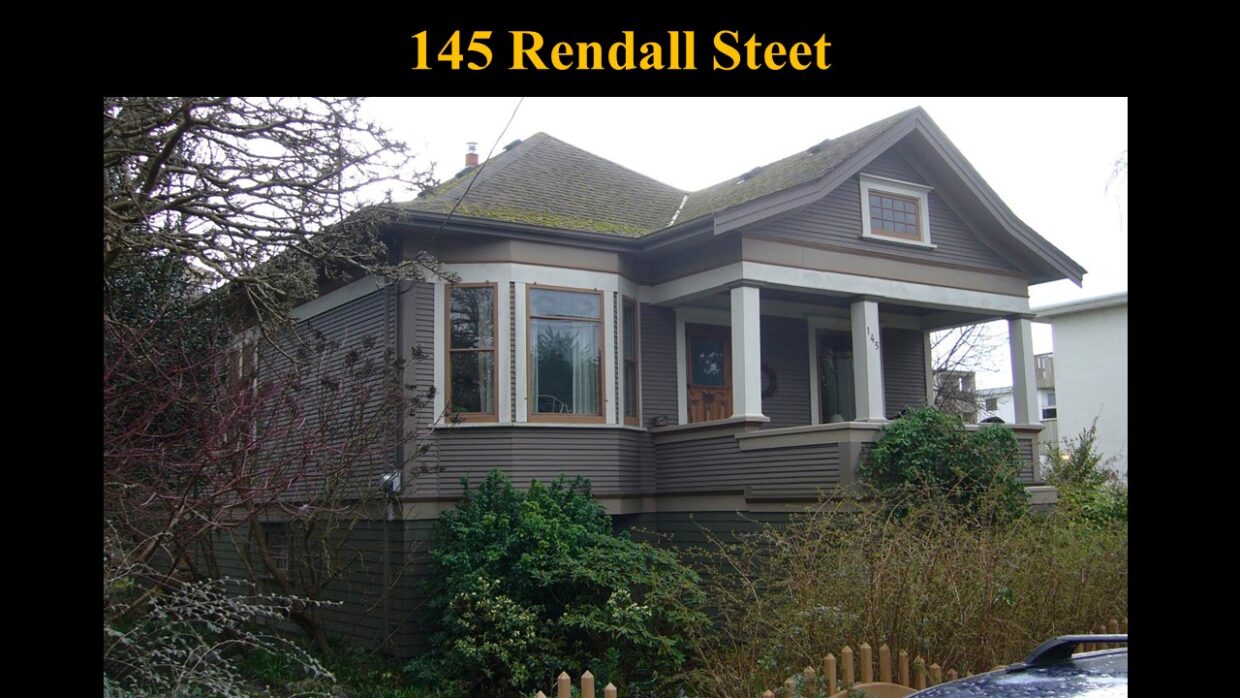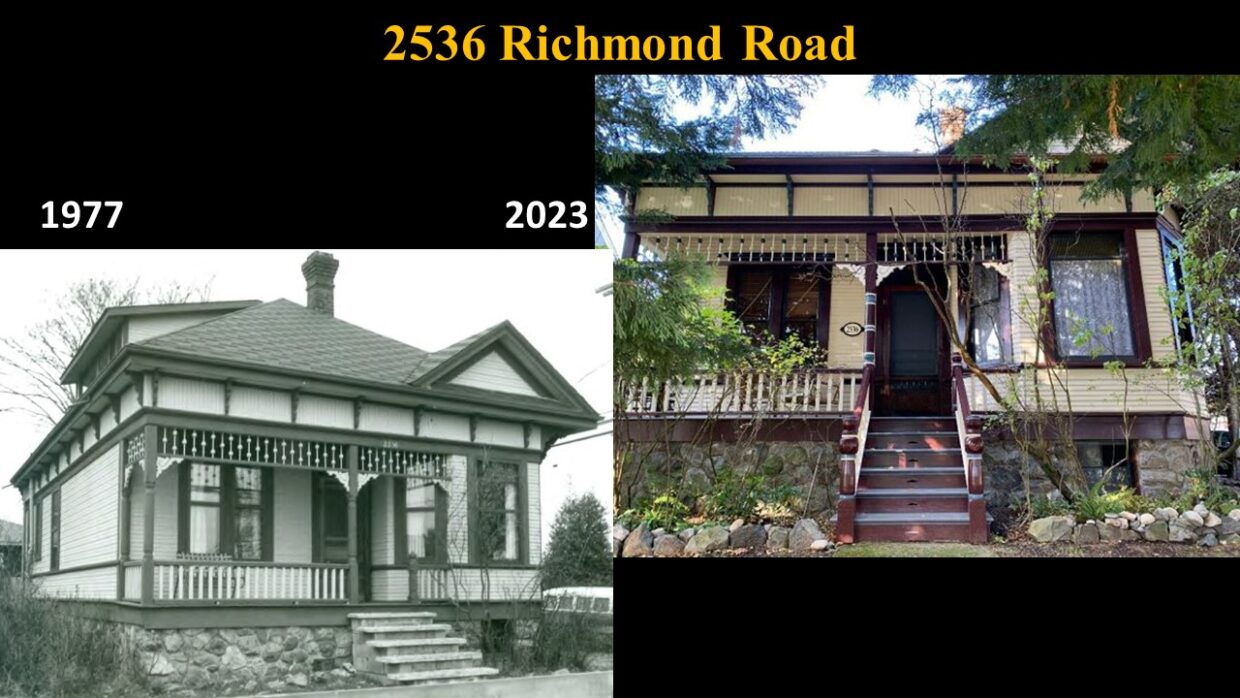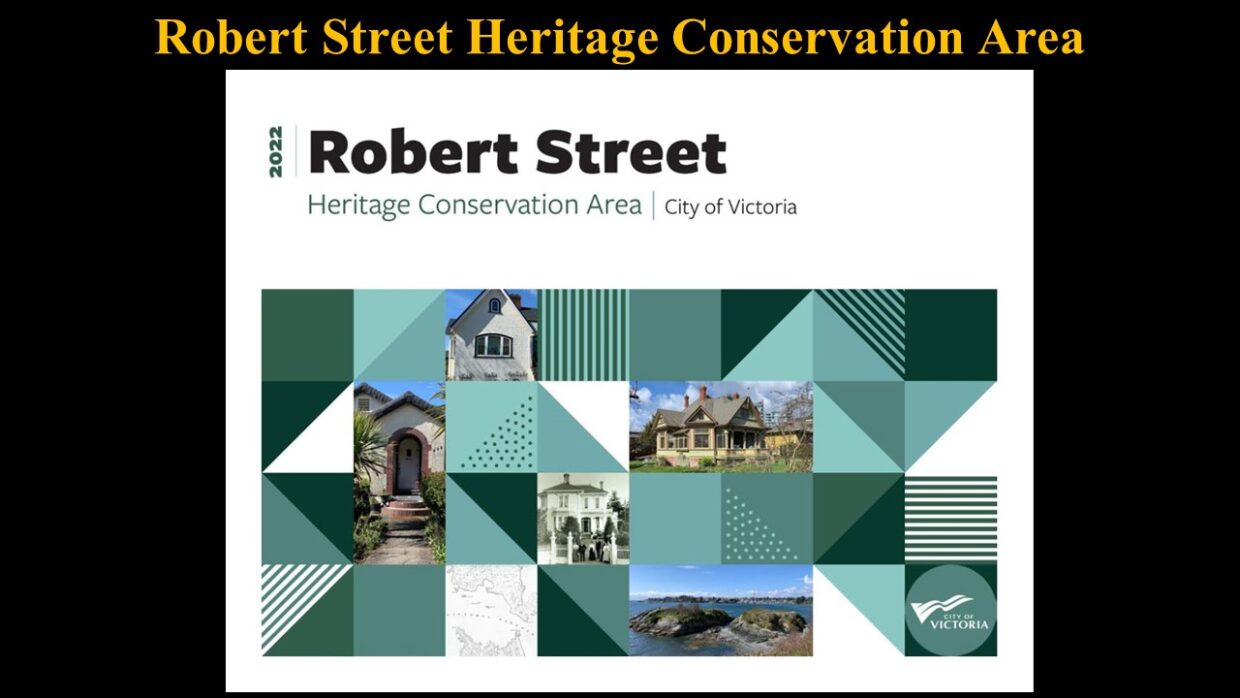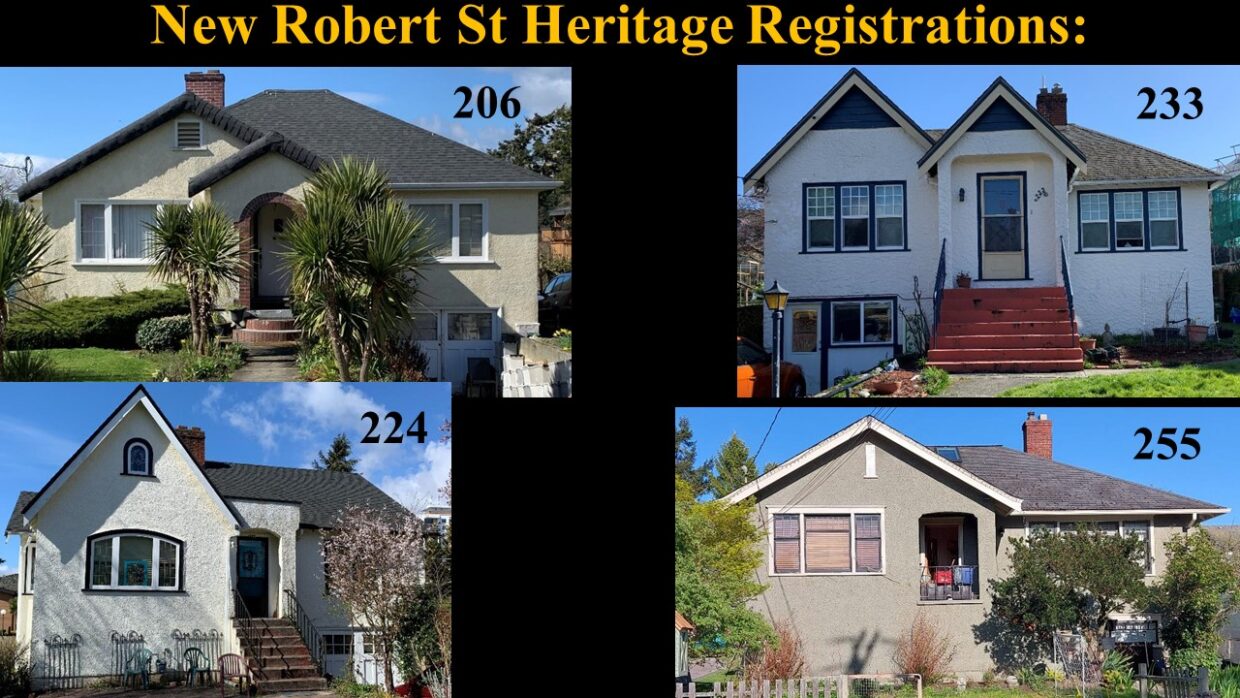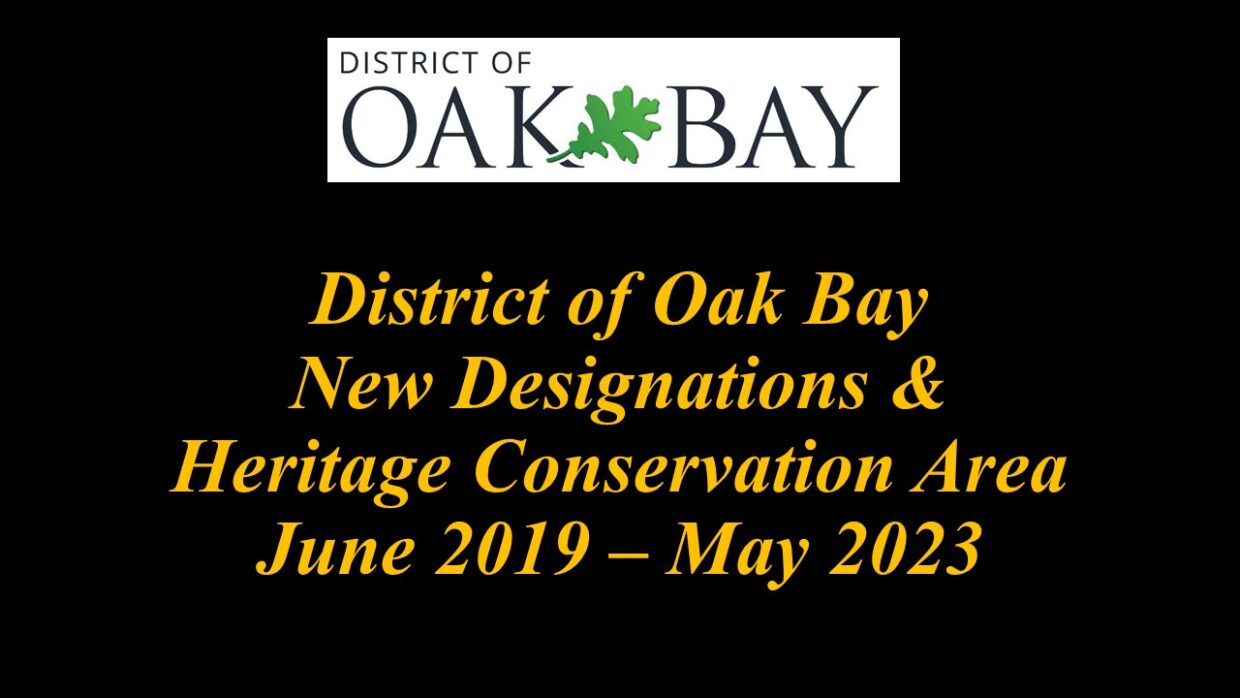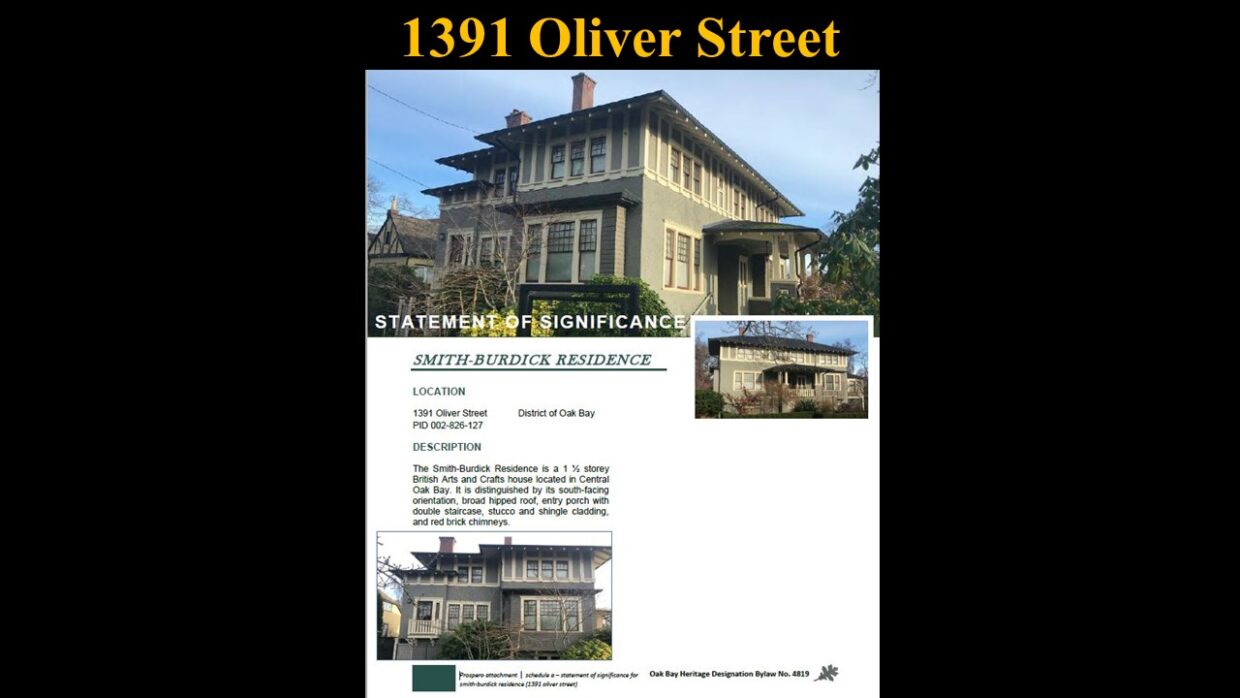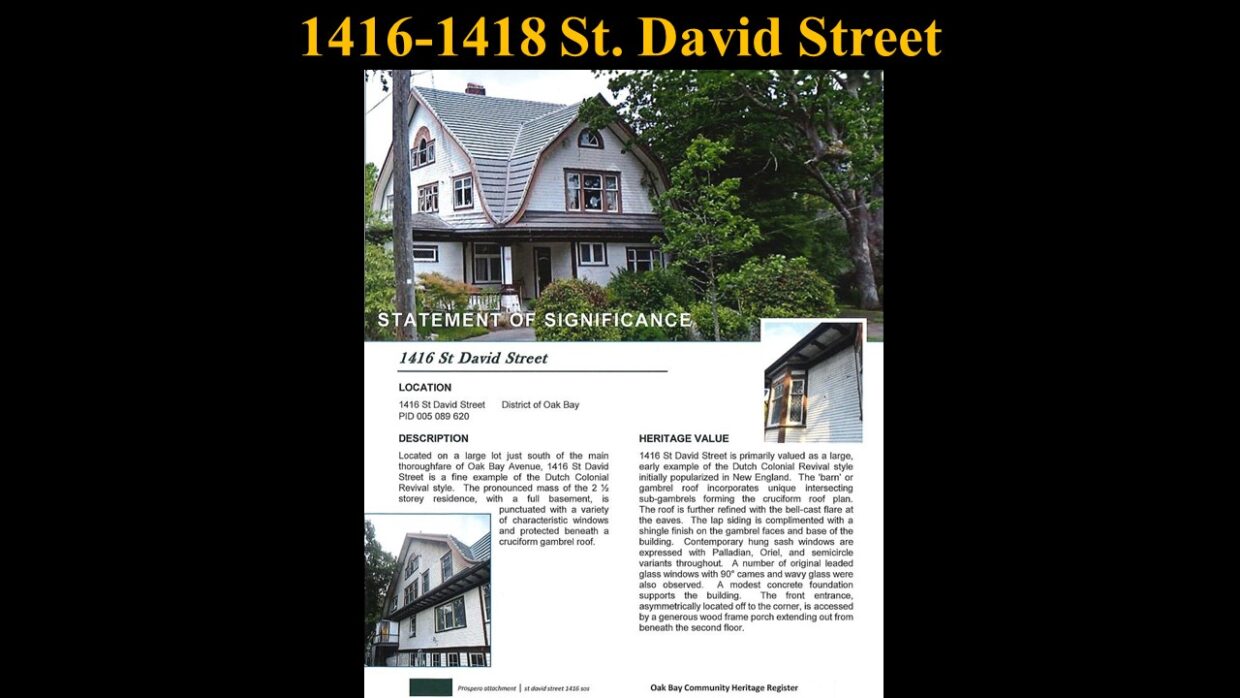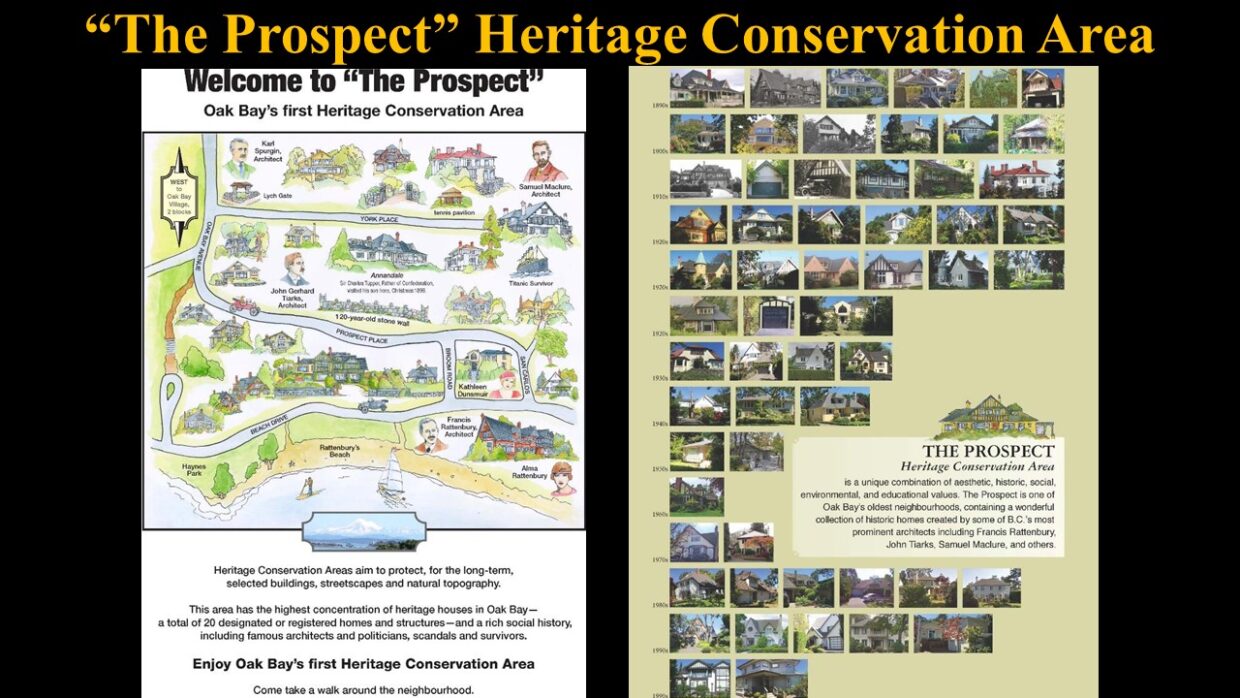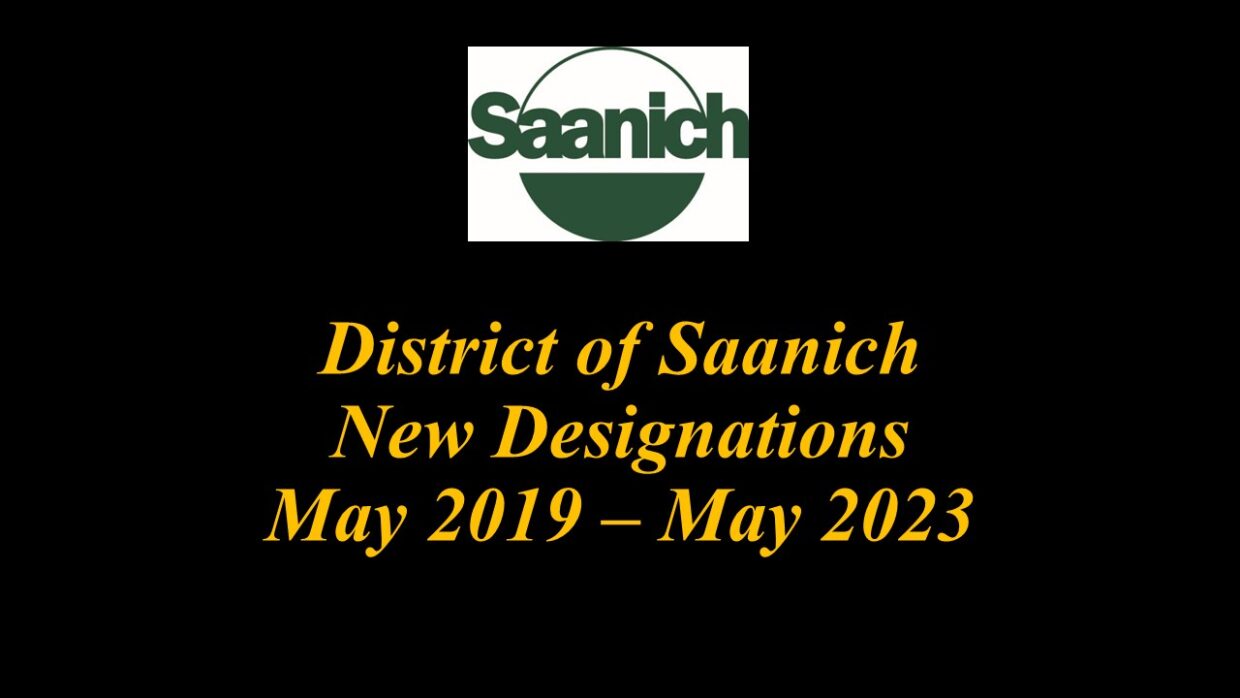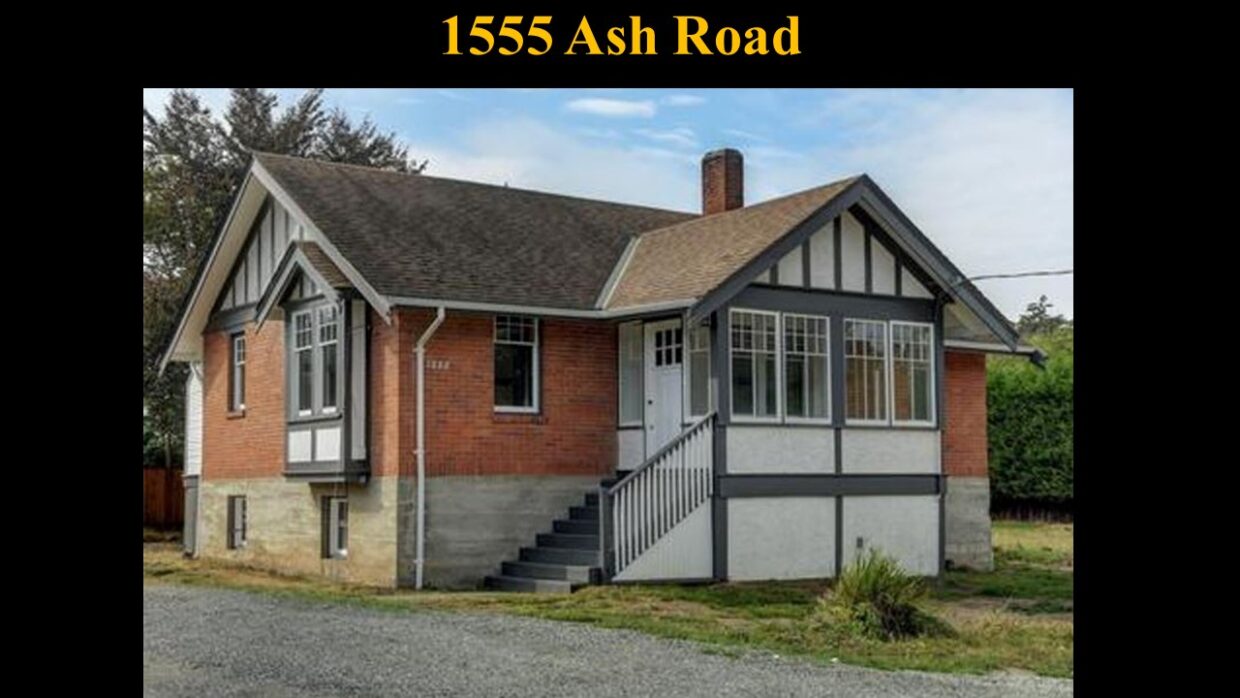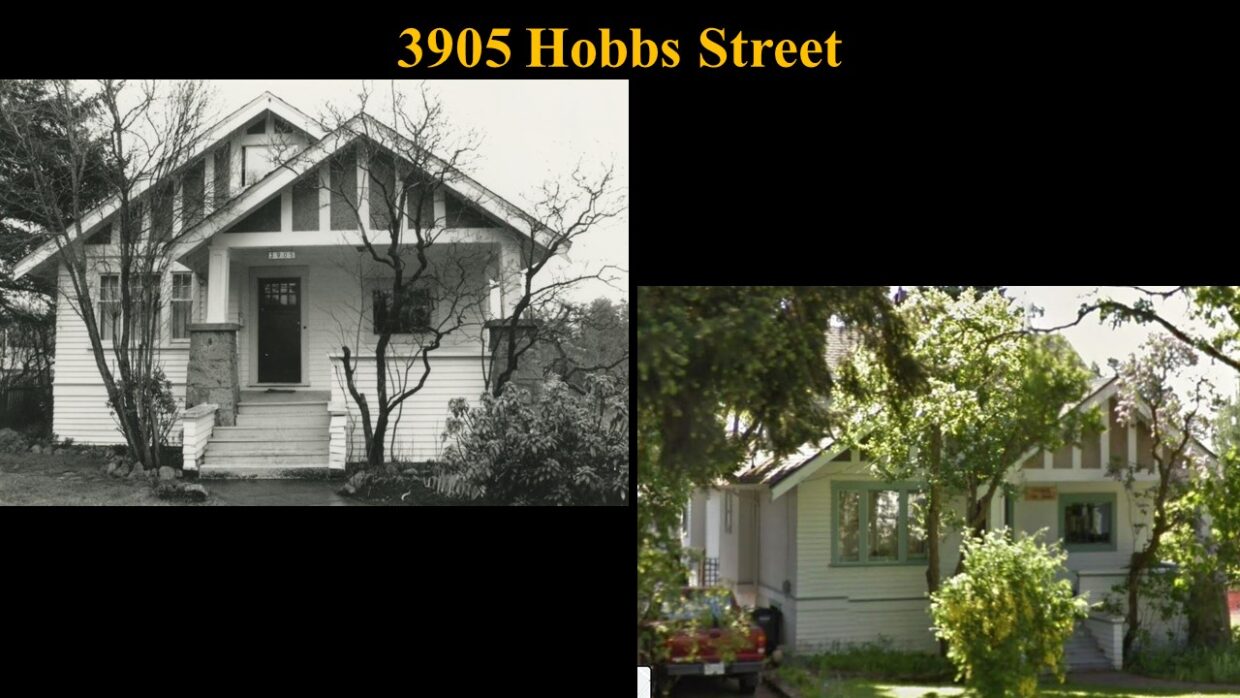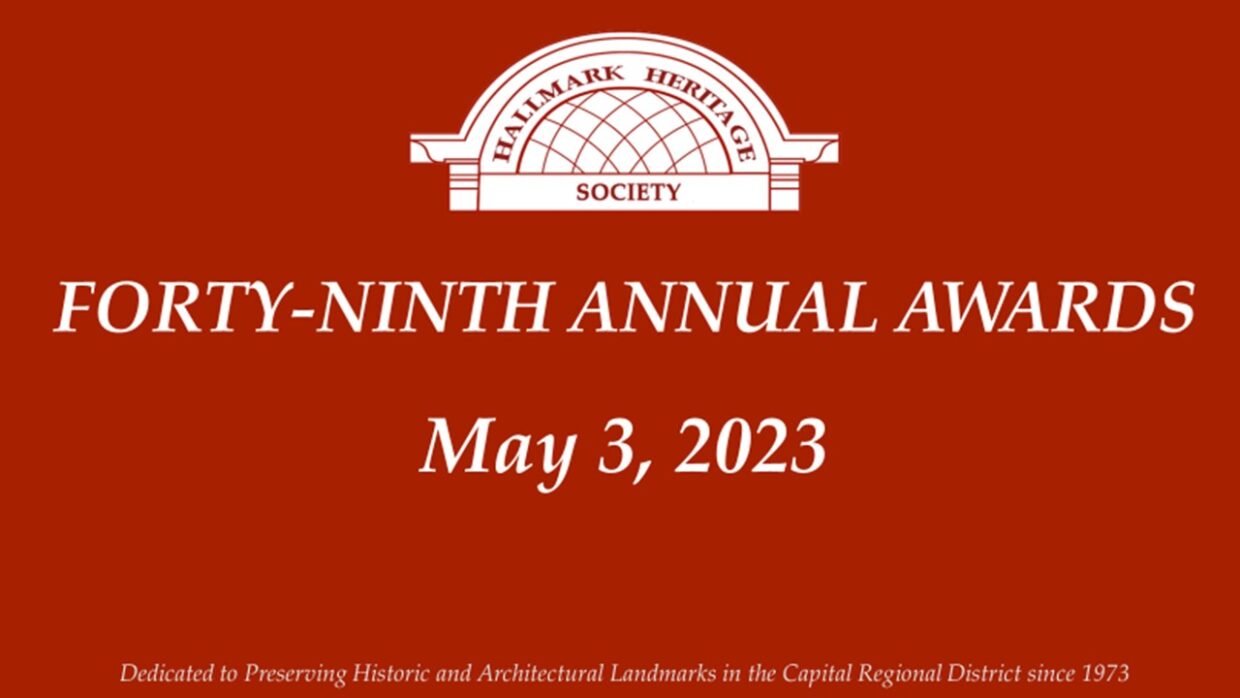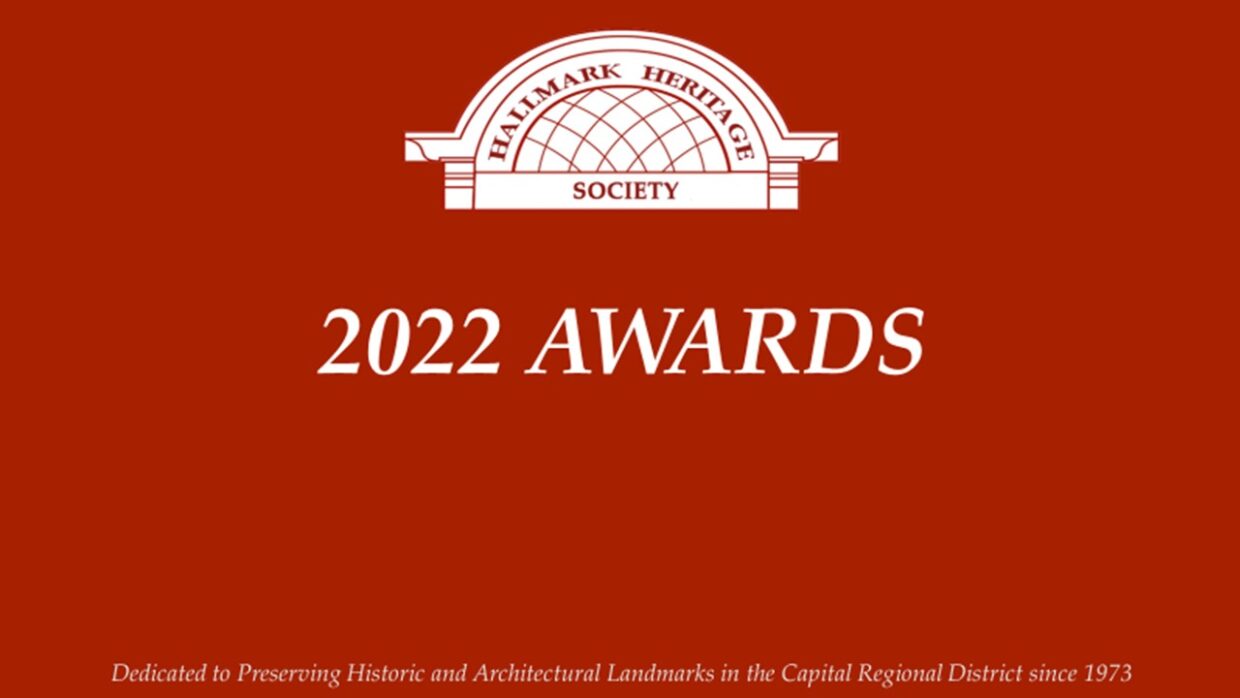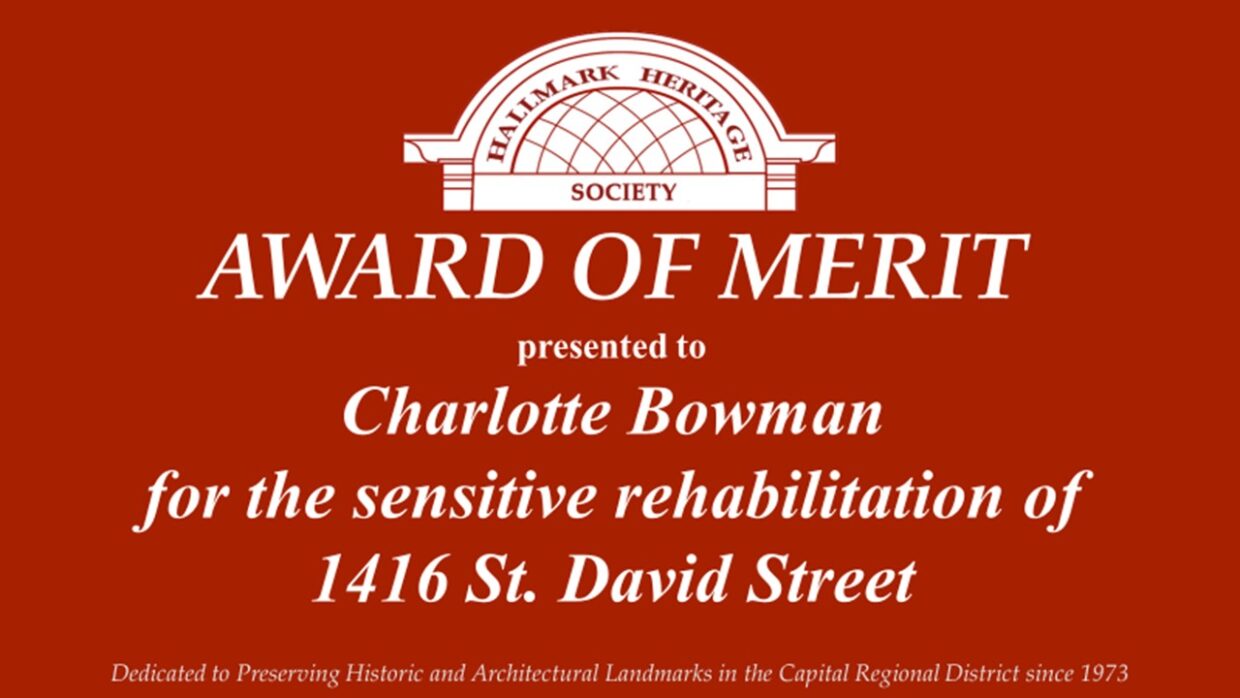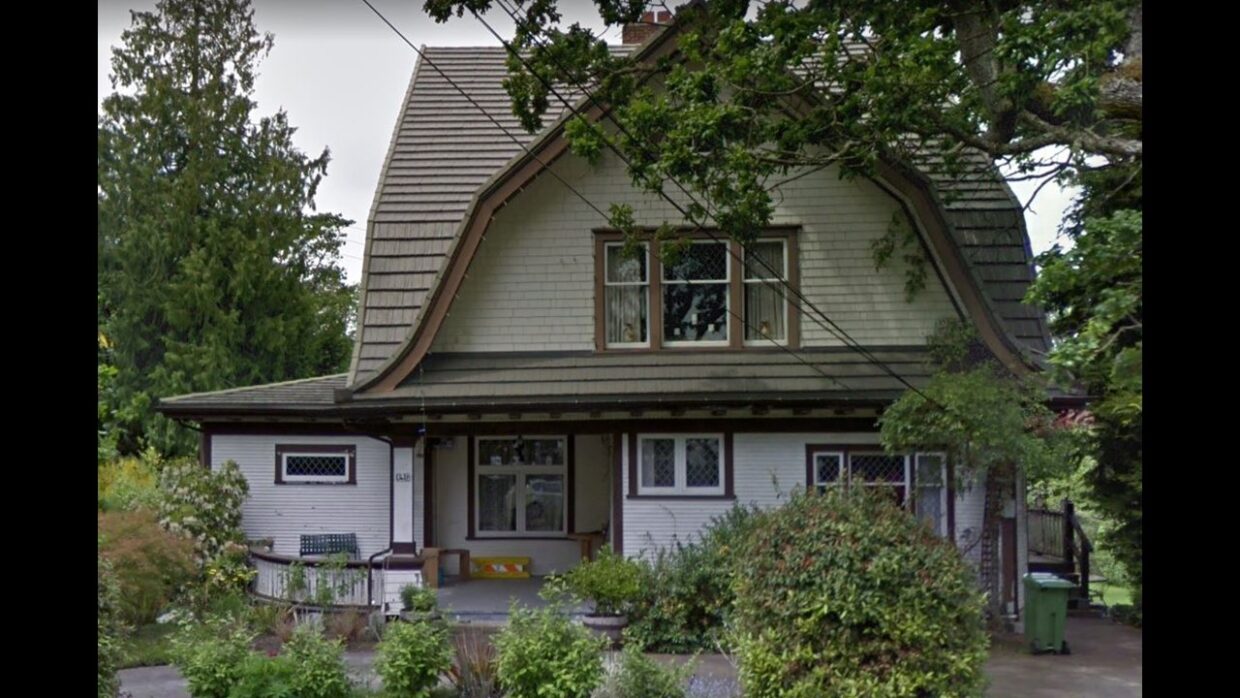 This 1913 Dutch Colonial Revival house, with its distinctive flared gambrel roof, was designed by architect Archie Bunting and built by his father Herbert's Oak Bay construction company, H. Bunting & Son. The house was built for William and Edith Colpman, who lived in the house until 1934. William ran the Colpman Lumber Co in Sooke.
In 1974, David Bowman and Pamela Murray bought the house. David was owner of the 1897 Cherry Bank Hotel and Sparerib House on Burdett Avenue until 2005, and owner of the Menzies Apartments for many years. He passed away in 2012.
The present owner, the Bowman's daughter Charlotte Ann Bowman, requested Heritage Designation for the house in 2019. At the same time, she entered into a Heritage Revitalization Agreement with Oak Bay, committing to a higher level of upkeep and maintenance than Designation requires. Now a legal triplex, the deal means one suite is owner-occupied while the other two are available to rent.
Charlotte has completely restored the house and, in keeping with the Oak Bay Heritage Plan, has conserved the established streetscape.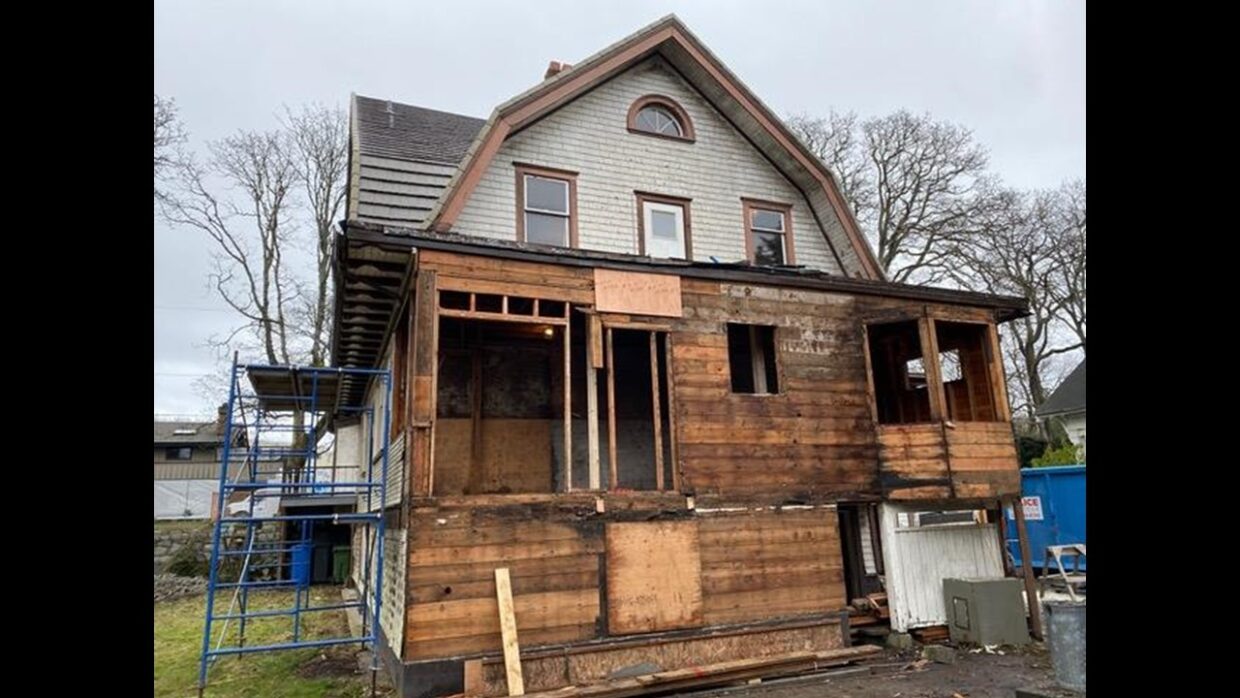 Unsympathetic later additions at the rear were removed. 
Porch decks were rebuilt. The wood frame windows were restored based on the original openings and leaded glass.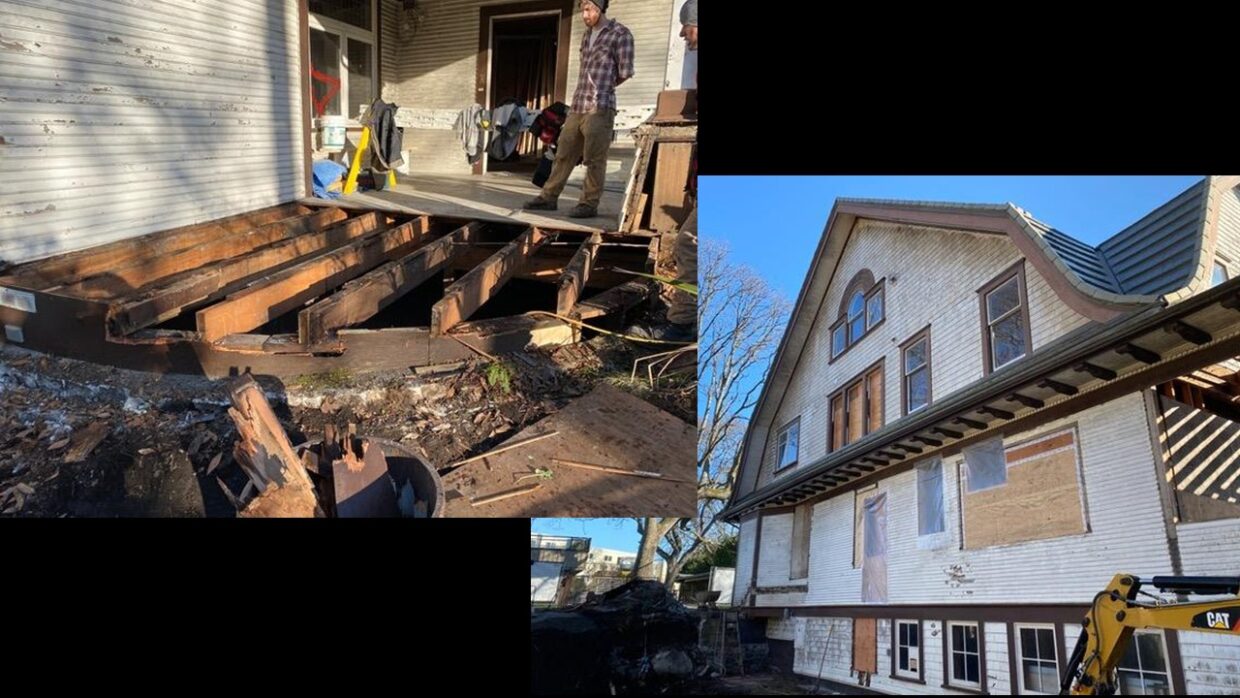 The interior was stripped and original 1913 features and details were restored.
The roof was replaced with more durable metal and a new exterior colour-scheme was added.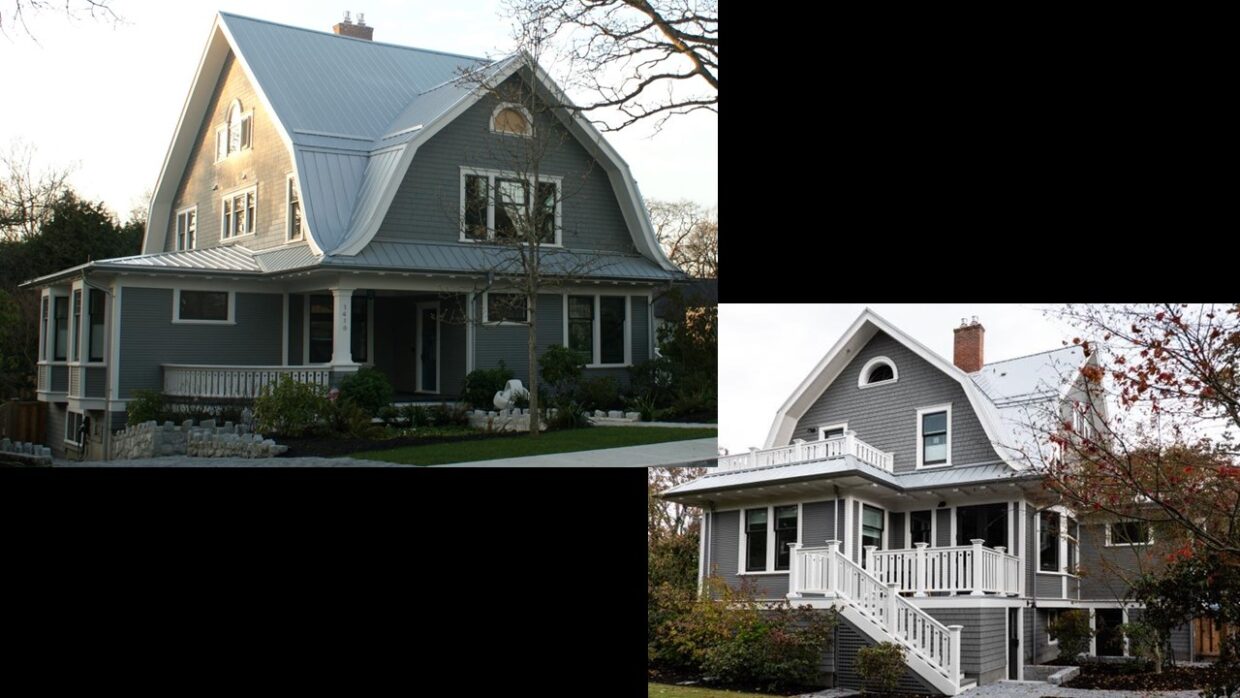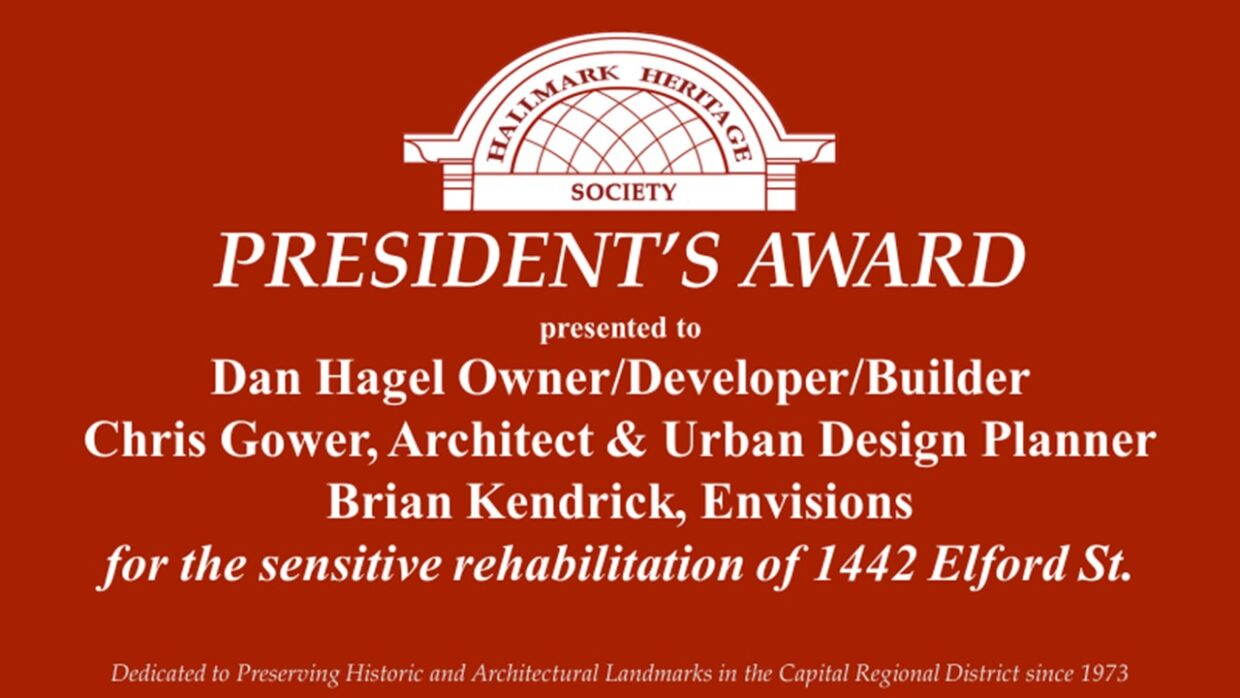 This house was built in 1901-03 by contractor/owner John Pitcairn Elford as a rental property on a lot on his family's property. His parents and siblings arrived in Victoria in 1859 and bought 40 acres of land between Pandora and Fort, west of the Oak Bay Junction.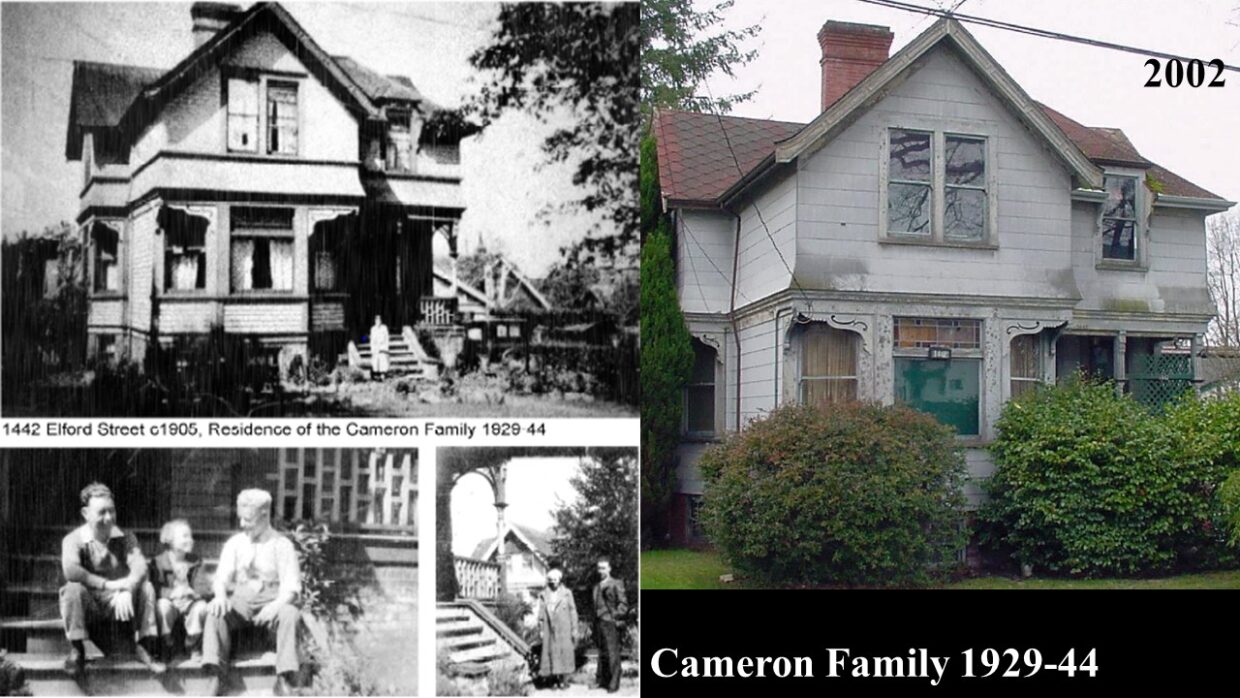 The house is a companion to 1436 to its left, built by John's brother Theo Elford. New owner and developer Dan Hagel felt that this property should be restored and retained because it was a match to its neighbour and part of the late-nineteenth-century heritage streetscape on the west side. Original houses on the east side were replaced by apartment blocks in the 1960s and 70s.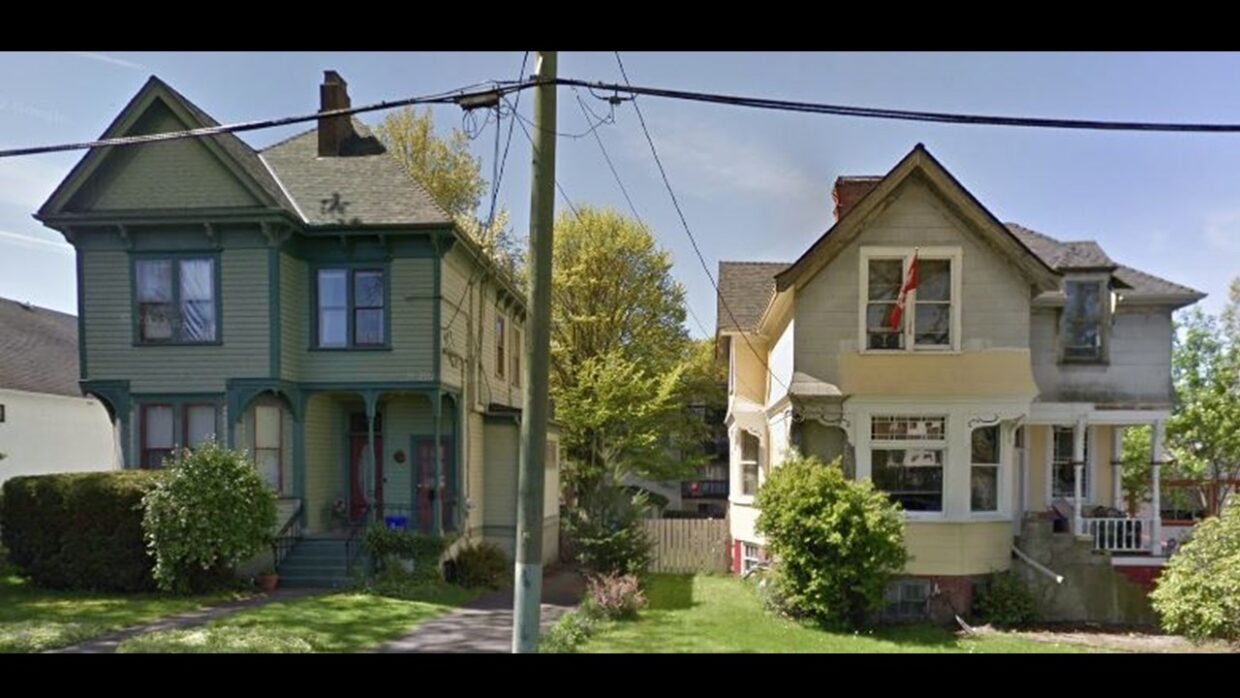 Chris Gower was hired to produce the restoration and rehabilitation design. He designed rear yard resident parking for five vehicles and seven bicycle stations.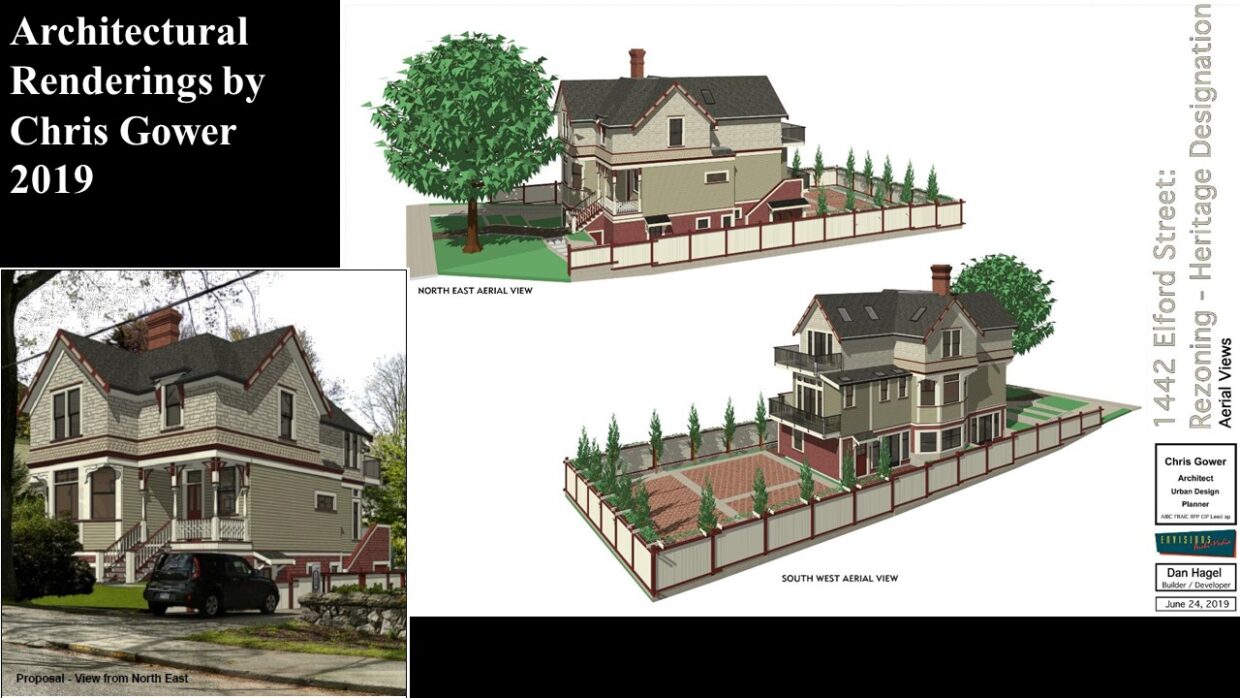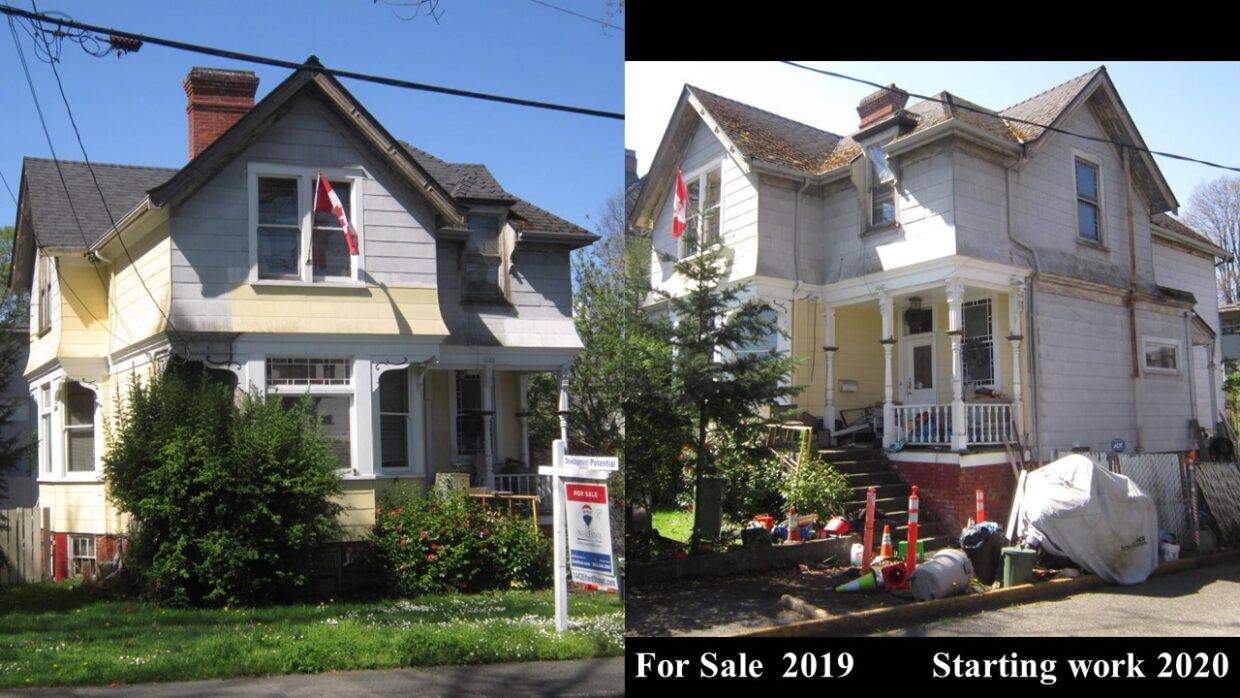 It was in generally poor condition before work started.
The original foundation was made with bricks from the Elford brick yard and provided no seismic support. The house was lifted 1.3 metres, moved to a new foundation and seismically upgraded.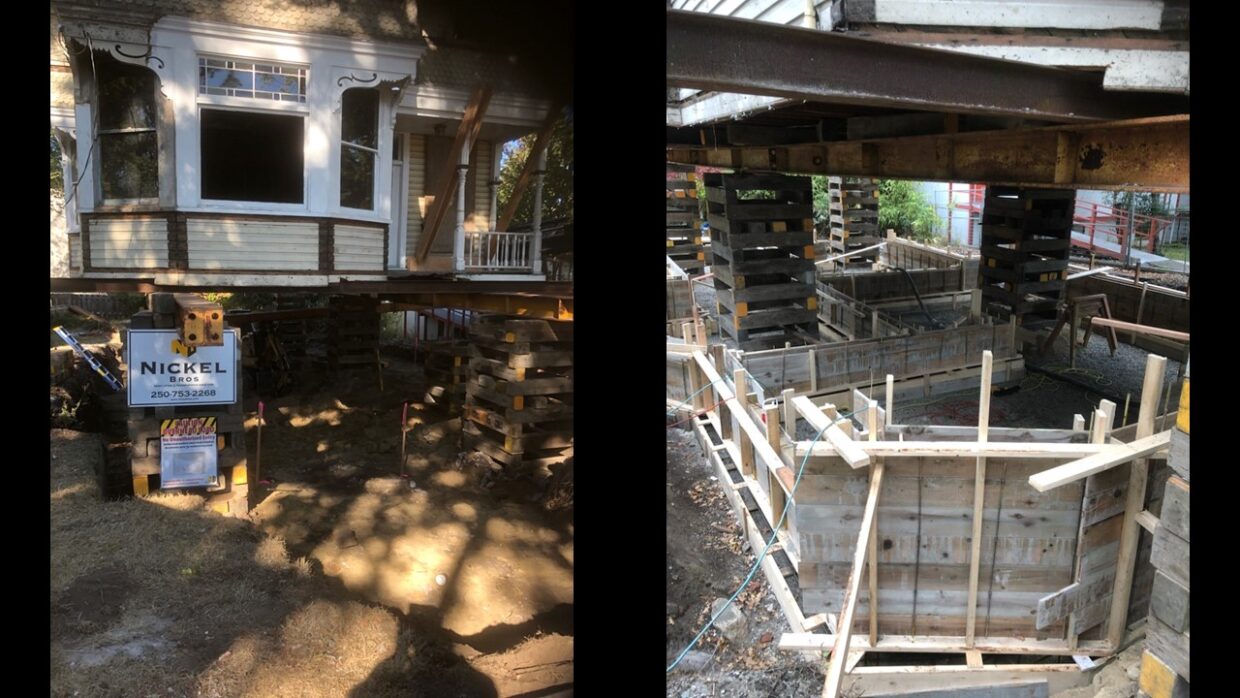 The building itself was a stiff light wood frame and survived the lifting. The dilapidated asbestos siding which had covered the structure for decades was removed. The surfaces were then rehabilitated and details restored.
The upper two levels were restored to heritage standards.The result is five suites: three one-bedroom units on the lower two floors, a two-bedroom on the upper floor and one in the lower garden level.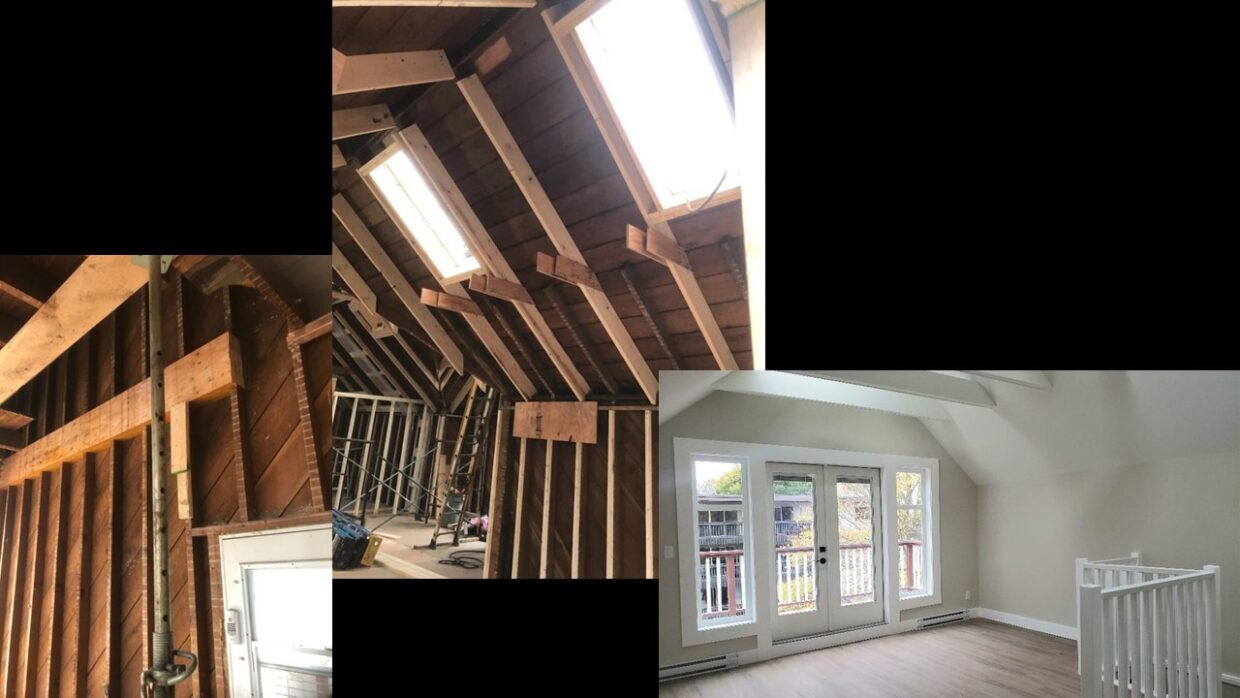 Victoria Heritage Foundation provided funding assistance for a new roof and storm windows for this Designated Heritage house. The house reinforces the late nineteenth century streetscape
Credit must be given to Dan Hagel for seeing the potential in this important Victoria house. The work was supported by the neighbours in Fernwood as it enhances their streetscape.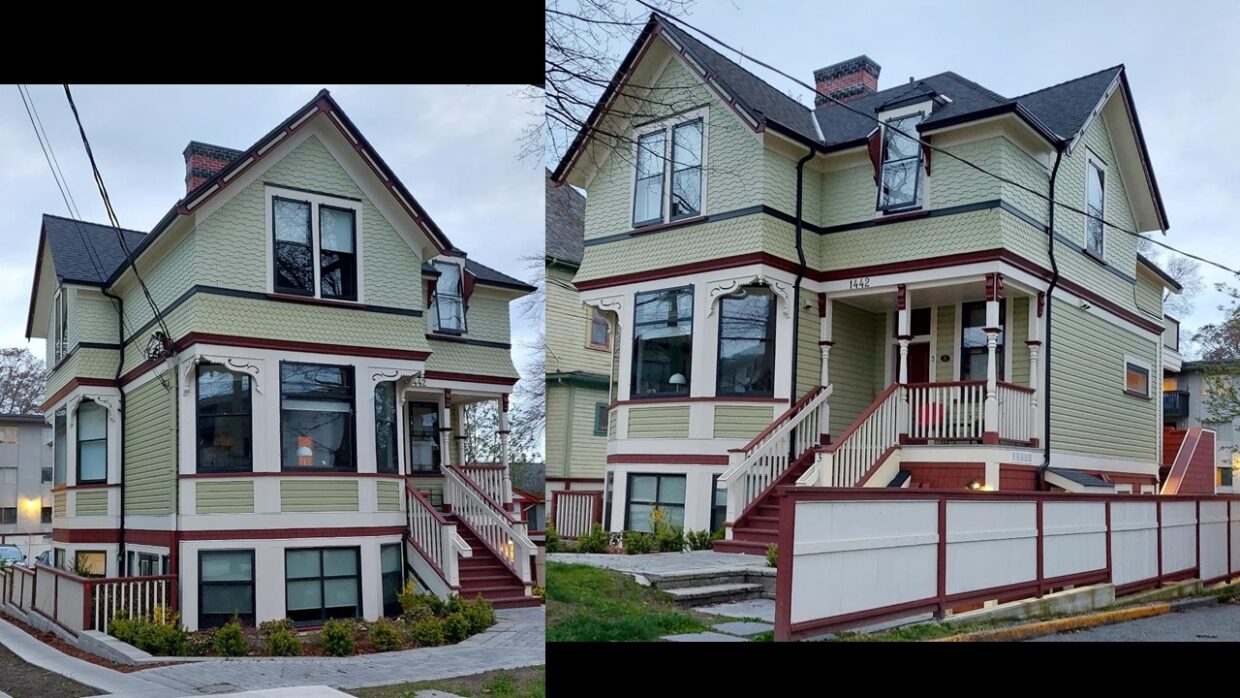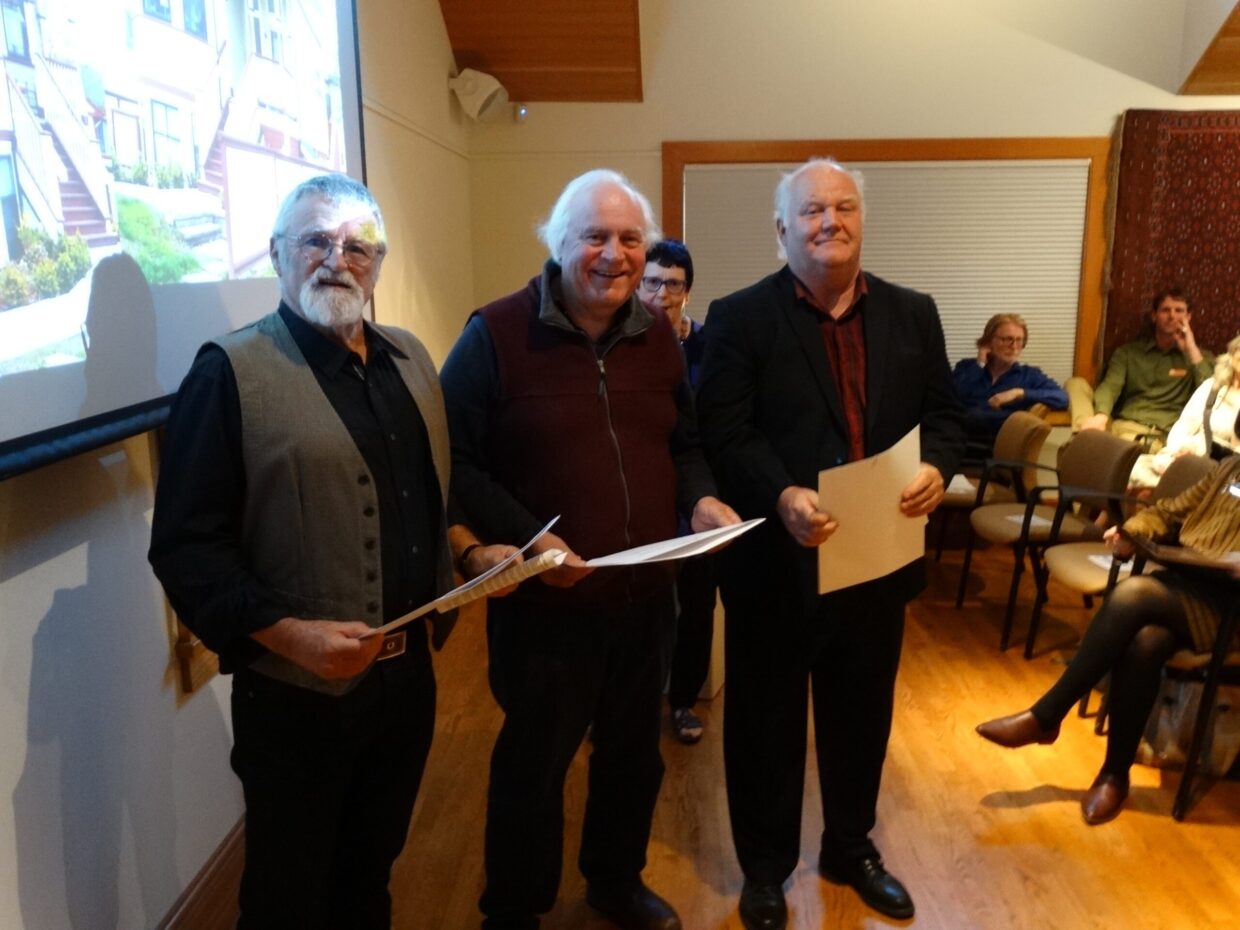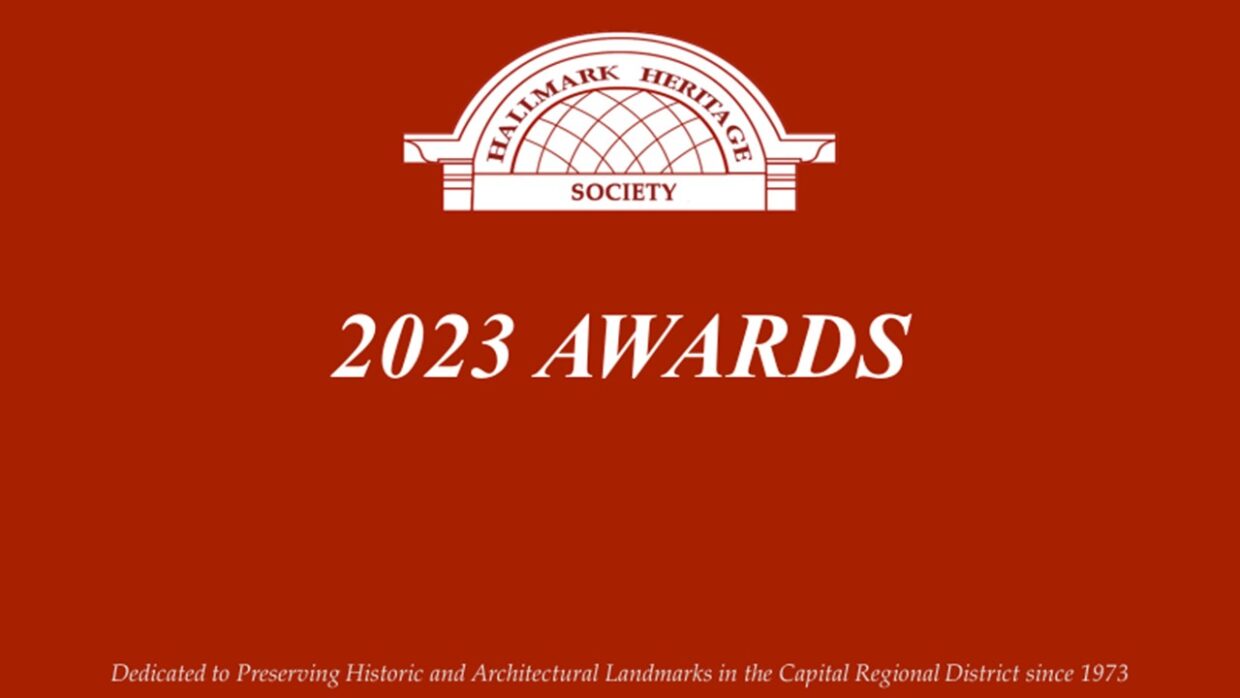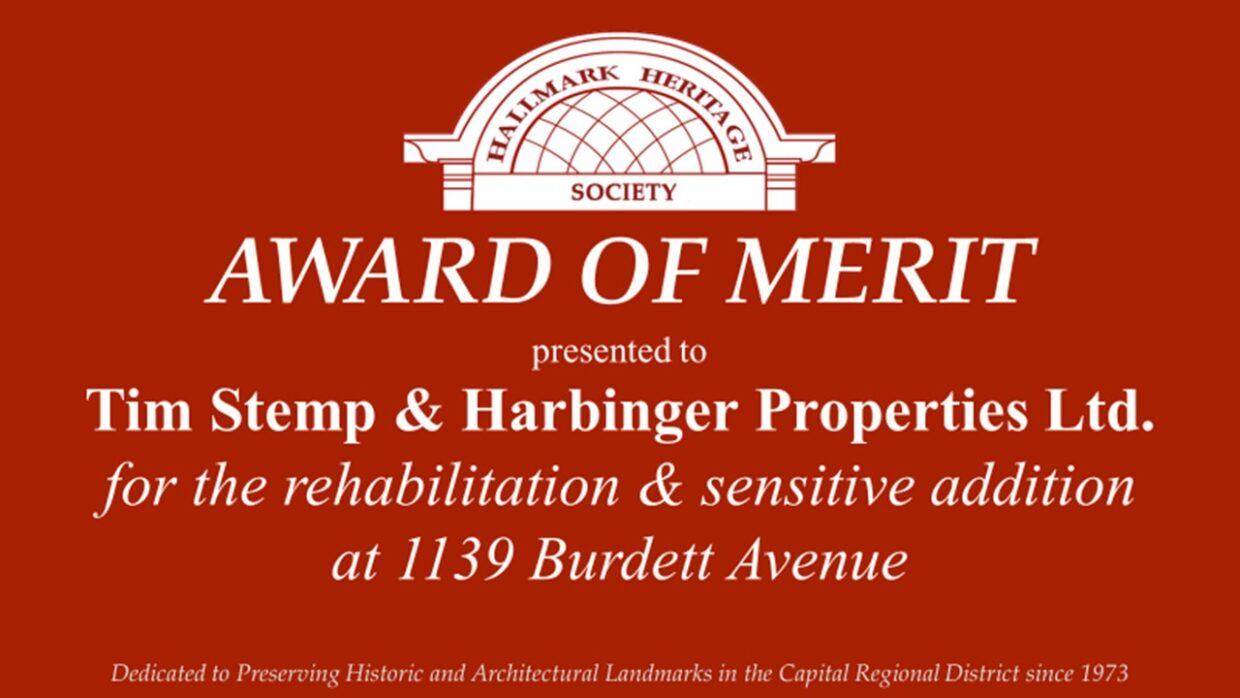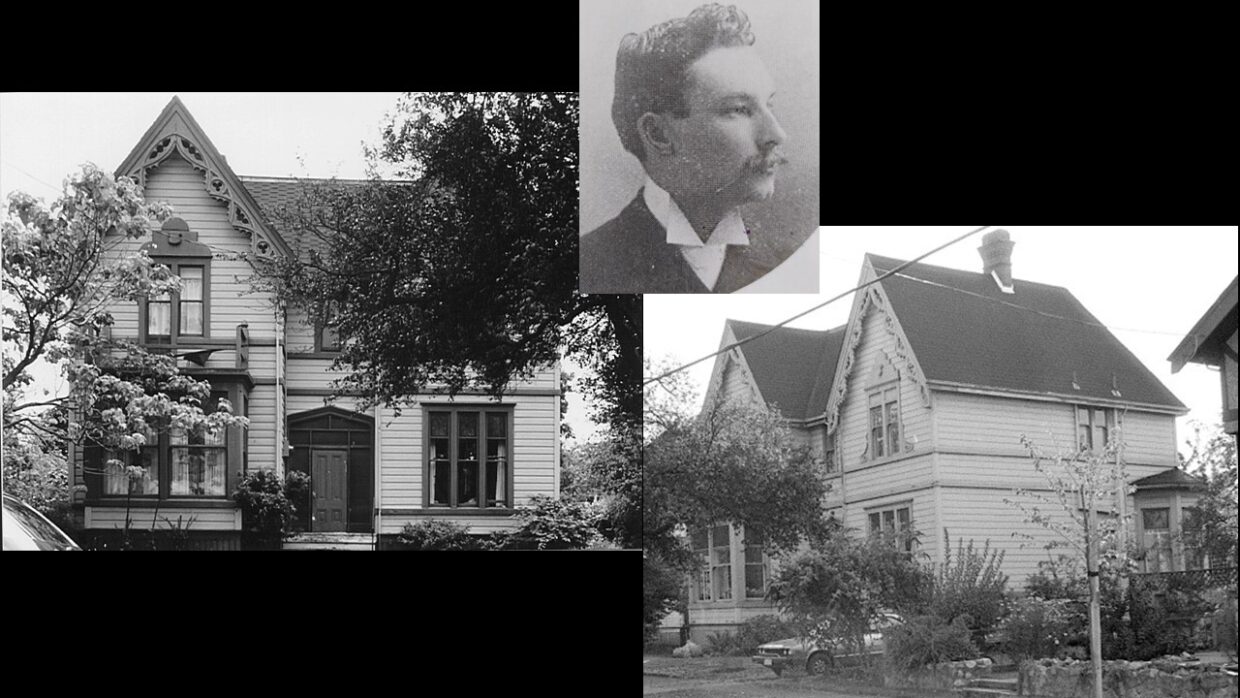 1139 Burdett was designed by Architect John Gerhard Tiarks and built in 1892 for engineer Captain Arthur and Florence Scroggs. Owners from 1898 to 1908 were William and Annie Pinder. William, a civil engineer, surveyed for the CPR through BC and the E&N Railway for the Dunsmuirs.  The house underwent alterations and repurposing prior to Tim Stemp acquiring it in 2018, converting the building to seven self-contained, 1-bedroom suites and restoring the exterior.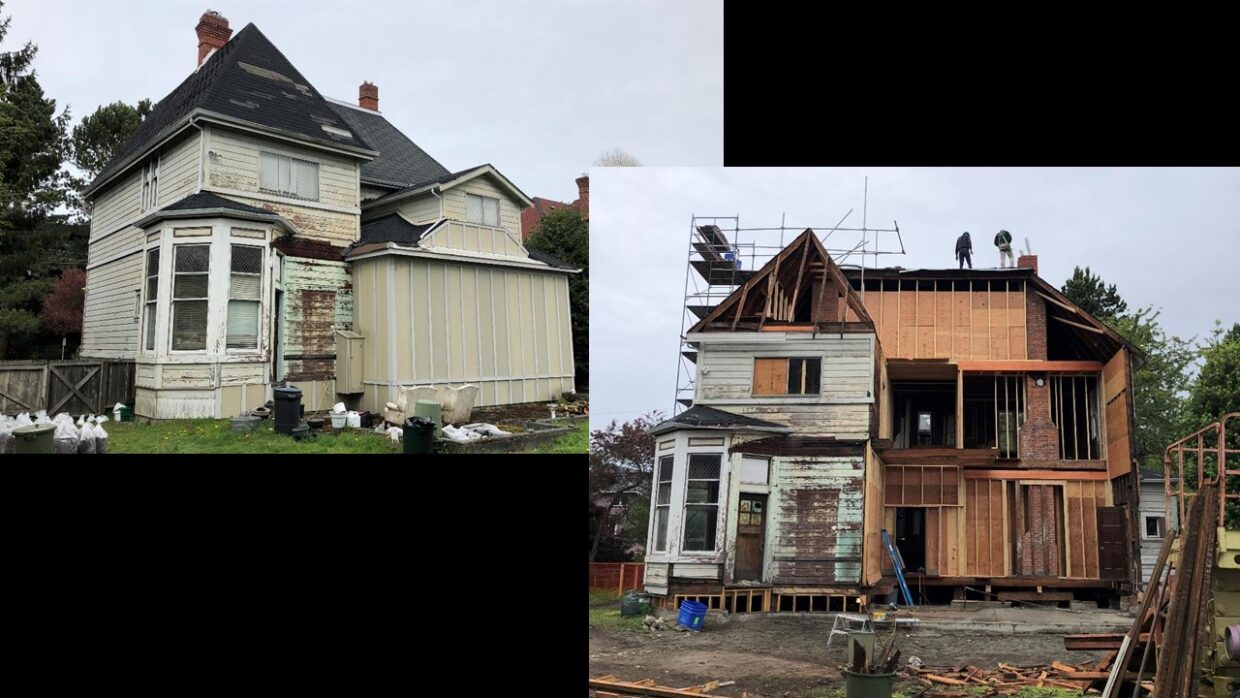 The building was gutted back to the studs to allow for seismic upgrading. The SE corner of the building that was not original was removed. Seismic & Fire upgrades were done, and the building was insulated.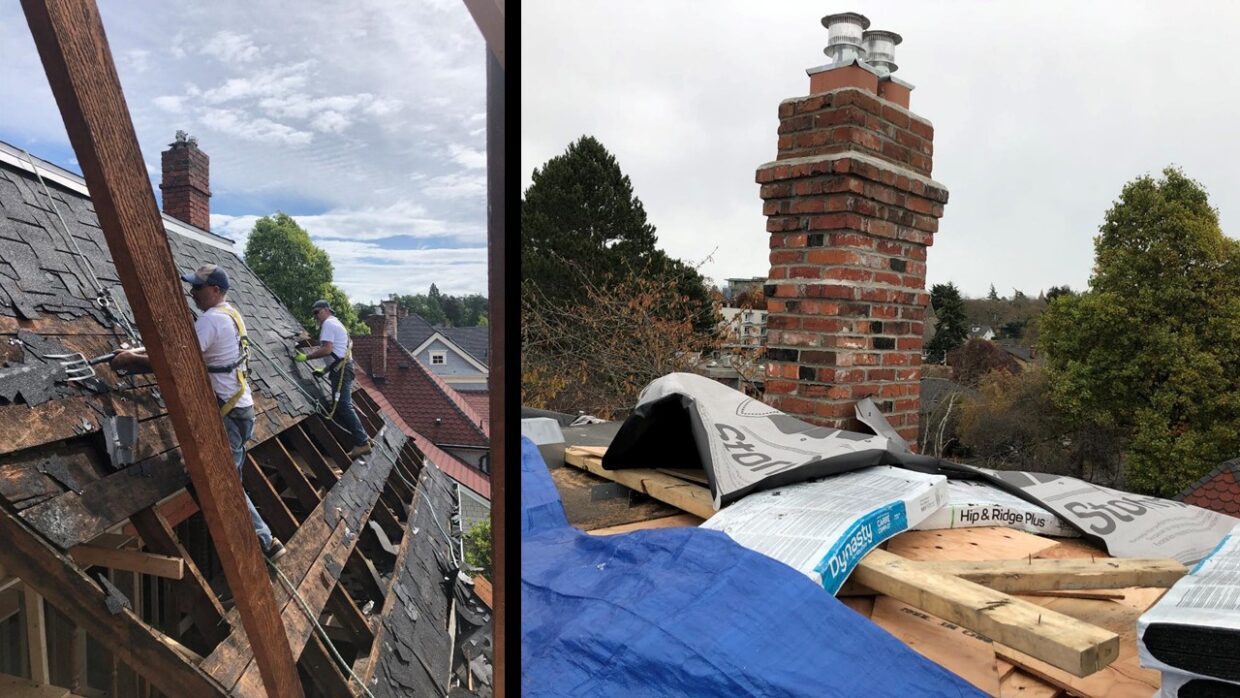 New roofing and gutters were installed. The failing chimneys were rebuilt from the roof up to the original design with salvaged bricks.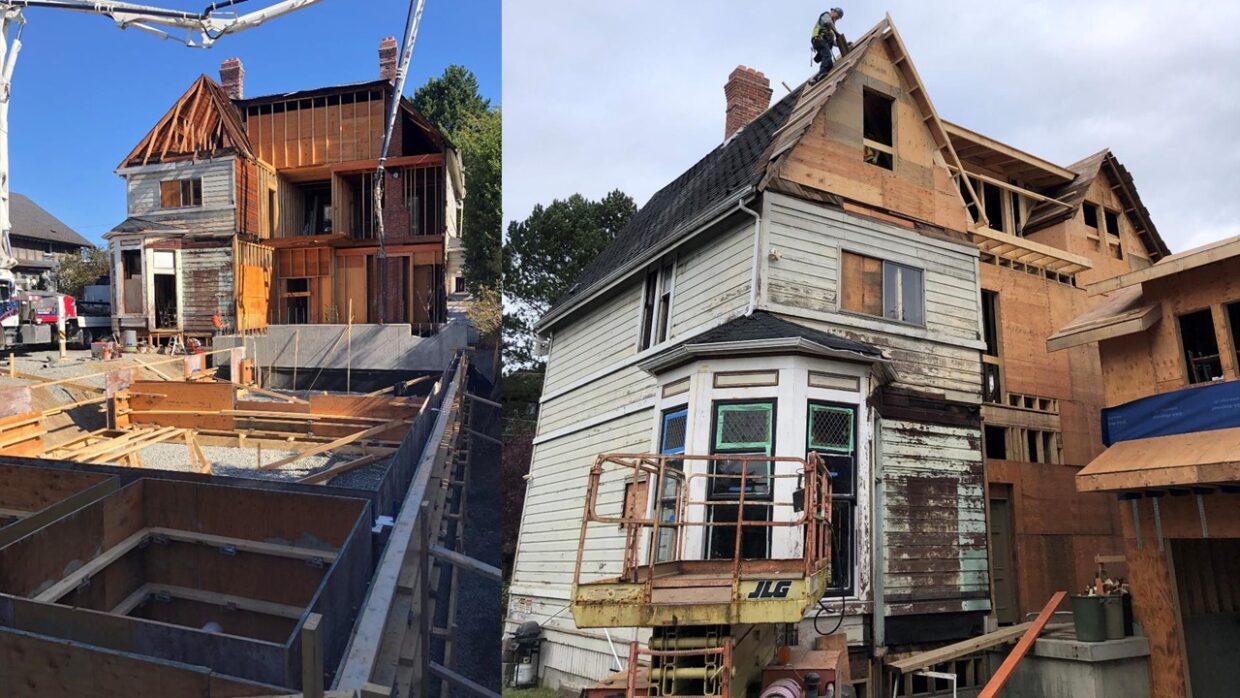 A new basement was excavated and a new gabled 3-storey addition at the SE corner was constructed. A 2-storey garage/carriage house containing 2 suites was built at the rear. Different finishes were chosen to make it obvious that it is a later addition.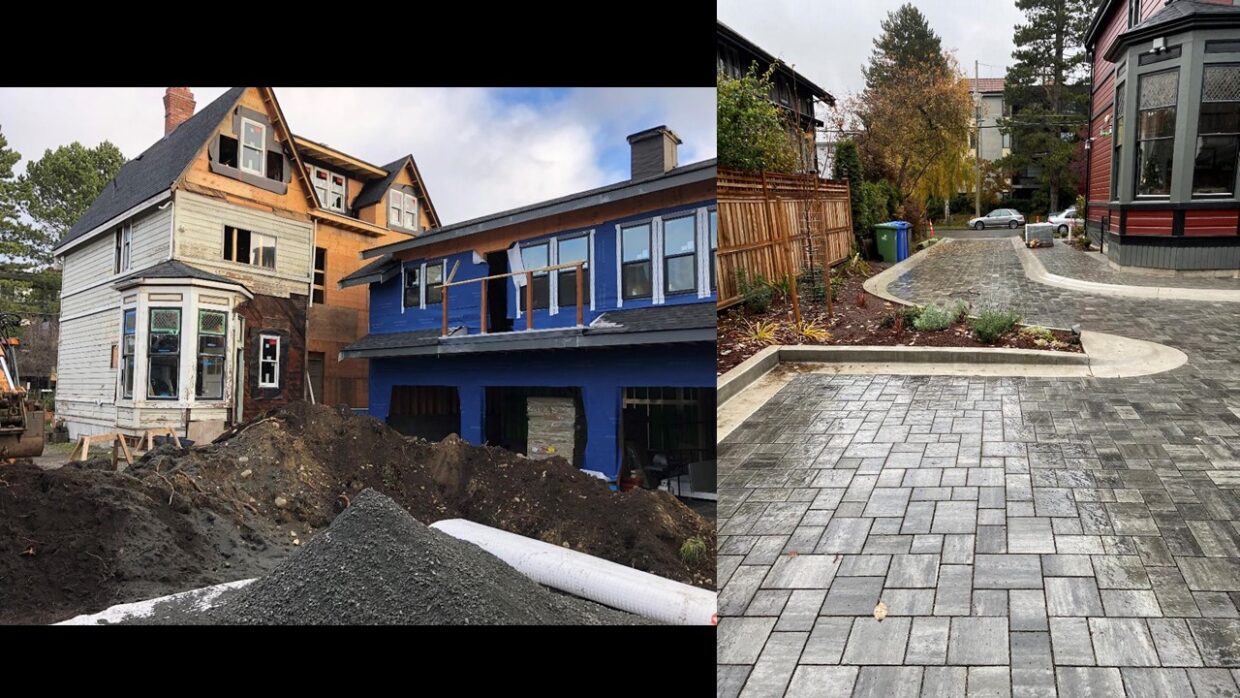 The location of the carriage house minimises its visibility from the street and preserves a significant arbutus tree. There is a new permeable cobbled walkway, driveway and parking area at the rear.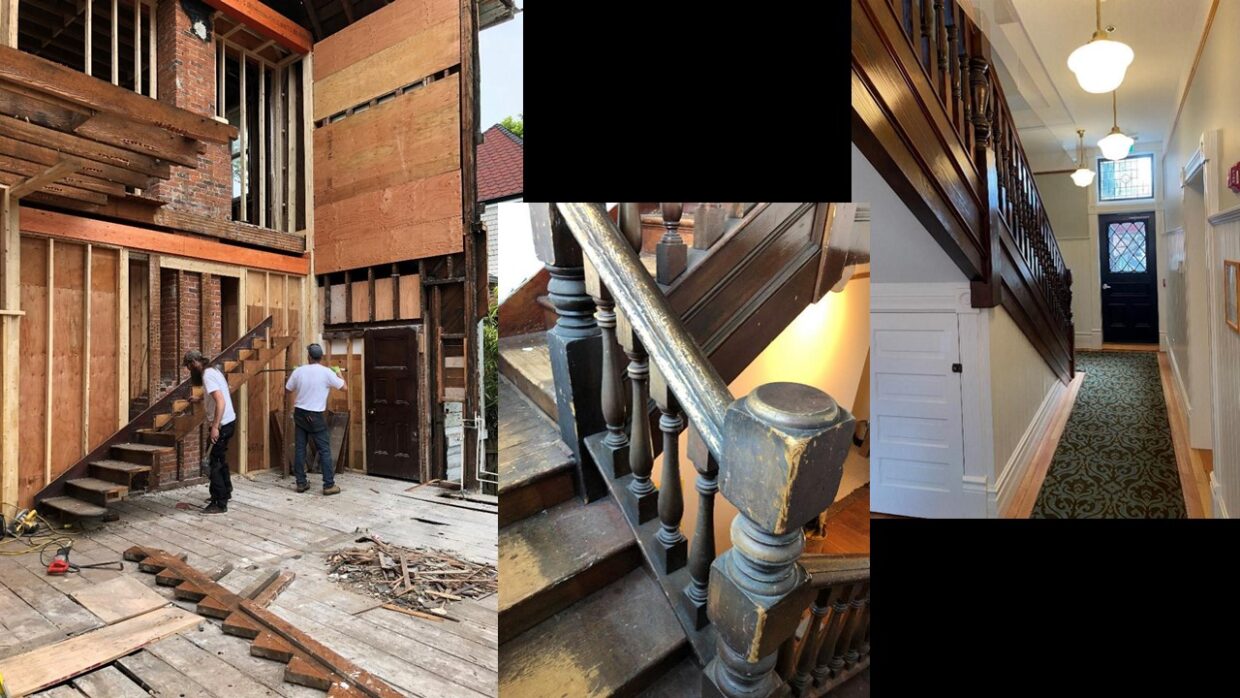 The interior stairs, which were not to code, were rebuilt in a new location using original newel posts and treads. Balusters and railings were salvaged or custom-milled to match the originals.
Original fir floors were stored off-site during construction, then cleaned and reinstalled with additional matching flooring from other sites. Custom-milled trim in the original design was installed.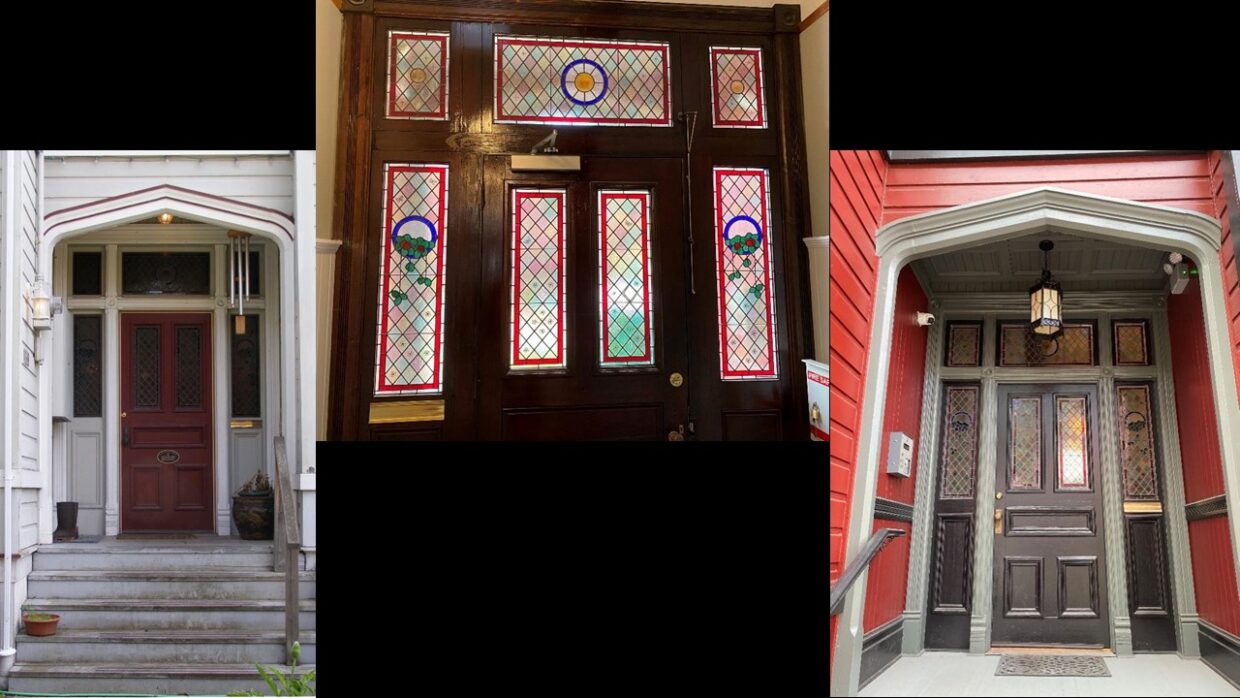 All existing wood and stained glass double-hung windows and doors were rebuilt and restored. Aluminium windows were replaced with new wood-framed windows.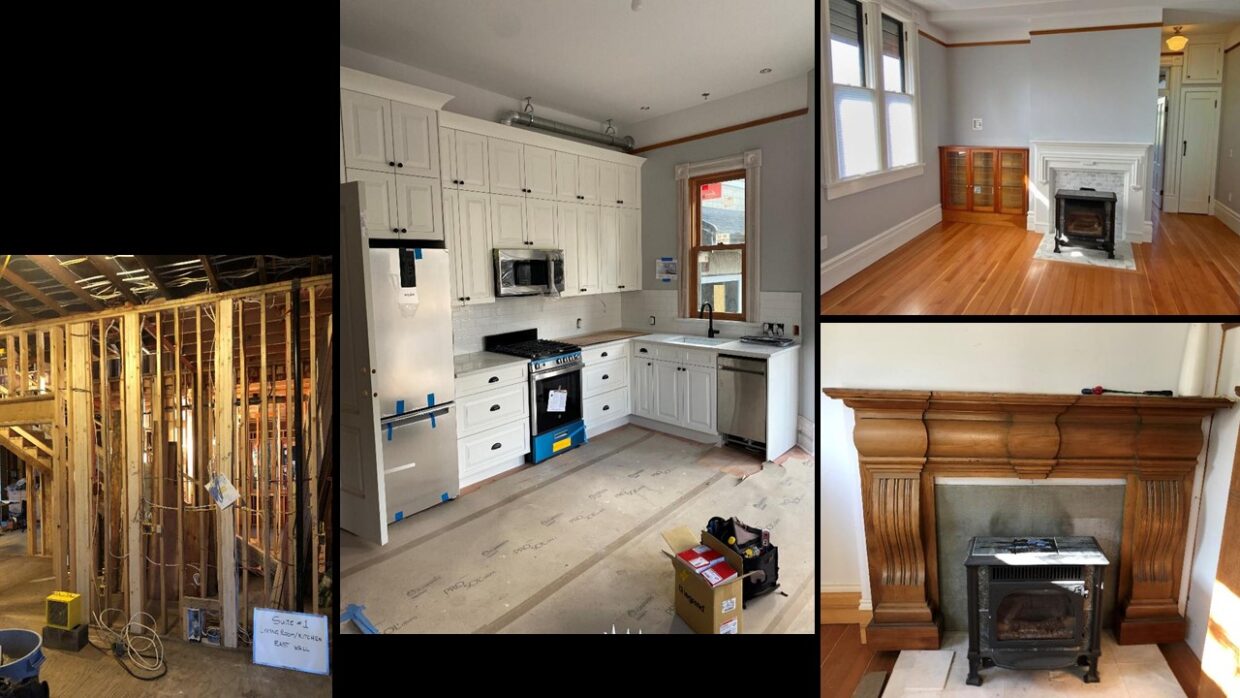 Sympathetic kitchens and baths were installed in the suites with built-in cabinetry, wainscoting and stained glass salvaged from other 1880-1910 houses. All new wiring, plumbing and mechanical systems including individual gas-fired, on-demand hot water heaters, bathroom in-floor heating, and alarm systems were added.  Cast iron and granite gas-fired stoves with a mix of original and salvaged mantels provide the primary heat source in each suite.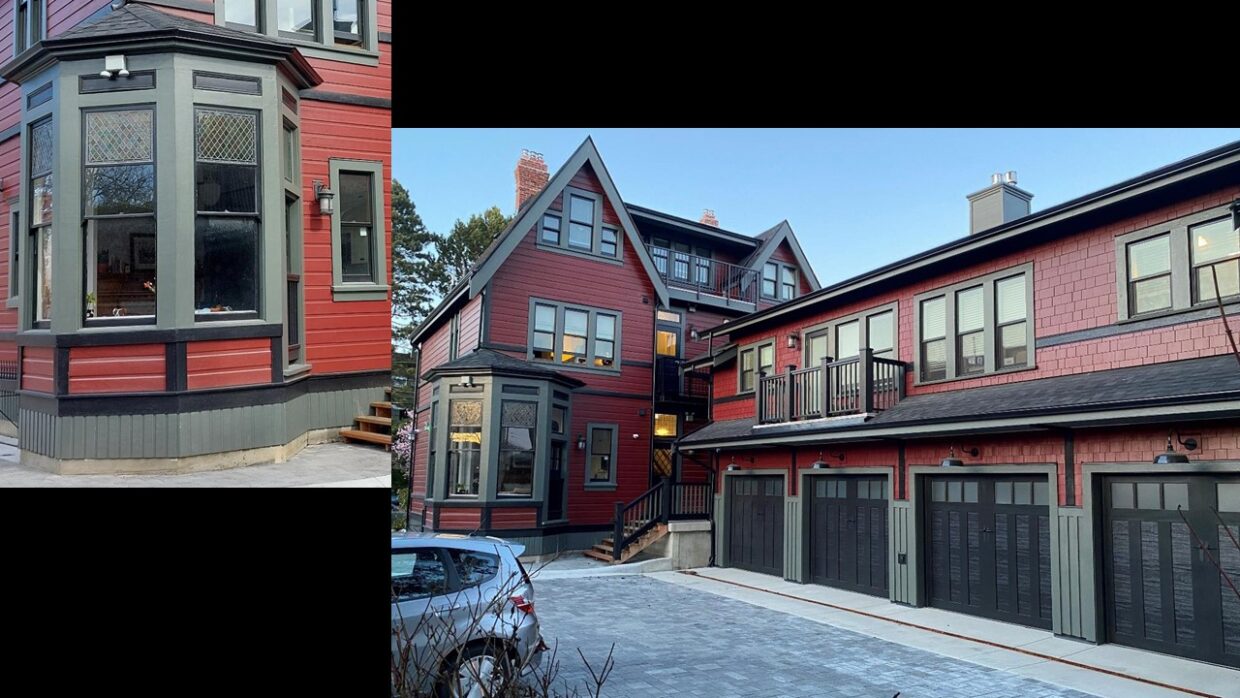 Exterior paint samples were collected down to the wood base and analyzed to identify the original finish colours.
These colors, selected by Tiarks, are believed to have mimicked brick, slate and sandstone. The house and carriage house were repainted in the original color scheme.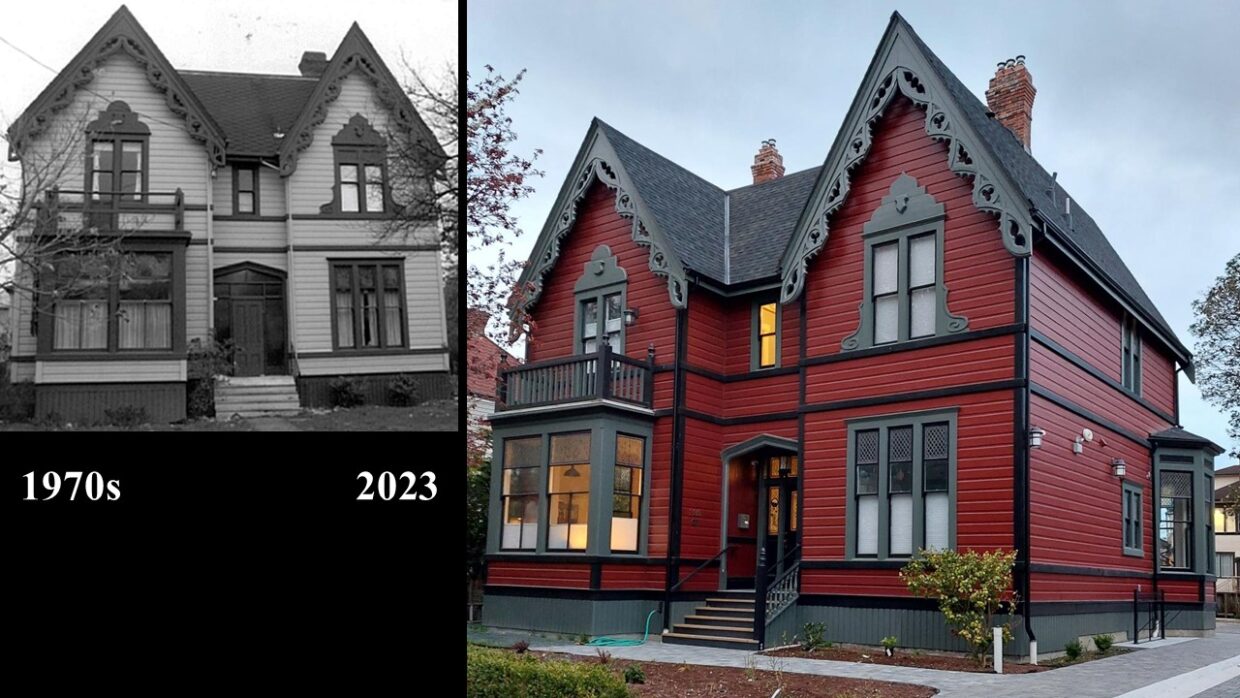 Stuart Stark, Heritage Consultant developed the Restoration Plan & analyzed the Colours.
Architects Tim Kindrat & Christine Lintott of Christine Lintott Architects Inc.  designed the rear alterations, carriage house addition and the interior suites.
The landscape design was by Tim Stemp's wife, Grace Espedido.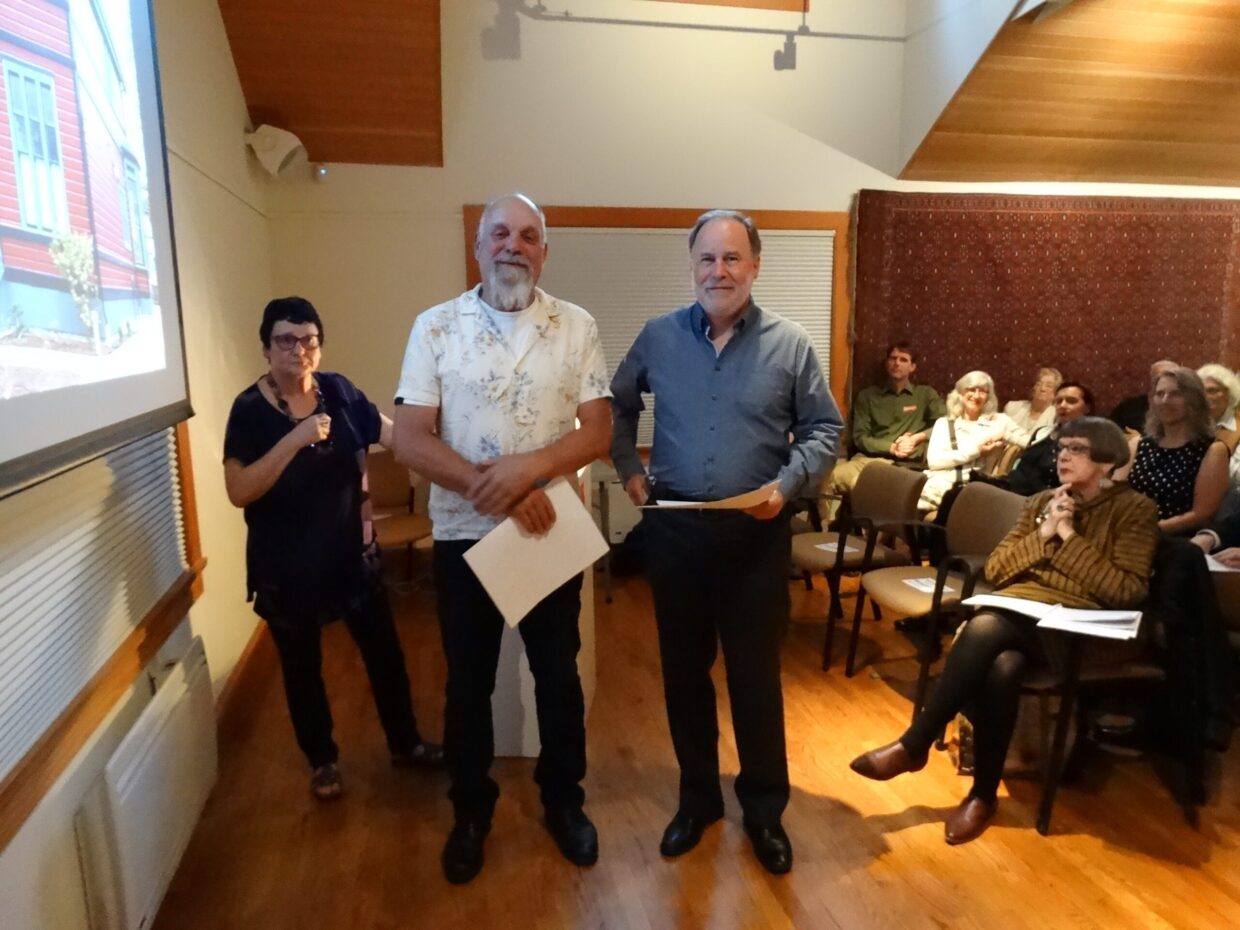 L-R: Jennifer Barr, Presenter, Mike Sweet, Black Horse Contracting, Tim Stemp of Harbinger Properties, Owner and Developer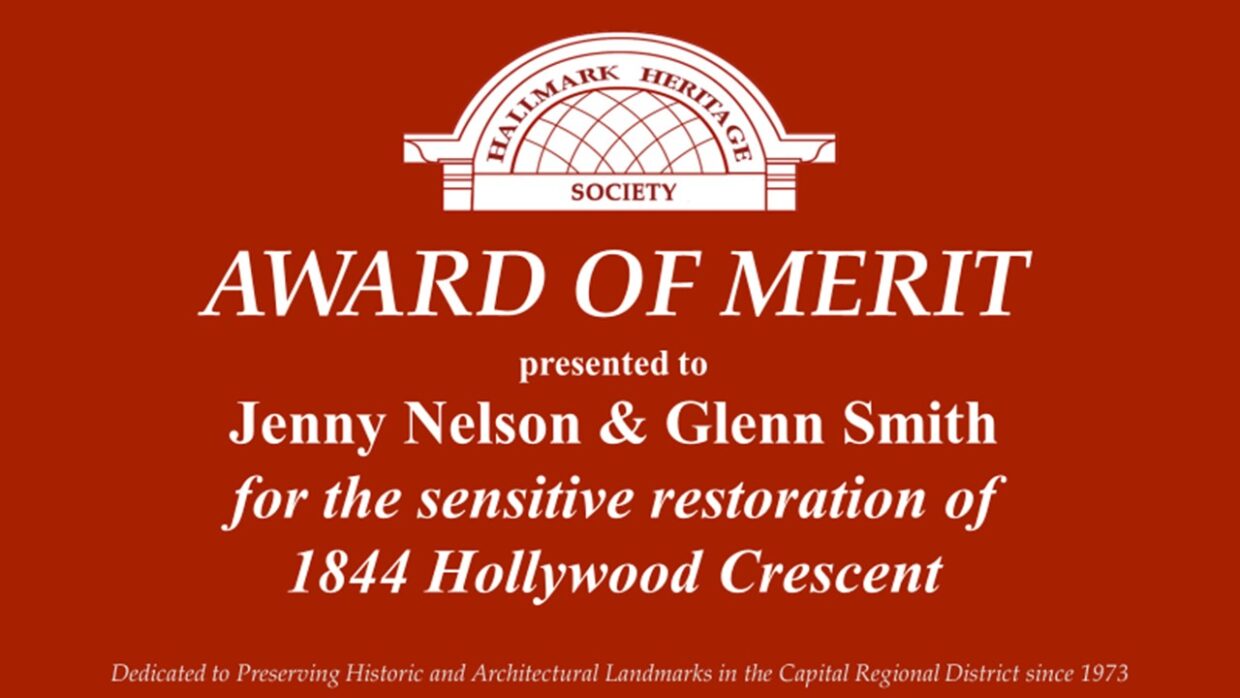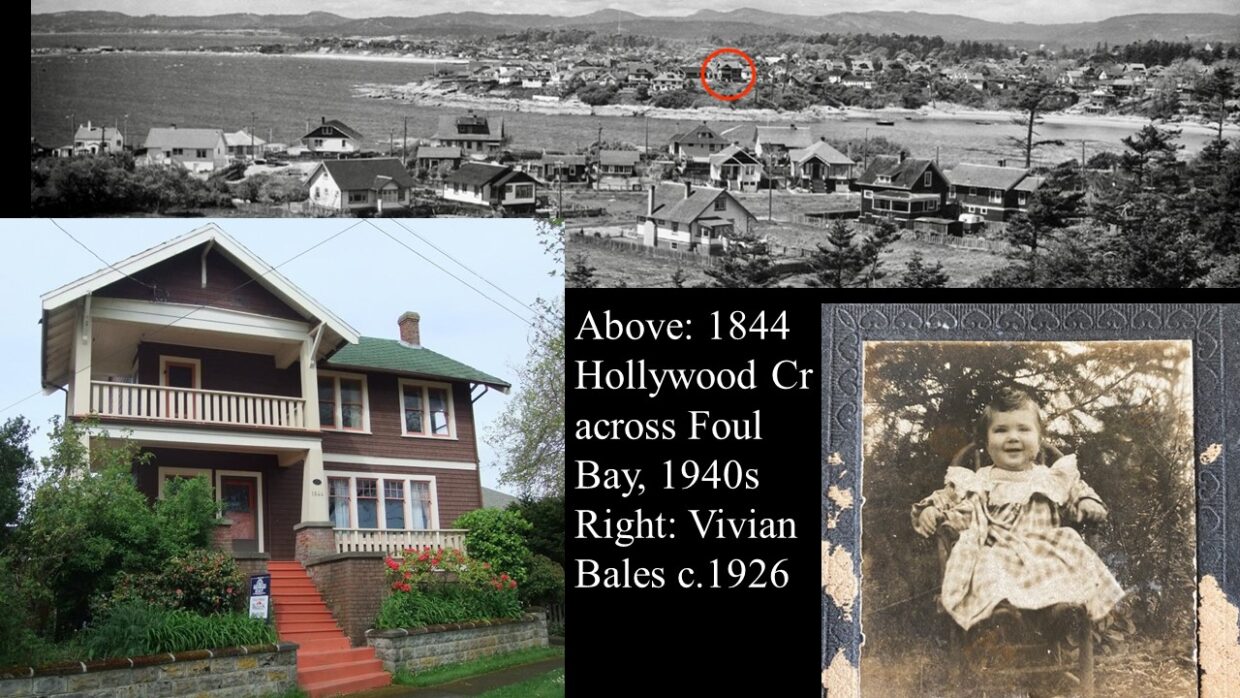 Built in 1912 by E W Vinall this house was rented for $15 per month from 1915 by Clifford and Margaret Bales who later purchased it. Clifford was an accountant. In 1925, their only child, Vivian, was born in the house. She continued to live here until 2013, when she went into care.
Jenny Nelson and Glenn Smith bought 1844 Hollywood in 2013. Their first job was to re-shingle the roof and rewire the house.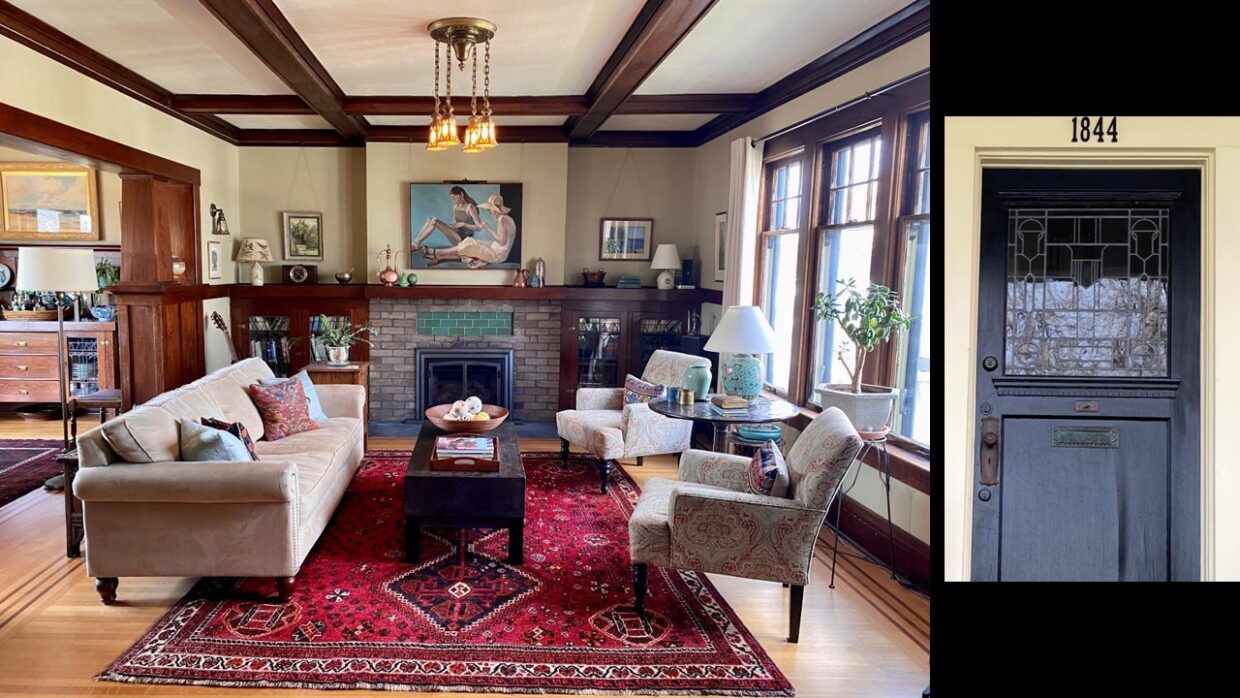 They then cleaned and repaired the plaster, repainted the interior, and rebuilt the leaded glass in the front door, which was in very bad shape.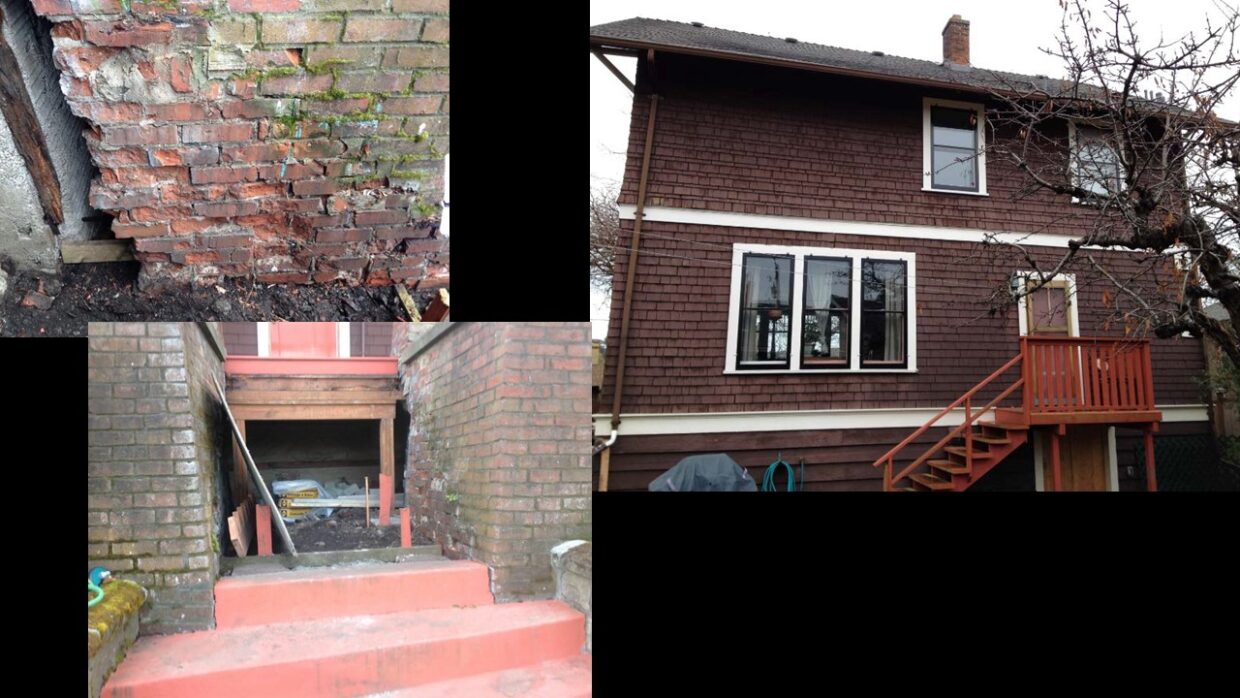 In 2014 efforts focused on the front porch, repointing columns and replacing steps. They later installed a new stair rail. Wooden storm windows were installed around the house.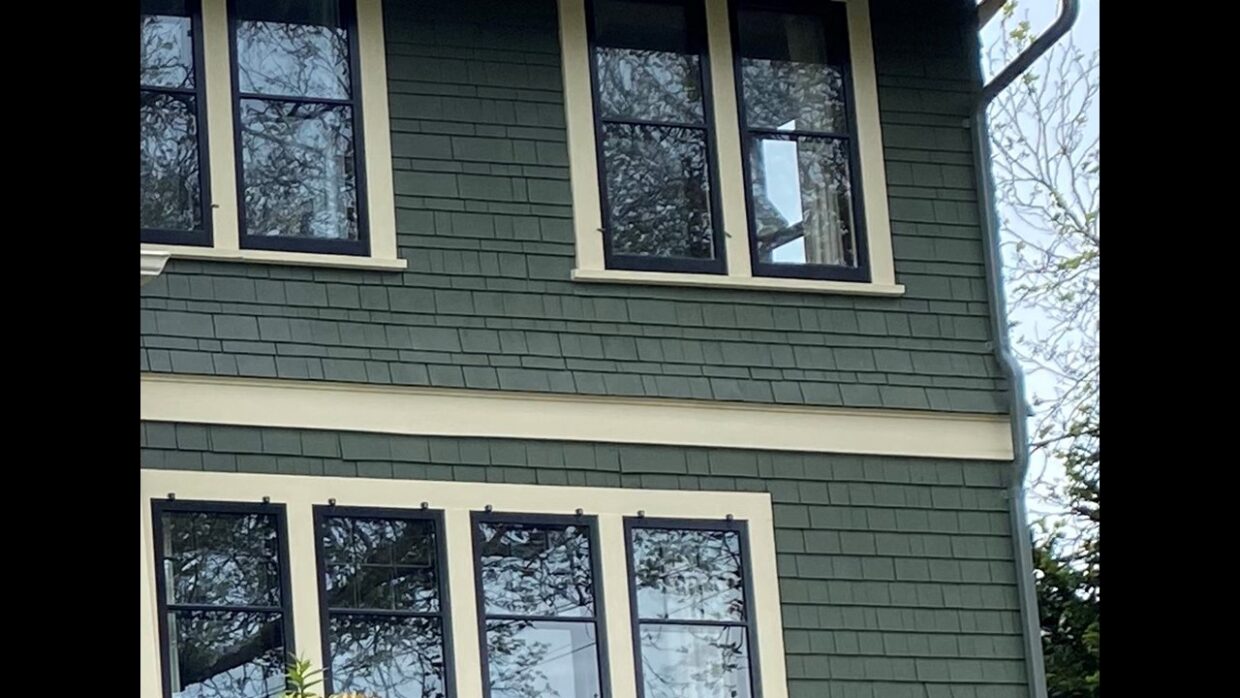 In 2016 a seismic engineering report was obtained and the front of the house was re-shingled. Jenny and Glenn primed and painted all sides of each shingle before it went on the house with the new colour scheme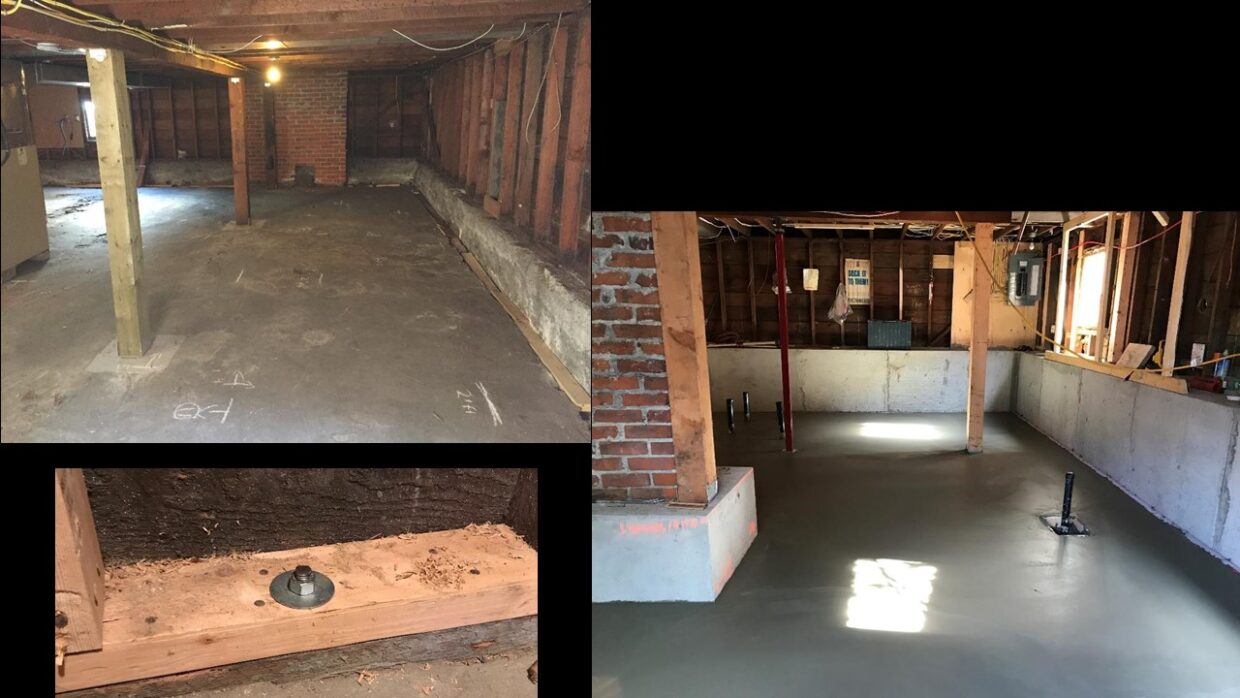 2017 saw major upgrades, with underpinning the foundation, seismic remediation, and installing perimeter drains.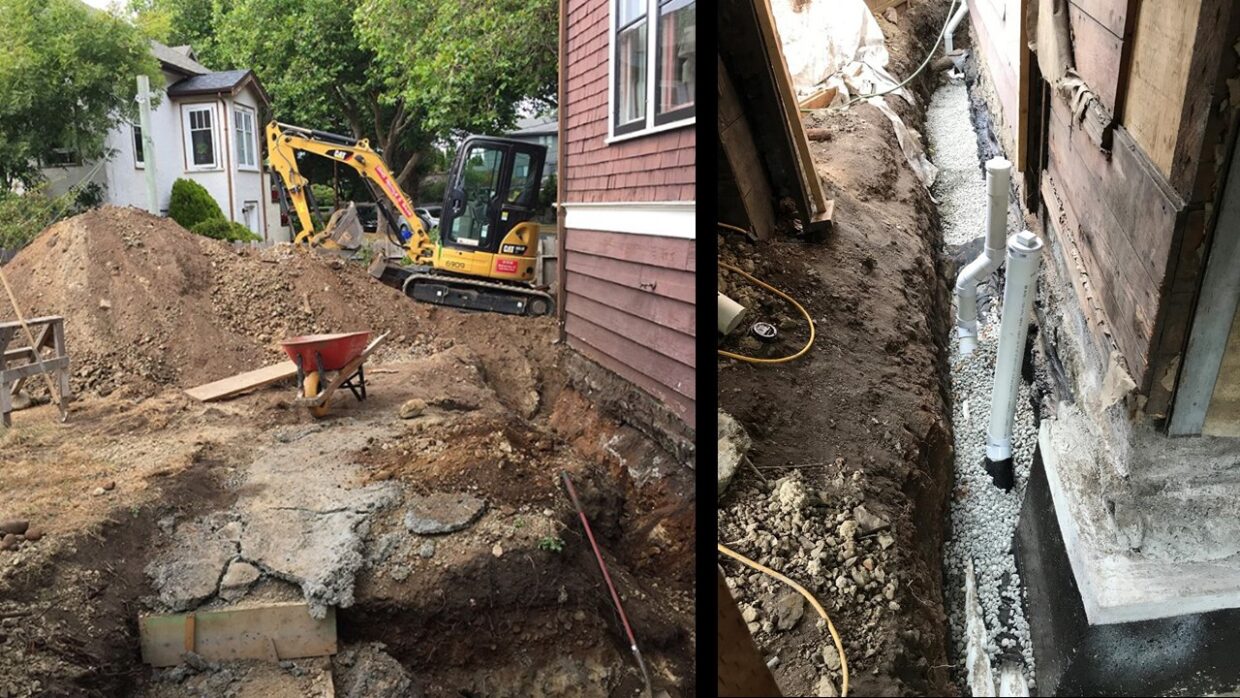 The following year, they turned the basement into living space, upgraded water and sewer lines, and re-shingled the west side of the house.
Front and back porches were rebuilt in 2018, gutters and downspouts replaced, and the exterior repainted in new colours. Sash window restoration was also begun and is ongoing.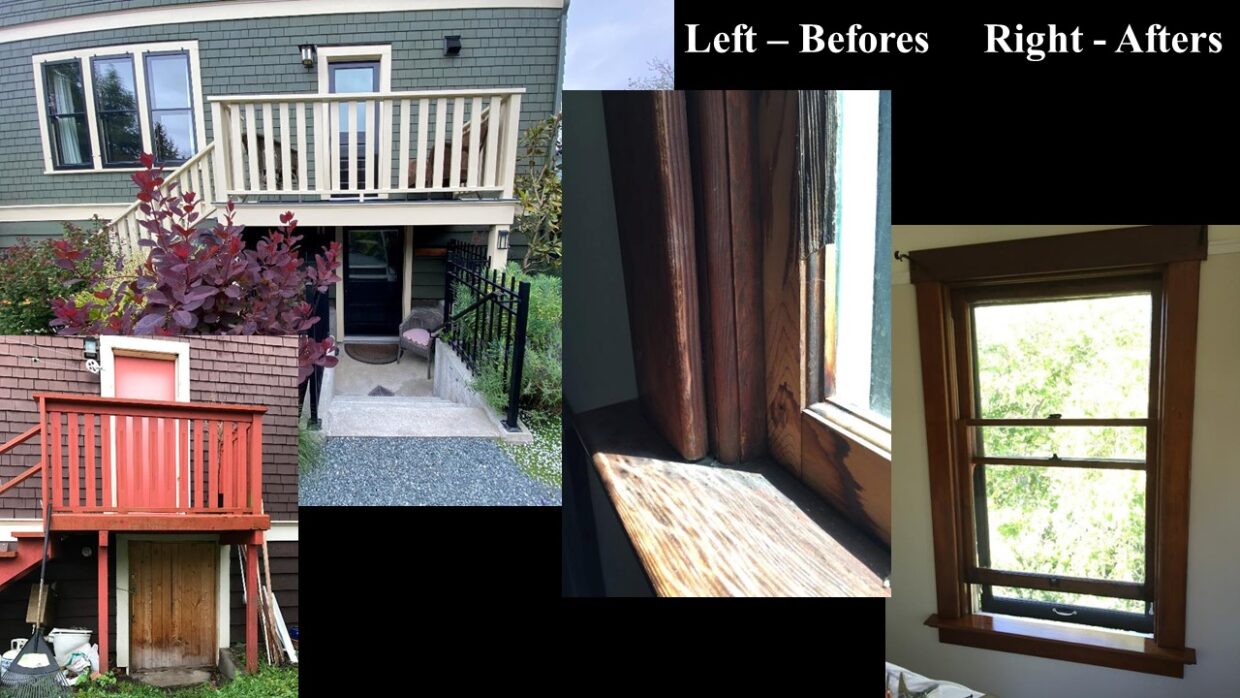 A powder room was fitted into the front hall the same year.
In 2019, a landscape design was developed by Rob Degros and implemented by Jenny and Glenn. They also refinished all the wood floors and upgraded attic insulation.
The kitchen and bathroom were renovated in 2020.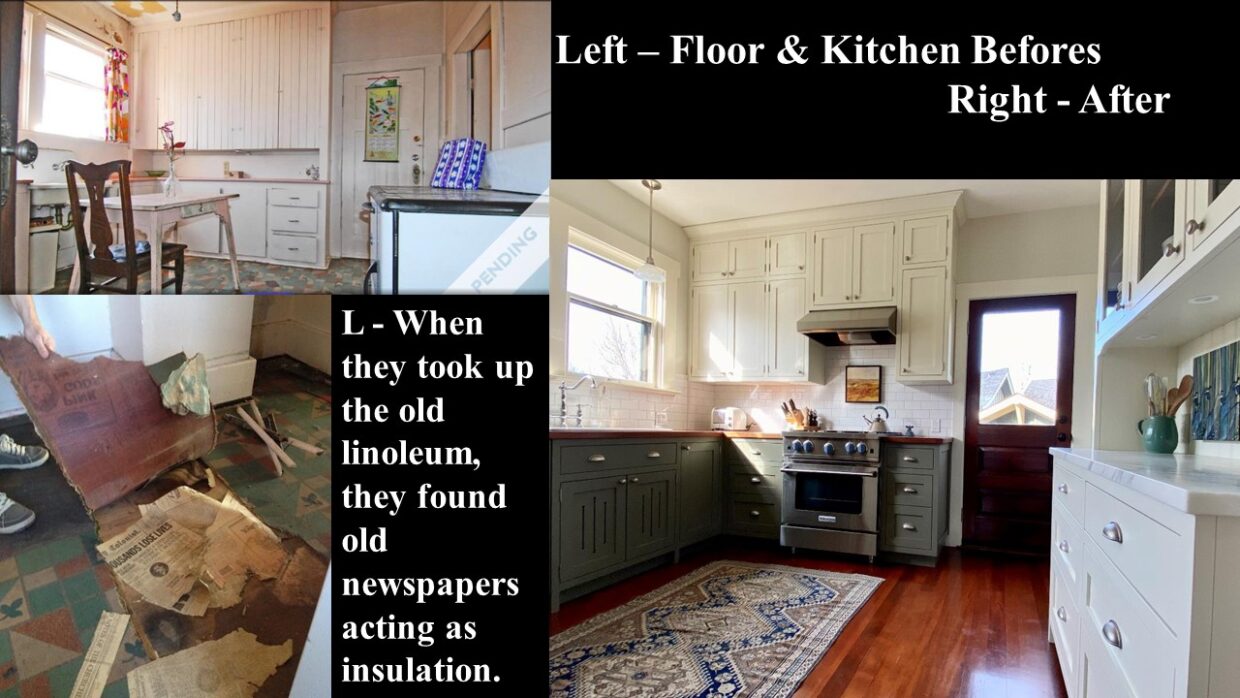 The following year the chimney was repointed and rebuilt above the roofline. The roof, storm windows, seismic work and chimney restoration all received funding from the Victoria Heritage Foundation.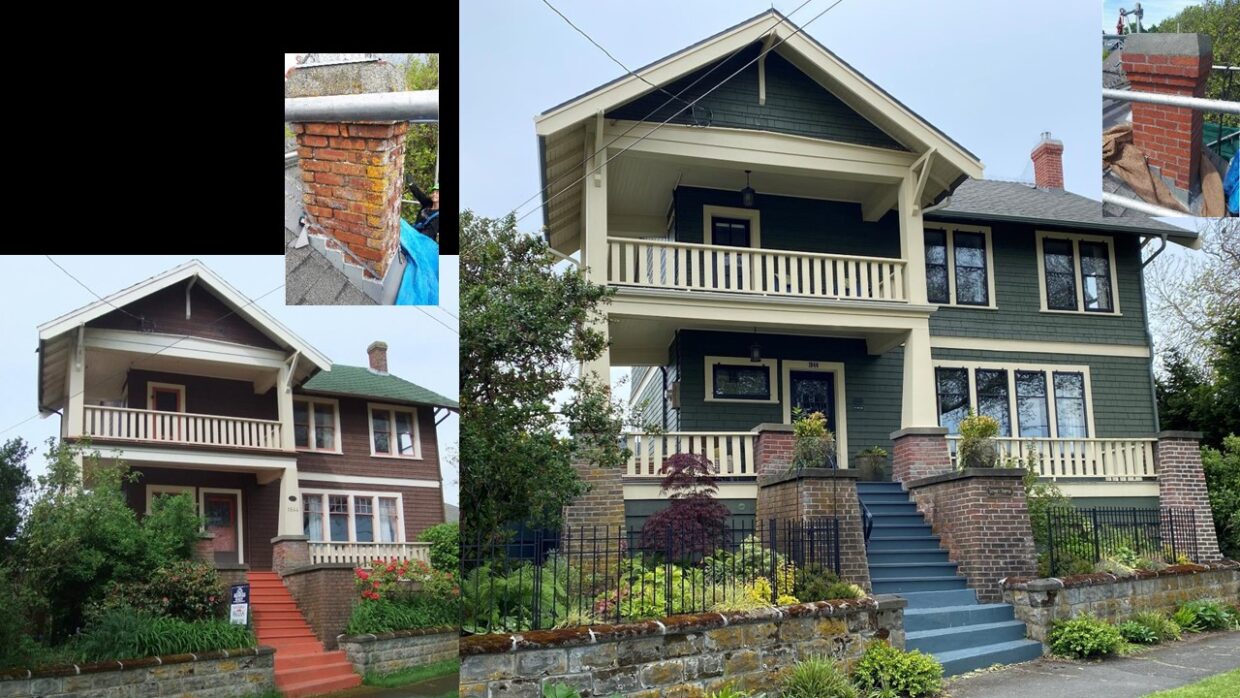 The contractor for the major work in 2017 and 2018 was Coastal Niche Construction. John Dam did the Seismic Engineering Report.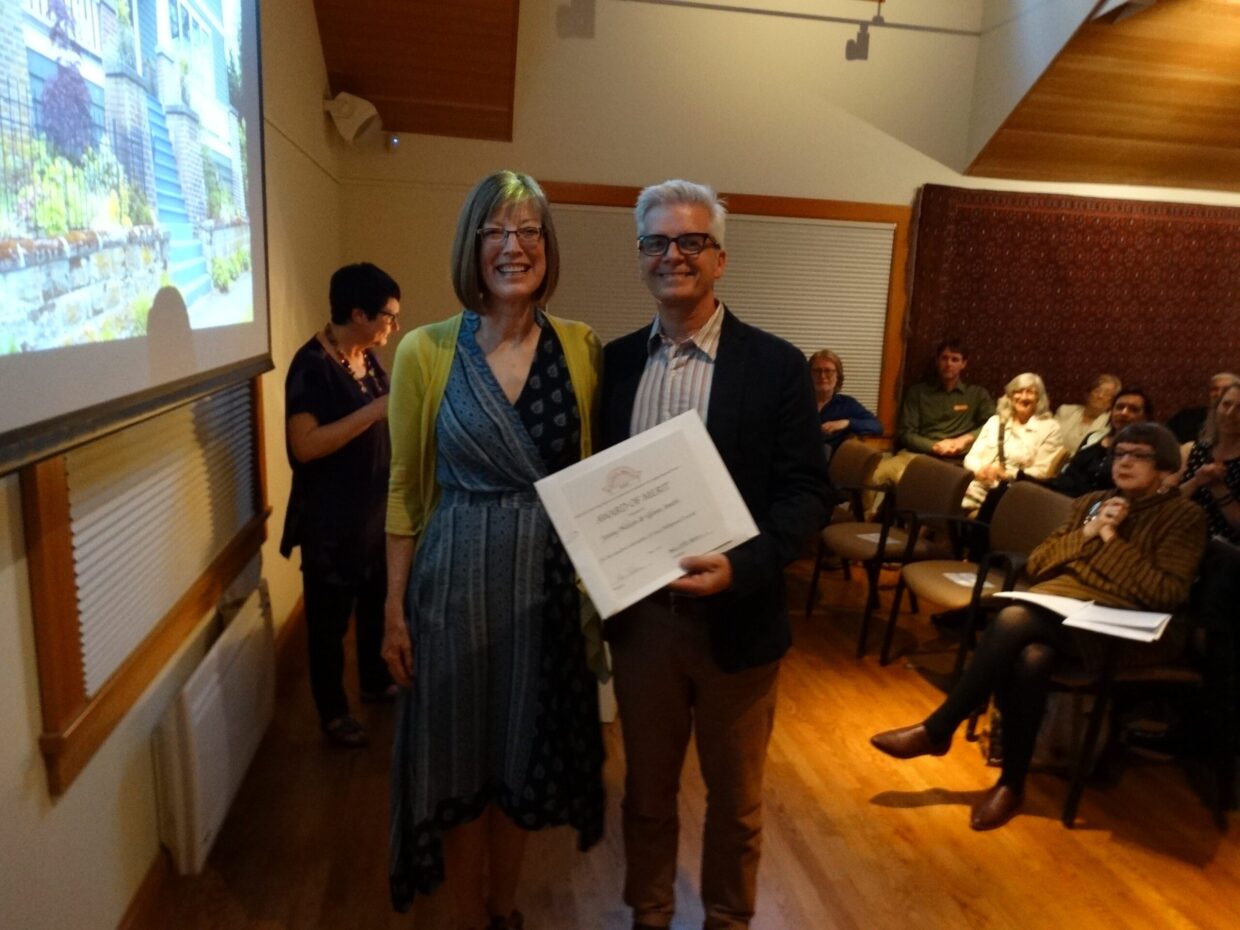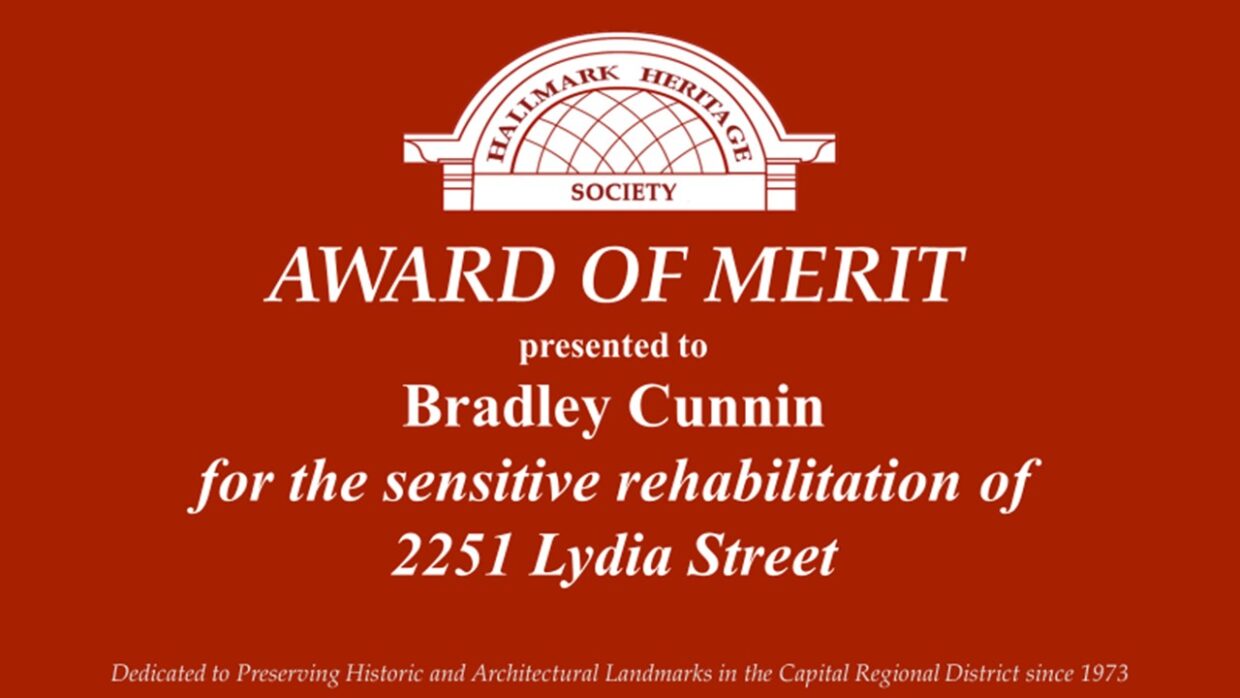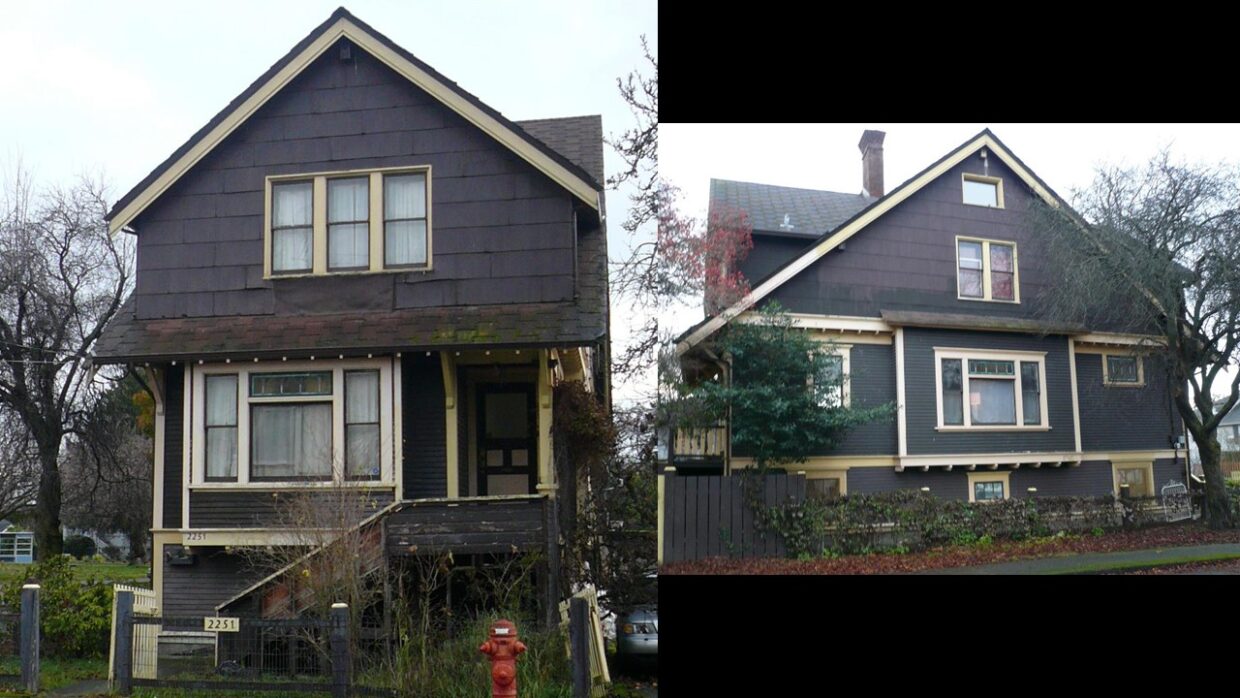 Builder Alfred Shaw sold this house in 1912 to Arthur and Elizabeth Parbery. Arthur was superintendent of Sayward Mills sash and door factory. From 1973 until his death in 2004 it was the home of University of Victoria librarian Jack O'Brien.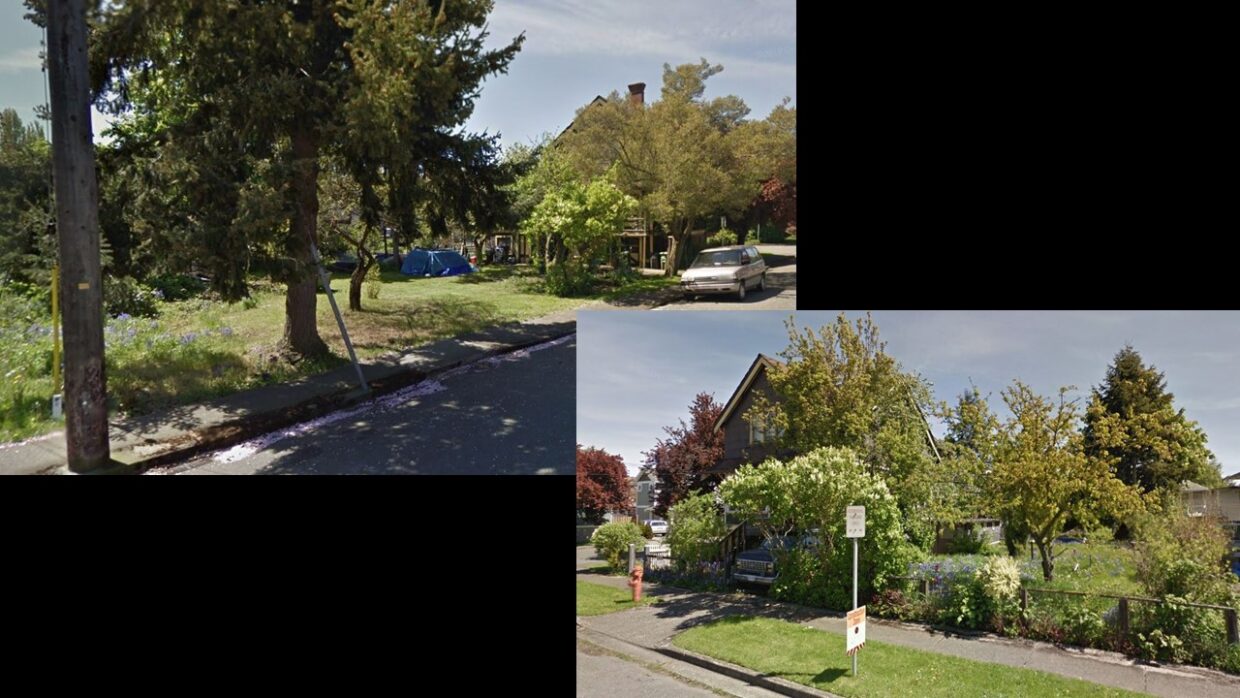 Brad Cunnin bought the property in 2004 intending to subdivide the large lot into three for his three adult children. As part of the re-zoning, the City of Victoria requested Heritage Designation. As Brad, a land surveyor, has said, cobblers' children have no shoes. It took him over a decade to do the subdivision, even though he had done other properties in just a year!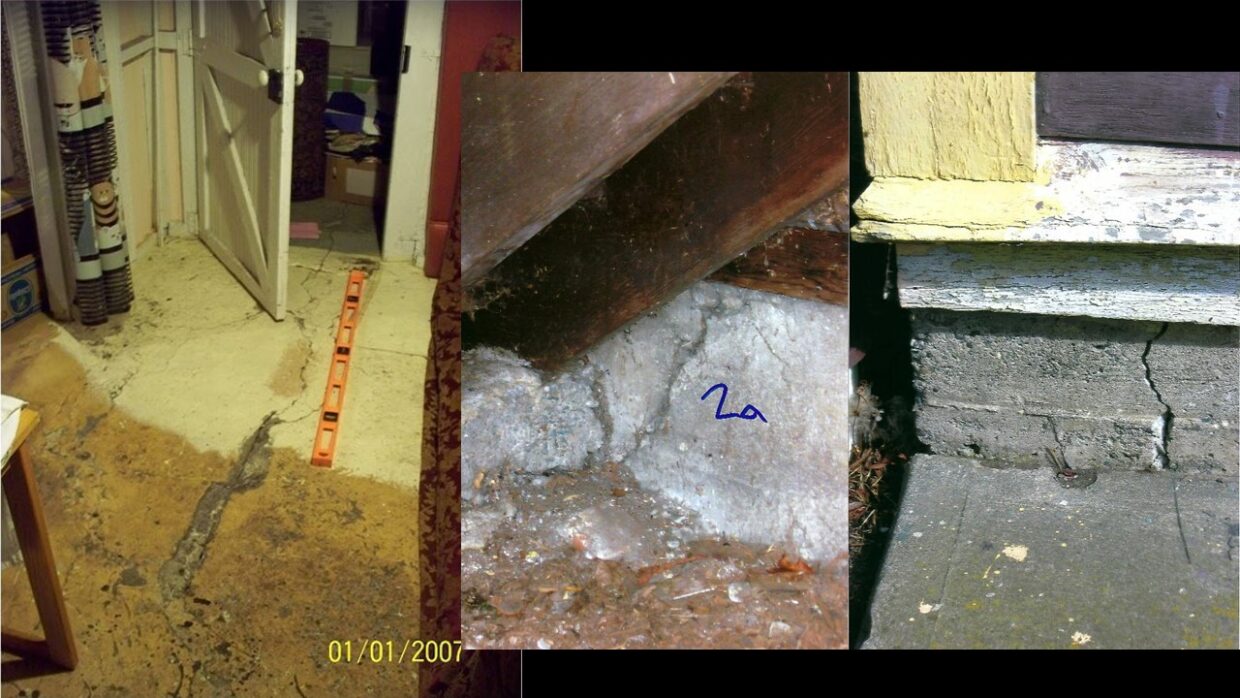 The house had a six-foot basement on short, sinking concrete walls without footings. The NE corner of the house was floating about three inches above the foundation. The house was lifted to remove the old basement, dig down two more feet, and build a new basement. In 2016, while the house was raised, a violent windstorm blew one corner of the house ¾ of an inch out of plumb.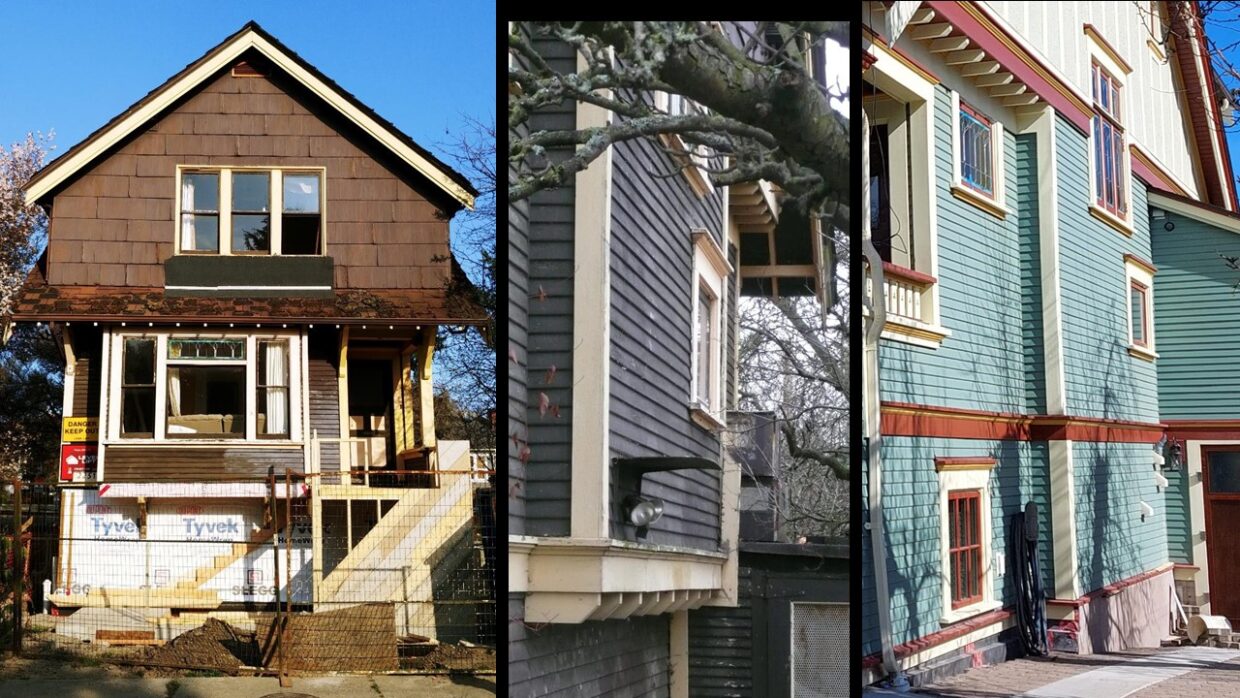 The new foundation extends under what had originally been a cantilevered stairwell on the south side of the house.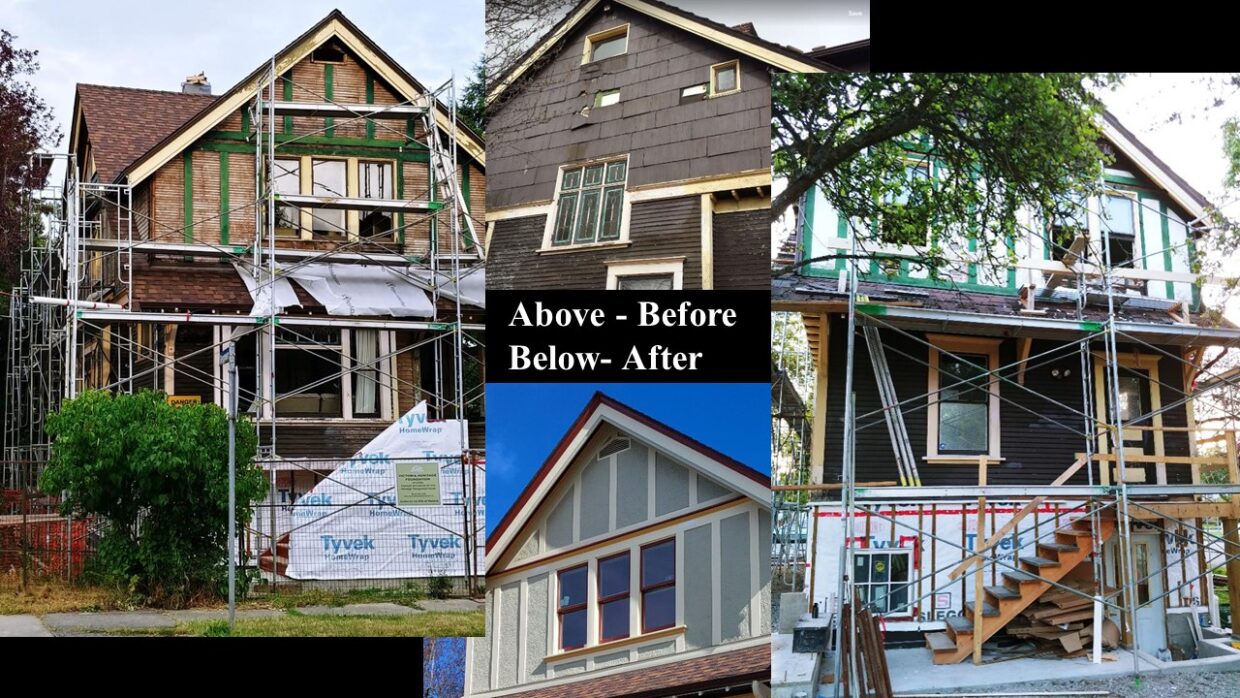 The upper floor was covered in 'Donnaconna' shingles over failing stucco and half-timbering. The layers were removed to the lath, panels were sealed, modern acrylic stucco was applied and painted with 3 coats of stucco membrane paint. Old single-pane, double-hung windows were converted to double pane.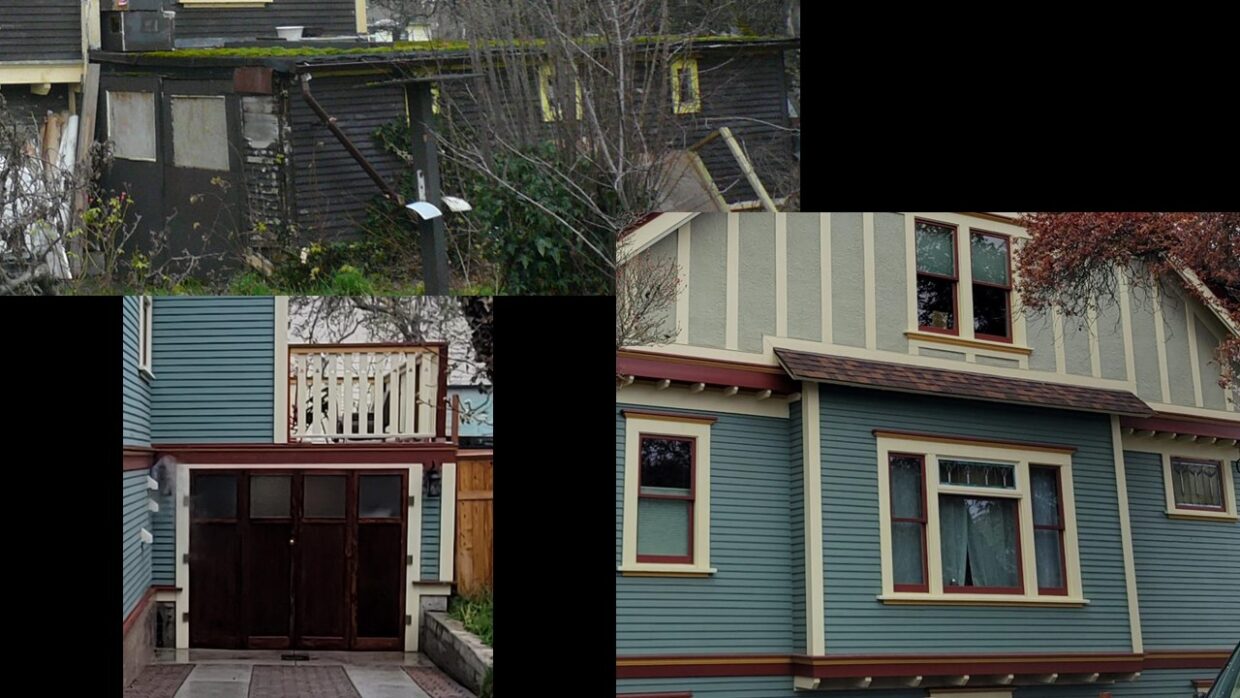 The garage was re-built, in the same style and location as the one added in the 1920s. Brad hand-built the doors to match the old ones! An appropriate exterior colour scheme is the work of Brad's daughter-in-law Emma, with her husband Sean choosing the final ochre detail.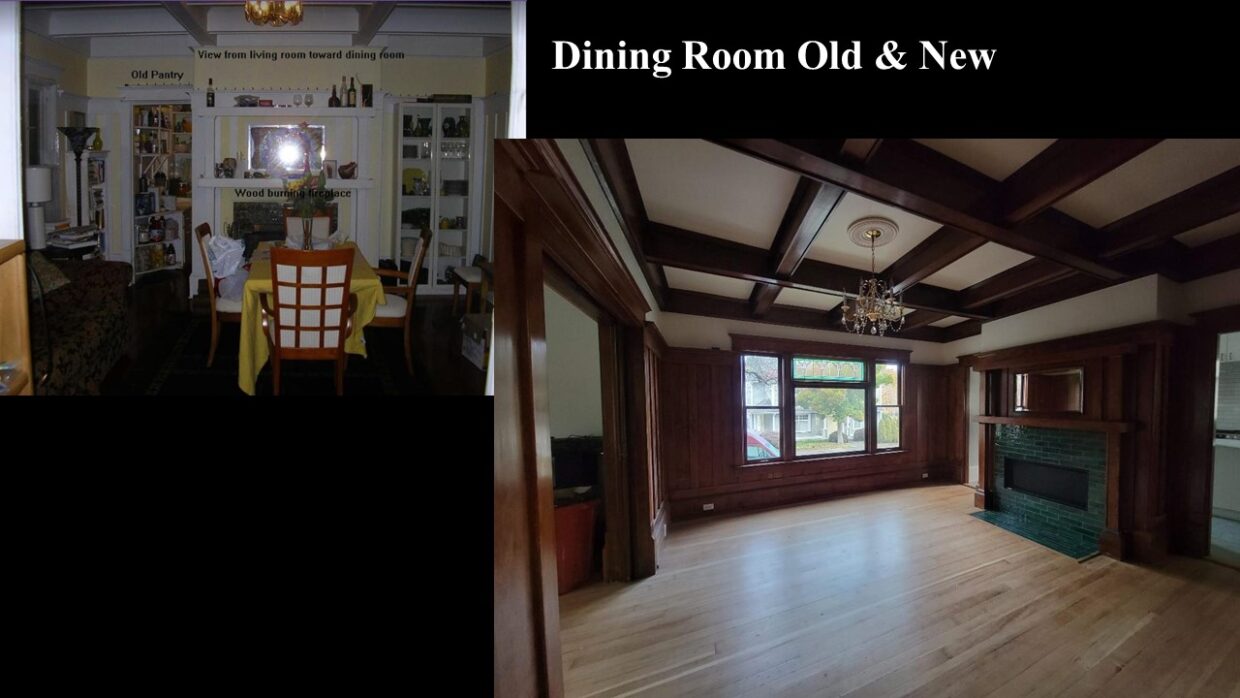 The interior was gutted to the studs and rebuilt to code. "Brace walls" were added on every floor and the body of the house was tied to the new foundation. Plumbing and wiring were completely re-done. In-floor heat is used in the basement and main floor, with modern radiators on the top level.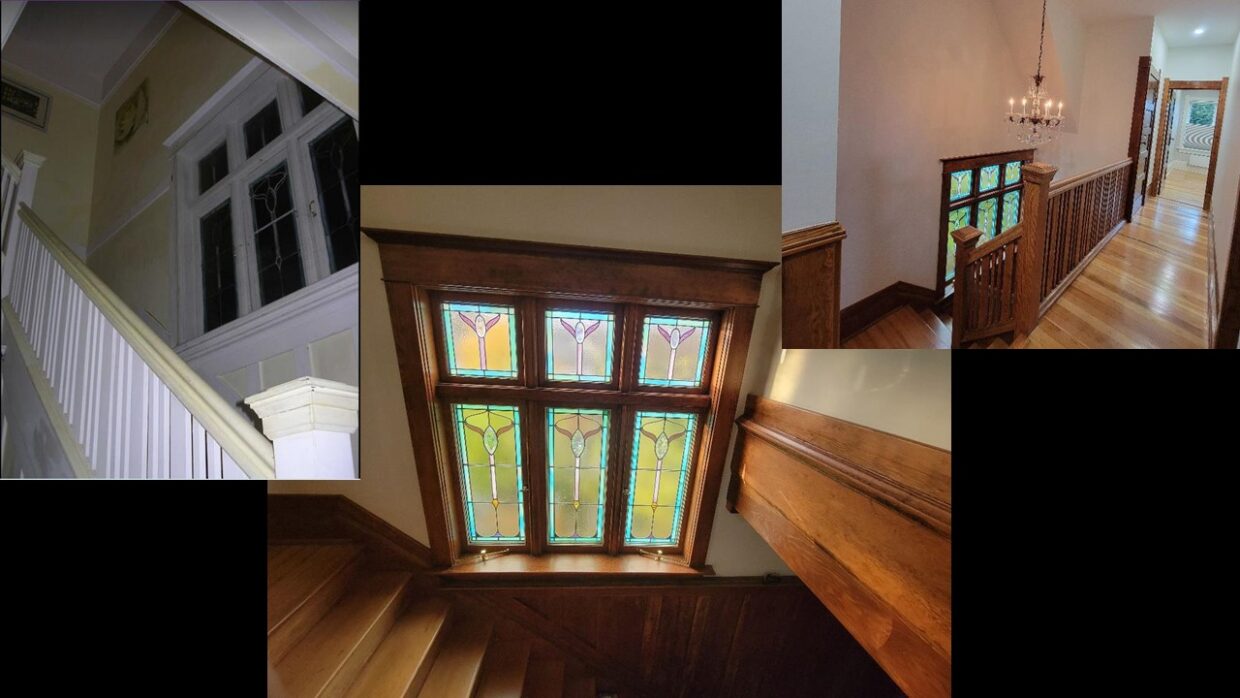 Many layers of old paint were stripped off windows, doors, and coffers to restore the interior fir woodwork. Salvaged old wood replaced badly damaged pieces. Similar five-panel doors were found and one was custom-built. 
The kitchen and bathrooms were designed by Emma. Sean and Emma Cunnin now own the house.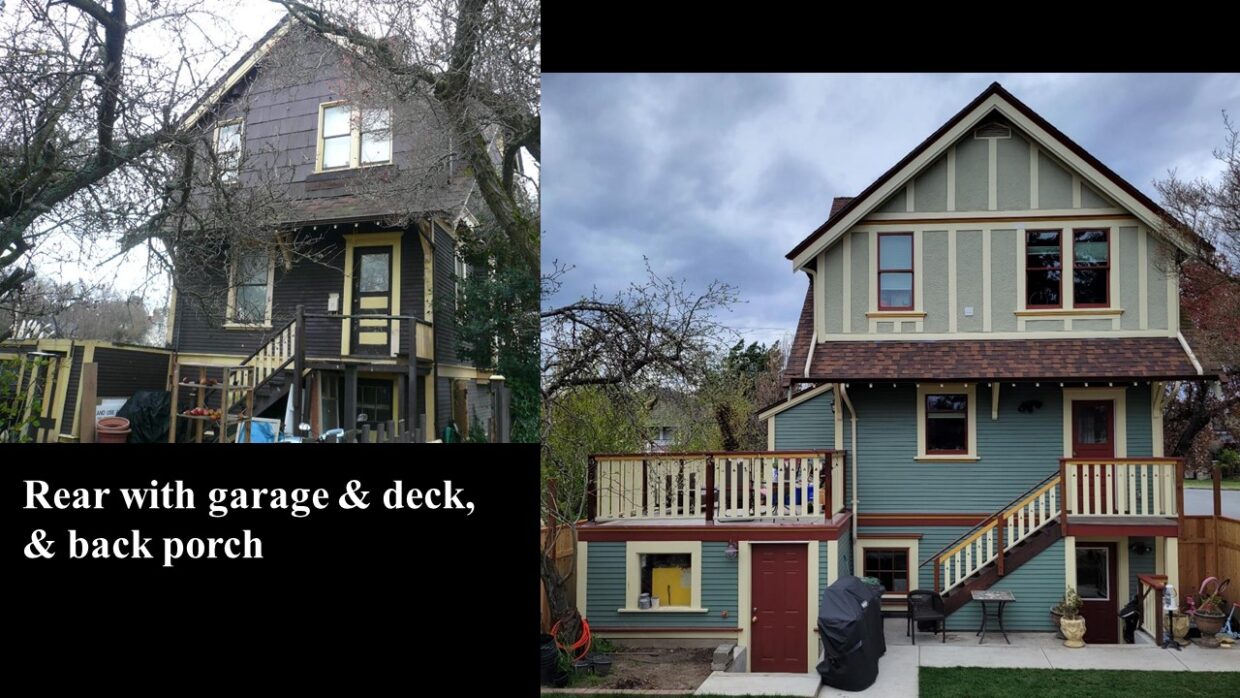 Materials throughout were re-used and repurposed where possible. Deck and stair railings are a blend of new and old ones that could be restored.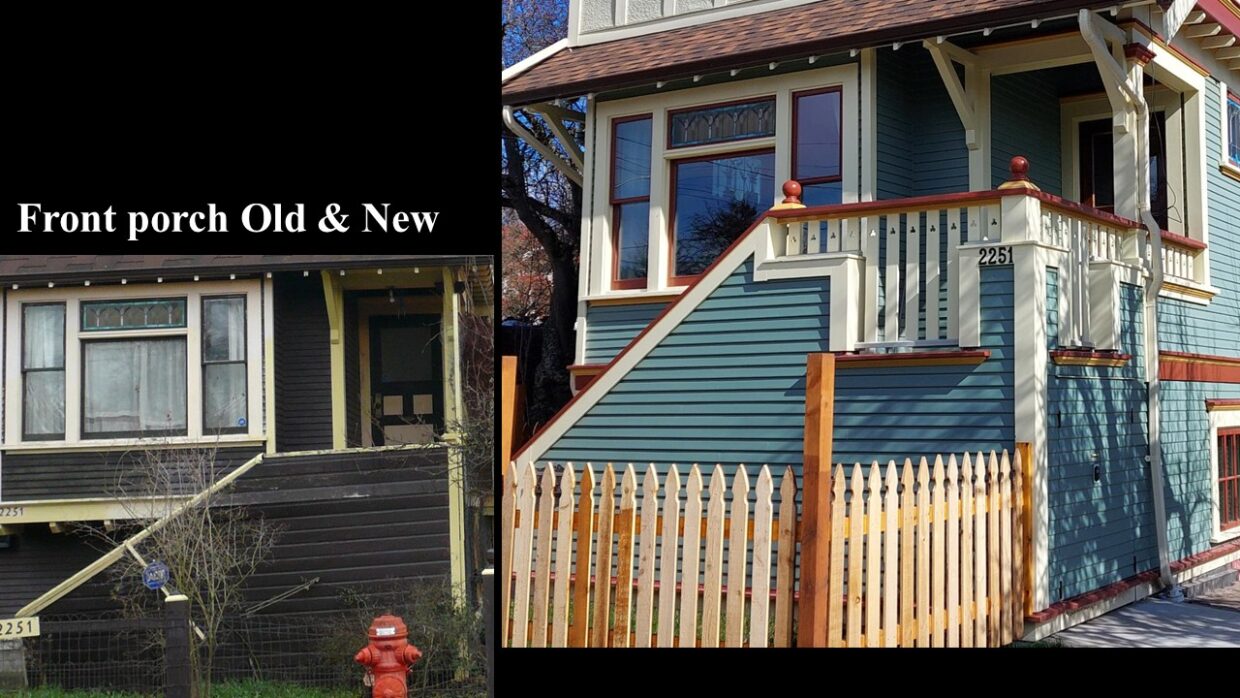 The pattern on the front porch balustrade is unique, with its beautiful top rail addition to bring it up to code.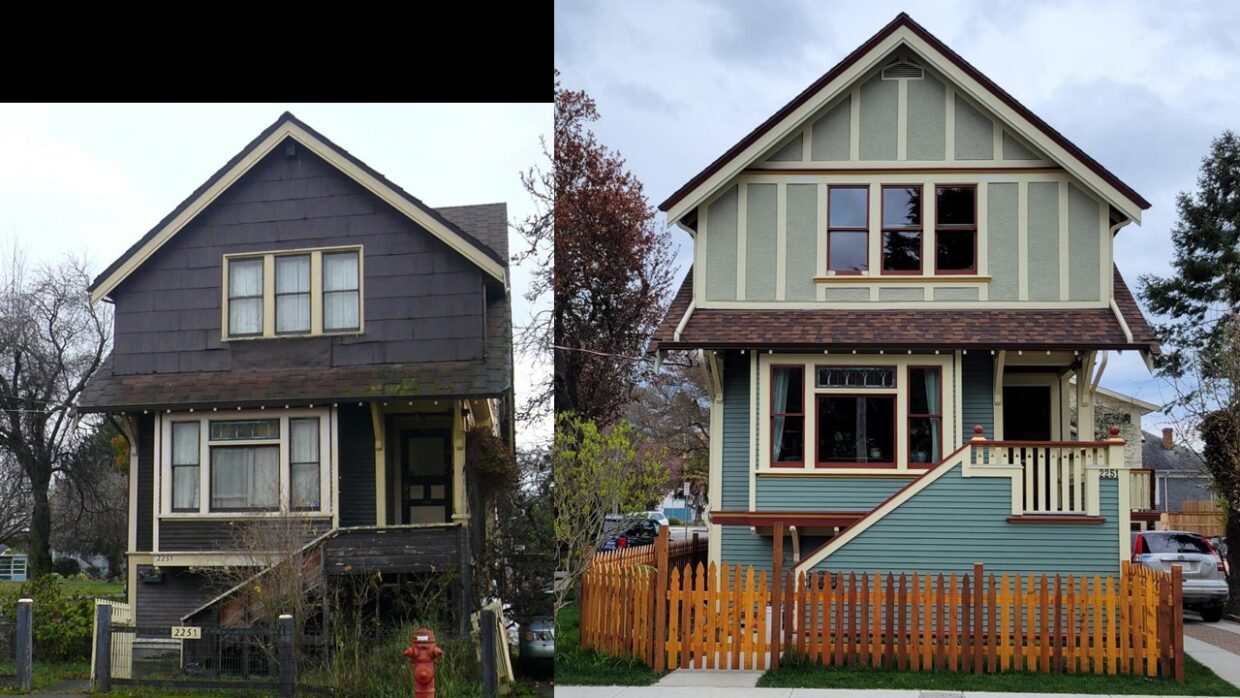 Victoria Heritage Foundation helped fund the new roof. The renovation itself took Brad five years, with one or two labourers working full-time and with help from his son Sean. But the final result is worth it!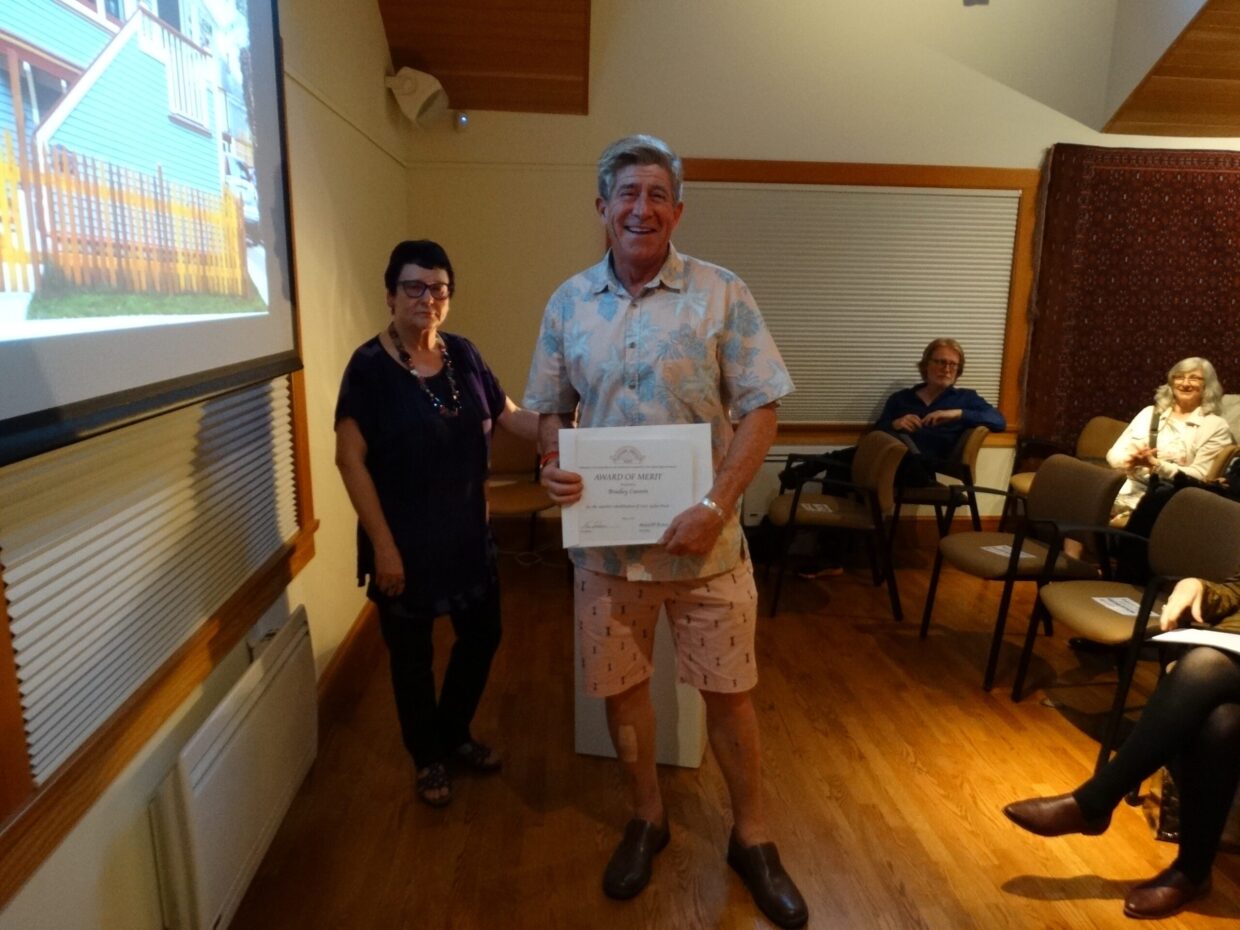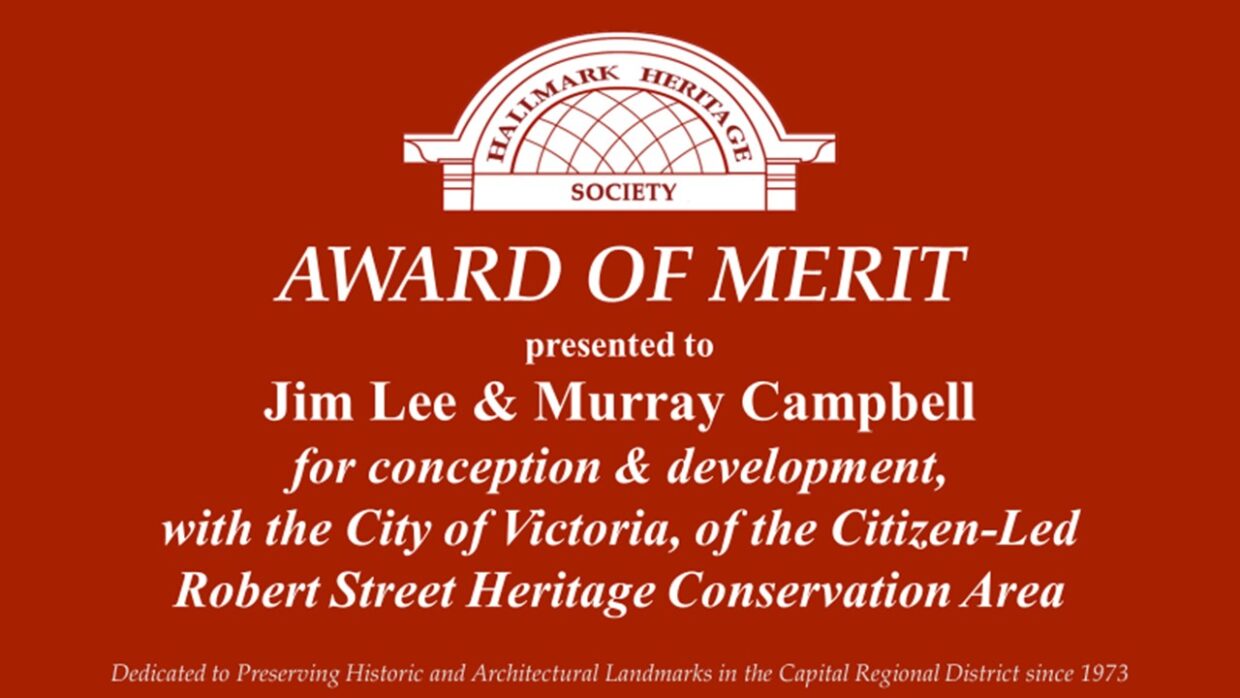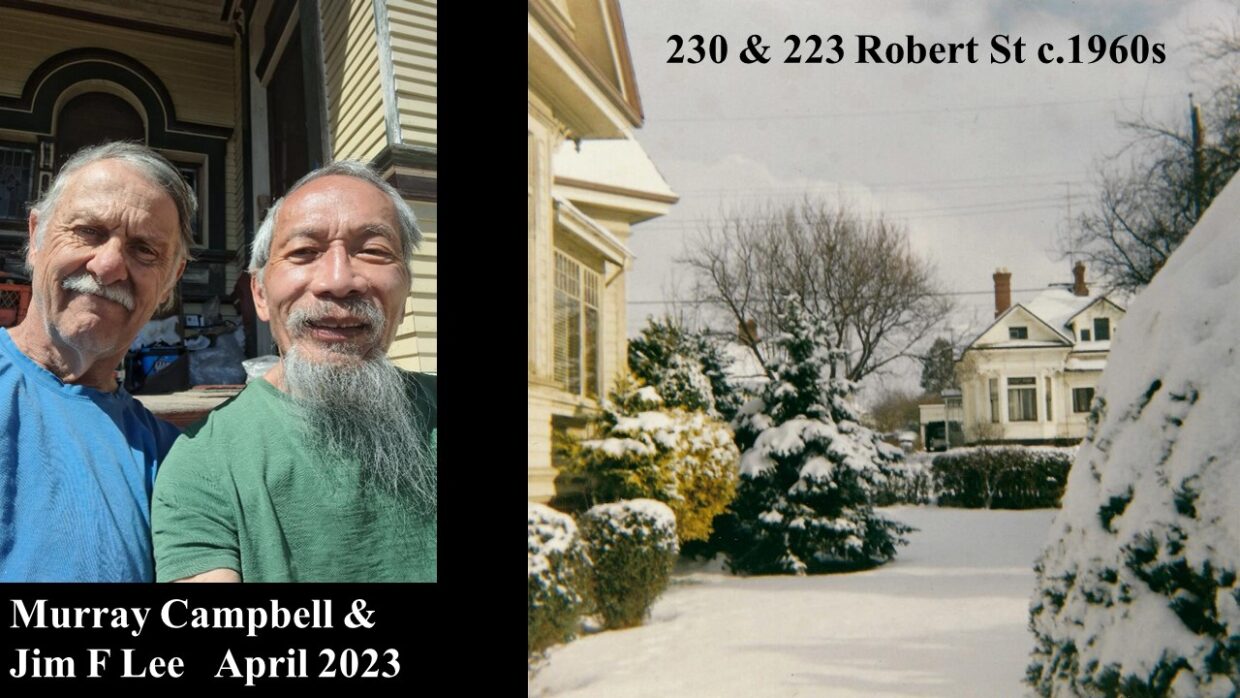 In the Fall of 2017, a neighbourhood meeting was held on Robert Street, hosted by City Planner, Marc Cittone. More than 30 residents attended, as well as then-councillor Jeremy Loveday and Pamela Madoff.  In February 2018, a detailed letter was forwarded to Marc from Jim Lee, owner of 223 Robert Street. He and Murray Campbell of 230 Robert St expressed concern to the City that townhouses and small apartment buildings up to three storeys were contemplated for the street. Robert Street contains several designated heritage homes, including one National Historic Site.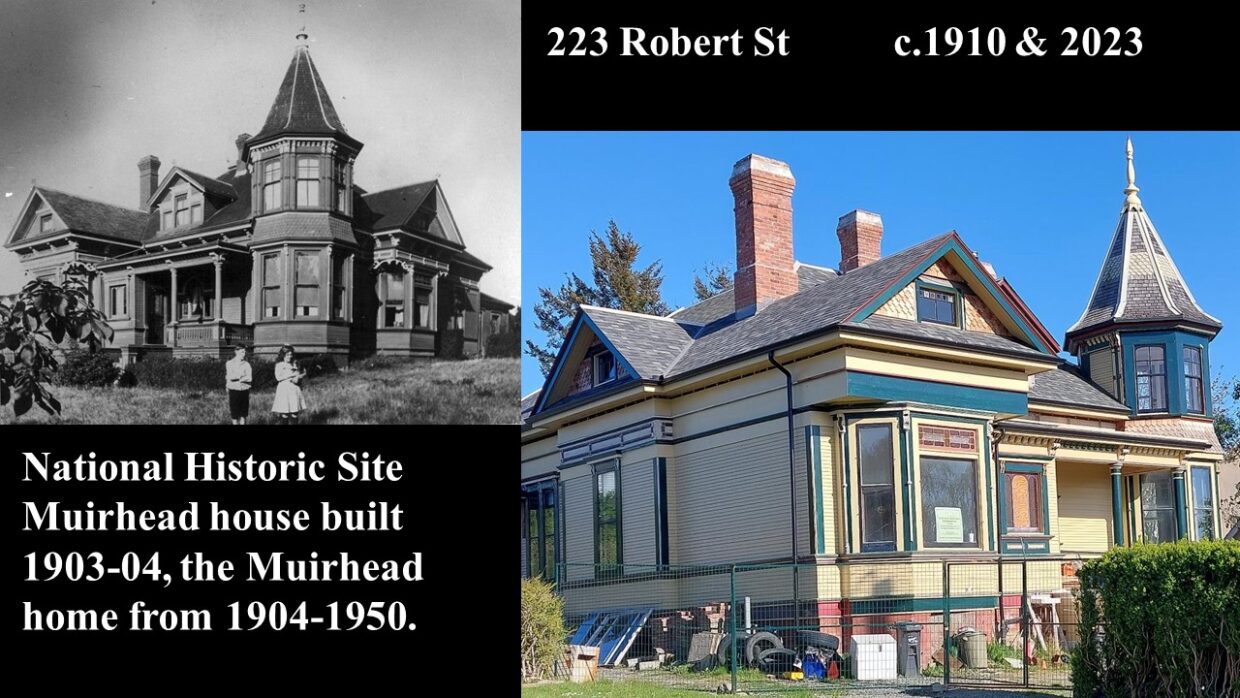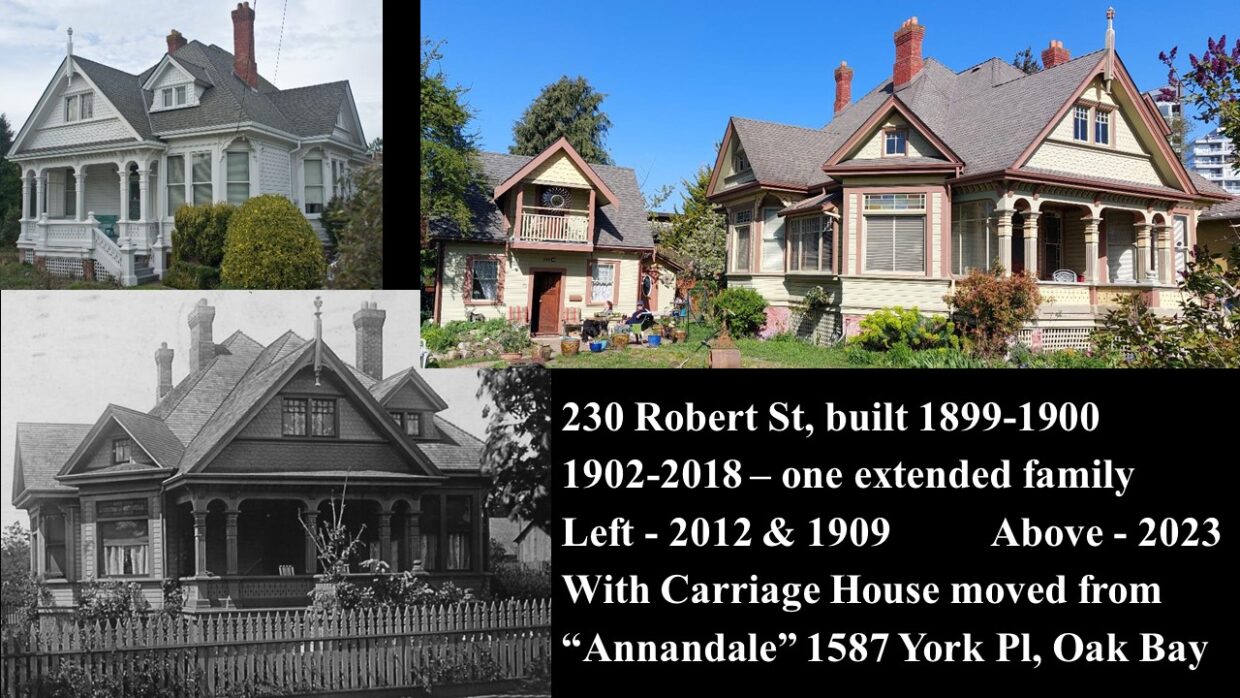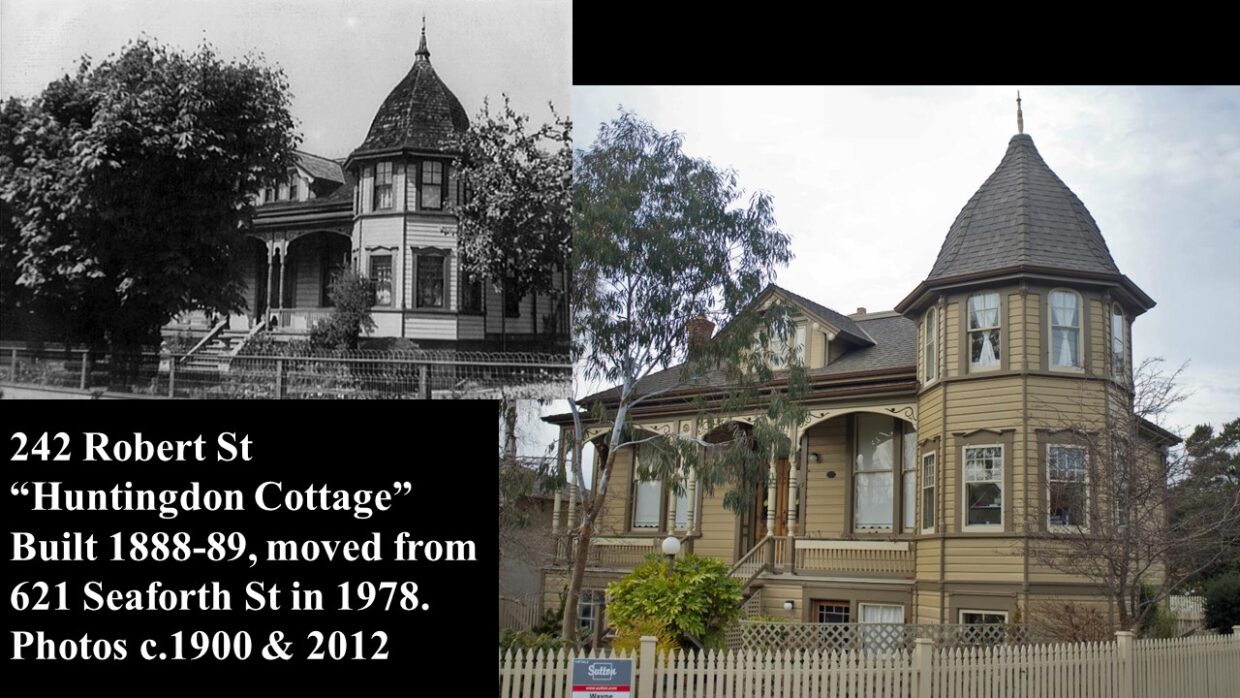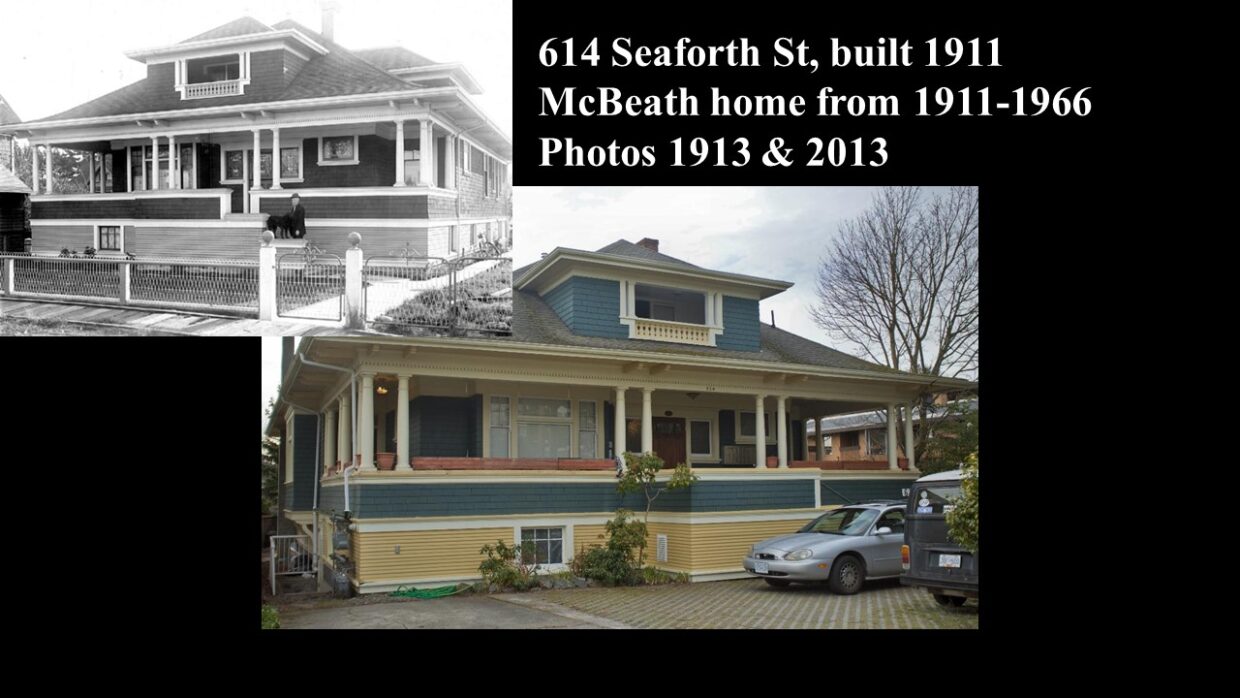 Its residents and homeowners of the remaining single-family dwellings indicated that they would like to retain their current Traditional Residential zoning. They did not want to have 2½ -3 storey houses, townhouses or apartments built facing the street or at the rear of their exceptionally deep lots.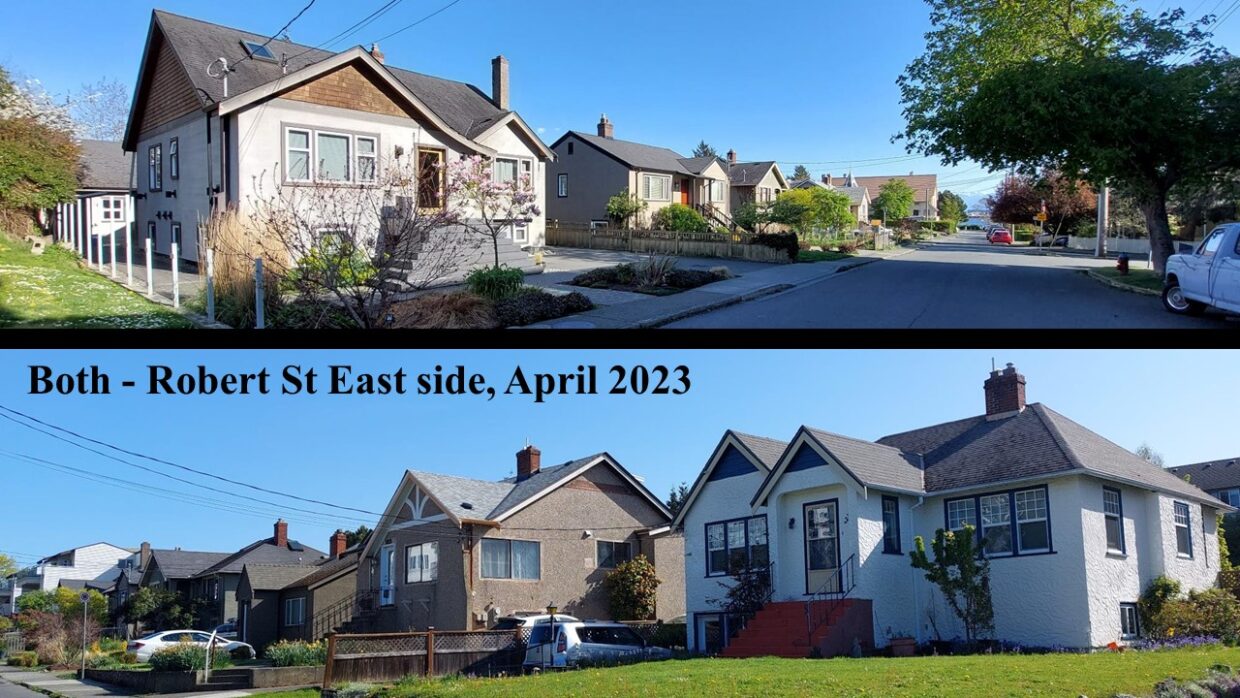 What would be welcomed would be garden suites or 2-storey low-rise structures built behind existing single-family homes to retain the visual streetscape. This had already taken place on two properties at the north end of Robert Street with original houses at the front of the property. This resulted in little impact to the streetscape, while providing affordable housing choices and maintaining green space. They also expressed interest in the creation of a Heritage Conservation area on Robert Street.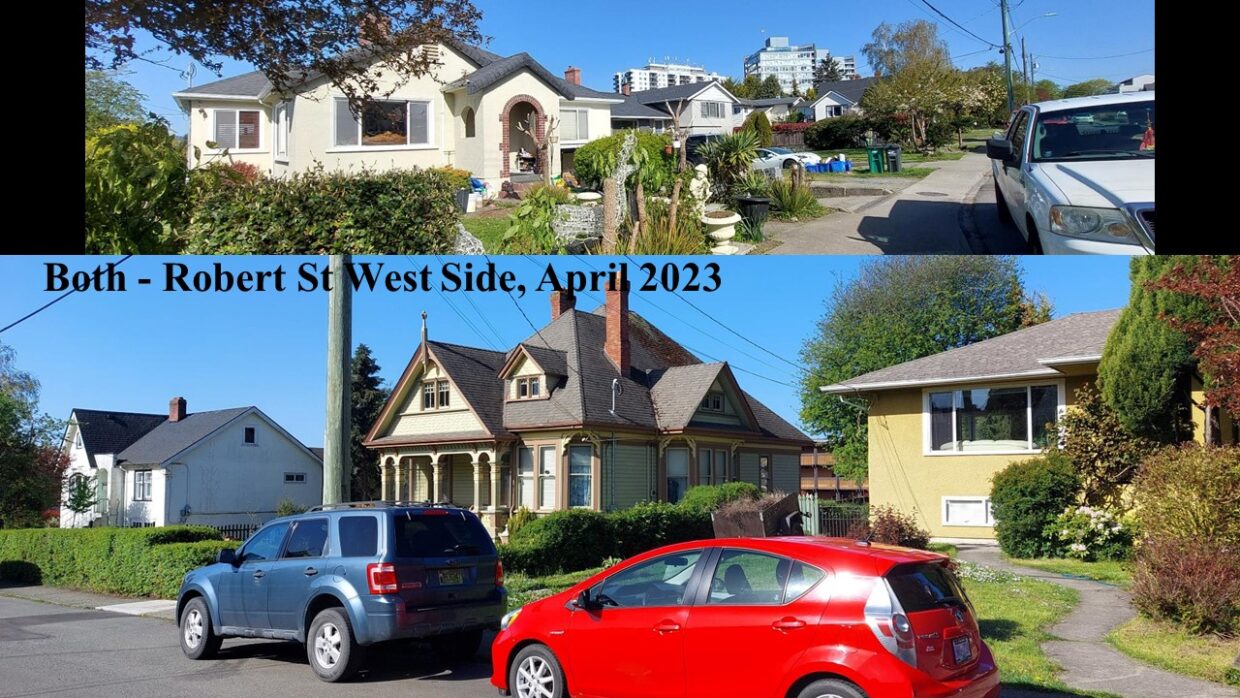 In a letter to Council, two residents of a townhouse at 209 Robert stated that "Heritage designation for Robert Street preserves the nature of the street and provides a controlled and quiet access for pedestrians, vehicles and cyclists to the small waterfront park. Any change in the heritage designation would result in traffic congestion, …infrastructure changes and the destruction of the neighbourhood."
After discussion with the City and Robert Street residents over several years, Jim Lee nominated a section of the street as a Heritage Conservation Area (HCA). This makes external changes to existing house and new builds subject to certain criteria. The section contains 14 one-storey and 1½-storey houses. These include four homes built between 1888 and 1911 that are already designated heritage.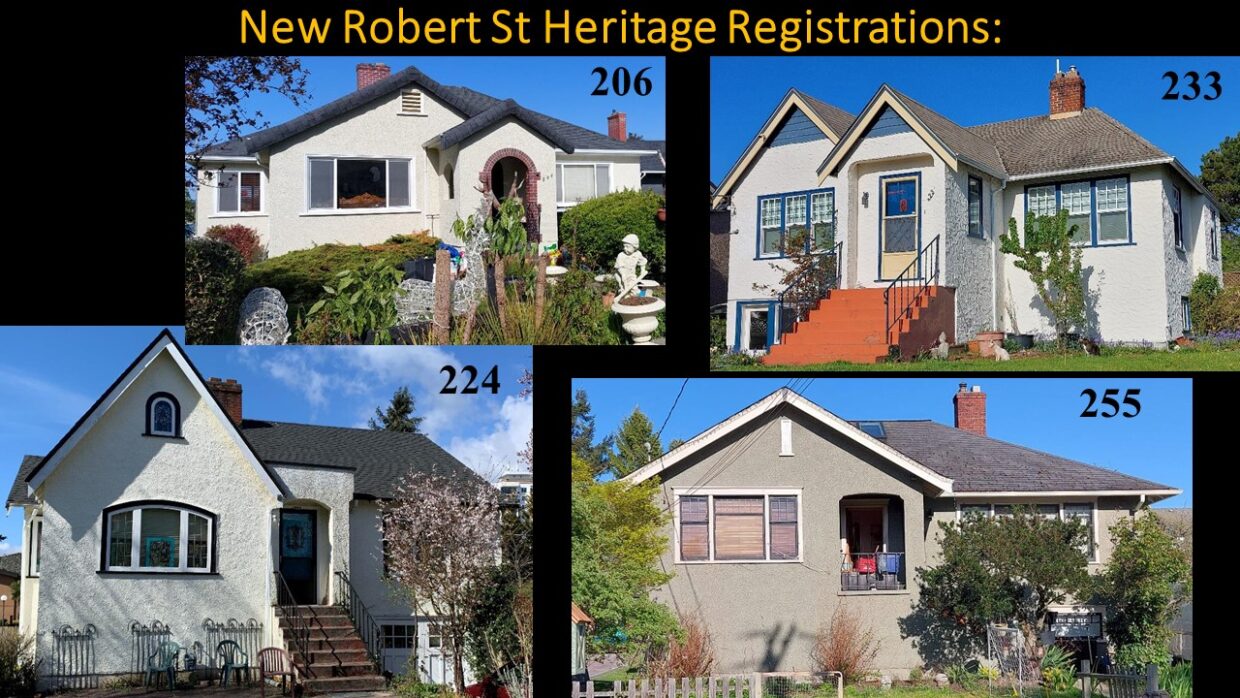 A number of others were built between 1939 and 1943, in minimal traditional style. Four of these agreed to accept registered heritage status. Six others, although included in the HCA, chose to not have heritage status.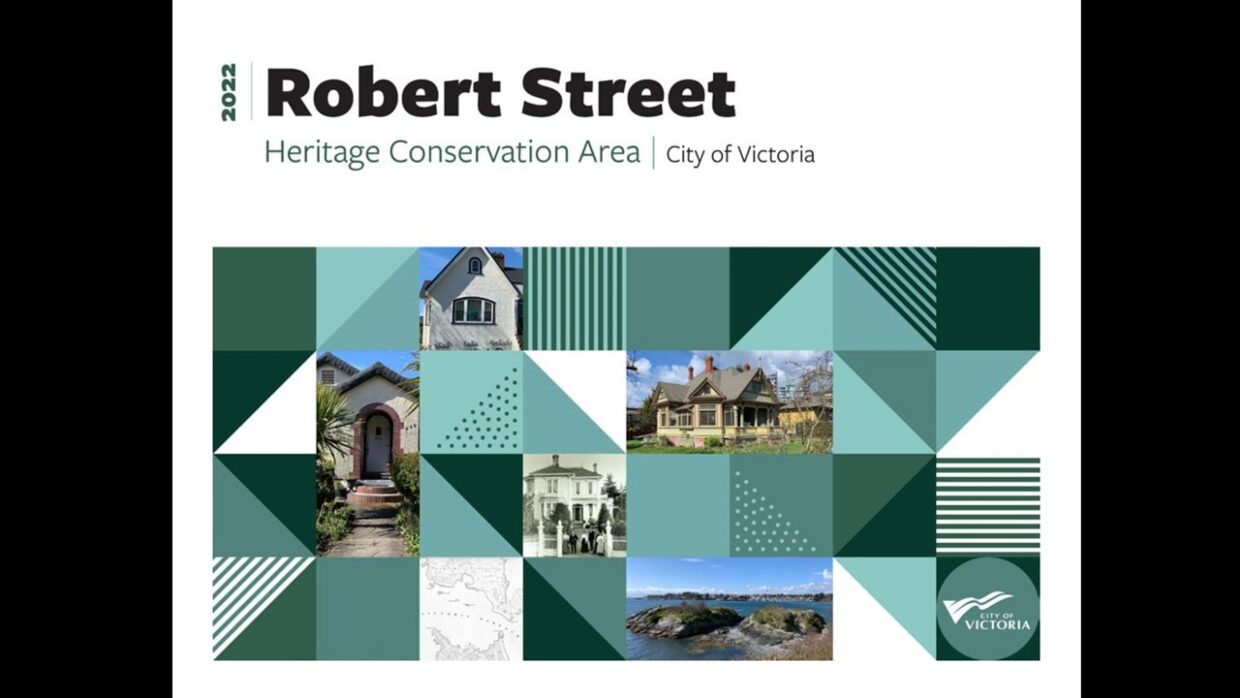 "Robert Street Heritage Conservation Area Guidelines" were drafted by Senior Heritage Planner, John O'Reilly, were adopted by the City in February 2022.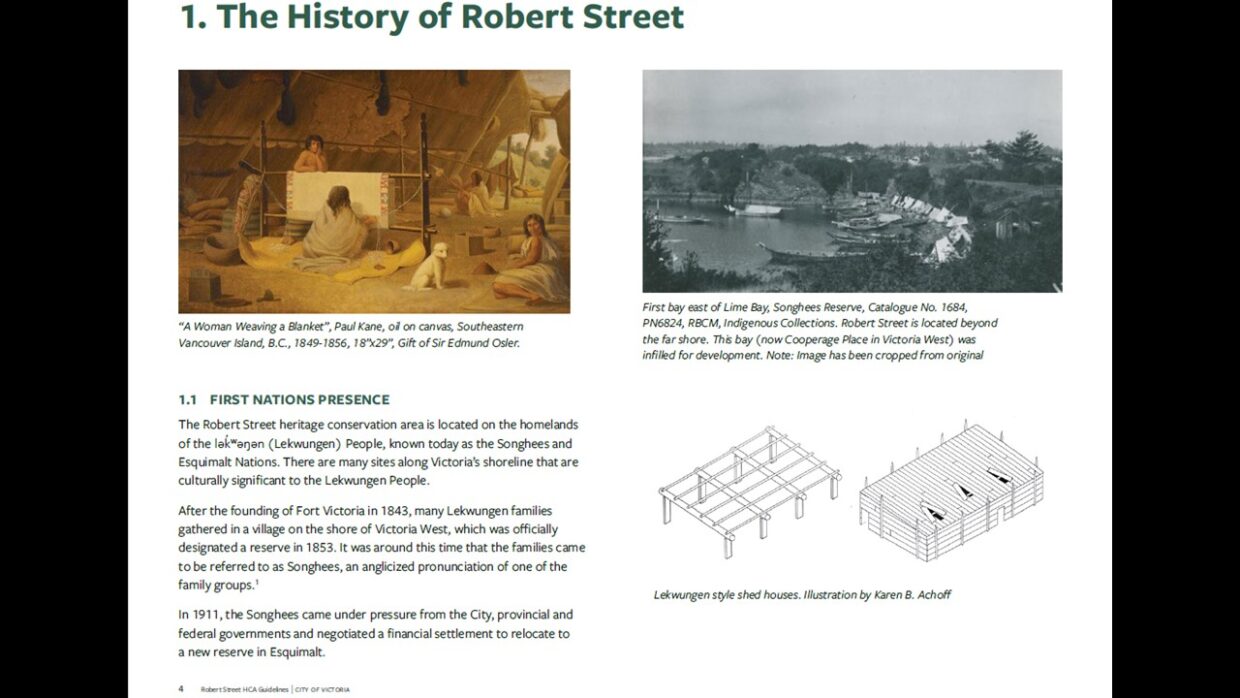 A lavishly illustrated document, the Guidelines contain the history of Robert Street, beginning with First Nations' presence.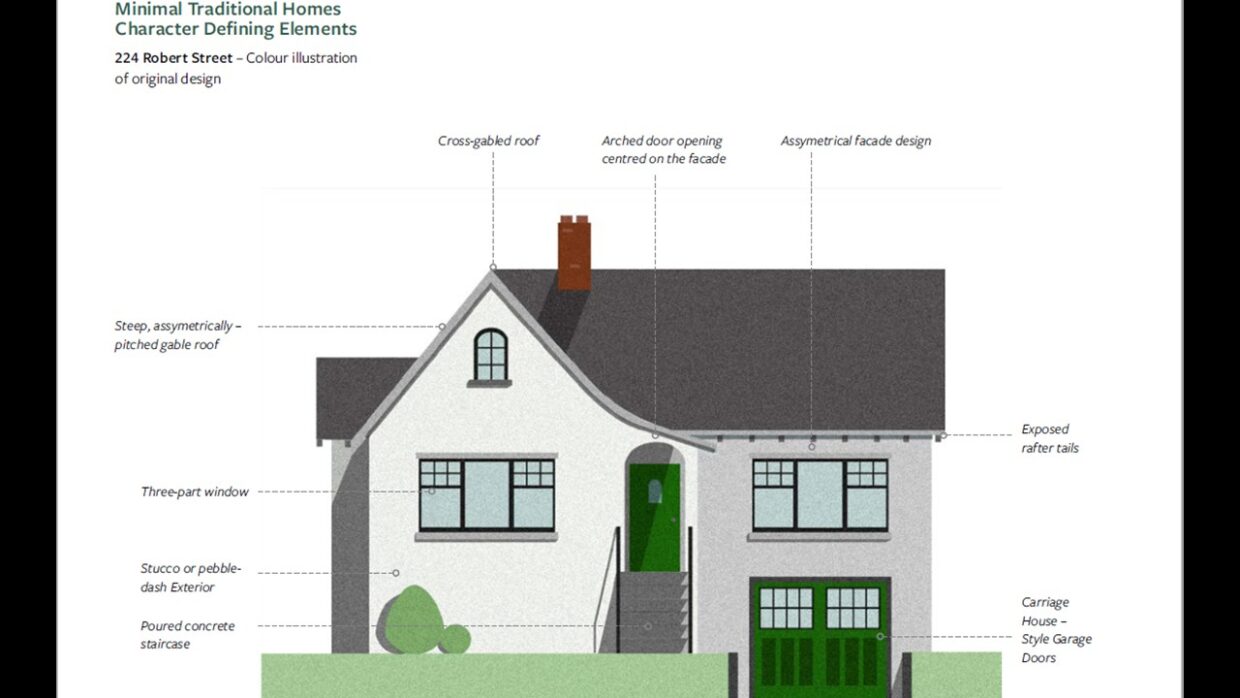 They offer direction for design of new buildings, in-fill development, alterations to existing buildings, and landscape design. Also included is a Statement of Significance for the area.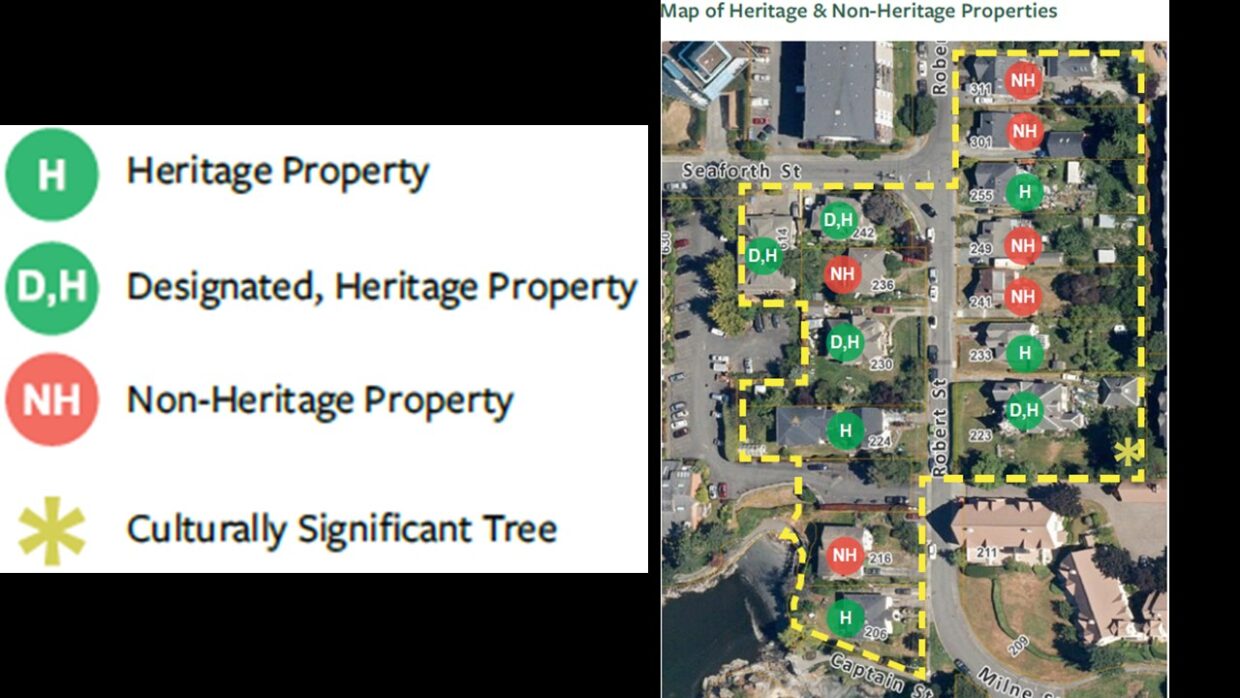 Residents held a number of meetings and discussions with the heritage planner, members of council and staff to set up what is the first Citizen-Led HCA to be created under the City's new bylaw.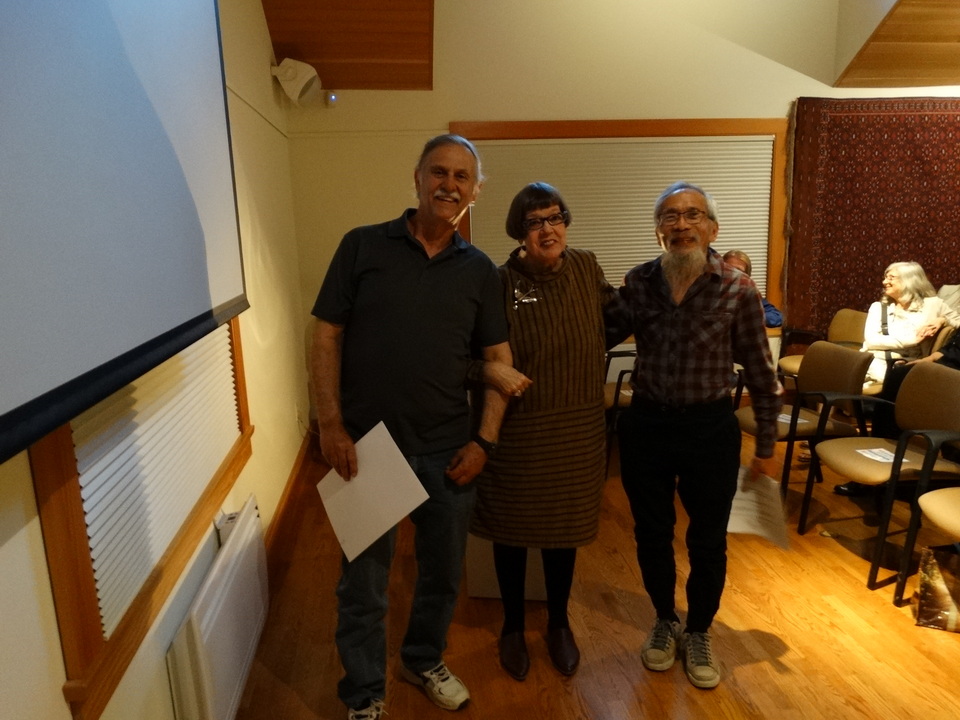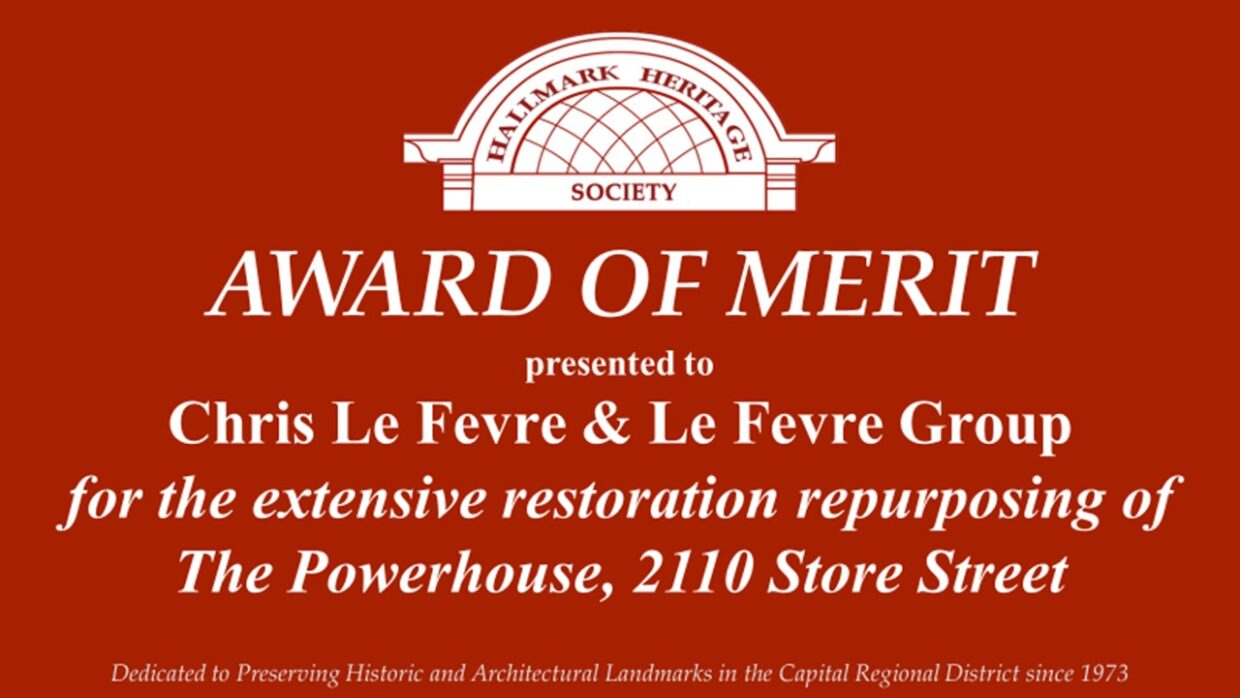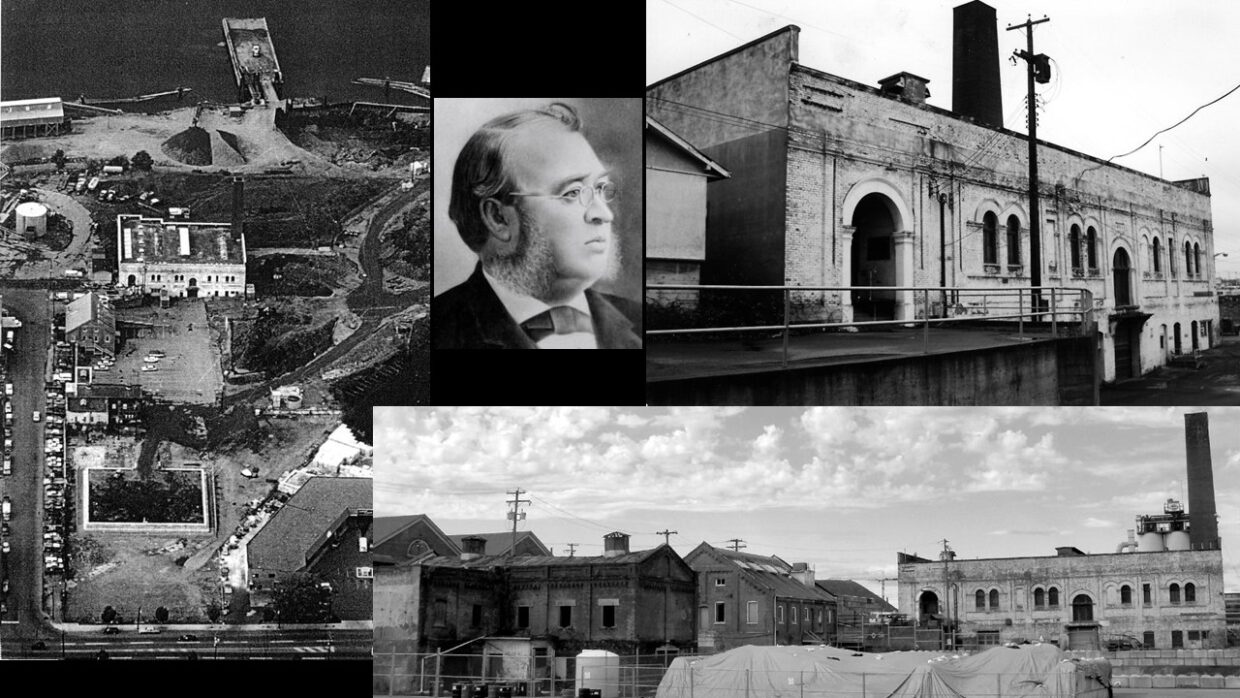 The Powerhouse was built in 1891 to the design of architect John Teague for the National Electric Tramway and Light Company. It was built to provide power to Victoria's streetcar system. The BC Electric Railway Company took over the company and powerhouse following the collapse of the Point Ellice Bridge in May 1896, when an overloaded streetcar crossing the bridge fell into the Gorge killing 55 people.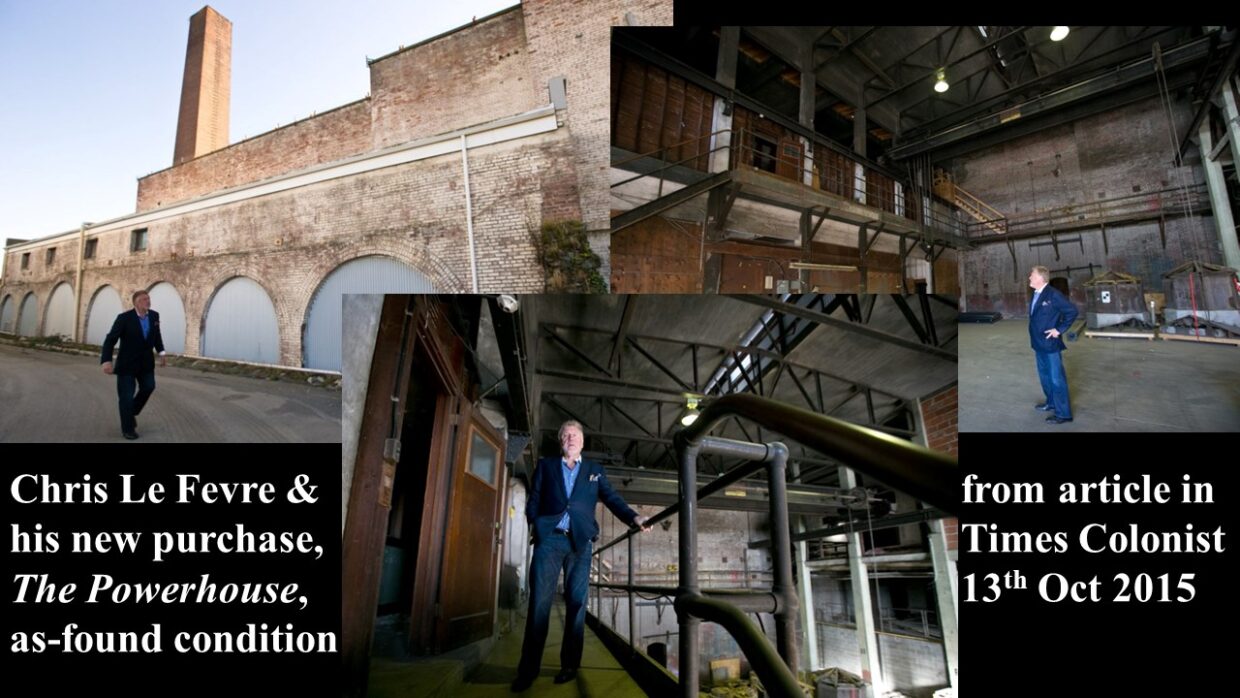 BC Electric became BC Hydro. The building was purchased from them by Chris Le Fevre in 2016.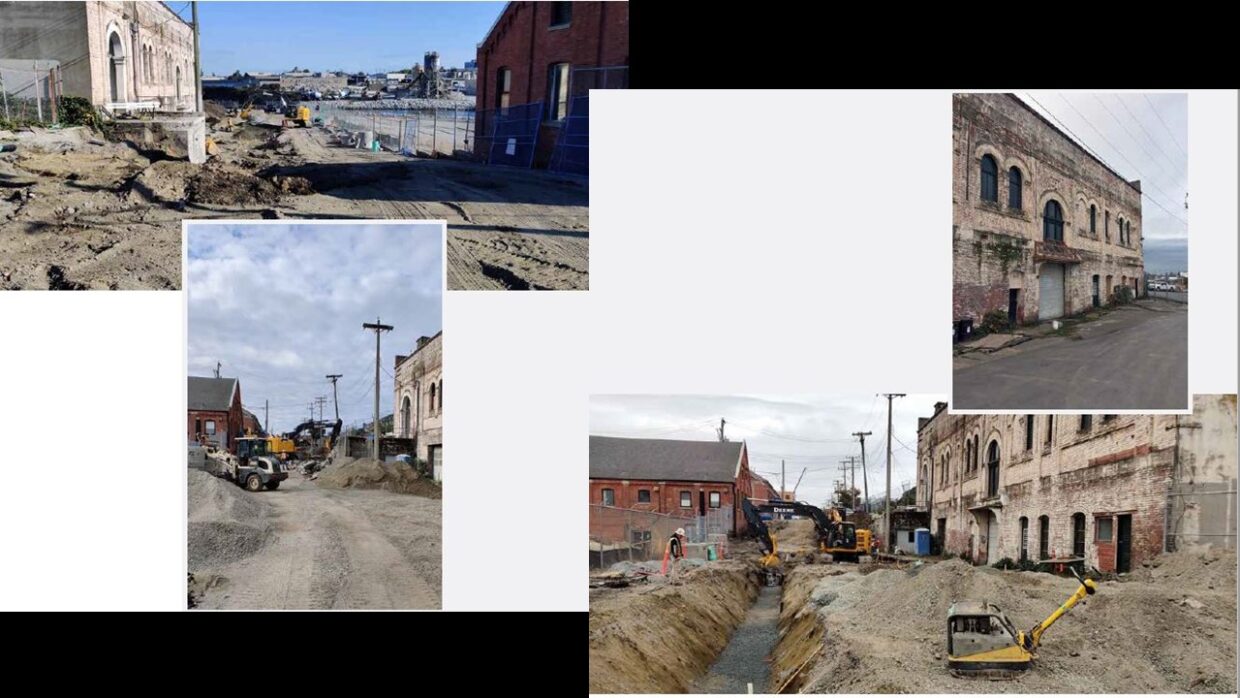 Significant work was done by the City to accommodate the purchase – new services, and an extension of Store Street roadway and sidewalks.
Remediation began in September 2019, and was completed in June 2020.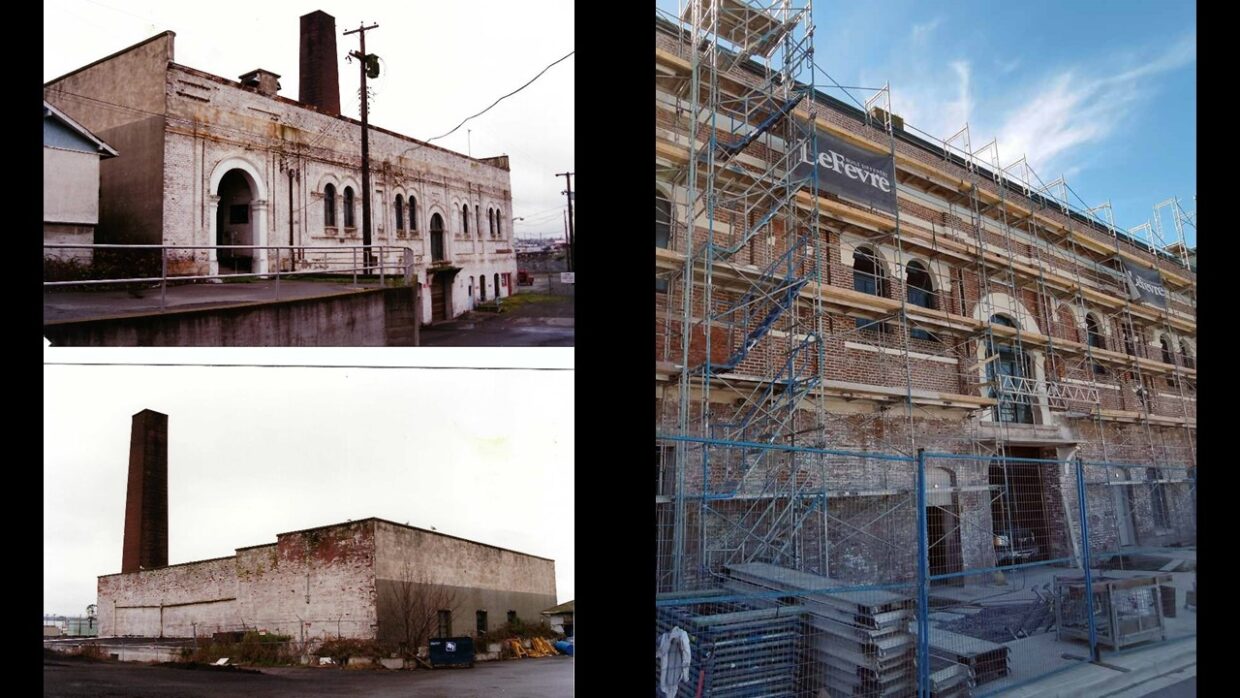 Old paint was removed from the exterior of the building. Brickwork was cleaned, repaired, and replaced on both the building and the chimney, which was capped.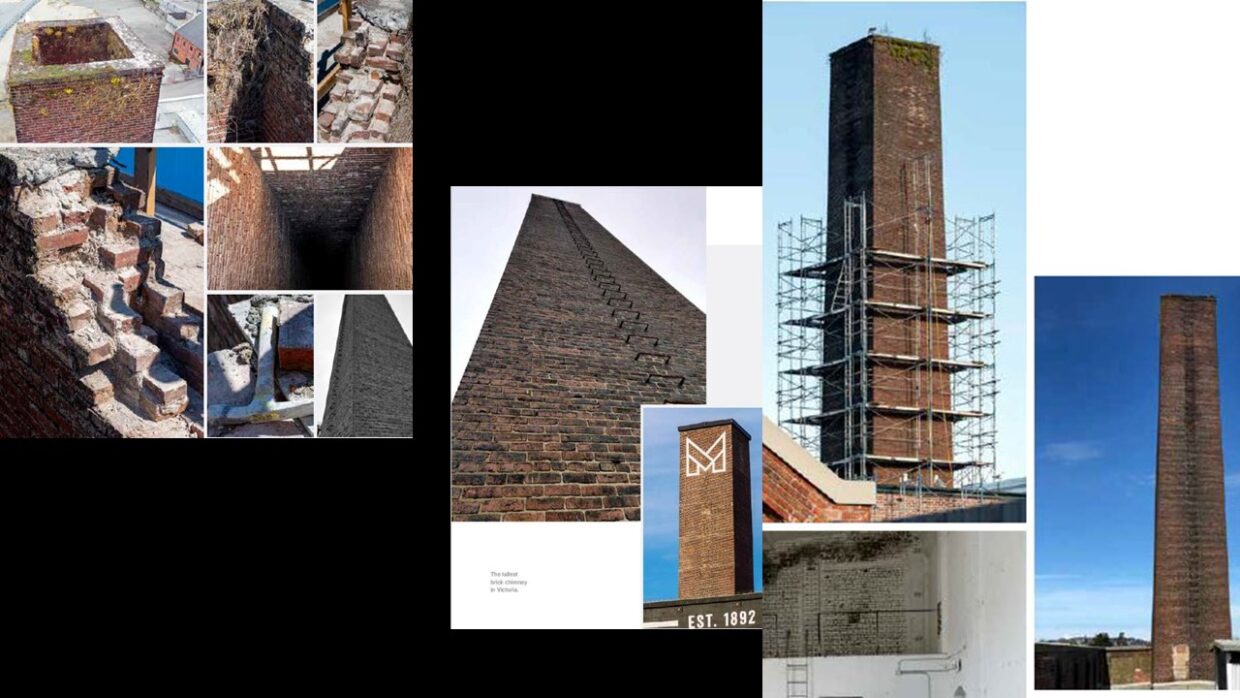 Exterior west archways were filled in. All stucco was painted, and eavestroughs and downpipes were replaced.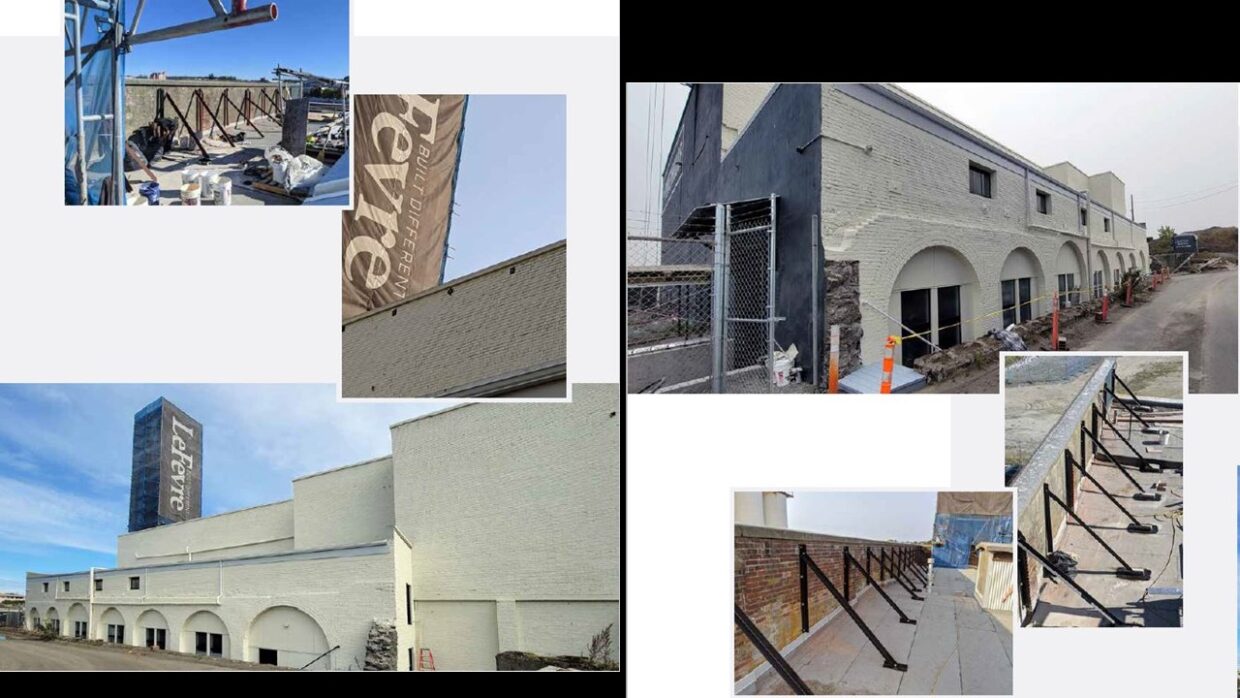 A steel brace assembly system was installed on the roof behind the parapet for the earthquake upgrade.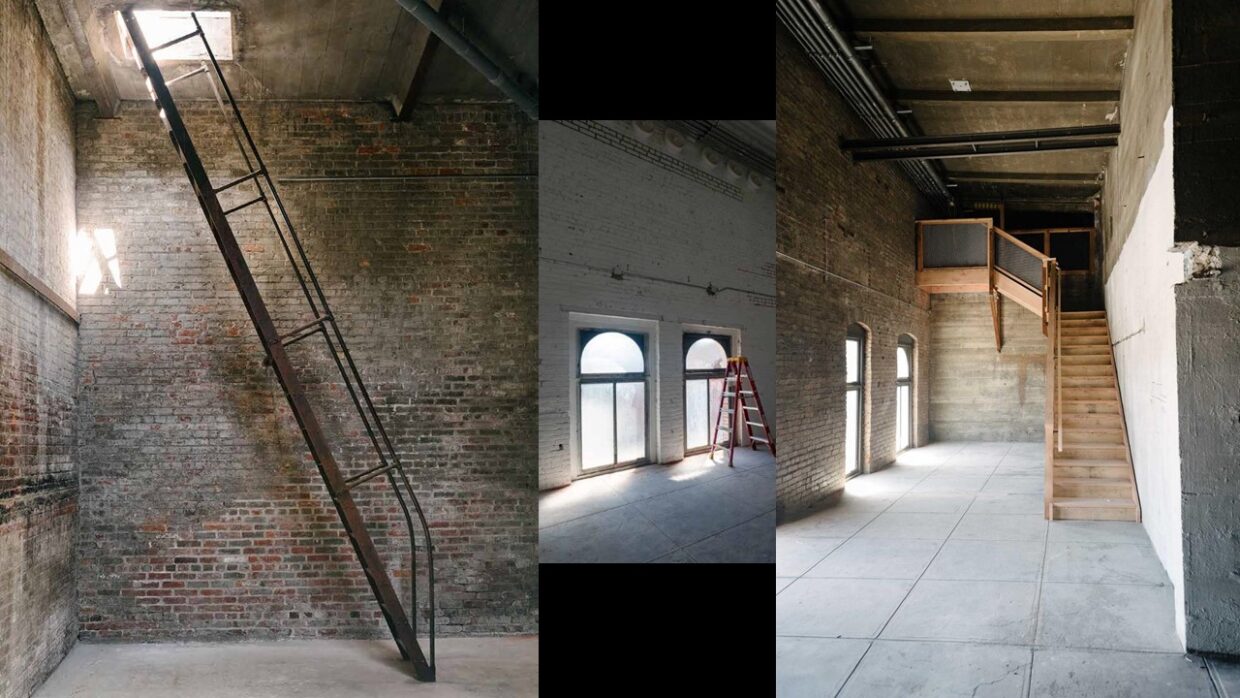 Interior renovation consisted of remediating, cleaning, and painting brick walls and the overall structure. New electrical and gas services were also installed.
Wooden and metal windows and doors were repaired and replaced. Sections of glass were replaced with annealed laminate panes.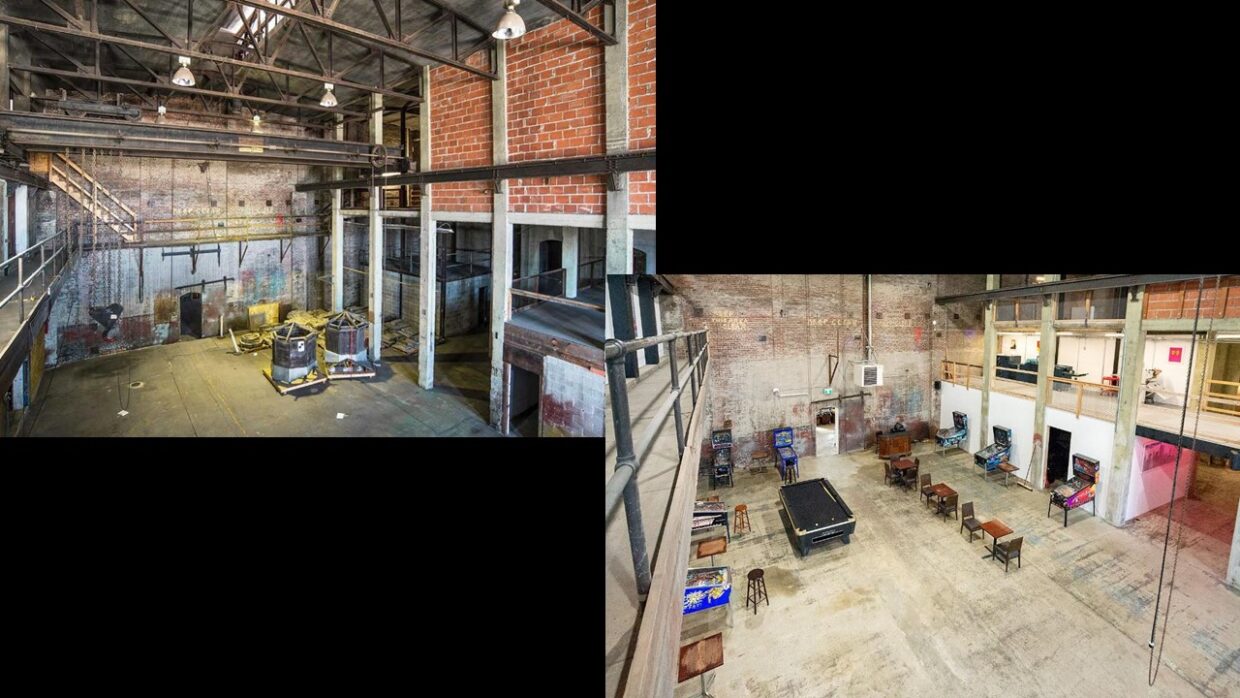 Offices in the Powerhouse are original to the building and were restored as part of the remediation process. They are now used by the tenants, a printing company, Metropol, and a clothing manufacturer, Ecologyst.
The main large bay in the middle of the building is used to house a series of antique Heidlberg press printers. There is also a staff cafeteria and several vintage pinball machines.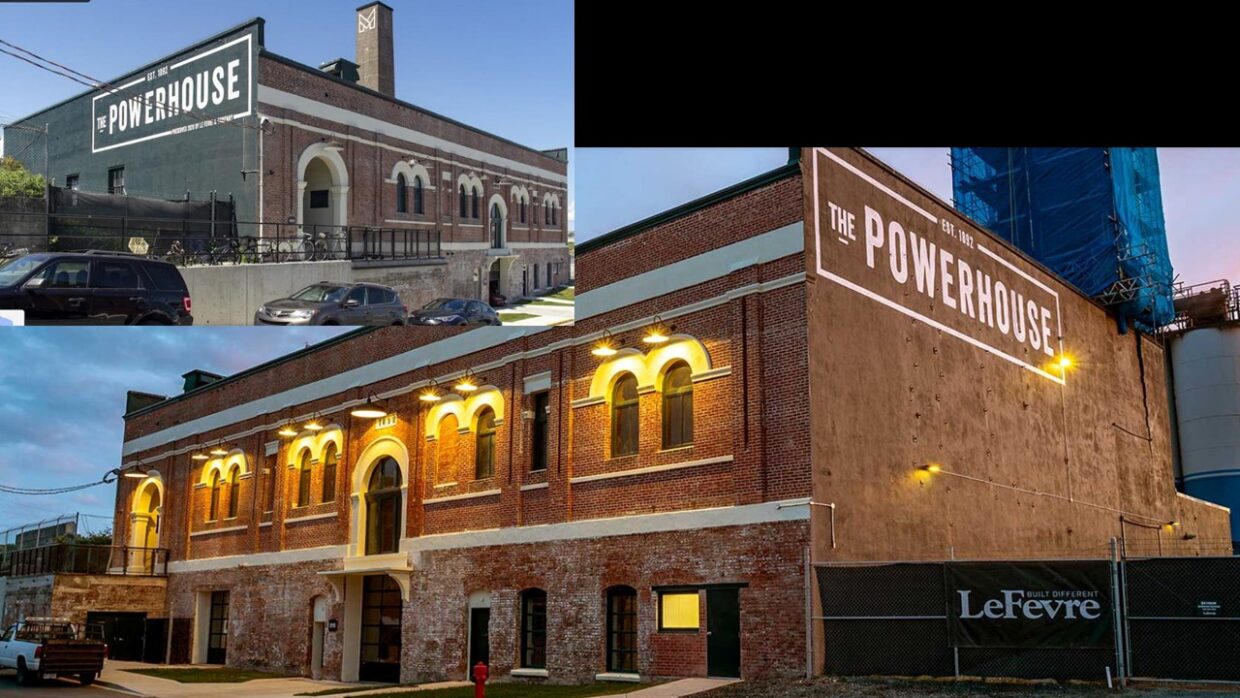 Heritage-inspired lighting was installed to showcase the exterior of the building. 2110 Store Street received a Design Assistance Grant and Building Incentive Program as well as a Parapet Incentive Program Design Assistance Grant and Parapet Incentive Program funds from the Victoria Civic Heritage Trust.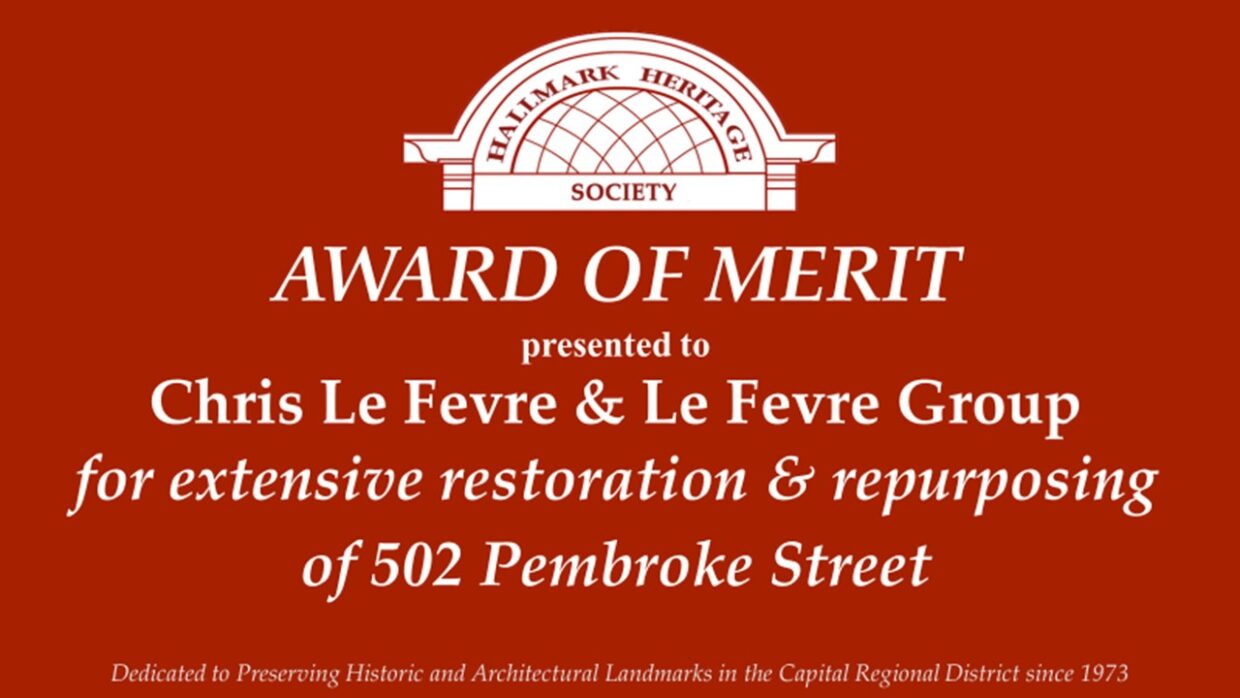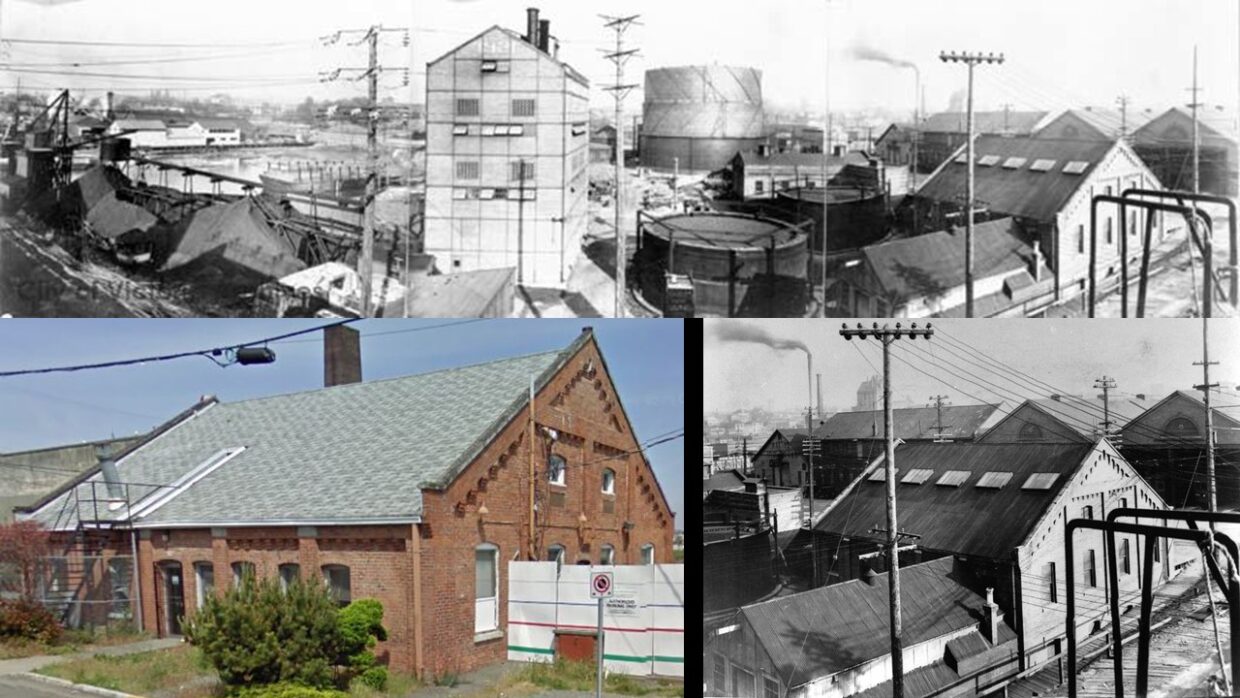 This 1888 building was erected for the Victoria Gas Company, which was incorporated in 1860 and providing street lighting by 1862, the same year the City of Victoria was created.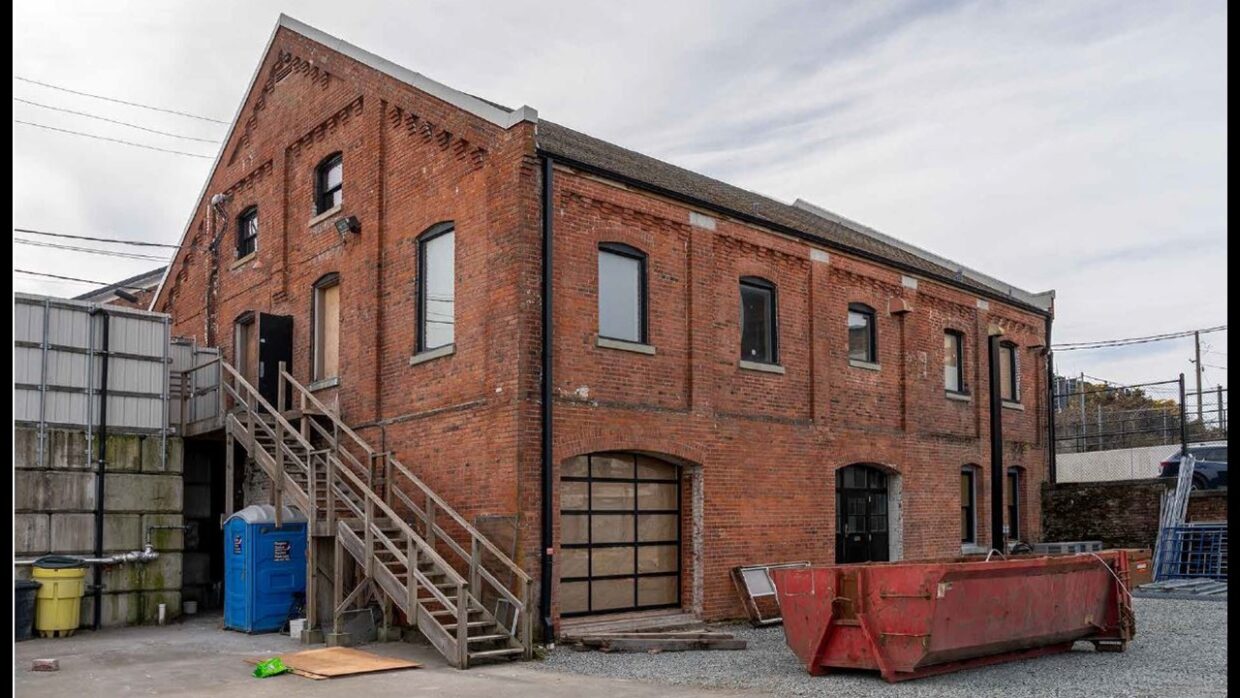 The building was purchased from what was then BC Hydro in 2016 by Chris Le Fevre. Remediation began in 2021 and was completed in Spring 2022.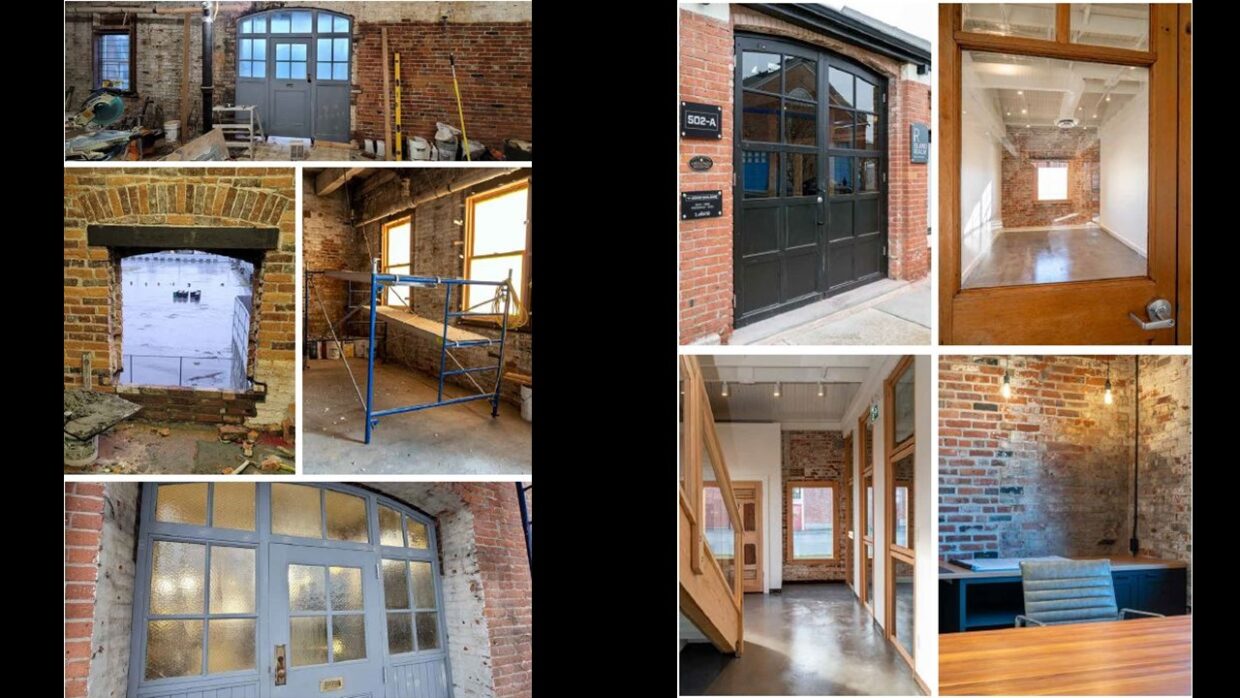 Brickwork was cleaned, repaired, and replaced throughout, including extensive parging.
Aluminum windows and glass were replaced where required. Window frames were repaired and painted. Aluminum storefront doors were replaced with new period style wooden doors.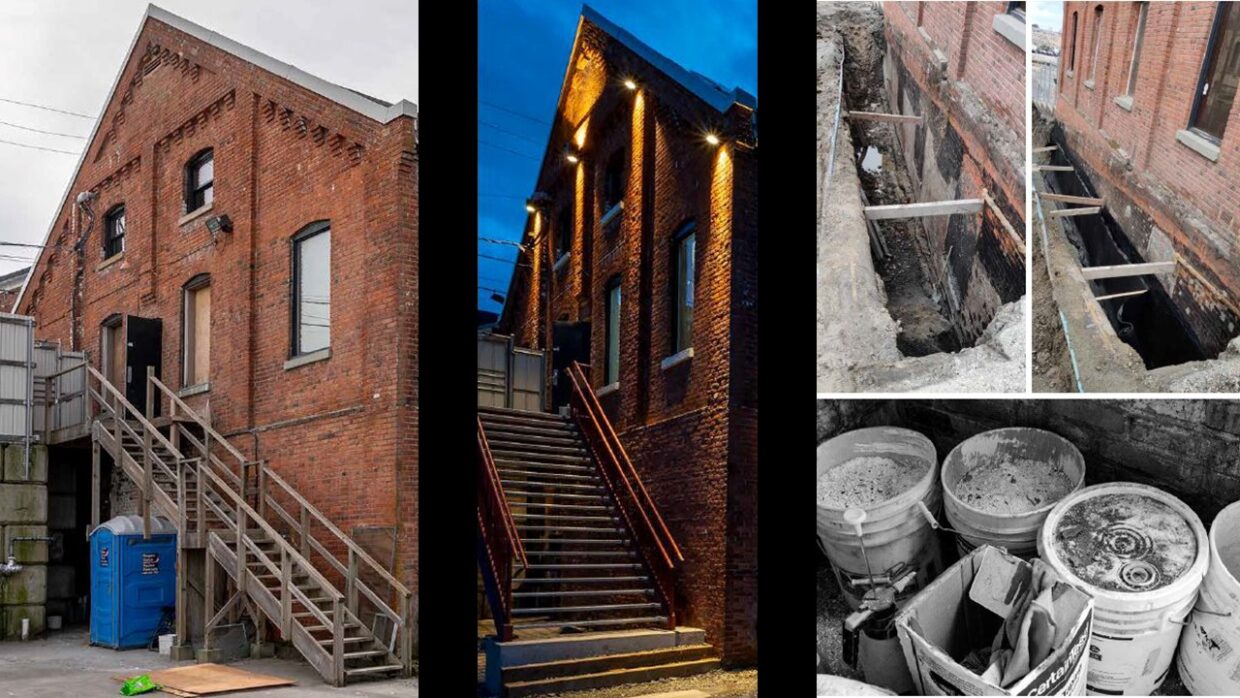 A metal staircase replaced an old wooden fire escape and perimeter drains were dug.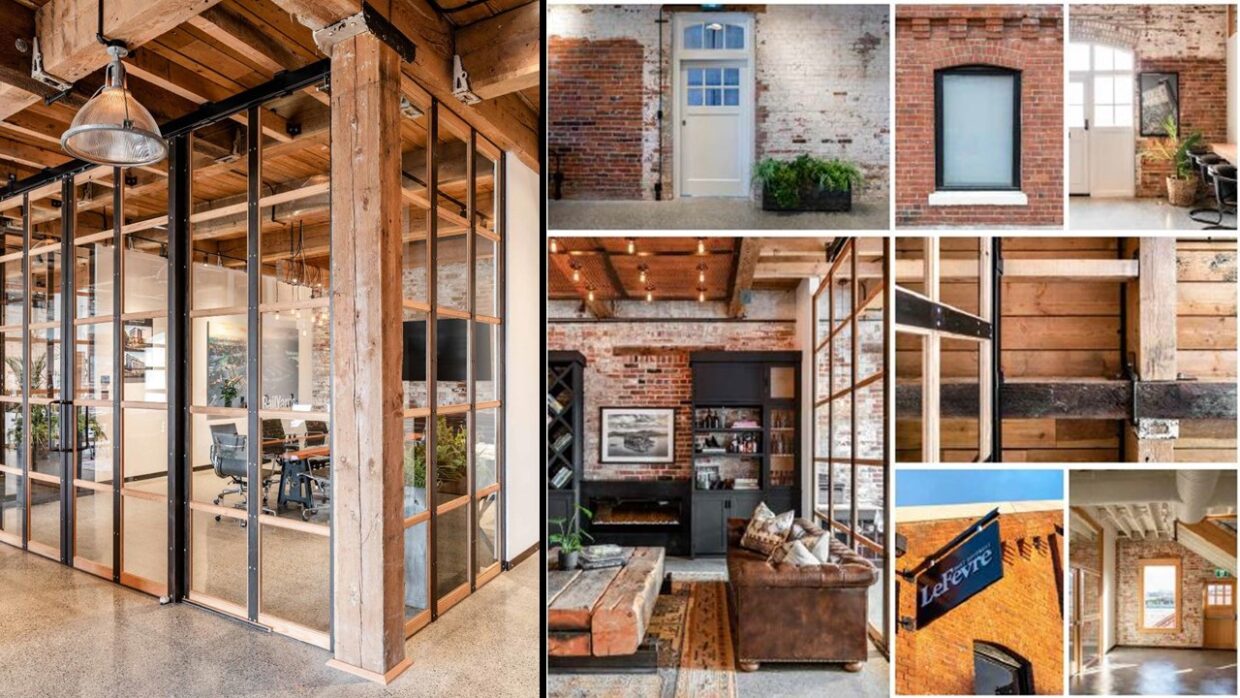 There was extensive renovation of the building interior, using recycled wood and metal.
Le Fevre and Company offices occupy the lower level of the building and a real estate company occupies the upper floor.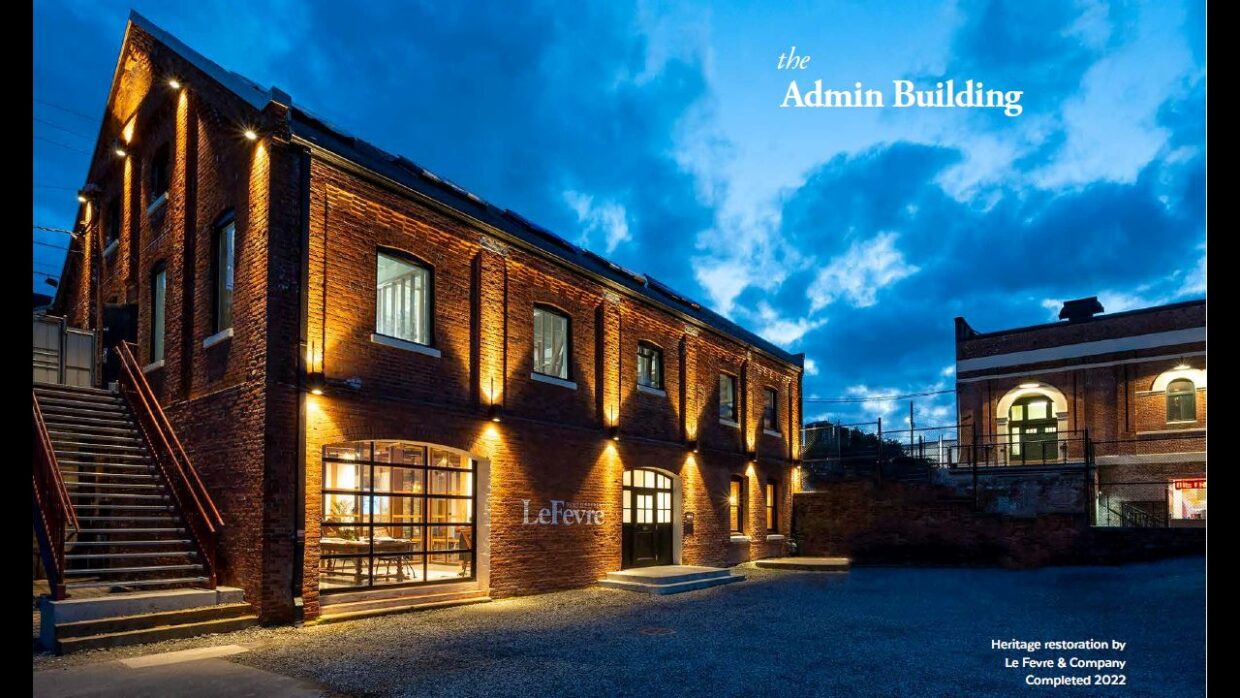 Uplighting was installed around the building to showcase brick corbels and features. 502 Pembroke received a Design Assistance Grant and Building Incentive Program funds from the Victoria Civic Heritage Trust.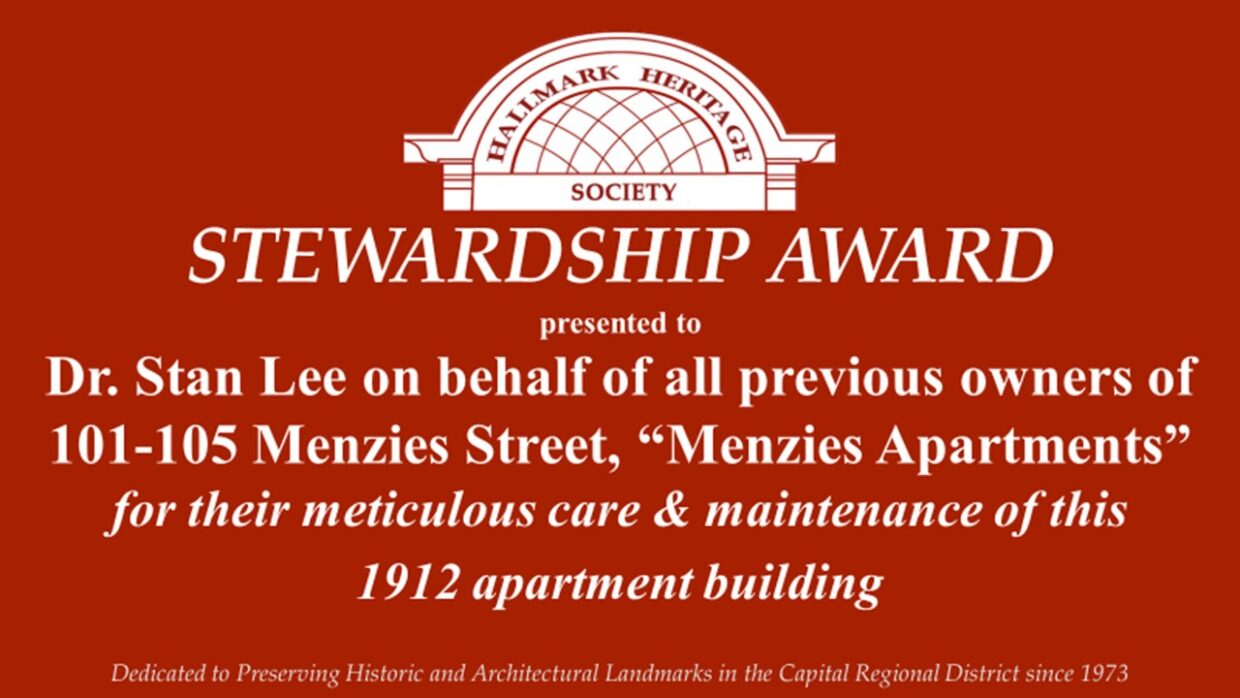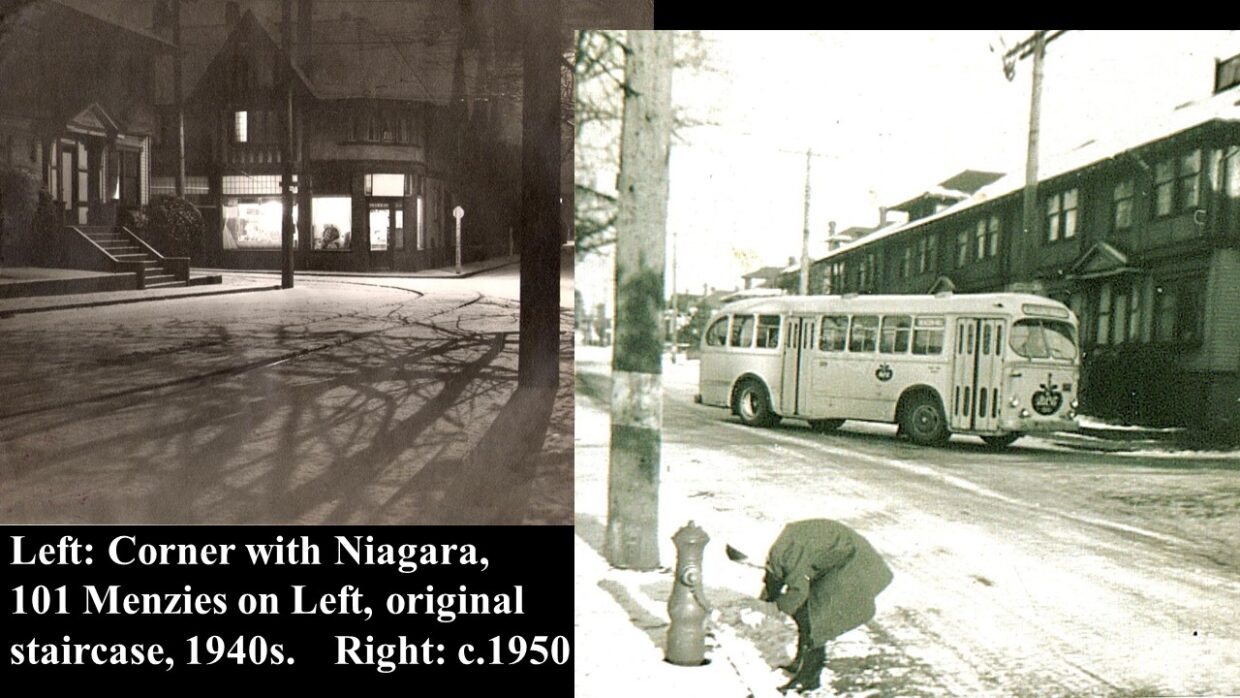 Designed by architect James Dahl of Seattle for James L. Jenks, proprietor of the Brunswick Hotel, the Menzies Apartments were built in 1912.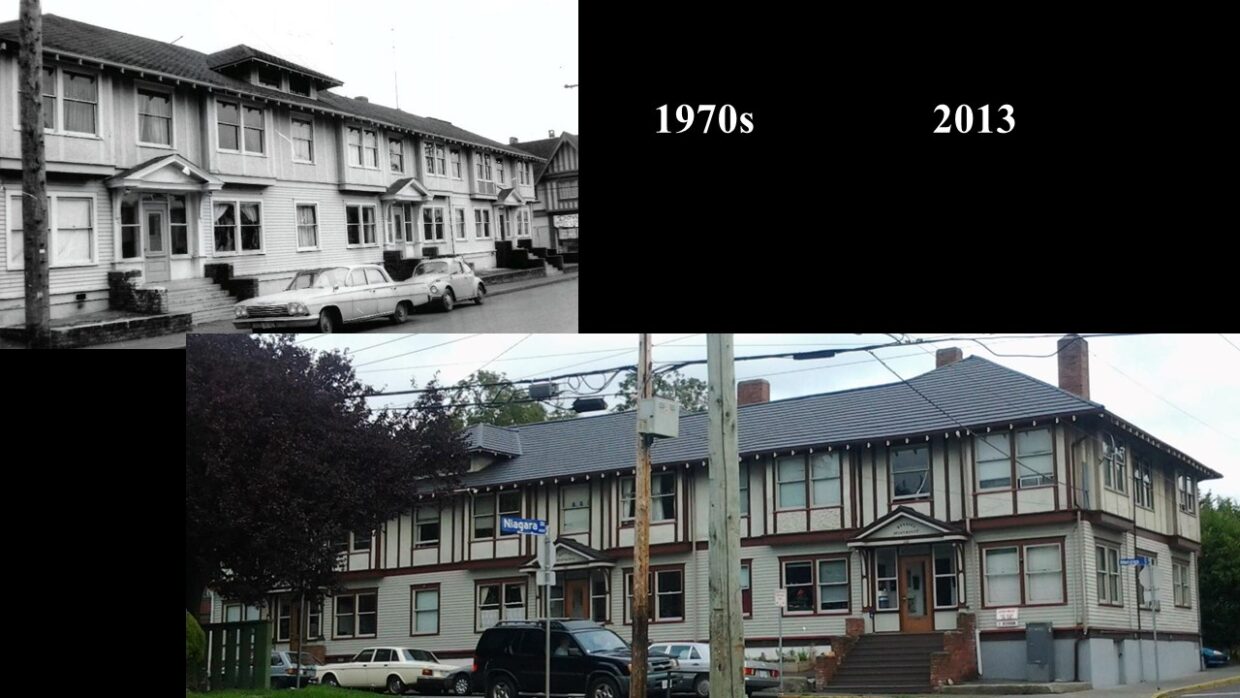 Each of the three front doors leads to four apartments, two up and two down, as they always have. Each apartment runs from the front of the building to the rear, with back porches. Bought in the late 1970s by David Bowman, owner of the Cherry Bank Hotel, whose home was a 2022 Hallmark Award winner on St David Street. His partner in this venture was lawyer Ed Popham.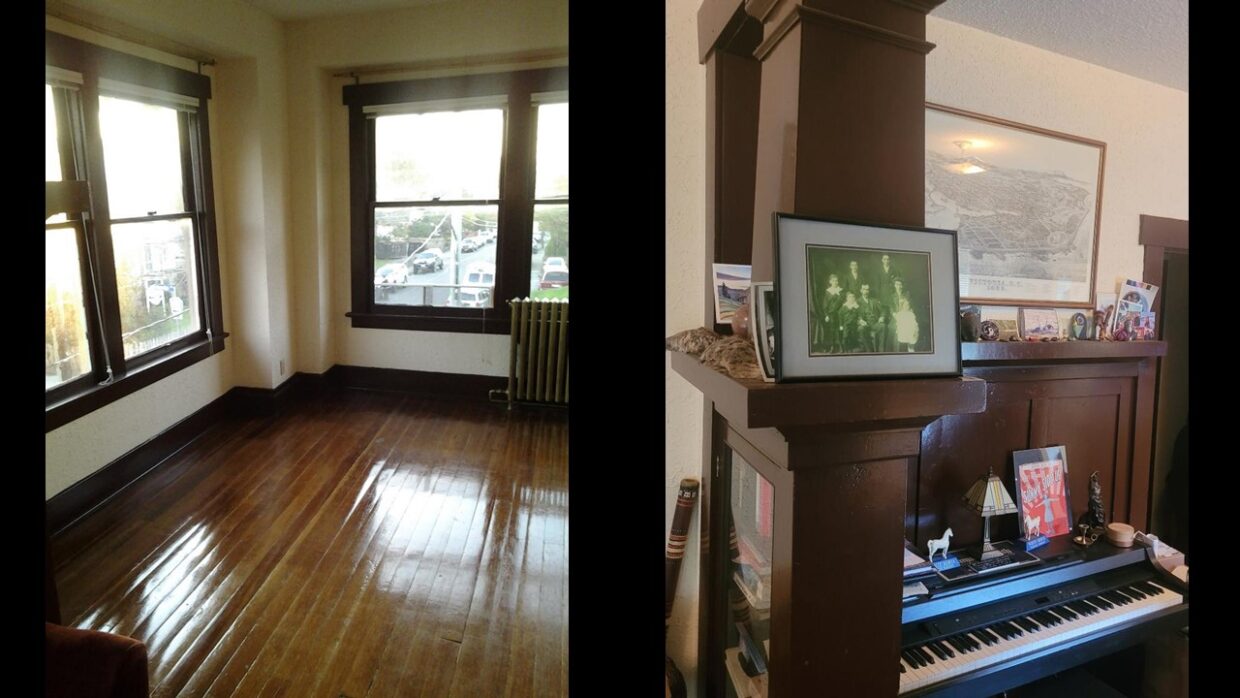 They continued the careful maintenance carried out by previous owners over the years. Bowman hired Barb Filby to manage the building in the 1980s while she was already managing the Cherry Bank. She says she loved running the Menzies Apartments until 2019.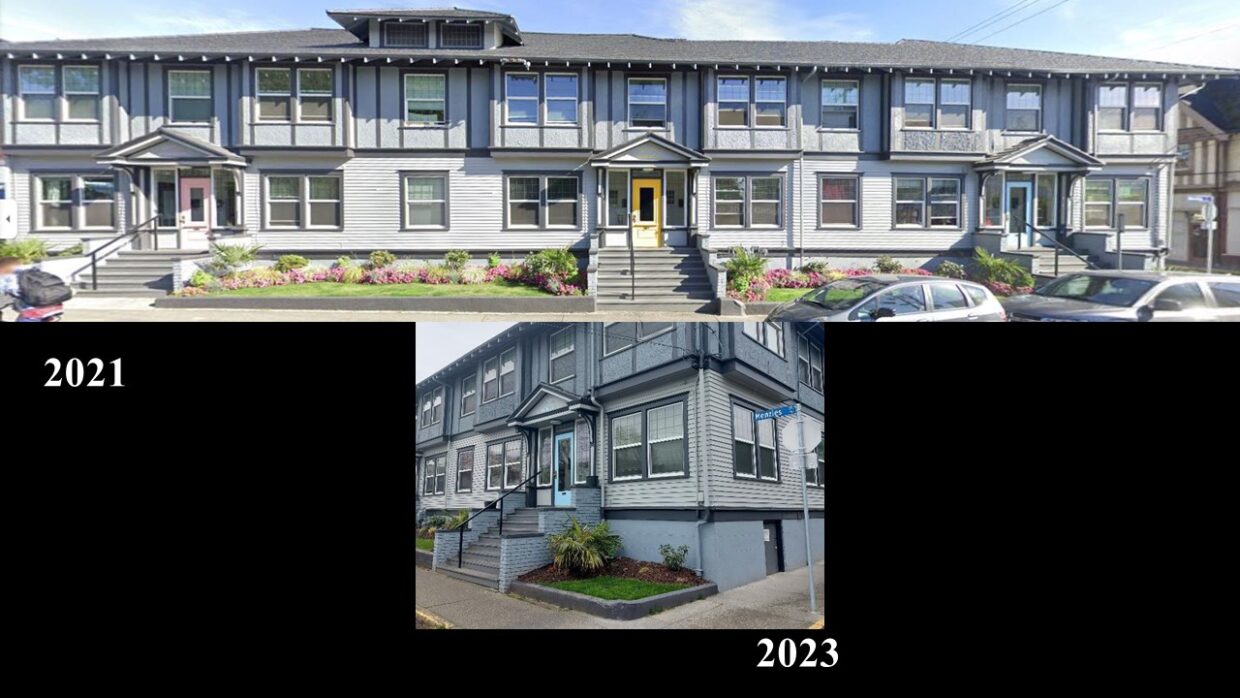 David died in 2013 and his children asked Barb to show the building to prospective buyers when it was for sale in 2019 and to help select a new owner. Before selling, the Bowmans replaced the roof and the original wooden windows. The new vinyl windows conform to the original layout and size.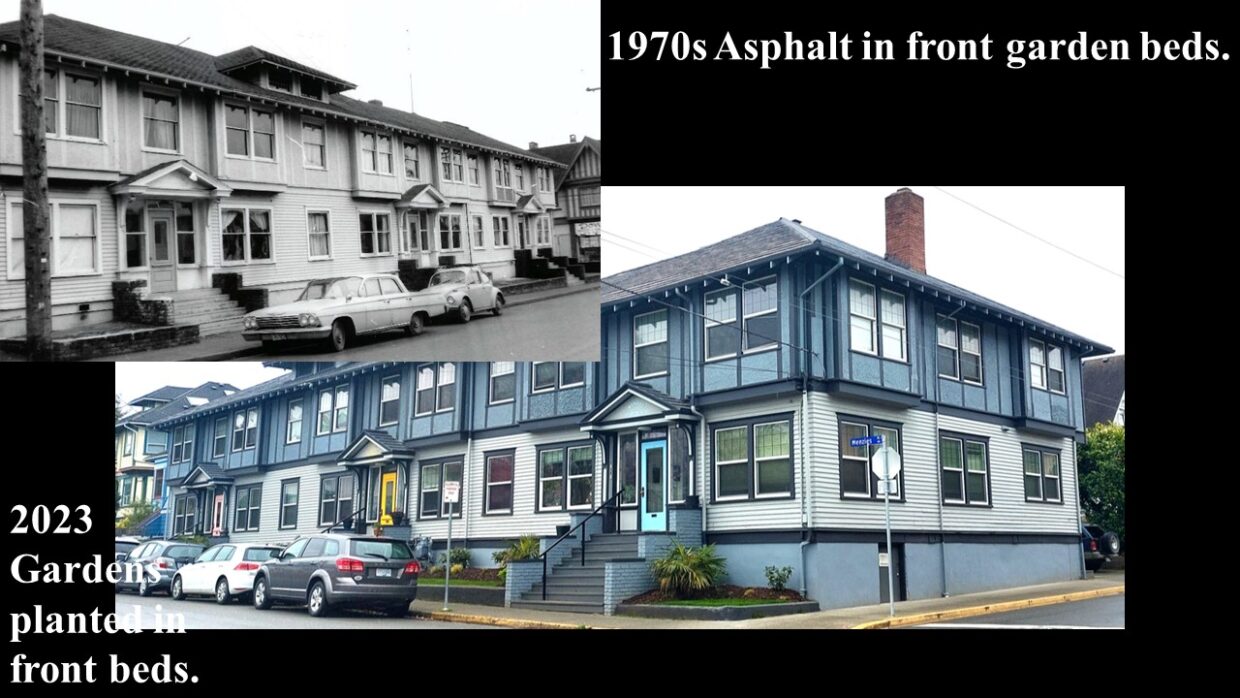 Stan Lee has continued the ongoing careful maintenance and has replaced the decades-old asphalt surfacing along Menzies Street with gardens.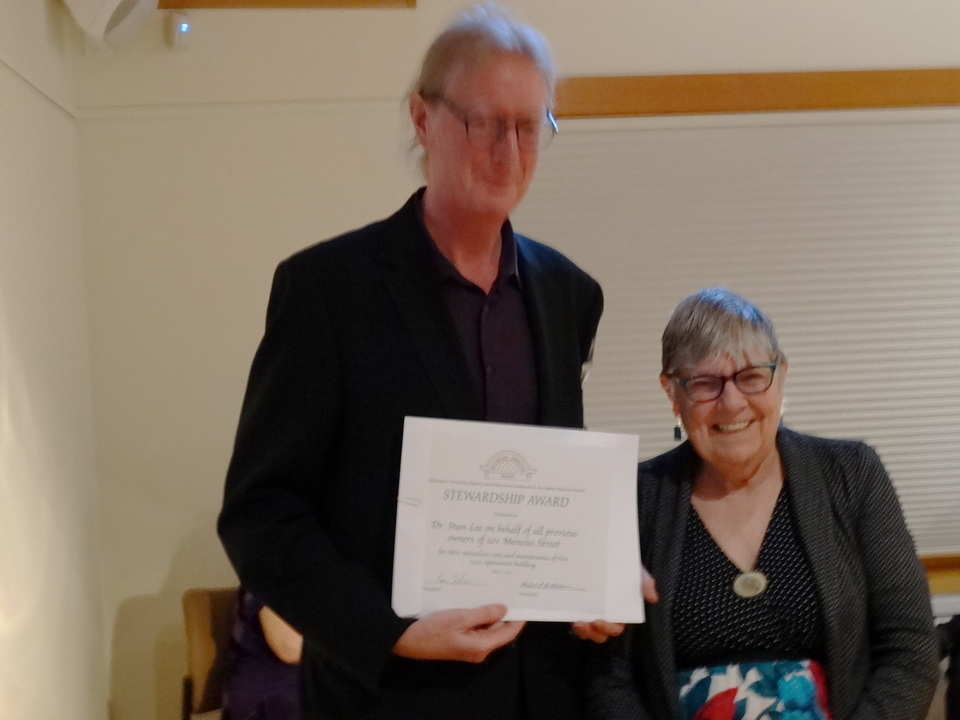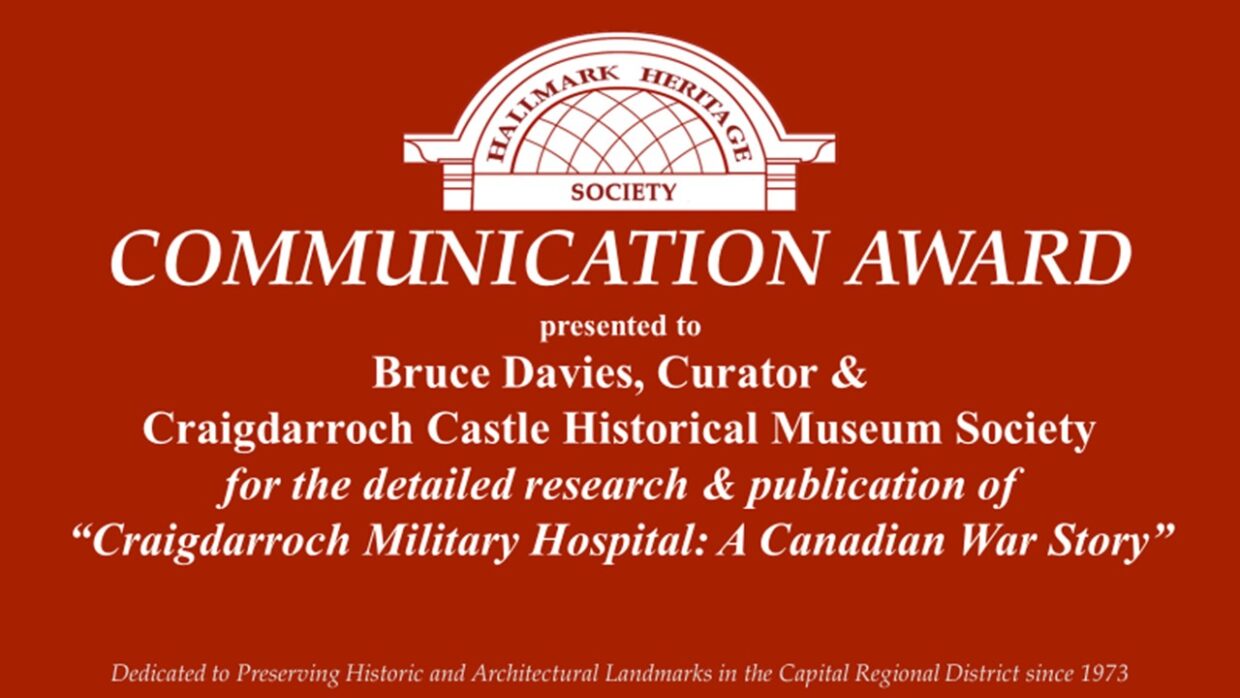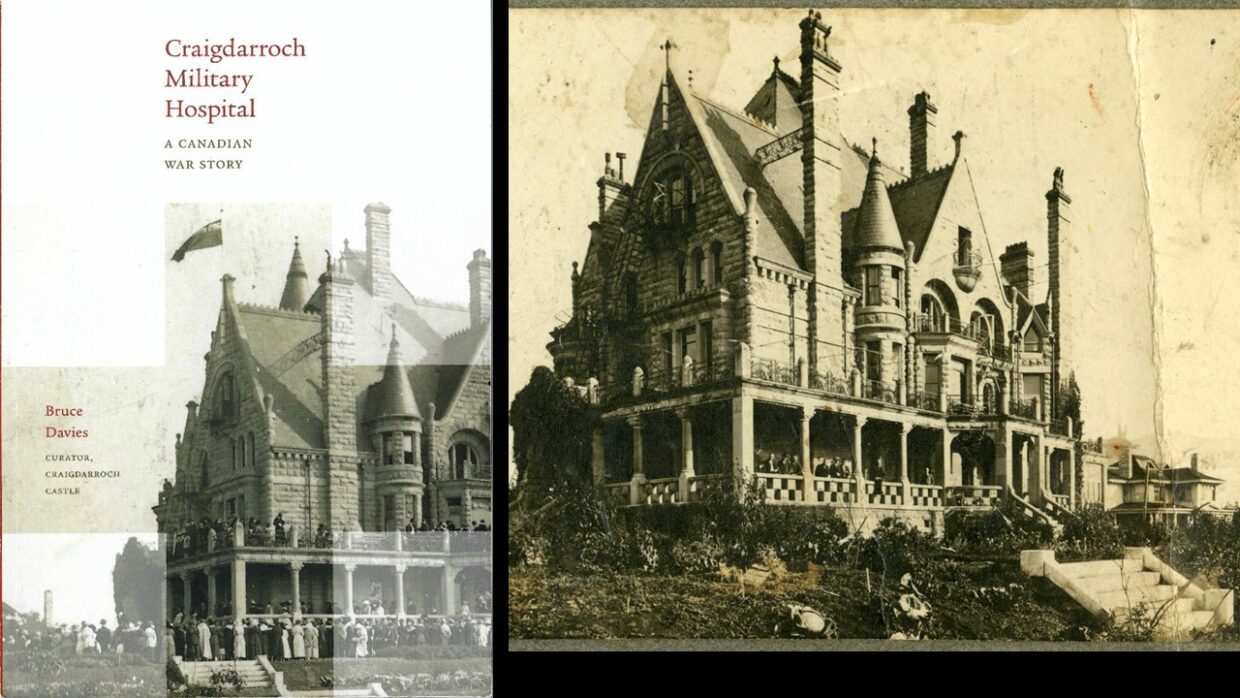 This wonderfully detailed book began as research for development of a new third-floor gallery in the castle, highlighting its history as a military hospital 1919-20. Bruce Davies produced a report for use by Castle staff and docents. John Hughes, executive director, recognized its importance and incorporated it into the castle's strategic plan to be produced as a community outreach publication.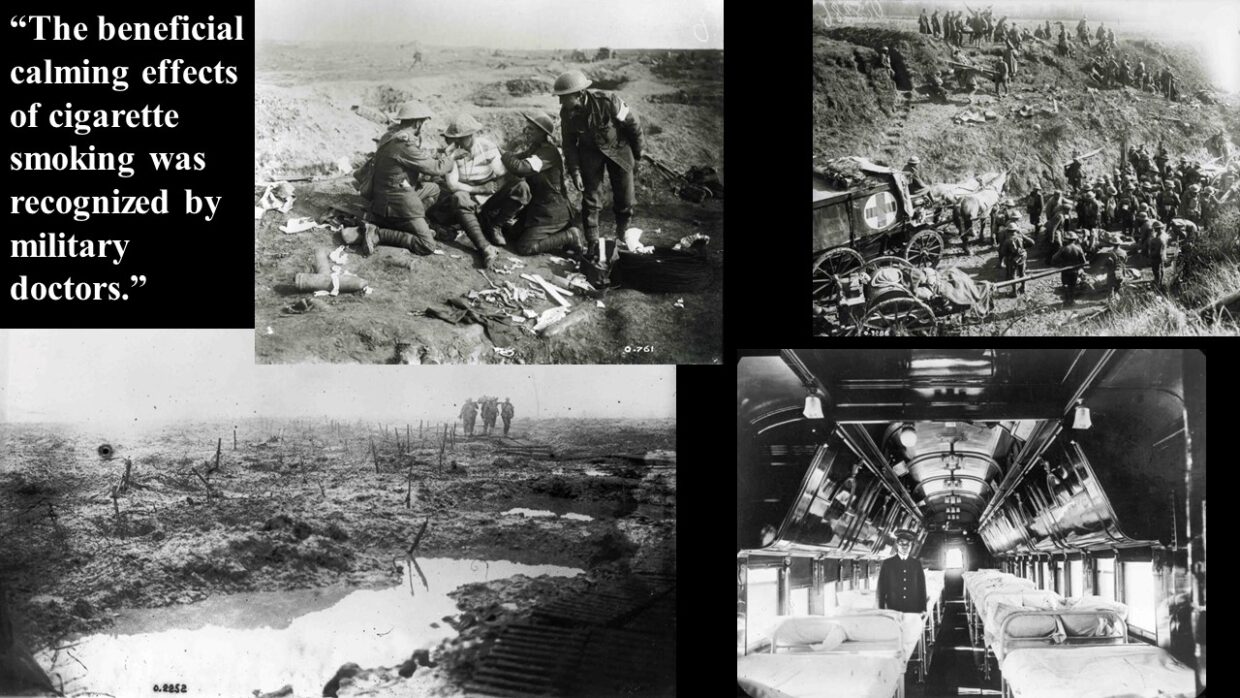 This book is extensively illustrated, with photos of battlefield medical care, transportation across Canada to all military hospitals and facilities, maps and floor plans. Note: "The beneficial calming effects of cigarette smoking was recognized by military doctors."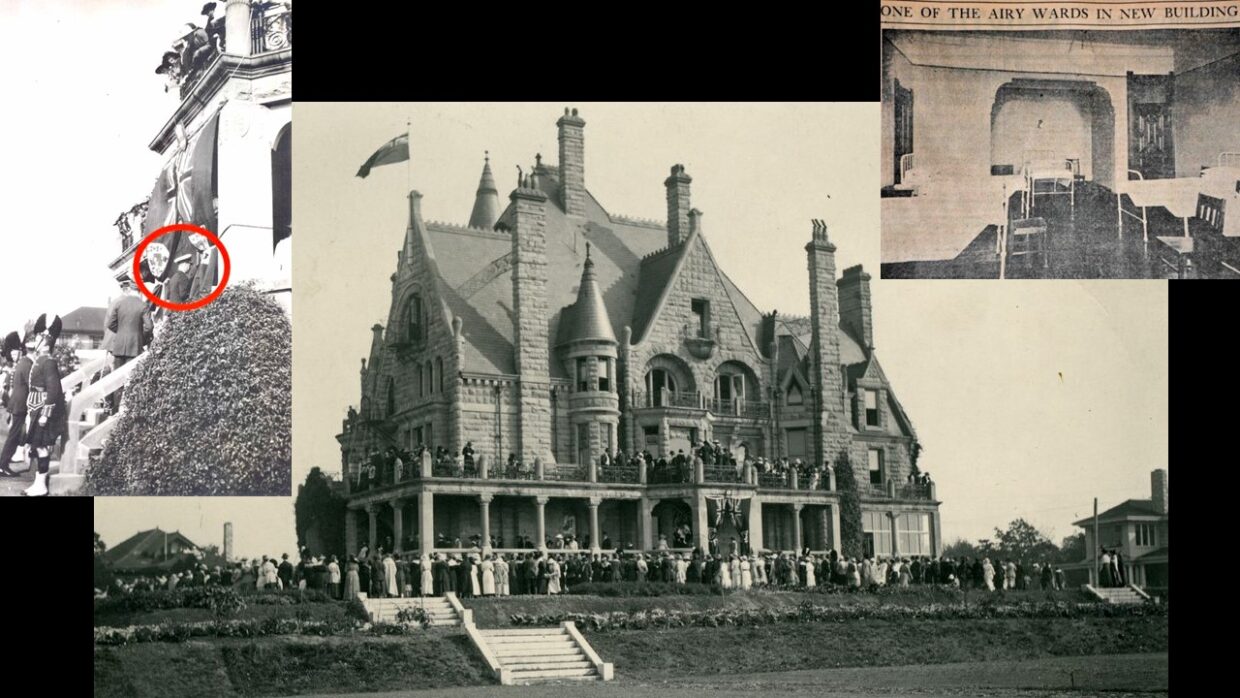 Officially opened by the Prince of Wales (later King Edward VIII) in 1919, Craigdarroch focused on curative occupations and industrial retraining.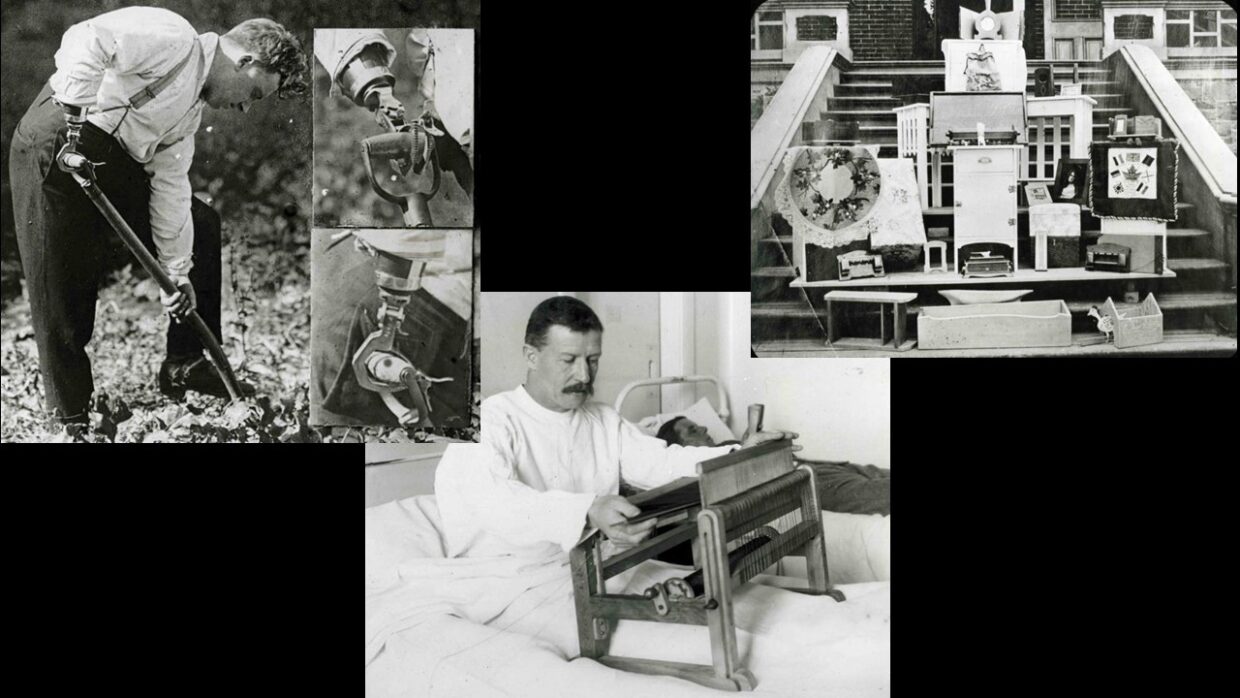 Once immediate physical needs were met through surgery, physiotherapy, and the fitting of prosthetics, it was essential that the men do something productive to restore their bodies and minds.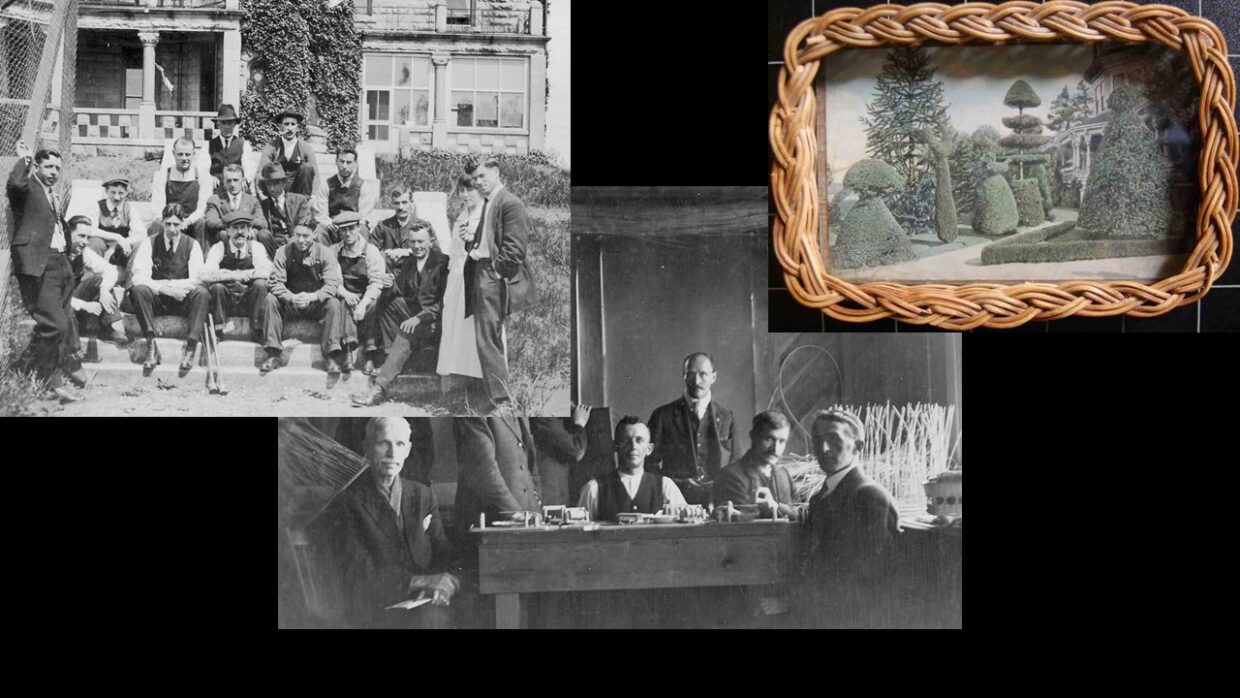 It was important that they get their hands moving, doing basketry, woodwork, sign painting, etc. Day patients also attended training at the castle and in the workshop built on the lower south lawn where there were also tennis courts for their rehabilitation. The hospital at Craigdarroch was unique in that it was in a private home and opened under civilian authority for men no longer in active service.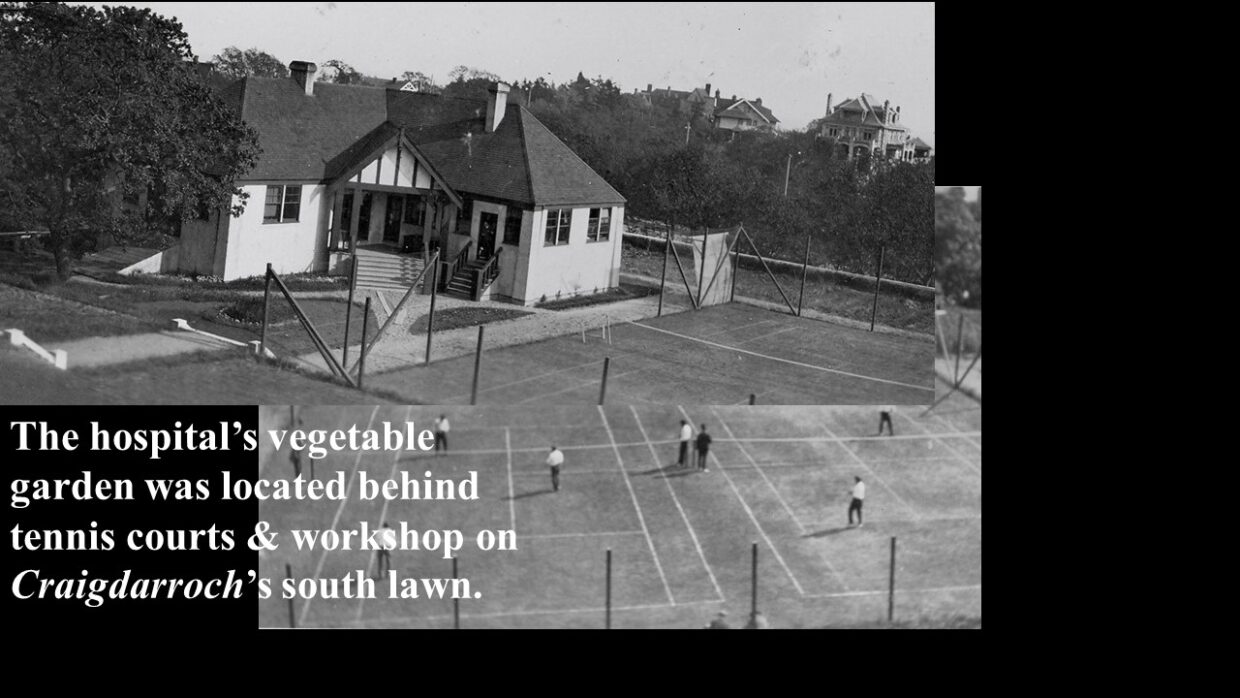 This differed from the Esquimalt Military Hospital, whose patients were still in service. Women proved to be the best hospital aides, in what would later become recognized as the profession of occupational therapy. About 1000 men were treated and rehabilitated over Craigdarroch Hospital's 16 months' existence.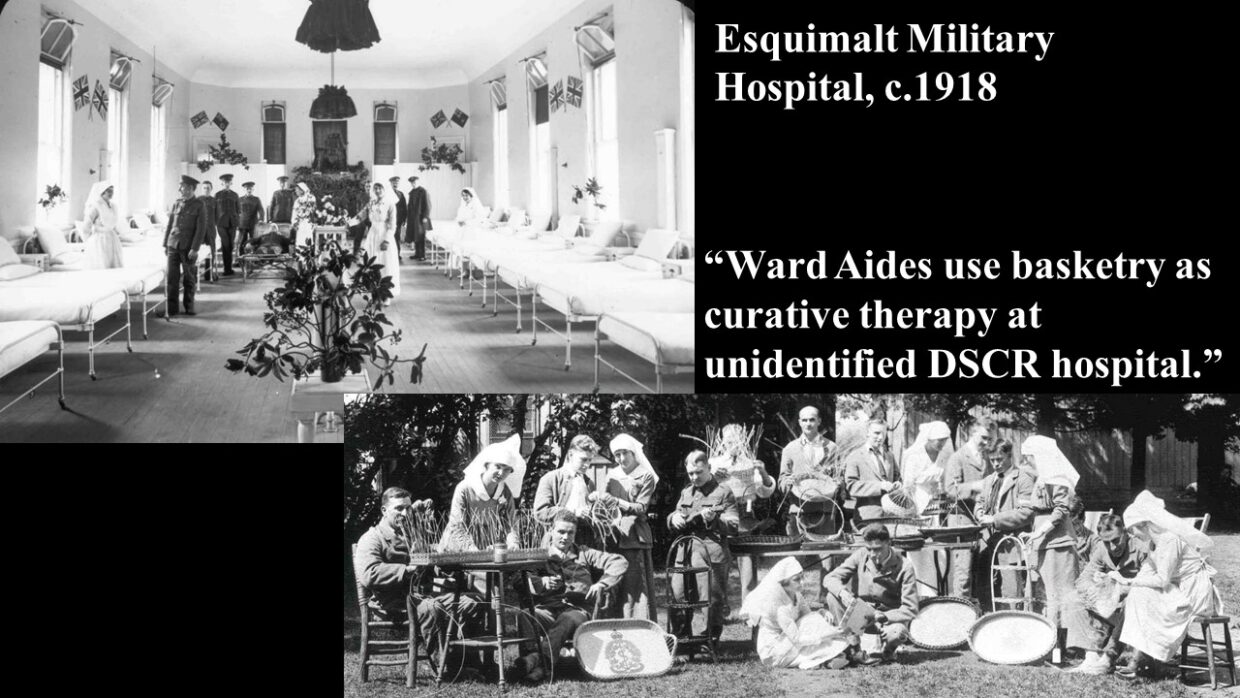 The cover of the book contains the sign of the Red Cross and the inside covers, front and back, have a symbolic red wash. The book's chapters follow the development of military hospitals in Canada before describing development of Craigdarroch as a hospital, including its renovations, operations and staffing.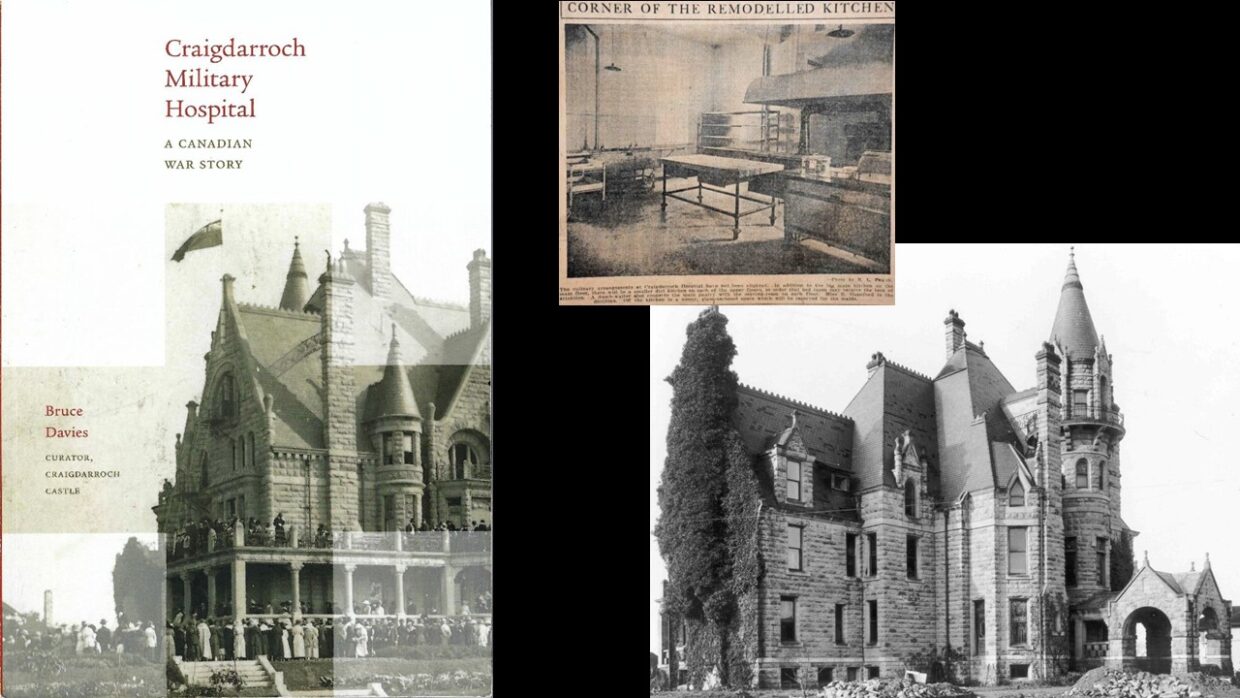 There are lists of patients and several of their stories. One of several appendices includes members of the extended Dunsmuir family & their war service, including World War 2.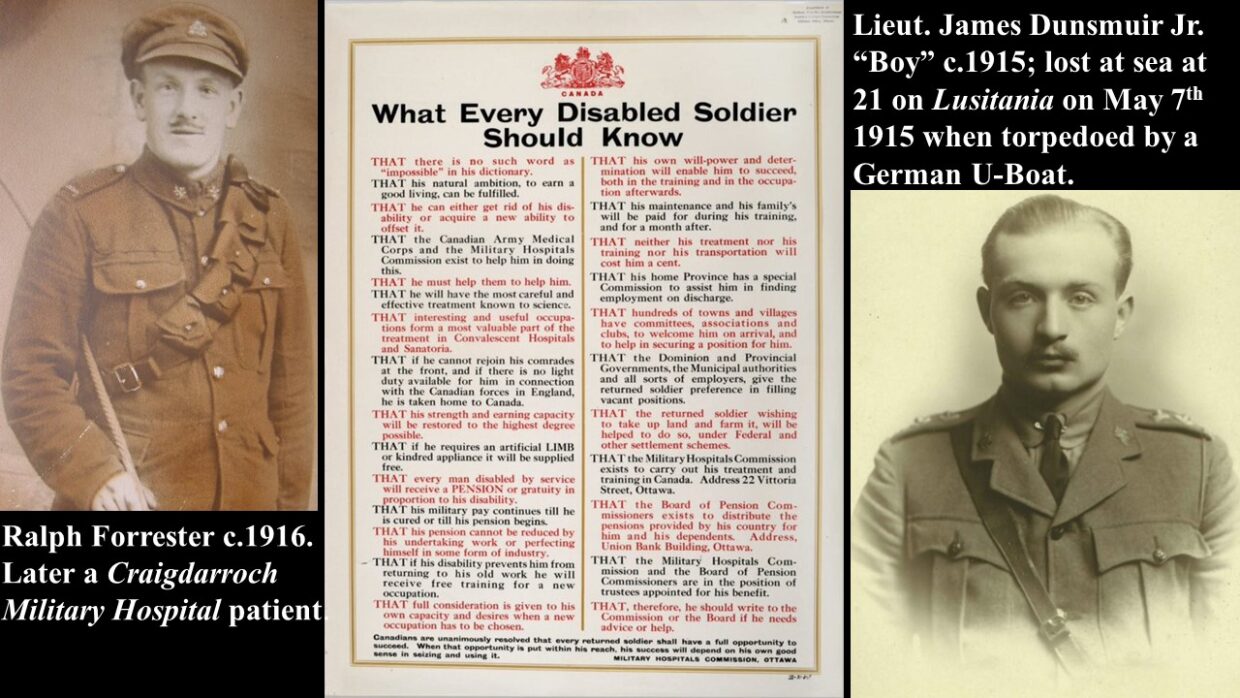 This book is dedicated to the patients and staff, men and women, of Canada's military hospitals. The model developed for hospitals such as Craigdarroch became the germ of the Canadian health and welfare system as we now know it, with greater and greater federal government involvement. To date, no other publications on this subject have been produced by former Canadian military hospitals.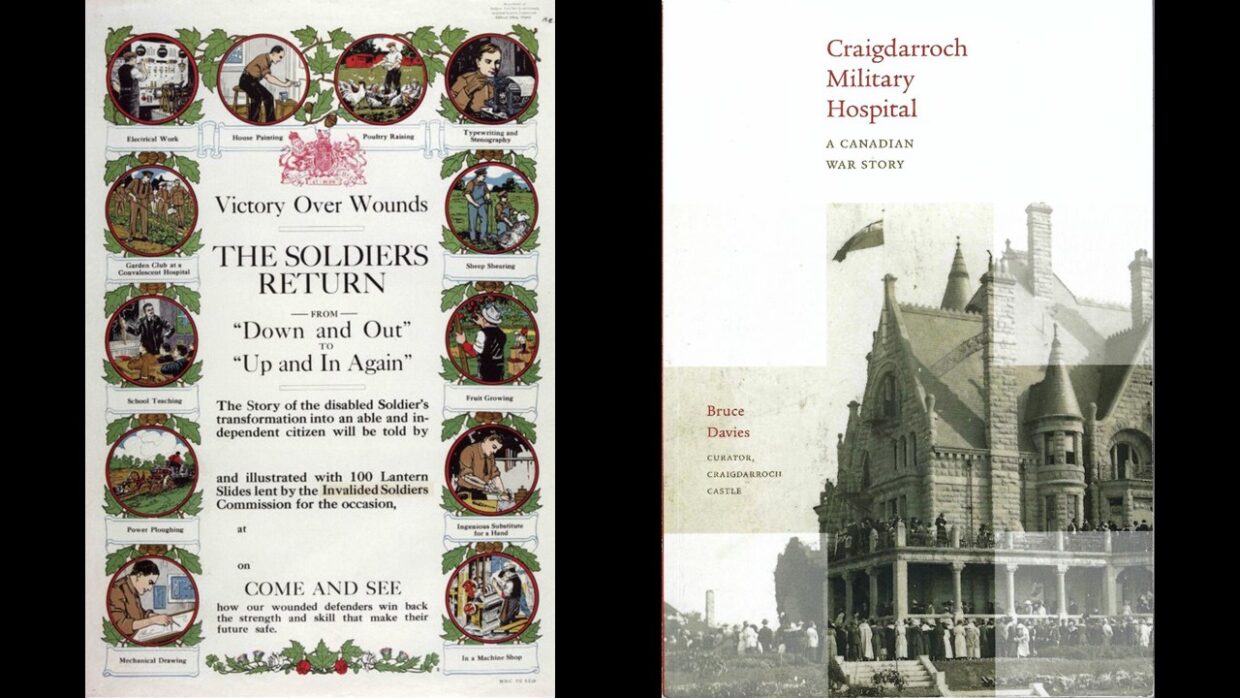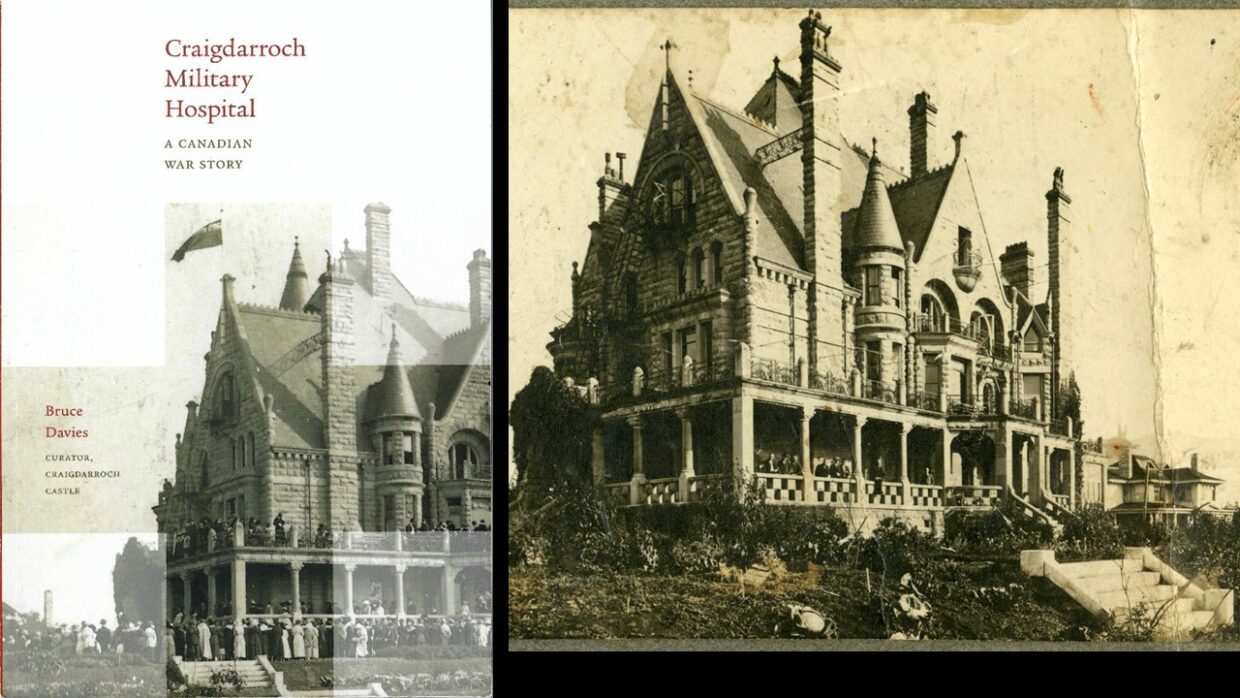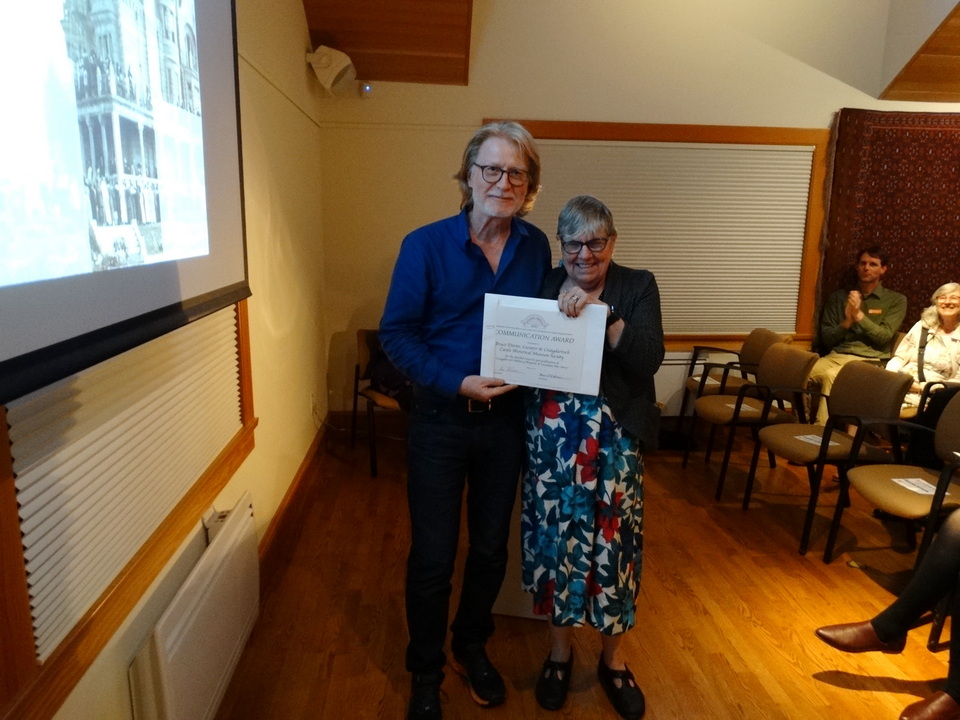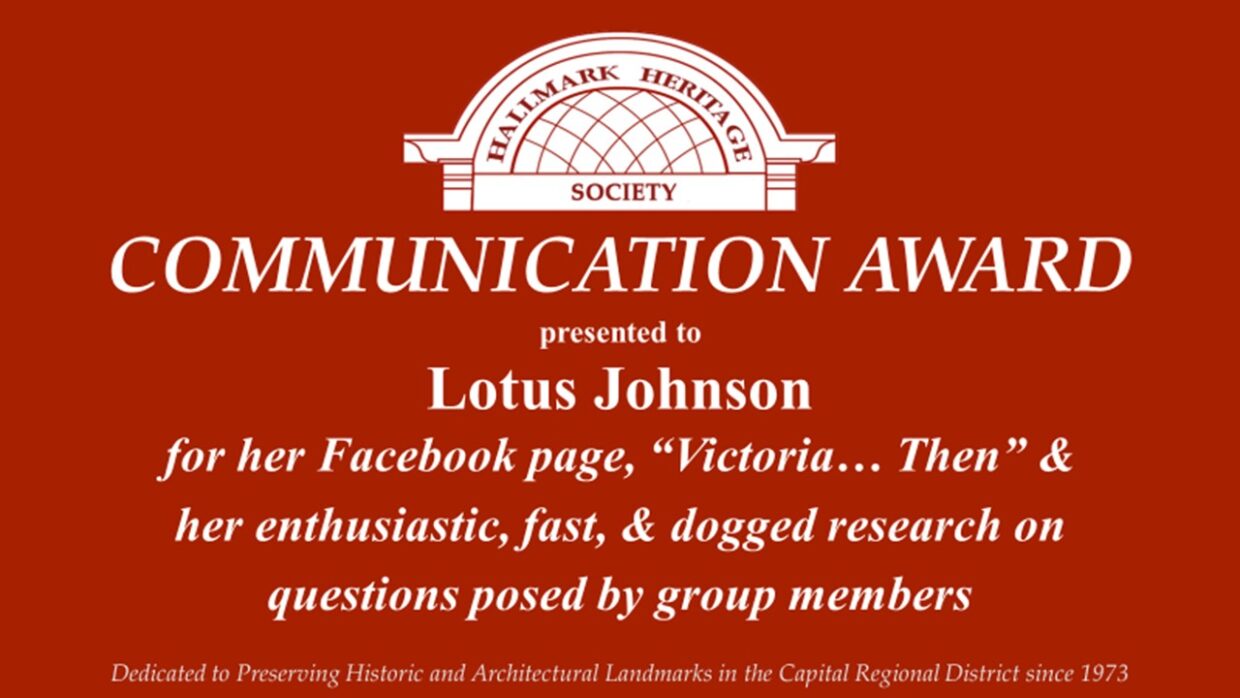 The term "dogged researcher" defines Lotus Johnson. She has access to many different archives on-line and finds the most amazing – sometimes peculiar – photos and articles about Victoria and area. Third-generation Victorian Elizabeth Johnson, born a Simpson and now known as Lotus, was a self-professed hippie chick in the 1960s and 70s. She attended Doncaster Elementary, Lansdowne Junior, and Mount Doug High.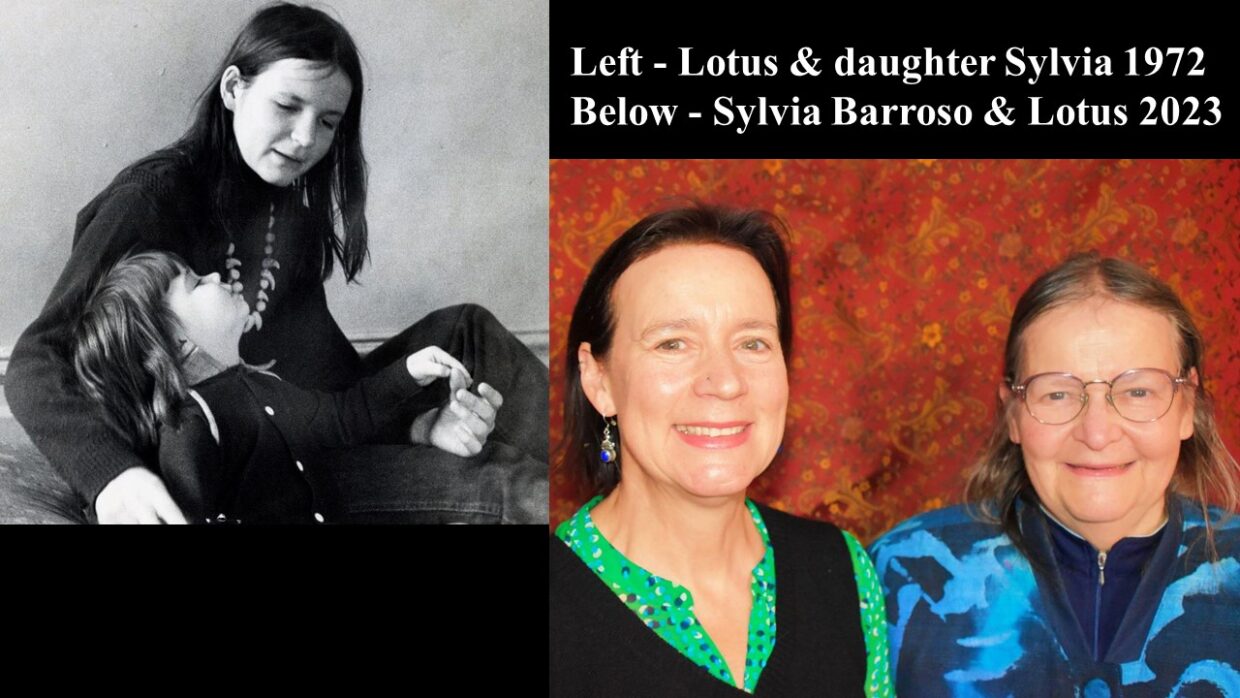 She went to UVic and almost got a degree in History, with focus on World War 2, but having her daughter Sylvia intervened in 1968. However, she studied WW2 history for the next 20 years.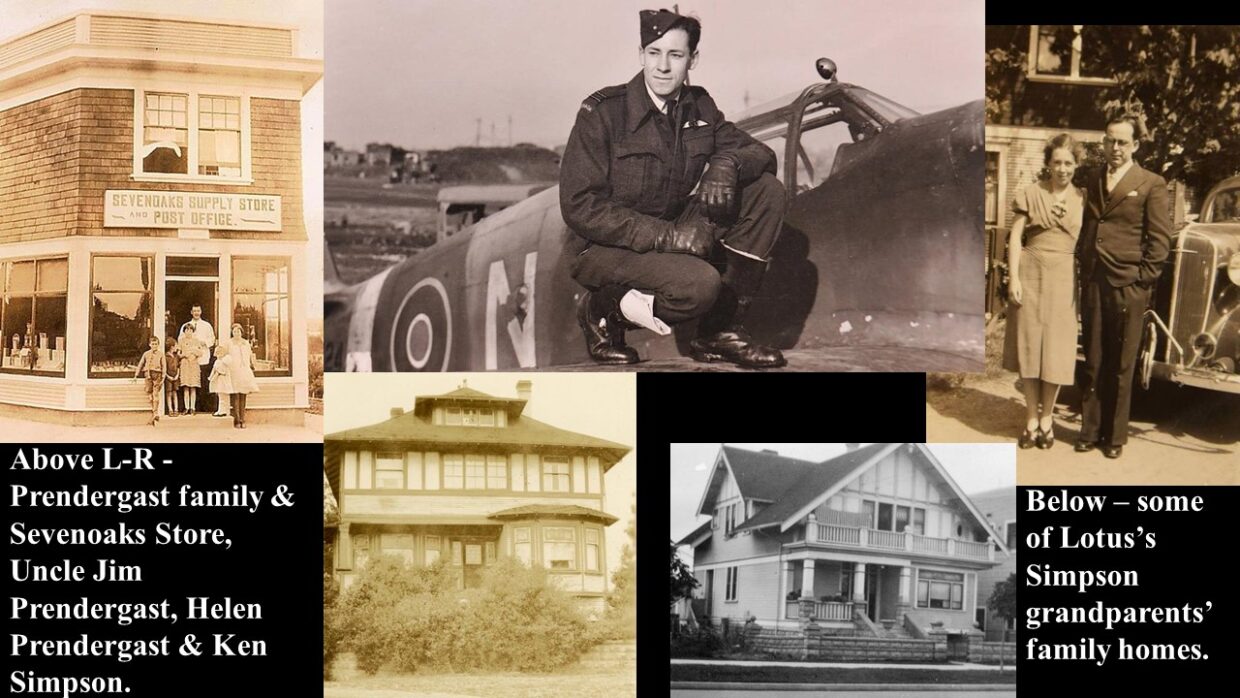 Lotus is very proud of her family and its long history here. Her grandmother Lucile married Bernard Prendergast. They ran the Sevenoaks store at Glanford and Carey Roads in Saanich. Lotus's uncle, James Prendergast, was a squadron leader in World War 2 and flew one of the last reconnaissance flight over Juno Beach before D-Day, June 6, 1944. Her father, Kenneth Simpson had a shoe store on Yates and later View Street. Her mother, Helen, started the Family Caregivers Network with Faith Magwood, and in 2003, was presented with a Caring Canadian Award.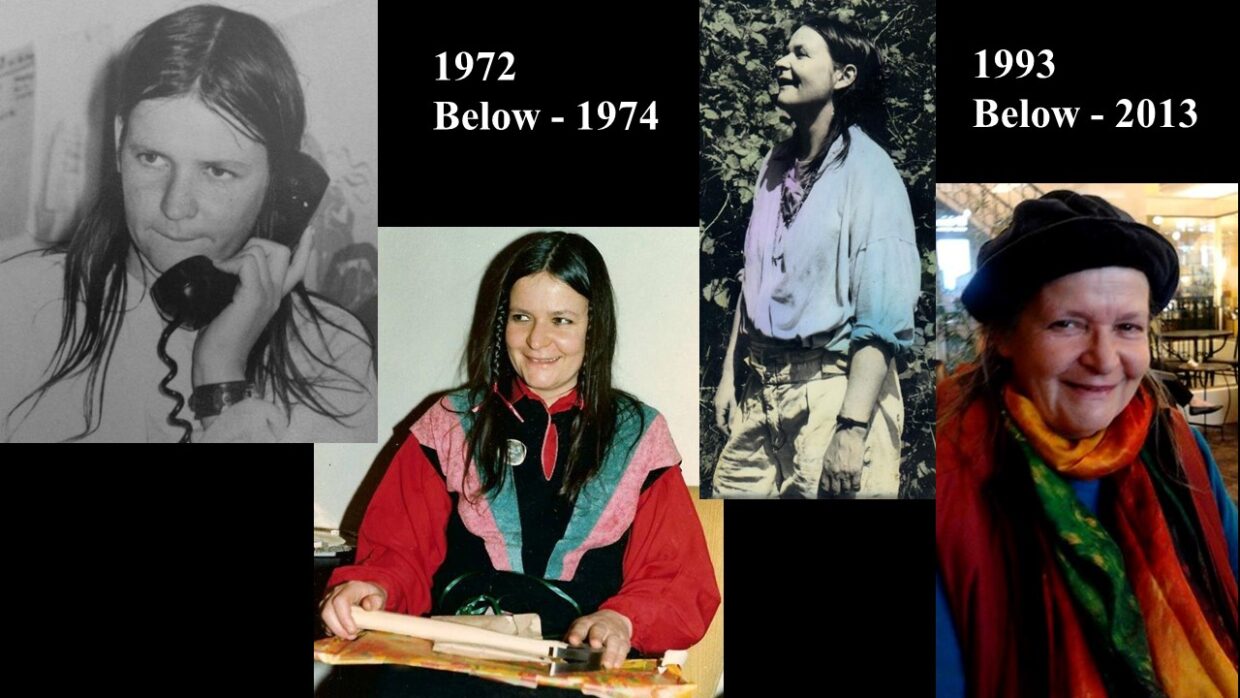 As a hippie-chick, Lotus worked in the Amor de Cosmos Co-op on Pandora, Colwood House of Nutrition (also known as the House of Nuts), Rising Star Bakery on Broad, and for the Victoria Women's Centre when it was located at Oak Bay Junction. She also worked at the Fed-Up Co-Op in Vancouver for a time.
In the early 80s, Lotus got involved in forestry and was among those arrested at Clayoquot Sound in 1984, before the Big Arrests took place at Kennedy Lake. She and two others were marooned by the RCMP in a wilderness cabin with no food or communication. She then went to an ashram in New Mexico until her mother dragged her back to Victoria. Finally, Lotus worked at Chapters on Douglas Street for 15 years before retiring in 2013.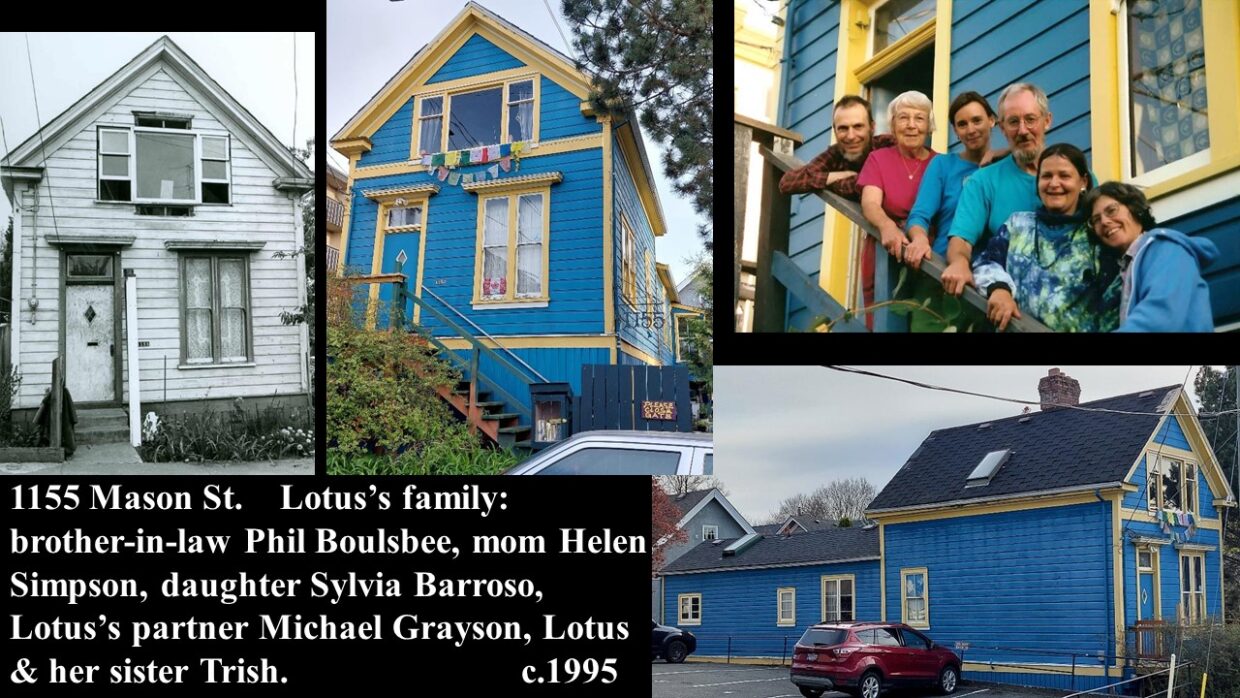 In 1971, Lotus and three others bought 1155 Mason Street, just below Chambers for $9000. The front portion of the house was built in 1888, the rear in 1935. Over the years it has been raised, had windows replaced, and been converted to suites. One of the other buyers was Paul Phillips, who also owned several other heritage properties in Fernwood.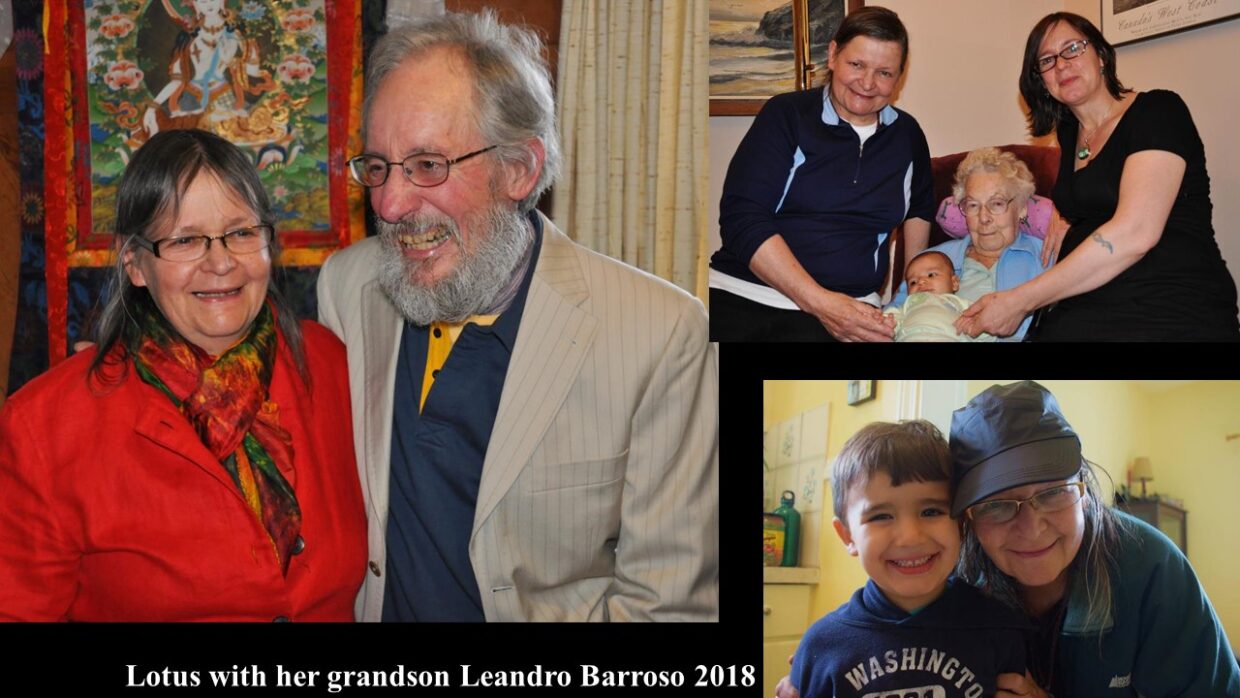 Lotus and her partner Michael Grayson lived in one of Paul's other properties until 2005, when they moved back into this house. She and Michael were together from 1986 until his passing in late 2022.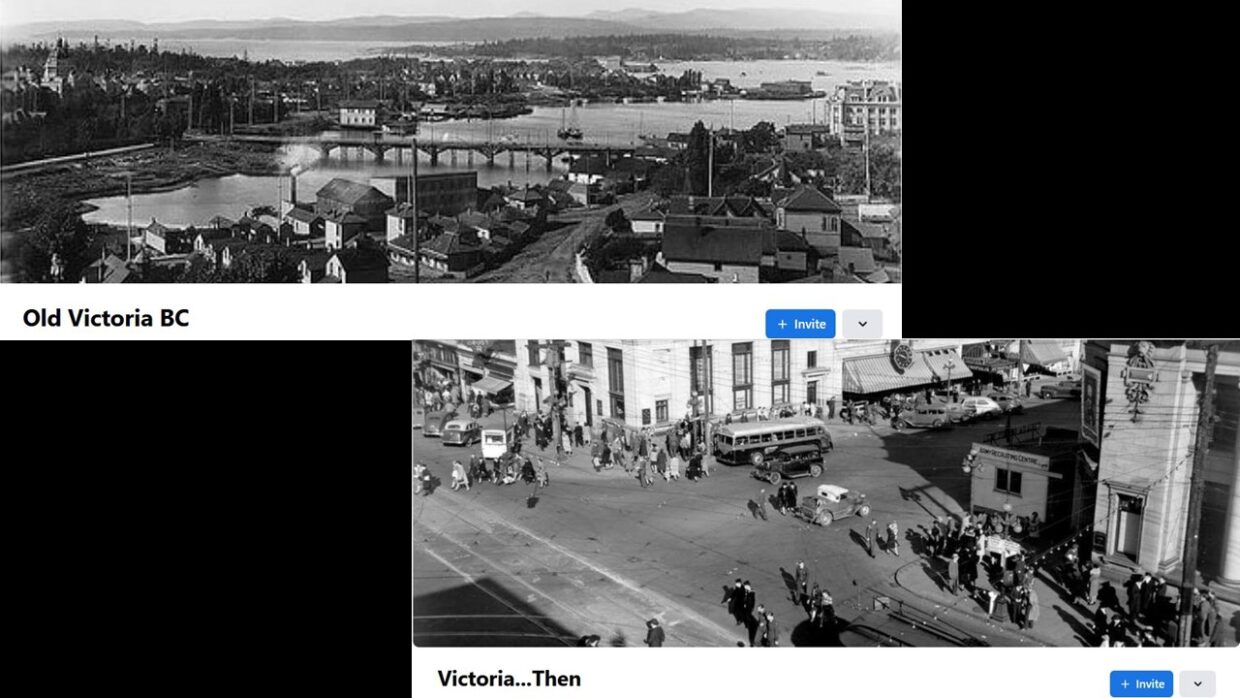 Lotus's mother, prior to her death in 2011, asked her to start doing family research and she found she was good at it. Very good, in fact. In 2012 she became an admin for the Old Victoria Facebook group. Six years later, Lotus started her own Facebook group, Victoria… Then.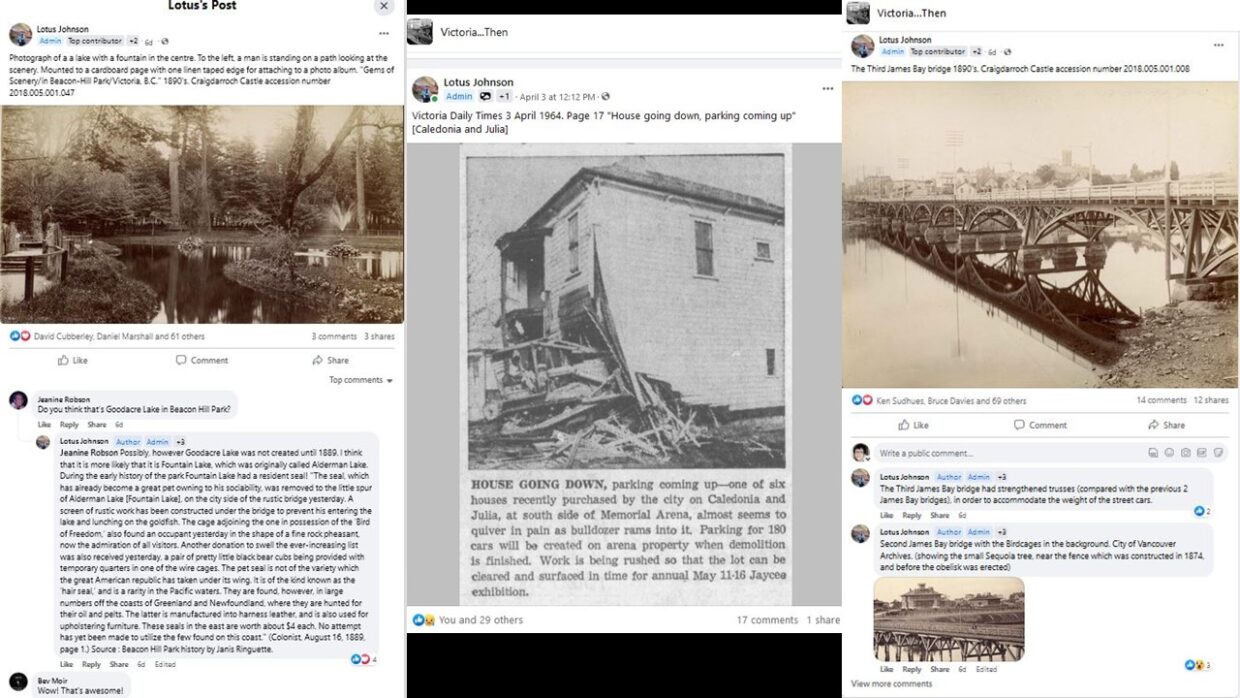 Her fascination and comprehension of local history and her ability as a speedy and accurate researcher has attracted over 6500 members to date. She answers requests from  any and all, with long, detailed, and FAST responses. She is truly a font of local knowledge.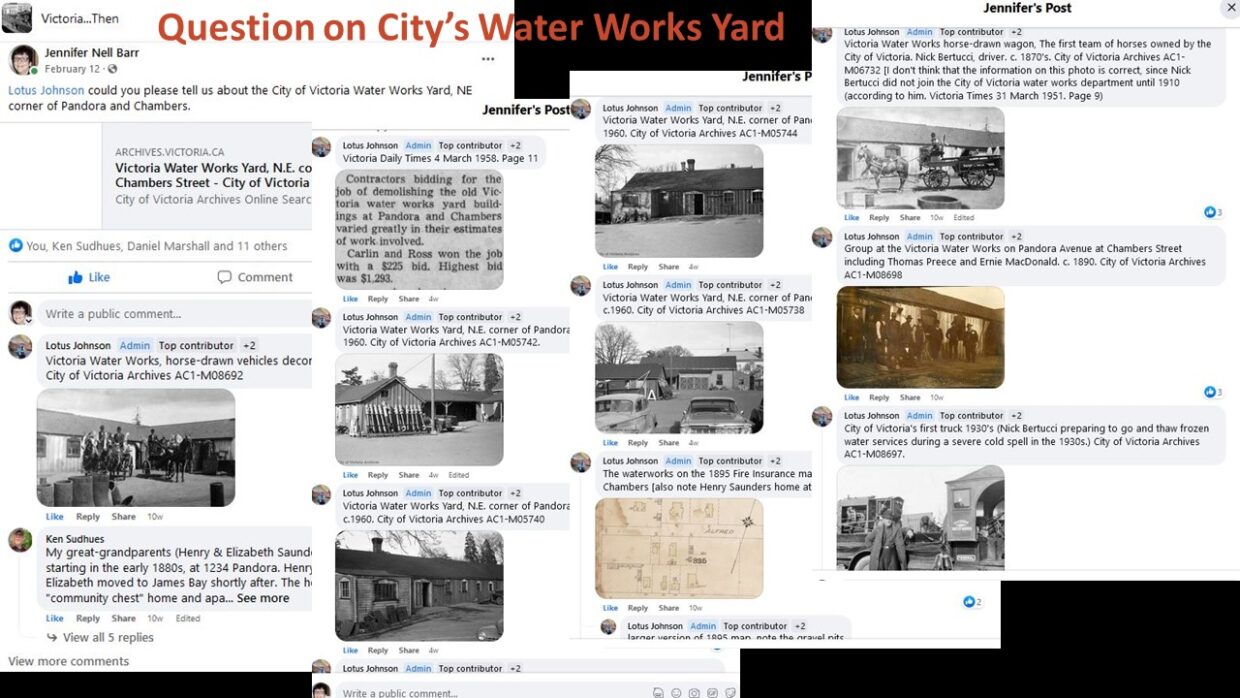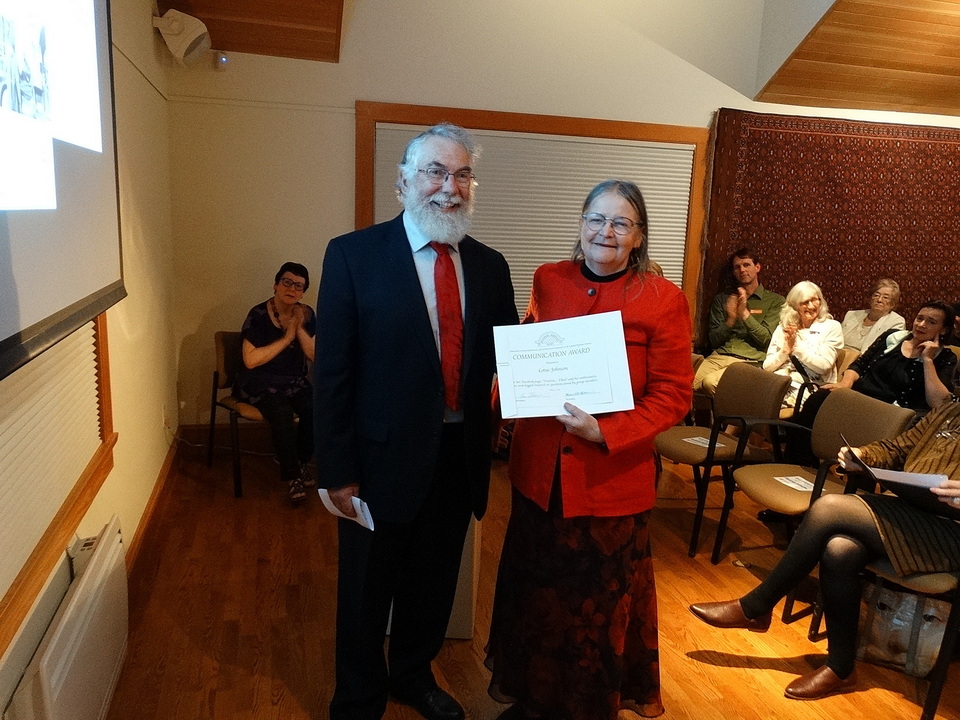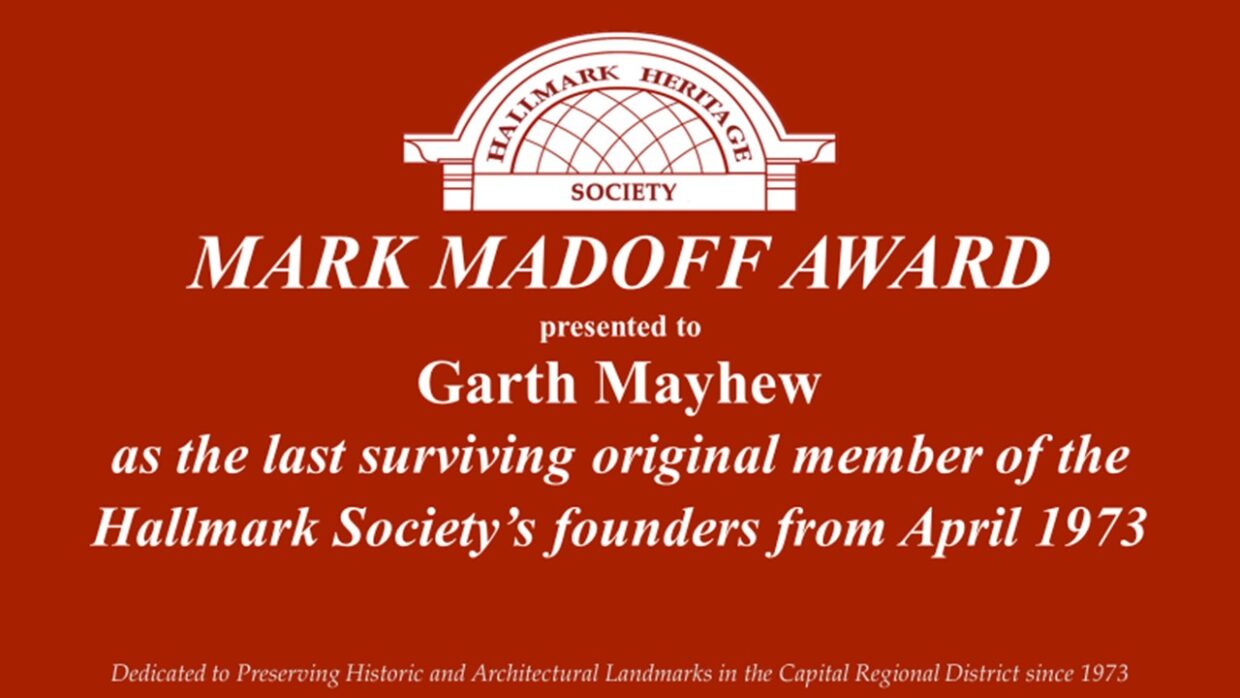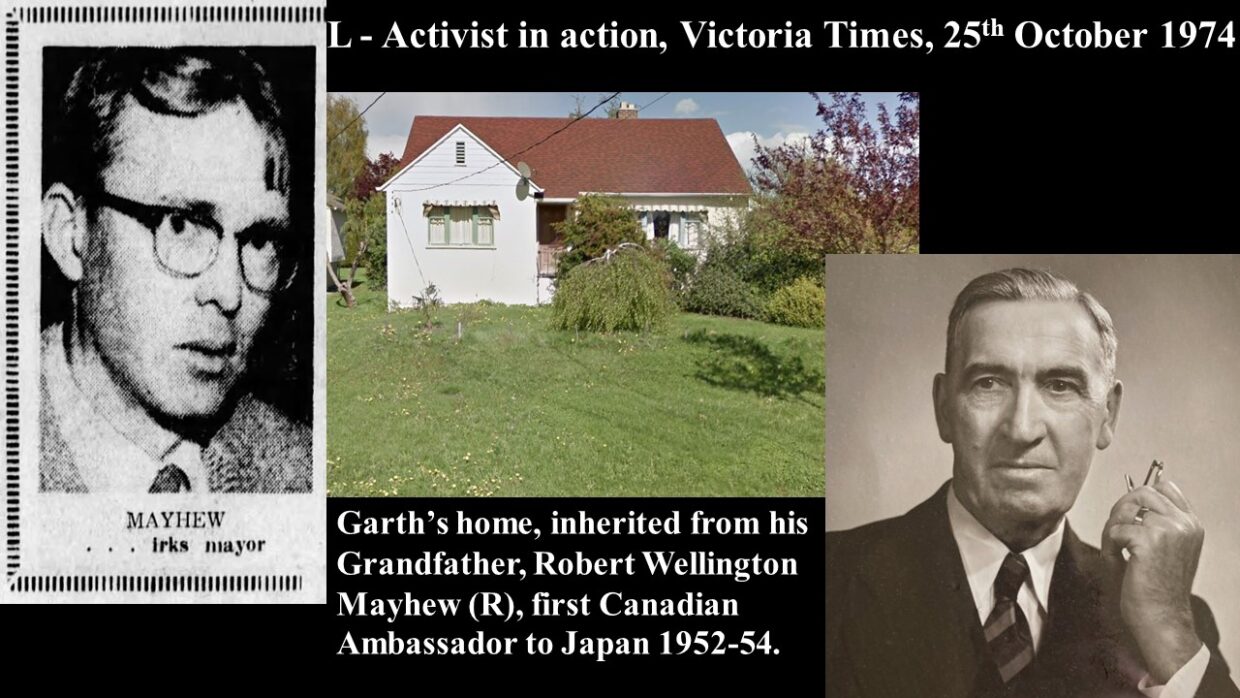 Garth lives in a house that he inherited from his grandparents. His grandfather was Robert Wellington Mayhew, Minister of Fisheries in Prime Minster Louis St Laurent's government in the 1940s-50s, and Canadian Ambassador to Japan. He also founded Victoria's Sidney Roofing & Paper Co in 1912.
Garth was born in Victoria to Elza Lovitt and Alan Mayhew in 1942. Alan, in the RCAF during World War 2, was lost in the Pacific when his plane was caught in a typhoon in 1943.
Elza became a sculptor, famous for her large-scale totemic creations in bronze and stone. In 1969, she commissioned architect Alan Hodgson to design her distinctive modern studio at 330 St. Lawrence St.
She later bought the house next door, 426 St Lawrence, and it became the family home. In 2011, Garth had both structures designated.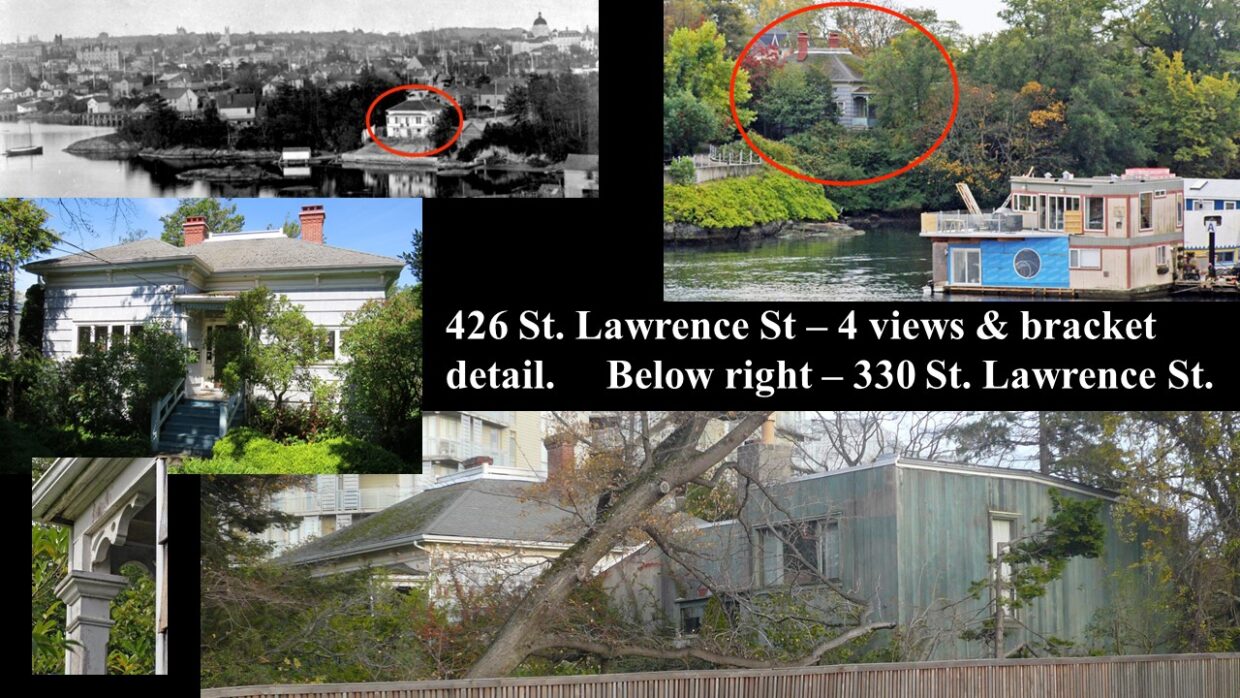 In the early 70s, Garth owned 1405, 1413 and 1418 Fernwood Road as rental properties, living in each of them at various times and designating them all in 1978. Always a strong advocate for the preservation and restoration of Victoria's neighbourhoods and streetscapes, his name frequently appears in news stories about rezoning and demolition requests for old buildings, going up against developers and politicians alike.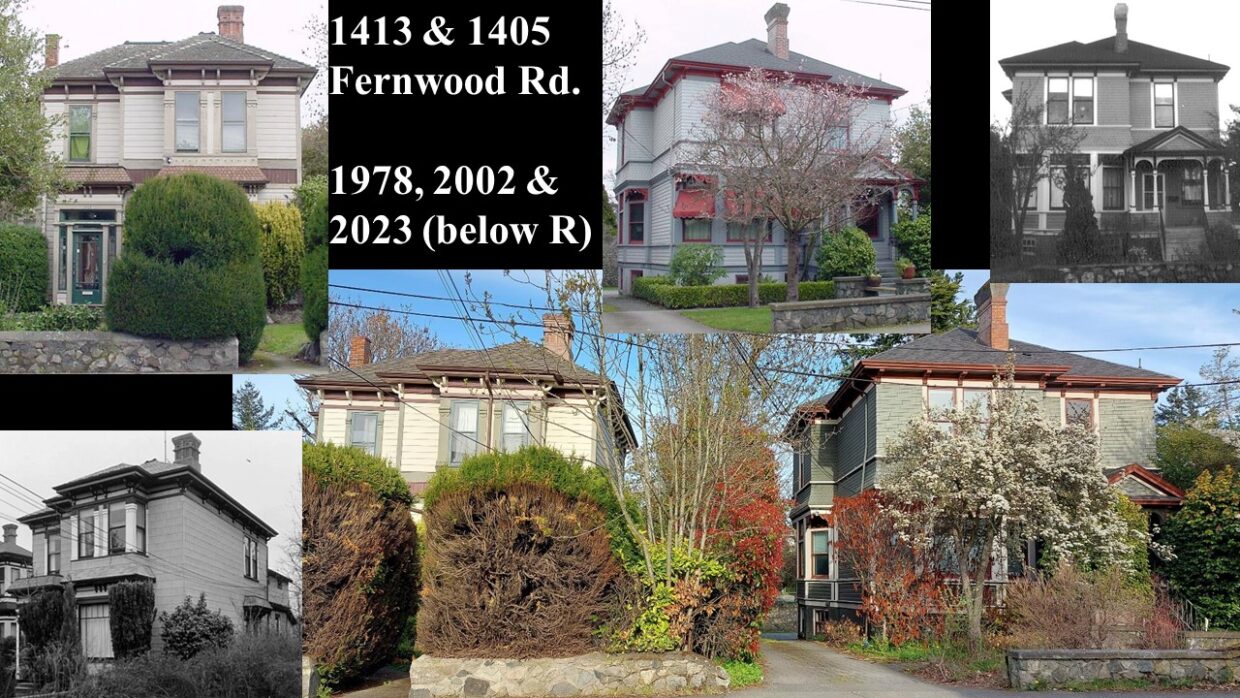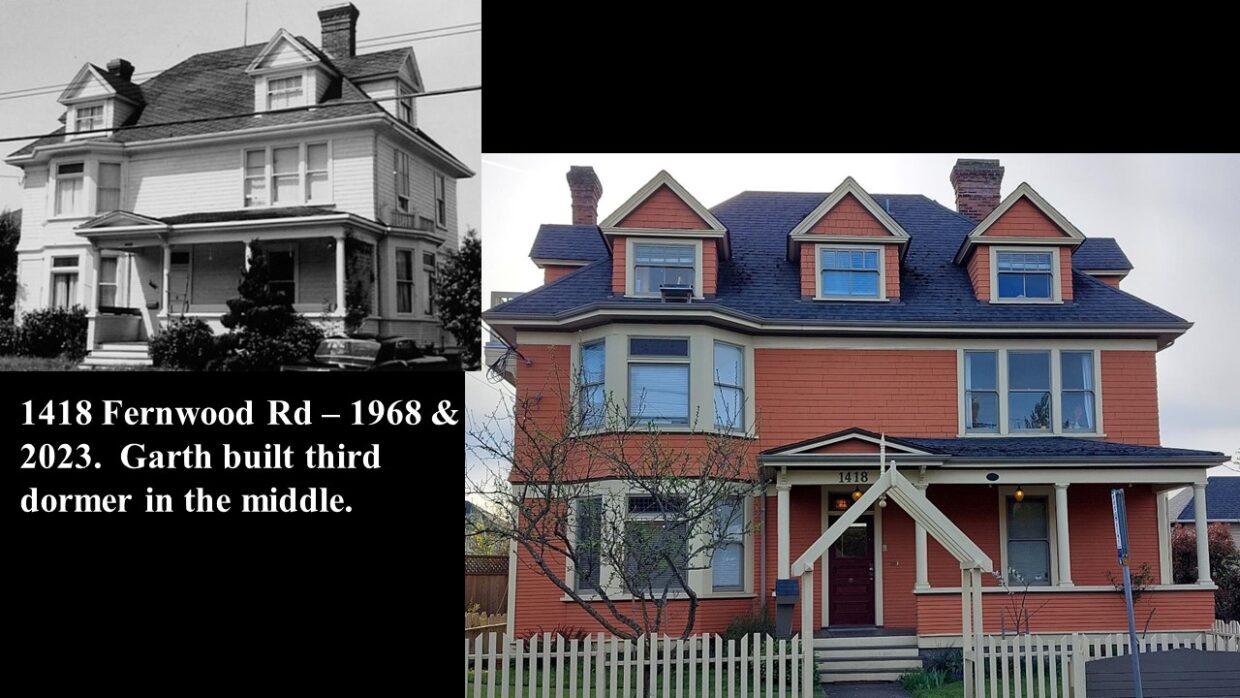 In March 1973, Garth was in the news on his own, fighting for the preservation of Rossland, the apartment house at 1270 Yates St.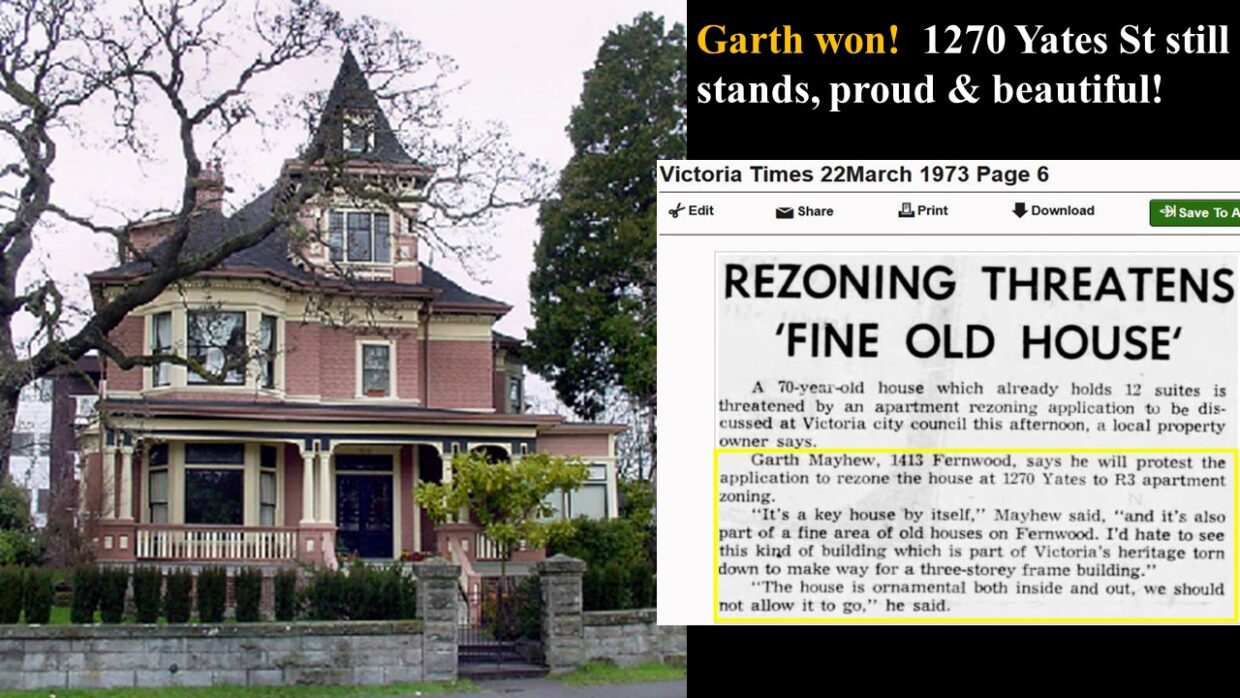 The Hallmark Society came to be Canada's first volunteer heritage preservation society in Garth's living room at 1413 Fernwood Road in April 1973. The first mention of the Hallmark Society in the news was June 27, 1973, in The Victorian, about the society's wish to save 1507 Fernwood. 1507 and the Thomas Hooper-designed residence next door at 1425 Fernwood had formed a private hospital and nurses' residence in the 1920s.
Garth's idea was that the proposed development, which he thought was a good one, could be built around the old house if Council could allow greater density on the site, allowing the historic house to stand. "If there's a way to work a development around it, we should." He criticized Council for its lack of policy and piecemeal approach to heritage buildings.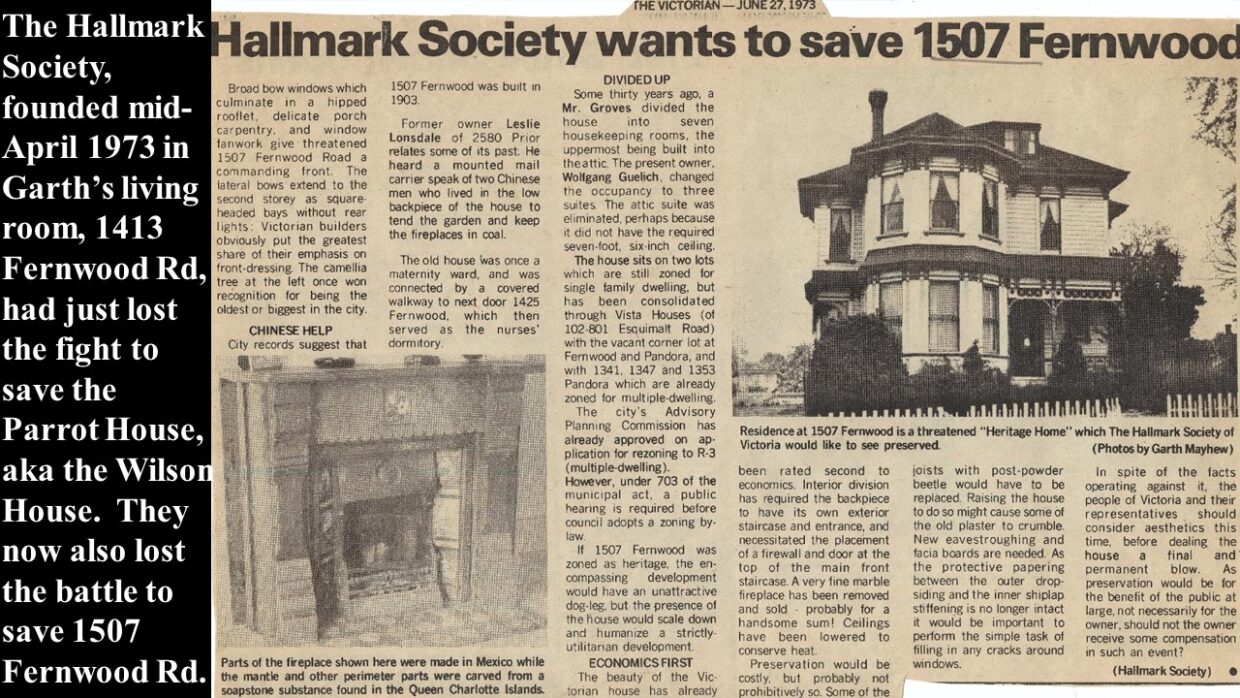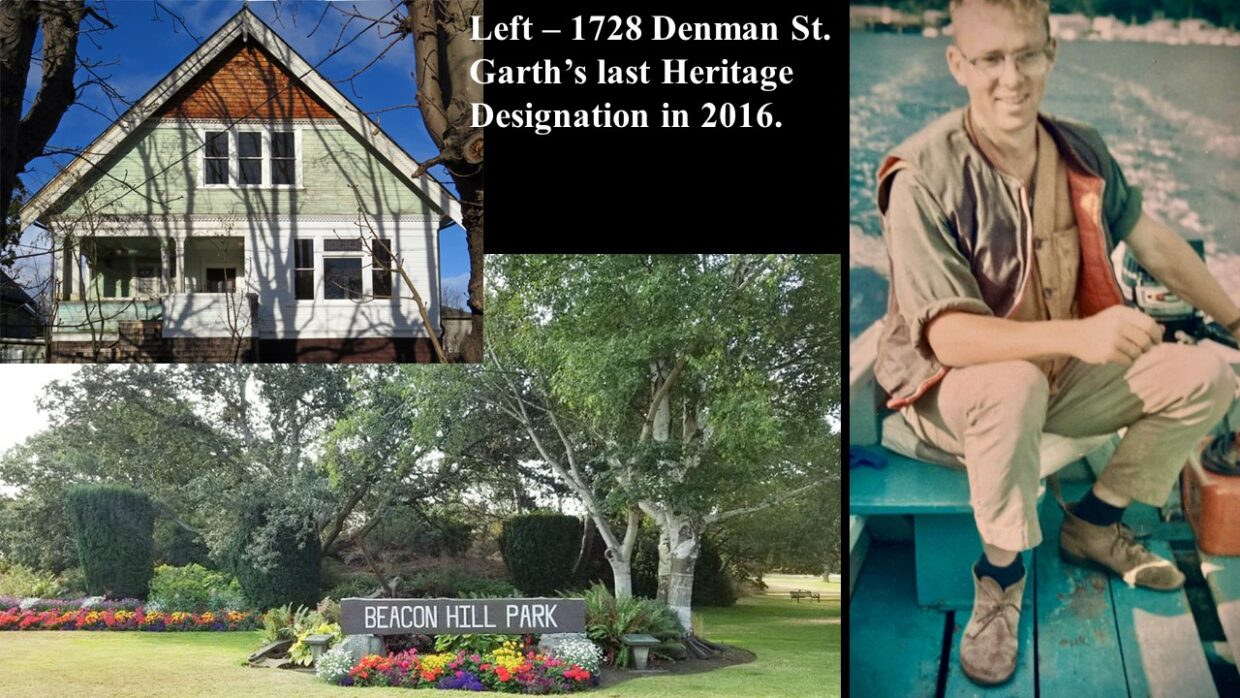 After leaving the Hallmark executive, by 1979 he was president of the Beacon Hill Park Association, a lobby group working to preserve the tranquility of the park as intended under its 1882 charter.
Garth's advocacy has continued through the decades, recently serving on the Hallmark board for several years and designating his most recent house at 1728 Denman Street, with some interior features, in 2016.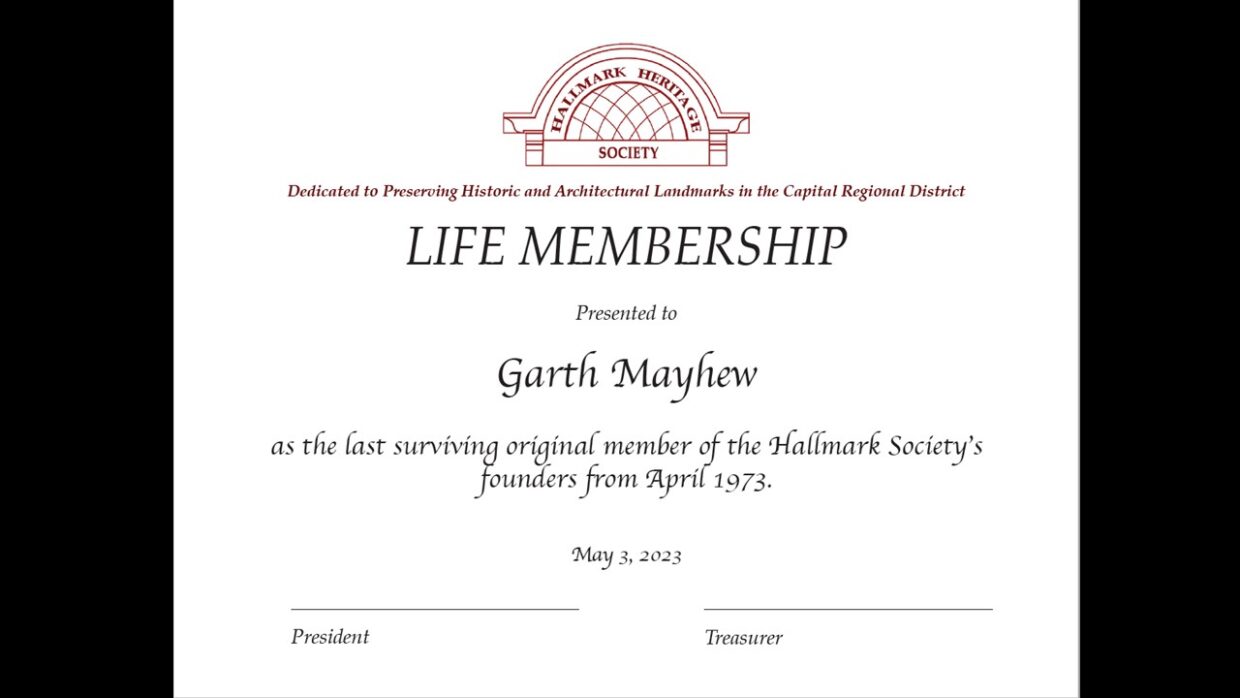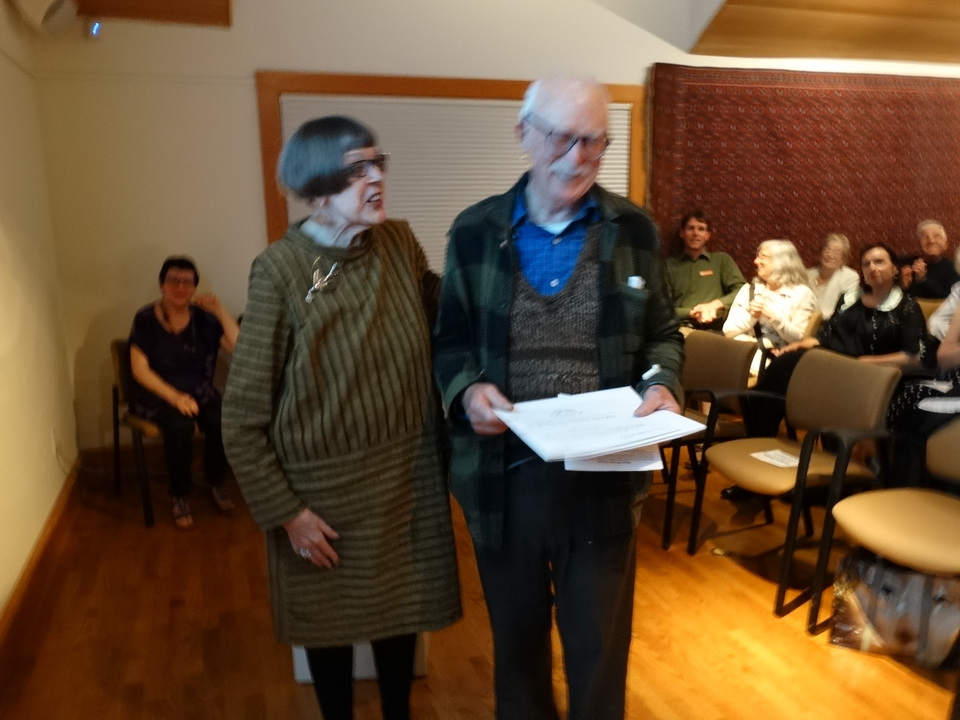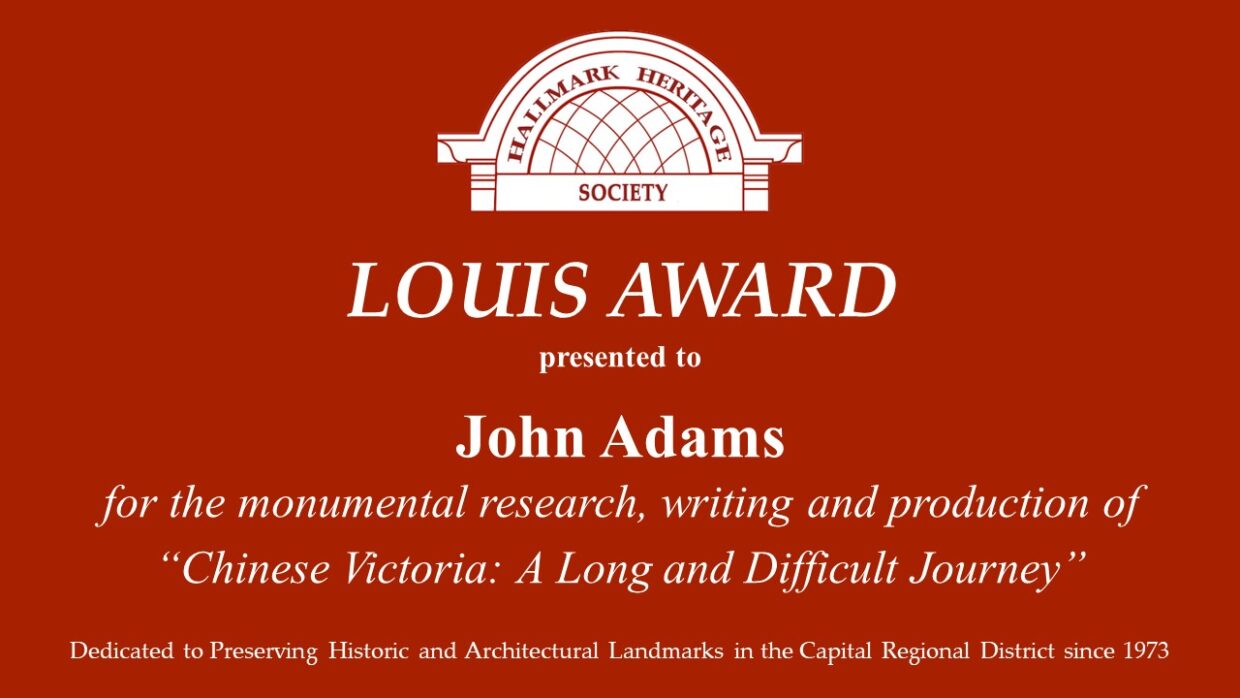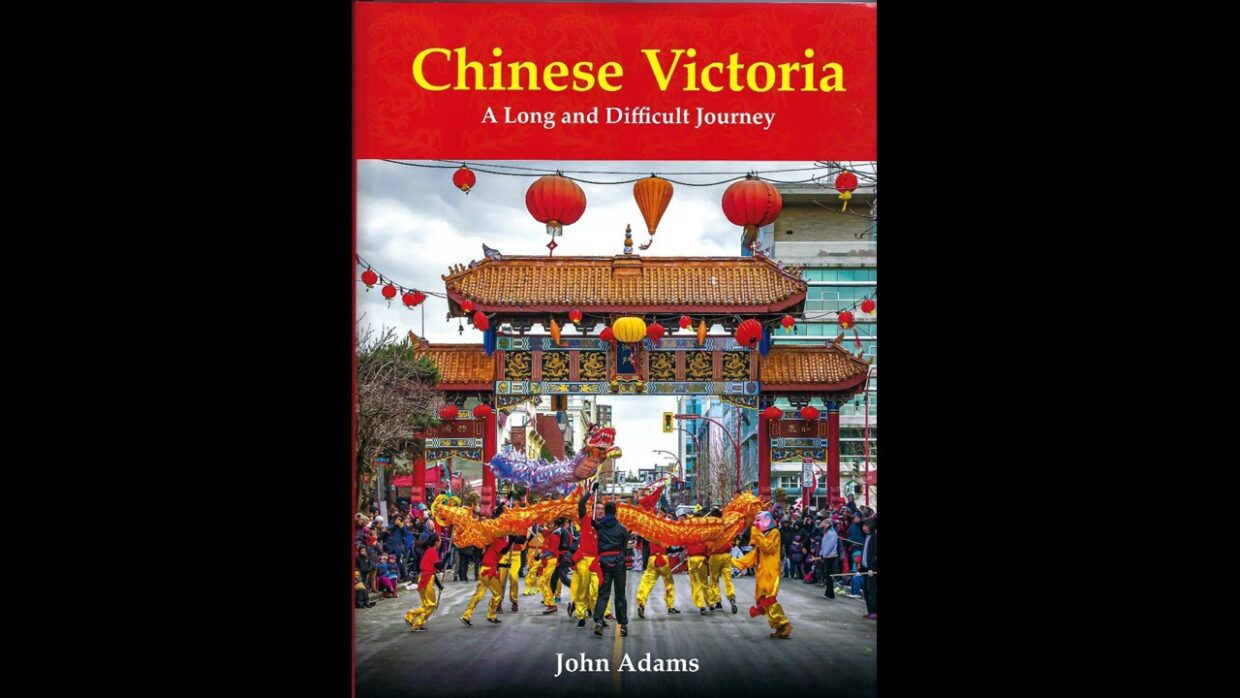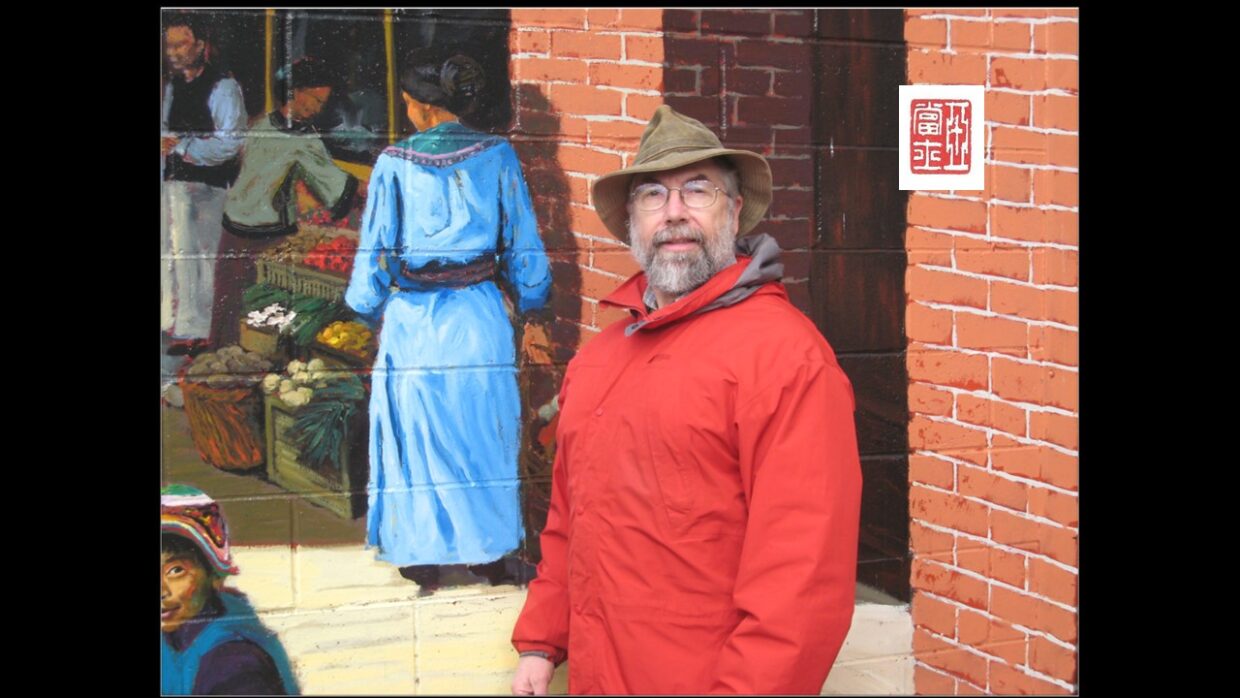 For this presentation, we are showing you just a tiny sampling of photos from John's book.
John Adams was born in St. Thomas Ontario and moved here with his parents and older brother in 1960 when he was 11. He went to Sir James Douglas Elementary, Central Junior, and Vic High.
He gave his first tours in the summer of 1970 while employed as a guide at Fort Rodd Hill. He organized tours for the Victoria Heritage Foundation in the mid-1980s and began the tour program for the Old Cemeteries Society in 1987.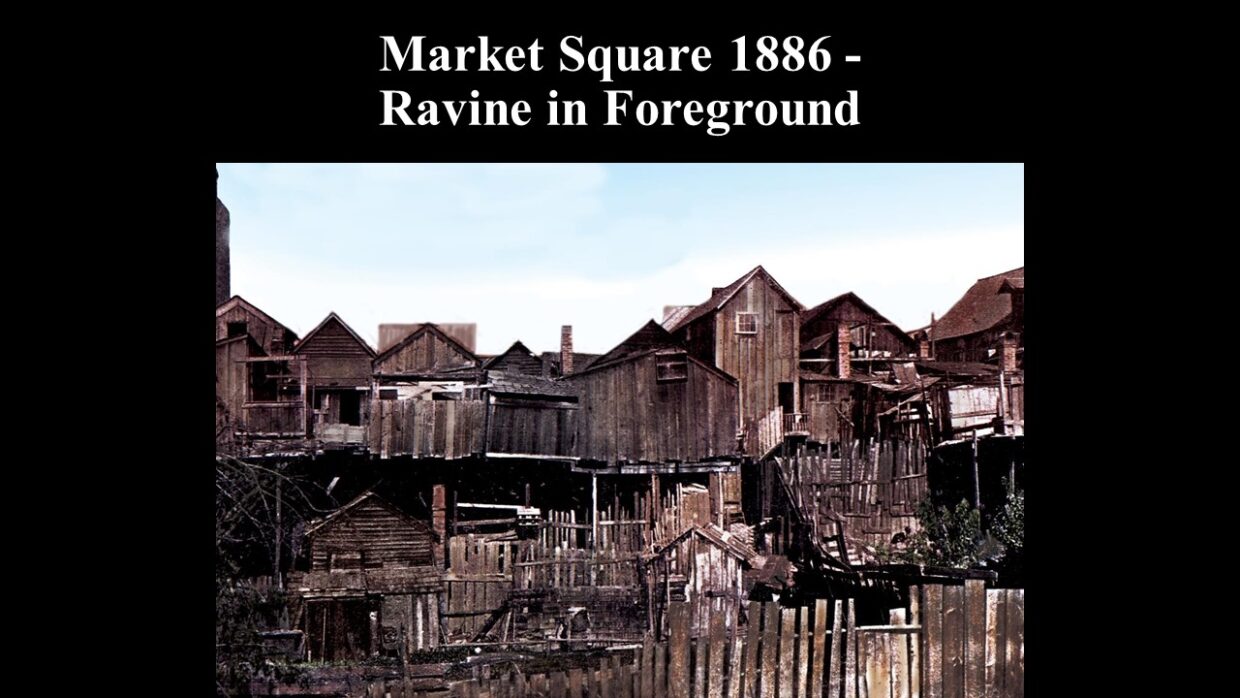 His career was mostly in museums and historic sites in Ontario and BC. In Victoria he worked at the Royal BC Museum, then the Heritage Branch until retiring in 2004. He also taught Museum Studies as a sessional lecturer at SFU and UVic for 25 years.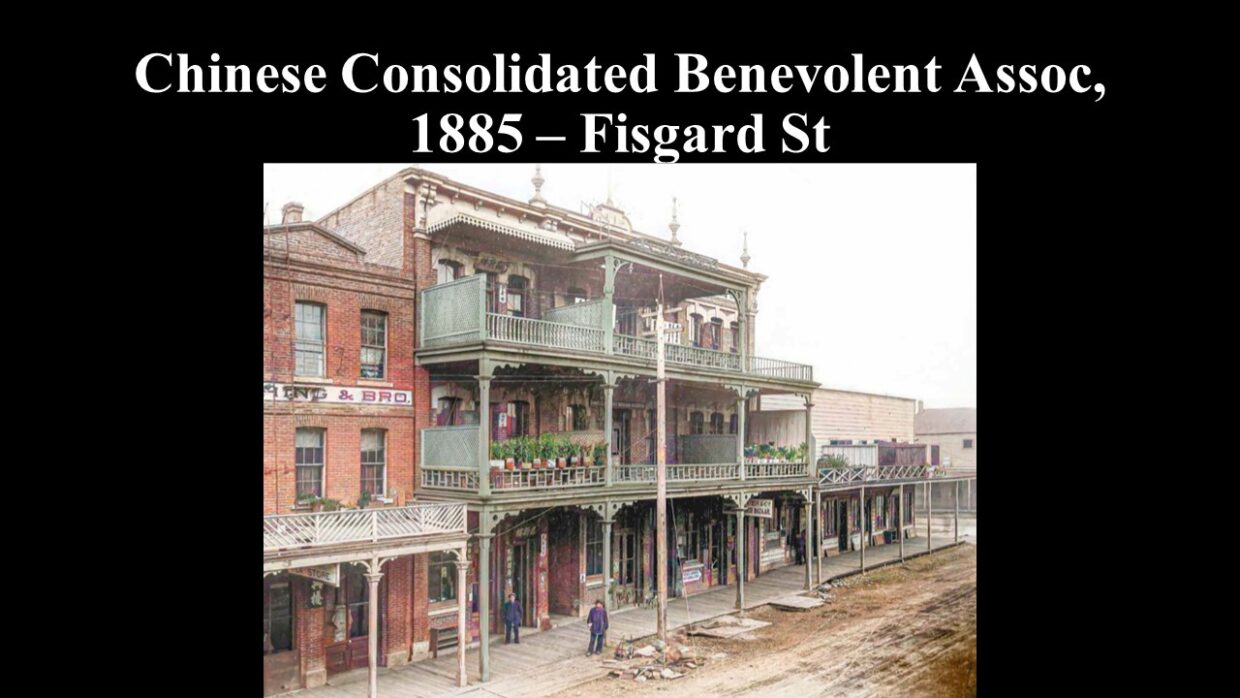 He founded his tour company, Discover the Past, in 2000 and Ghostly Walks was their first series of tours. They remain their most popular tours. He started doing History tours in 2001.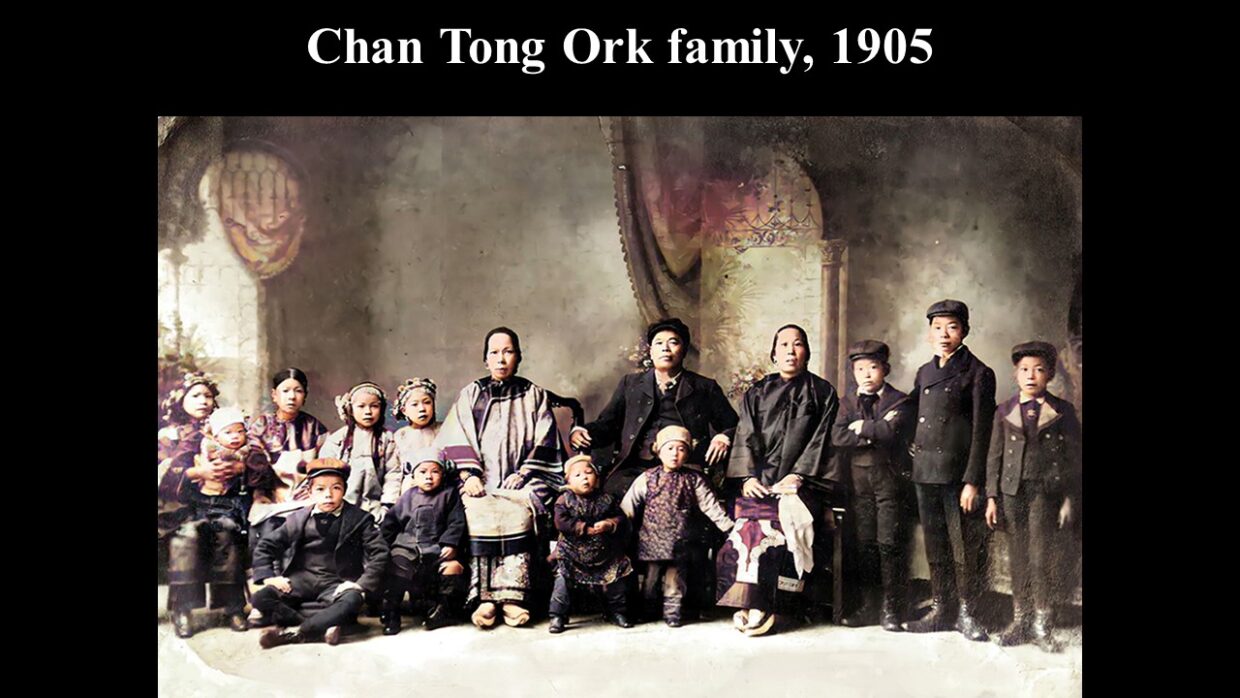 Chinatown Walks also started in 2001. He says he was interested in the topic and thought it would appeal to the public.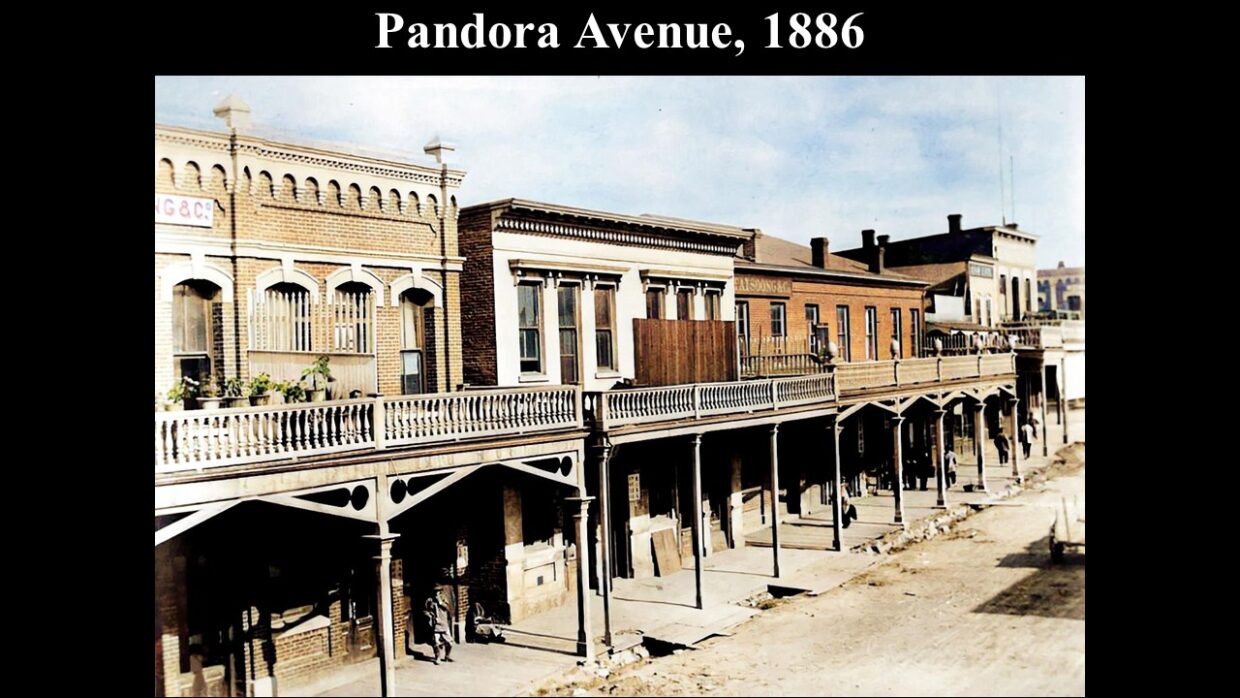 John first conceived of a booklet to supplement the Chinatown walks to highlight both the people and the physical development of Chinatown. With a core of people he'd known since Vic High, he talked to their parents and older siblings, and it began to snowball. He spoke with many of them several times, expanding on various topics.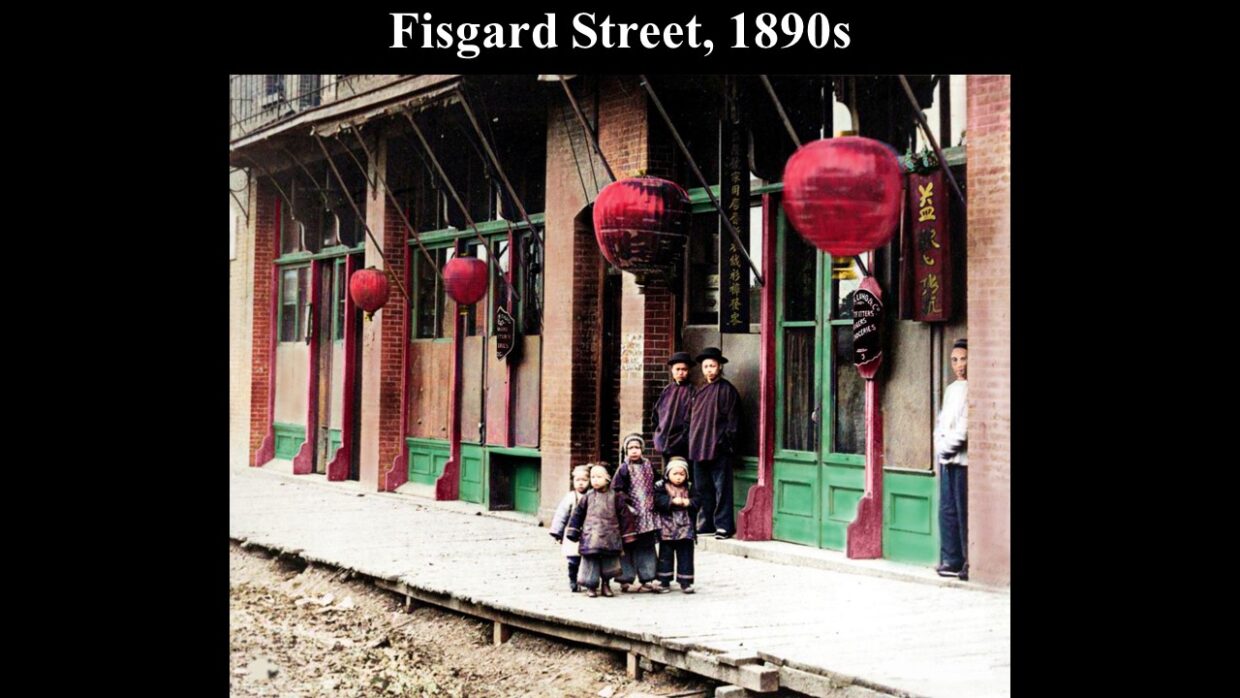 From families and numerous archives across North America, John accumulated hundreds of photographs, almost all of them in black & white or sepia. He decided that the book would be far more appealing in colour and found apps for enhancing and colorizing photographs on MyHeritage online.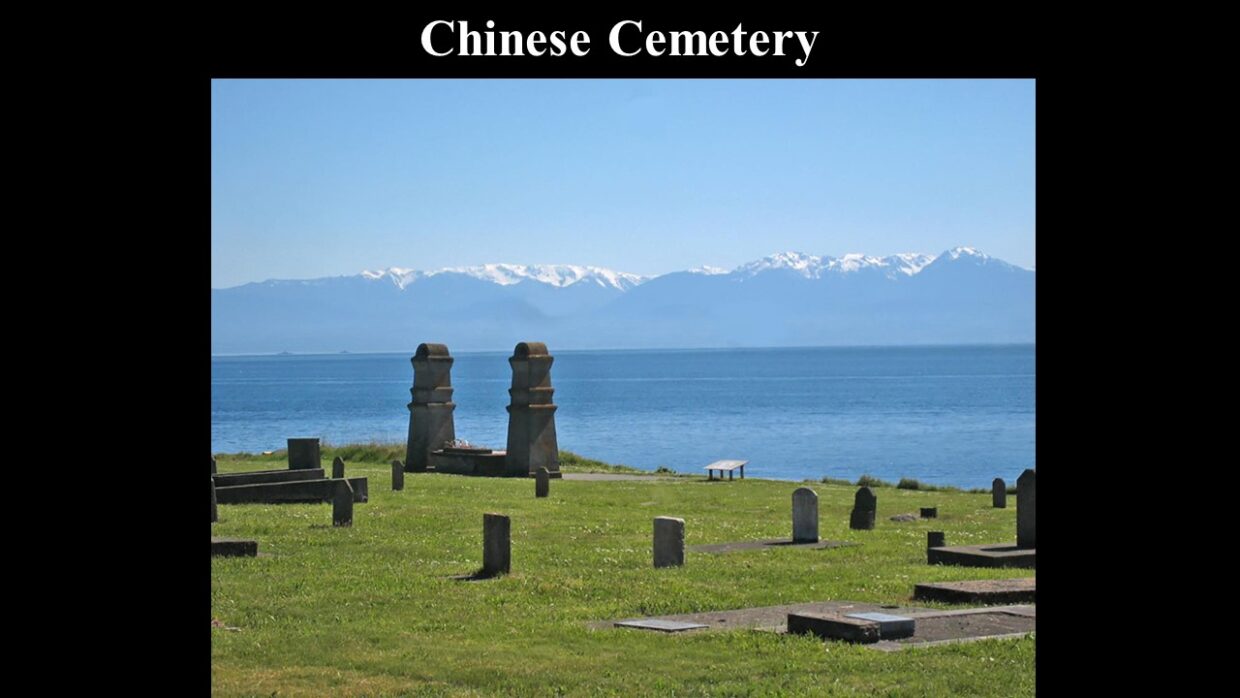 He asked permission from all the archives to colorize their photos and only one small local archives said no. Both John and his designer, Dale Hickox, worked on colorizing – the most difficult thing was to make black hair look black. Everybody's head of hair was done individually. Those photos that couldn't be colorized properly were left alone.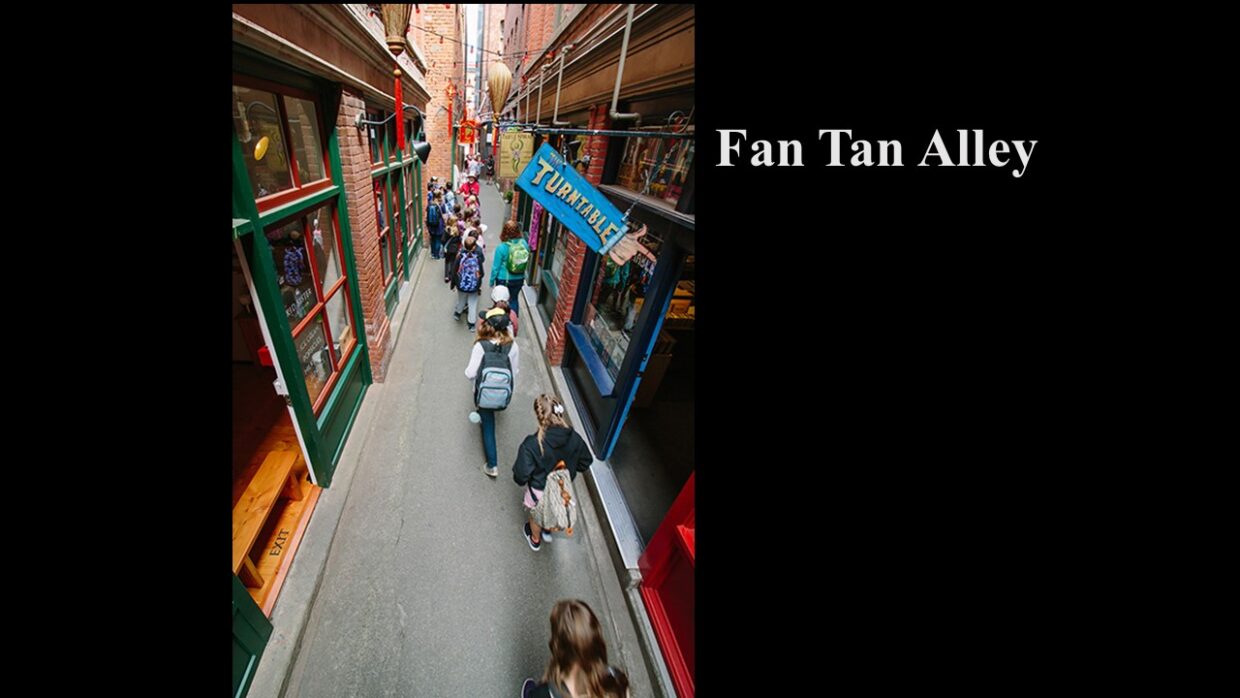 John stresses that Victoria's Chinatown was much extensive in the early days, covering eight full blocks. It contains the largest collection of pre-1910 buildings built for Chinese owners than any other Chinatown on the continent, with many dating from the 1880s and 1890s. For instance, Toronto's Chinatown was not purpose-built for the Chinese, and San Francisco's Chinatown was destroyed in the 1906 earthquake and fire.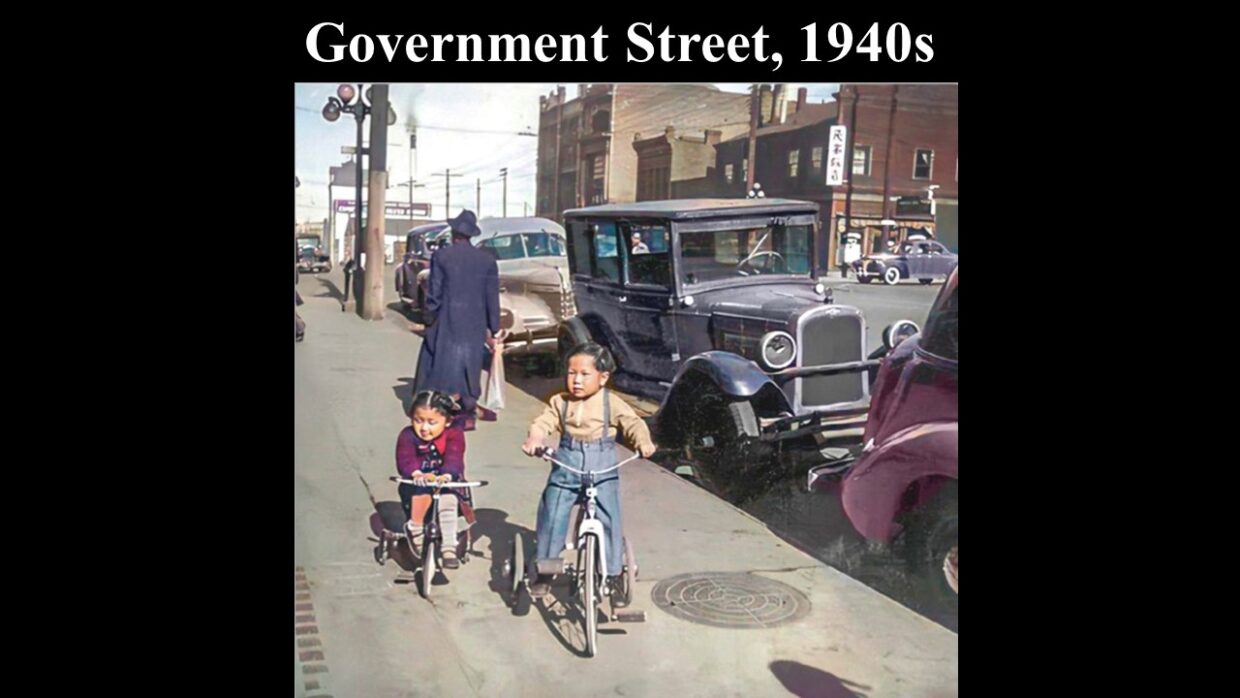 John's book, Chinese Victoria: A Long and Difficult Journey, is about the buildings and people of Chinatown, from the gold-rush era to the present day. He describes how companies developed, the different types of commerce, and religious and fraternal organizations. He tells us about civic bylaws that had an impact on Chinatown's built environment and its social patterns, and racist federal and provincial taxes that restricted immigration and settlement.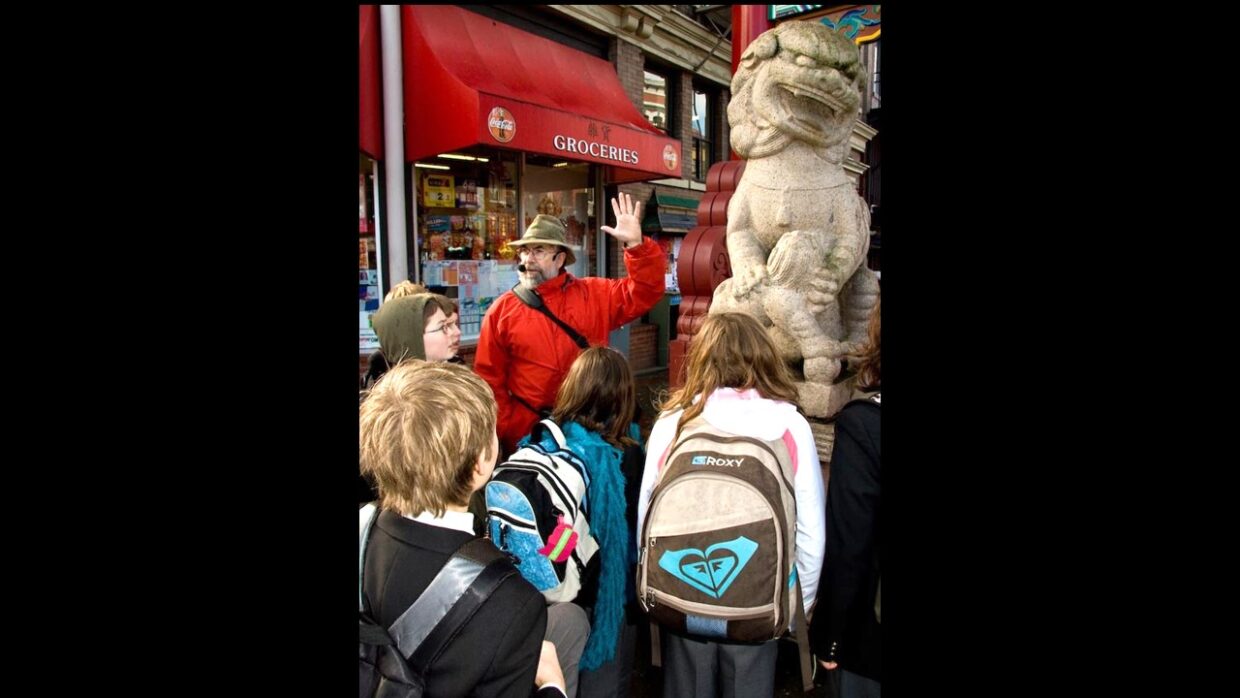 One of the biggest features of John's book is that it is not just about the physical entity of Chinatown, it is about the people – their families and contribution to Greater Victoria.