Heritage Register Jubilee1625 Bank Street
Bank Street School
Built 1910-11
Heritage-Registered/InstitutionalFor: Victoria School Board
Architect: David Couper Frame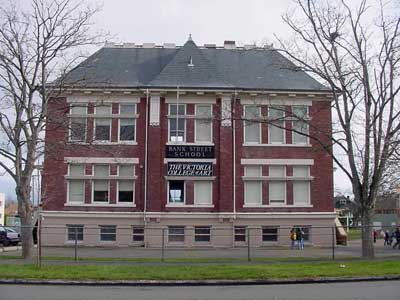 ARCHITECTURE:
After almost a century, the Bank Street School remains in use as an educational facility, with easy access (Boys and Girls entrances), high ceilings and huge windows. The tall and pleasant structure appears simple and boxlike, but its many special features include a flared concrete foundation, brick cladding, large amounts of galvanized metalwork, and a steep bellcast slate roof. The foundation has decorative cast coursing, and the bricks are an unusual tapered form with recessed mortar. Vertical emphasis is given to the symmetrical front façade by mock brick pilasters topped with galvanized metal "capitals" with embossed shields. The roof has a metal cornice with modillions and metal cresting and finials. Shaped metal dividers crossing all the main windows provide horizontal definition. Large brackets on the side porches are surprisingly made of concrete and galvanized metal. The interior of the school is dominated by double stairways from the separate doorways.The school has been variously labeled as "Edwardian" and even "Colonial Empire with Classical and Oriental detail," but "eclectic" may suffice. The original cost of construction was $20,000.
D.C. Frame was active in Victoria architecture for almost 50 years, designing a wide range of buildings from the Chinese Public School (636 Fisgard St) and an A&C church in VicWest to A&C bungalows and 1930s-50s apartments. Frame, who worked briefly with Francis Rattenbury on the Empress Hotel, lived at 1143 Munro St in Esquimalt; his house, although altered, is still there.
ORIGINAL OCCUPANTS:
There was a huge increase in Victoria school enrolment in 1911, equal to the total for the previous eight years, and classes of 60 or more students were becoming commonplace. To deal with the demand, the city's school board undertook a building programme, supervised by architect C. Elwood Watkins.
Bank Street School opened in 1912 with an enrolment of 193 students. The head teacher was Miss Anne Paterson, who for $80 a month was in charge of the first division. The other three divisions were run by Misses Mabel German, Jeannette Leggett and Ella MacMurray, each for $65. The four large classrooms soon became over-full, taking in all the elementary level students in the area. An annex was built to ease congestion; this later became Sundance Elementary School. By 1913 the pressure had eased somewhat, due to a real estate slump followed by WWI.
OTHER OCCUPANTS:
By the 1970s, the area had changed significantly, as apartment buildings and businesses replaced houses, and families moved further out into new suburbs. In 1975 the building was leased and was re-named the Victoria College of Art & Design.
1625BankSt ResourceReview
1625BankSt NewspaperArticle03
1625BankSt NewspaperArticle02
1625BankSt NewspaperArticle01
1625BankSt NewspaperAd02
1625BankSt NewspaperAd01
1625BankSt ArchivePictures
1625BankSt BookExcerpt01
1625BankSt BookExcerpt02
1625BankSt BuildingPlans
1625BankSt Clipping
1625BankSt HeritageSchoolReport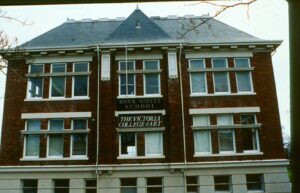 1625 Bank Street – Report on Potential Heritage Designation
1623 Bank St – Report to Heritage Panel Oct 13, 2020