The Colonist, February 18, 1971
Chinook Was Last Word in Comfort & Elegance
By T.W. Paterson.
Twenty-five years. . . . already a quarter of a century has passed since that post-war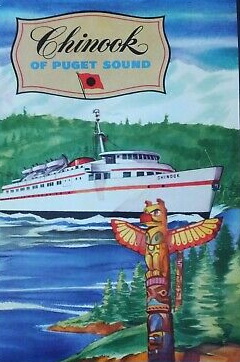 age when Victorians followed with equal interest of Seattleites the birth of
Washington's newest car ferry. For her time Chinook was to be the last word in
Pacific Northwest commuter comfort and elegance.
In fact, so proud of their new-born flagship were directors of the Puget Sound
Navigation Co., the parent firm of Black Ball, that they enthusiastically touted her as
"the Queen Elizabeth of the inland seas."
Launching of the new $2,500,000 lady at Todd Shipyards, April 22, 1947, had been a
gala event, represented by Victoria Mayor Percy George and members of the chamber
of commerce and mayors and chamber of commerce officials of Port Angeles and
Port Townsend. On behalf of PSNC, Capt. Alex Peabody addressed the assembly:
"permit me to say a few words about the ship which brings us together today. You can be assured that our directors and officers, together with the officers and directors of the Todd Shipyard Corp., have spent a great deal of time in our endeavors to produce a vessel that would be more than adequate for the trade for which she is intended. . . (The naval architect firm of Gibbs and Cox, New York) have come forward with a vessel which we hope will meet with your unqualified approval. She is described by Mr. William Francis Gibbs, the senior partner of the firms, as the Queen Elizabeth of the inland seas.
As for her vital statistics, Capt. Peabody said she was 318 feet in length, 62 ½ feet in beam, with a draft of 13 feet. Her four powerful diesel engines had been installed well below her spacious main deck, enabling a cargo capacity of 100 vehicles, and, with twin propellers and rudders, Chinook would enjoy maximum manoeuvrability. For normal cruising speed, she would lift her skirts at the impressive turn of 19 knots.
Her spacious lounges and covered promenade decks could comfortably accommodate almost 1,000 passengers, her stateroom facilities on three decks – including two bridal suites – sleeping 200 in "deluxe, super-deluxe and cabin-type rooms, all of which are equipped with combolet lavatories and air conditioning." Another innovation was the fact that there were no upper berths, all rooms being equipped with twin beds.
Dining facilities were fitted aft, "giving a complete panorama of Puget Sound scenery," and would handle up to 120 persons at a time.
On June 20, 1947, Todd Shipyards delivered the shining new Chinook to her owners. Six days later, she sailed on her maiden run, linking Seattle with the northern Olympic Peninsula and Vancouver Island via Port Angeles and Victoria. Hundreds lined the Causeway that afternoon to witness the arrival of the new American flagship as Chinook, pennants flying, berthed with 300 passengers and 50 cars. The Black Ball terminal, now an Inner harbor landmark, was still under construction 25 years ago, but Capt. Lyle Fowler brought his shining command alongside, to happily announce to waiting reporters: "She is easy to handle and has a good speed."
Aboard was PSNC president, Capt. Peabody, who said, with no small amount of foresight: "The travel industry between the mainland is bound to increase. We built the ship because we were aware of the growing interest on the part of the American public to the many advantages of a vacation and holiday in Victoria and on Vancouver Island".
Between Seattle and Port Angeles, he beamed, chinook had operated at half speed, continuing on to Victoria under full power in good time.
First to land their car, thus "marking the inauguration of a new automobile transportation service between the United States mainland and Victoria" were residents Mr. & Mrs. Harold Johnson.
Those who inspected the new ship expressed admiration for her spacious design and plush appointments. As indeed they should have, what with her owners proclaiming Chinook to be "easily the finest vessel ever put into Sound service. . . . no cost has been spared in decorating and finishing, making Chinook comparable to the finest hotel comfort and (offering) a feeling of welcome to the traveller."
After the dark years of war, Chinook must have indeed seemed a floating palace of psychedelic colors and luxury to travellers. The wall of her lobby were rose-beige, the rubberized floor of rose-grey. The 14 deluxe staterooms were painted in calla lily green with draperies of salmon hue, and cocoa brown floors. The salon was decorated in the same color scheme as her lobby, with occasional chairs in tones of rose greens, walnut and yellow hues "creating a most satisfying" effect.
The after lounge was a rainbow of mulberry and white, with drapes in tones of grey, chartreuse and deep violet, the furniture of deep magentas, turquoise blues, yellows and grey. The Garden Lounge, forward, was turquoise and white, complete with flower boxes of growing plants, and furniture of tile terra-cotta, red, turquoise, walnut, grey and yellow.
And so it went, Victorians marvelling at the exotic hues and fittings. Even the "quickie" dining salon, or coffee shop was resplendent in chartreuse and Vermillion.
As a final touch, the ship was decorated several original paintings by Washington artist, Ross Gill.
Although few visitors would have appreciated the fact, had they been aware, beneath the car deck Chinook's engine room was the latest in machinery and design, her four mighty fifteen-cylinder GM diesels powering for large generators and auxiliary equipment, and developing almost 5000 hp.
The builders had not forgotten Chinook's crew, either, installing an electrically operated dumbwaiter from the galley to their mess room, "assuring food for the crew in the same hot, tasty form, as will be enjoyed by passengers in the main dining salon."
The following day in a shipboard ceremony off Race Rocks, Mayor George presented Capt. Peabody with a Canadian flag for his new ship.
MV Chinook then settled down to work. Although her career has been one of regular, dependable service, she has known some excitement during the past quarter-century in the form of a collision, sabotage and a stranding. The first near-disaster occurred but five months after she entered service, when she and the Swedish freighter Dagmar Salen rammed in Puget Sound, off Bush Point.
Both ships were equipped with radar, but Chinook's crew men testified they had been unable to see more than 5 feet ahead, the freighter not showing up on radar until moments before impact. The ferry's several hundred passengers were thrown into momentary panic. "Some of the passengers screamed," reported a Seattle passenger, "and they were quite panicky, rushing out of the lounge towards the lifeboats, or to the life belts in their cabins. A lot of broken glass from the ferry's windows was thrown around the lounge, but I didn't see anyone cut. The impact knocked the legs off several chairs and broke an ornamental bronze railing near the lounge windows."
The wounded vessels proceeded to port under their own power, where a survey of Chinook's damage revealed the port wing of her bridge had been sheared off and some plates above the waterline buckled. The company announced she would maintain her schedule for the week remaining before her annual refit.
However, despite this inauspicious beginning, by the end of her first year of duty, Chinook had established herself, carrying 195,000 passengers, 42,000 vehicles and 91,000 tons of freight. Between Seattle, Port Angeles and Victoria, the stream-lined ferry had clocked up no less than 100,000 miles.
In 1952 Seattle was dropped from her run. Then, in 1955, it was announced she would join the company's Nanaimo-Horseshoe Bay route, Black Ball making the decision after "two years of intensive study." At this time, Horseshoe Bay was B.C.'s busiest ferry terminus. Victoria protested loudly, George I. Warren, commissioner of Victoria and Island Publicity Bureau terming Chinook's removal "the greatest blow ever suffered by the tourist industry here."
But the decision was final. On June 4, Chinook began her new run in the unfamiliar waters of the Strait of Georgia. Six years later, the expanding B.C. Ferry Authority bought the American transport firm's Horseshoe Bay and Howe Sound services. Included in the $7,000,000 purchase of five vessels, two terminals and several smaller docking facilities was the one-time Queen Elizabeth of the inland seas, Chinook. Later she would be renamed Chinook II, the numeral denoting her change to Canadian registry, then, again, to Sechelt Queen, as she is known today.
Chinook was now Canadian, in name and in fact. Months after, as she and former Black Ball sisters debuted in the dogwood fleet colors of white and blue.
Two minor incidents during her first years under the provincial flag were the striking of a bluff in Horseshoe Bay and she dodged a small boat, and ensnared in the boom chain at the same terminal when caught up by wind and the wash of another ferry. Skin-divers had to be called to cut her propeller free.
MV Chinook's near-call with disaster came on the morning of April 5, 1962, 90 minutes after Capt. Roy Barry had eased his command, with 70 passengers and 40 vehicles from Horseshoe Bay. "Following an uneventful crossing of the Strait of Georgia," to quote Cadieux and Griffiths in their handsome book 'Dogwood Fleet', "she approached the entrance to Departure Bay. The entrance is not wide and but a cable (200 yards) or so on the port hand lies Snake Island, a barren ridge of rock popular only with nesting seagulls.
"as the area loomed nearer, a bank of fog was seen to shroud the coast, Capt. Barry took of speed. His radar gear was ashore for refit and he was running with the traditional tools of the pilot – time, speed, direction, distance, and judgement. The fog closed in and Barry reduced to dead slow. . . "
But for all of Capt. Barry's skill and experience, he was 700 critical yards off course, and with little more than a muffled bump to announce her arrival, the 3.300-ton ferry shuddered to a stop. Although the actual stranding had been minimized by Chinook's low rate of speed, she was hard aground, her bow fast on the rocks with an ebb tide steadily dropping her stern.
Crewmen lowered her six lifeboats, but these remained moored alongside as passengers, in lifejackets, were shuttled by volunteer small craft to the Gabriola Island ferry Eena. Fortunately, calm weather prevailed and, eight hours after striking, the holed ferry was refloated without further injury and proceeded to Nanaimo.
Three months later, restored to service, the harried Chinook suffered misfortune above and beyond the call of duty – a bomb consisting of two sticks of dynamite and an alarm clock exploded in a lifebelt locker. Aside from splintering the locker and adjacent windows, the blast, allegedly planted by a fanatical religious sect, caused little damage.
Today, Sechelt Queen makes her rounds as scheduled: happily, without further incident. In April of 1969, she paid a visit to her former port-of-call, Victoria, entering the yards of McKay-Cormick for a $250,000 conversion "to make her more convenient and comfortable for passenger service." Renovations included new lighting, carpeting, furnishings and fireproofing. Also, cabins were removed from one side of her promenade deck to enlarge walking area, and quarters for officers and crew were modernized. The most notable alteration since her sleek bow was amputated 15 years before, to allow for fore and aft loading of vehicles, was the installation of a taller, 12-tow funnel to prevent exhaust fumes from drifting over the after deck.
This summer the one-time Chinook will formally mark her 25th birthday. And may her second quarter-century be as busy – if not quite as eventful.